Do you ever have those days when nothing ever goes right in the kitchen? As if everything that you make is cursed and nothing turns out just how you want it to be? I've had my share of those days on occasion. I call these curse days. The best I can do is try again another day and usually lo and behold, the next day things just happen to work, even if you are using the very same recipe!
Today however I was lucky. I must have been blessed by the gods of pastry because the two things that I made today the pineapple meringue pie and these Gundel pancakes actually worked out exactly how I wanted to. I had no time to do another before I went away so I was praying that they would come together. And it was in this rush that I wanted to skip the chocolate sauce part and just mix chocolate and cream together. I was sorely tempted but I decided to give it a go. After all I wasn't on a curse day so perhaps it would work out fine.  I also thought that this would be wrong as I wouldn't be making it authentically and there's nothing I love more when people say that it tastes like it should and there's nothing I dread more than people saying that it doesn't.
We first had these at Corner 75 and we all fell in love with them. Mr NQN heaped his highest praise on these ever and I wanted to make them at home. Károly Gundel created these pancakes which are filled with a finely ground mixture of walnuts, raisins and lemon zest and they are flambeed at the table. The Gundel restaurant is still open in Budapest. I asked Christie for some tips as her mum is Hungarian and she told me to grind the walnuts as finely as possible with the sugar to ensure that it wasn't gritty. Her grandmother who made these for her used to also remove the skin from the nuts but I wasn't quite prepared to do that so I toasted them instead.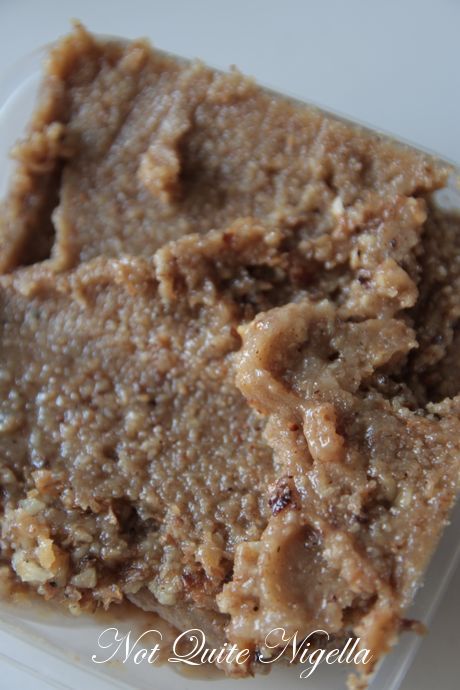 The smooth walnut filling
When Mr NQN came home his eyes lit up at the sight of the pineapple meringue pies and the Gundel pancakes. The pancakes have such a gorgeous walnut topping that I think I prefer them without the rich chocolate sauce. He was tempted to give the actual dinner a miss in favour of a dinner full of sweets. They are so fantastically good and you can make the filling ahead of time and store it in the fridge, ready to make when you have are curse day free. Or to break the curse on a curse day as I'm sure they would make any curse hastily retreat. As for me I'd like a few more days like this in the kitchen please.
And in some very exciting news, I was featured in a fantastic Swedish magazine Lantliv Mat & Vin (Countrylife Food & Wine). You may know that I do have a slight (ok more than slight) obsession with Sweden and the Nordic countries (well I did marry Mr NQN after all! ;) ) so this is doubly exciting! They featured my Lollipop cookies!
Gundel Pancakes
Makes 8 pancakes, 2 pancakes per serve
For pancakes:
For Walnut filling:
For Chocolate sauce:
2 teaspoons Dutch process cocoa, sifted
60grams/2ozs dark chocolate, chopped into smallish pieces
To assemble:
2 tablespoons icing sugar
Step 1 - For walnut filling (this can be made ahead of time), toast the walnuts in a dry frypan on medium heat until fragrant. Then place all ingredients in a food processor and blend until it becomes a paste and ensure that the walnuts are finely blended. Set aside or refrigerate if you have made it ahead of time.
Step 2 -  For pancakes, beat the eggs and milk together and then slowly add into the flour mixture to ensure that there are no lumps. You can also make the pancake mix ahead of time, just keeping it covered in the fridge until ready. Heat a frypan on medium and add butter and oil and then fry pancakes. Put aside.
Finishing off the chocolate sauce with some butter
Step 3 - For chocolate sauce: In a jug whisk the egg yolk. cocoa and sugar. In a small saucepan, heat up the cream and milk until almost boiling. Remove from heat and add to cocoa, sugar and egg mixture and whisk. Put heat on low and return to the mixture to the pan and stirring constantly for 2 or so minutes, create a custard. Add chocolate and rum and stir more as this thickens. Finish off the sauce with a tablespoon of butter to make it glossy.
Step 4 - Assembling the crepes: ensure that the walnut filling is room temperature if you have stored it in the fridge as spreading it can tear the pancakes. Spread one half of a  pancake with the walnut filling and fold over into quarters. Place on plate and repeat with the rest of the pancakes, putting two on a plate. Pour molten chocolate sauce over the top. You can also sprinkle it with icing sugar if you want.