Bell's at Killcare: Take One!
"Honey you packed my cosmetics box didn't you?" I ask Mr NQN.
"No" he says looking me alarmed.
"Haha very amusing" I say. Mr NQN is always joking around. Like. A. Fool. :P
"No I'm serious, I haven't" he says looking at me worried. This could be a case of boy who cried wolf but there's something about the look he is giving me that makes me realise that my makeup and my skincare is actually sitting back at home.
Eeek!! I do a quick mental calculation and realise that it would take too long and be almost impossible to restock them so we make the wild trek back home across the city. I run inside and grab my vanity case and we head back out toward Bells at Killcare.
Bell's at Killcare: Take Two!
The traffic crawls along until we get to the highway and we arrive in scenic Killcare in the Central Coast. As we left Sydney around 3pm along with it seems half of Sydney,it has taken us a little over two hours. I was given the iphone4 by Optus to test out the cooking applications (quick verdict: not as exciting as I thought it would be, I couldn't find a recipe for a pork loin roast on any of the sites) so we thought that we'd use it as a GPS instead which works a treat.
We reach Bells at Killcare and the grounds are spacious and stunning. We drive to our suite and park the car in front. Our suite is more like a 1 bedroom cottage with a kitchenette and our own private patio. Inside it's decorated in a white and blue beach house style. The pillow on the bed says "Unwind" and I drop my bags gratefully and obey. Legendary chef Stefano aka Steve Manfredi runs the restaurant here and he also arranges for the gourmet breakfast hampers.
I glance at the table and see four pieces of fruit and two packets of granola.
Mr NQN says" Umm is that the gourmet breakfast?".
"Surely not" I answer. I then go the fridge where there is a hamper of goodies. There are all sorts of treats including organic orange juice, house baked bread (baked daily), free range eggs from the chickens on the property, bacon made by Pino Tomini-Foresti using hormone and antibiotic free Bangalow Sweet Pork, house made sausages (pork, sage, garlic and white wine) and house made jams, preserves and compotes. There is also Stefano Manfredi's coffee.
In the bathroom there is a two person spa bath with two head rests and Aveda skincare products. There is also a fireplace to heat up the room which I assign Mr NQN to tend to. But I don't have time to dawdle. I have to get ready for dinner!
We walk into the manor house and a smiling face greets us. "Lorraine?" Steve Manfredi says and greets us warmly. He explains that they have a table ready for us but if we would like to have a drink in the bar we can do so before dinner.
Peach bellini with olives and savoury shortbread
What better to have to kick off a weekend than a gorgeous peach bellini! We sip our delicious bellinis with mixed olives and buttery savoury shortbread biscuits. After relaxing we make our way into the main dining room and take a look at the menu. The maitre'd helps us with our selection as there are so many things that stand out.
Misto antipasto $26
The misto antipasto has a potato and taleggio polpettine which is crunchy, like an aranicni ball with a molten cheese centre. This sits on a bed of tomato and herb reduction which is rich and robust. There is also a lovely finely diced mushroom frittata rotolo which is rolled up. There is also vitello tonnato, one of my favourite dishes which is pink, tender veal with a creamy tuna and anchovy sauce, a grilled scallop with a soft eggplant salsa and a salmon crudo with pickled cucumber ribbons which is lovely and fresh but realise I should have eaten this first as it's so delicate against the robust flavours. I knew that this would be great as I remember having the antipasto plate at Manfredi's Bel Mondo restaurant many, many years ago and I still remember it to this day.
Grilled Octopus with celeriac and fennel puree, sauce ravigote $27
The grilled octopus is lovely and tender and sits on a bed of celeriac and aromatic fennel puree with spears of asparagus and a sauce ravigote which is like a pesto. I really enjoy this dish.
Tagliatelle with rabbit bolognese and pecorino $36
I've always thought that there's nothing like a homemade bolognese but I didn't count on a rabbit bolognese with hand made tagliatelle. This is delicious, the rabbit in mince form and similar to a chicken mince insofar as the look and the flavour goes.
Roast veal with mustard, parmesan crust, braised peas and lettuce hearts $39
Now this dish is for serious mustard or wasabi lovers. The veal is tender and comes with a strong mustard topping that tastes like wasabi. The organic mustard is from Milawa and is made by a family owned company. Manfredi is from a province called Brescia in Italy which is near where mustard greens are grown. It's too strong in mustard for me (I don't eat wasabi) but Mr NQN likes this. It comes with a disc of baked parmesan tuile on top and some peas with sauteed lettuce hearts.
Roast rosemary potatoes $10
The roast rosemary potatoes are lightly crispy on the outside and fluffy inside and light in rosemary.
Steve Manfredi
During the evening Steve comes over to chat. We talk about how they rebuilt this space from scratch and installed a new kitchen. He tells us that the glasses on the table are hand blown glasses from a glass maker in Canberra and that the ceramics are locally made. He talks to all of the tables throughout the night and pours wine and brings dishes over them.
Primitivo A. Mano IGT Puglia Malvasia Nero $10
Tartufo di Amadei chocolate $16.50
Now Mr NQN doesn't like chocolate desserts. He's a fruit man so when he starts on this I'm expecting him to hand it back a few bites later.
"Mmmm " he says and I poke my spoon towards him.
"You stay back over there" he says protectively "I still have to finish my half" he says defensively blocking my spoon with his arm.
Miffed at being refused access I wait impatiently until he slides the bowl towards me. I dig in. It's like a large truffle in appearance and it sits looking like a planet suspended in a solar system in a bed of cream and toffee sauce. I take a spoonful and I break through the layers of chocolate outside to reveal a chocolate cream inside and inside that is an orange chocolate truffle. It is utterly, absolutely heavenly and I keep scraping the empty bowl for the last remnants.
Warm pistachio torta with mandarin compote, spiced gelato $16.50
The warm pistachio torta is a rich pistachio cake with some sweet, fragrant mandarin compote and a spiced gelato with pistachio praline crumbs on top.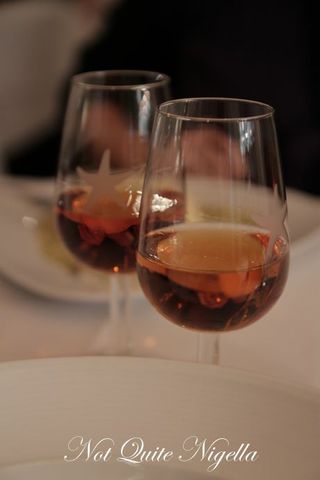 2003 Vin Santo Villa La Selva DOC Tuscany, Italy $16 and 2008 Margan Botyris Semillon $10
We try both the Vin Santo and the Margan Botyris and they're both delicious although almost worlds apart with their flavours. The Vin Santo is richer and the Margan is sweeter and more floral.
There's no internet in the rooms so we retire to the library to do some work and then adjourn to our room where Mr NQN does some naked fire stoking and I run the spa bath. Too much information? I thought so...
The Library
The library
Morning has broken!
Breakfast provisions
The next morning I reluctantly awake. Asking your husband to take care of breakfast is not the smartest thing to do when your husband cooks once every two years. I only realised this when I emerged from the shower after a peaceful night's sleep to find that Mr NQN was still tinkering around with his coffee. The BBQ remained unlit and the gourmet breakfast hamper provided remained untouched. Still, eager for him to learn some cooking skills I decided to leave him alone and wait until breakfast was ready.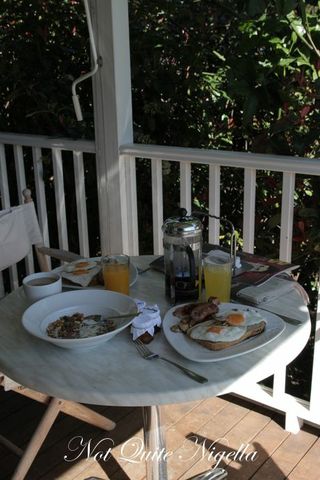 Mr NQN cooks!
We had another guest this morning at breakfast, a kookaburra who no doubt just wanted to pounce on the bacon or sausages. Mr NQN, had decided to barbaecue everything without adding oil or butter. He claims that he couldn't find the oil but when I showed it to him he said "Oh that's the only cupboard I didn't look in". So whilst the toast and eggs were nice, the mushrooms were a little dry as was the bacon and sausage. But it's nice to have your breakfast cooked for you I must say and I applaud him for his effort :)
Our friend, the kookaburra
We went back to the main homestead where Stefano is going to walk us through the show garden. There is a larger working garden in the back but the front garden is the one that he shows guests and many seem very interested in taking a tour of the gardens.
Chef scarecrow!
"Let me call Stefano to see where he is" says the front of house reception and I hear a phone chiming "bad to the bone". He appears smiling asking us if we would like a coffee and he takes us to the garden. He tells us that he has a garden in his apartment in Camperdown and that he has always grown up with a fruit and vegetable garden. He grew up in the Western Suburbs in Blacktown.
He shows us the sorrel leaves and all of the plant including cima de rapa which is an Italian vegetable also called sprouting turnip. They also grow radish, lemongrass, asparagus, a green chard grown from a Italian seed and artichokes and they don't use any sprays at all. An artichoke is essentially a thistle plant and the artichoke that we eat is an immature thistle. If it were allowed to grow it would be a purple flower.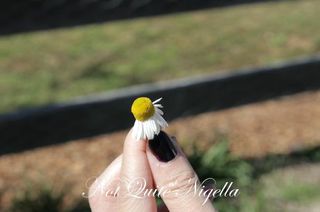 Chamomile flower
They also rotate their plants so one year they'll grow beans which put a lot of nitrate into the soil and then the next year they will grow tomatoes which suck up a lot of nitrates from the soil. This year they will be growing 6-7 tomato varieties including a cherry, roma and a costoluto fiorentino which he will cut around the calyx and infuse with olive oil and bake so that inside it will taste like a tomato sauce. He will serve this with a buffalo mozzarella in a version of a caprese salad. Manfredi is here three days of the week, usually on the weekends.
Another couple arrive for their tour of the garden so we bid him and Bells farewell and we make our way to the next leg of our trip! Stay tuned! ;)
So tell me Dear Reader, if you left your luggage behind, would you go back and get it (like me) or would you just make do (like Mr NQN?).
NQN and Mr NQN stayed at and dined at Bell's at Killcare as guests of Tourism NSW
Bell's at Killcare and Restaurant Stefano Manfredi
107 The Scenic Rd, Killcare Heights NSW 2257
Tel: +61 (02) 4360 2411