I'm no Maeve O'Meara, that's a fact. She is a legend and in a league of her own really and I am only but one hungry stomach. However one thing that I really love is being a tourist in my own city. There are so many areas that I haven't yet discovered or only scratched the surface of. And I always find the best way to get to know an area or a culture is through the food that they eat. When Miss Haberfield emailed me a few weeks back and suggested that I do a food tour of Haberfield, I jumped at the chance. For years ago when I visited Colefax chocolates and talked to the owner's father Reg, he would tell me that this was how the Italians shopped. They might eat out in nearby Leichhardt but when it came to shopping and eating at home, Haberfield was it.
One great thing about doing your own shopping and eating tour here in Haberfield is that everything is in within  few minutes walk of each other as most of the shops are concentrated on busy Ramsay Street. The key if you come on a weekend day is to start early and of course you get a sense of the atmosphere but if you're looking for a low key shop, ideally a week day is best.
Espresso Galleria
We start off at Espresso Galleria for much needed caffeine. In the predominantly Italian suburb of Haberfield, a Greek man serving coffee would certainly raise some ruffles but his short blacks and cappucinos have won over locals. Mr NQN has a flat white and I start with a chai which are both excellent. This is a tiny space but furiously busy and "Manny" that is Emanuel Patniotis literally makes coffees non stop.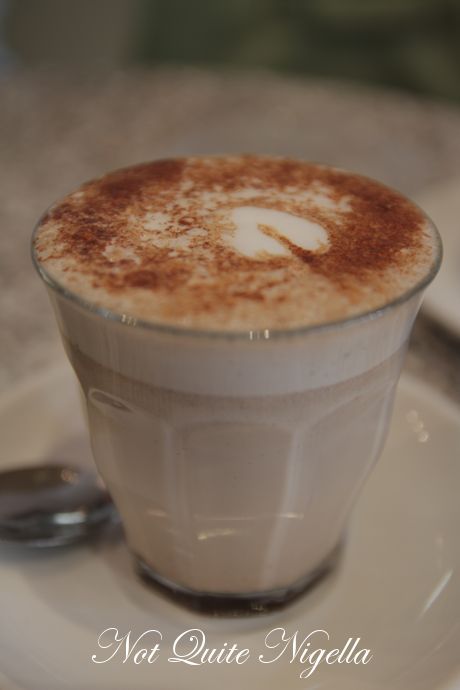 Chai Latte $3.40
There are small pastries and sandwiches to go with coffees but there's not much more on the menu as it's clearly all about the coffee. I'm meeting friendly local Miss Haberfield here who was kind enough to give me the lowdown on all of these places. Isn't it lovely to have a local willing to share their knowledge and insider tips?
Flat White $3.40
Paesanella
The mother lode for cheese, keen NQN readers may have caught up with my adventures in their factory in Marrickville on my previous tour. The Marrickville factory, despite all commercial concerns, is closed on Saturday but this retail store in Haberfield picks up when the factory closes and then some. The range here is quite different and I find myself staring wide eyed and slack jawed at the display.
Miss Haberfield sees what I am eyeing. "It's layers of gorgonzola and mascarpone and it is divine" she says. She is talking about the Mascarpone Reale with the layers of gorgonzola and mascarpone and topped with walnuts. There is also the figaro with dried figs instead of the walnuts which when cut, resembles a slice of cake. There is also Ubriaco cheese which means "drunken" in Italian where the cheese is soaked in wine and covered in grape must and matured. Dot who works there is the ex head chef of Longrain and happily chats about the produce.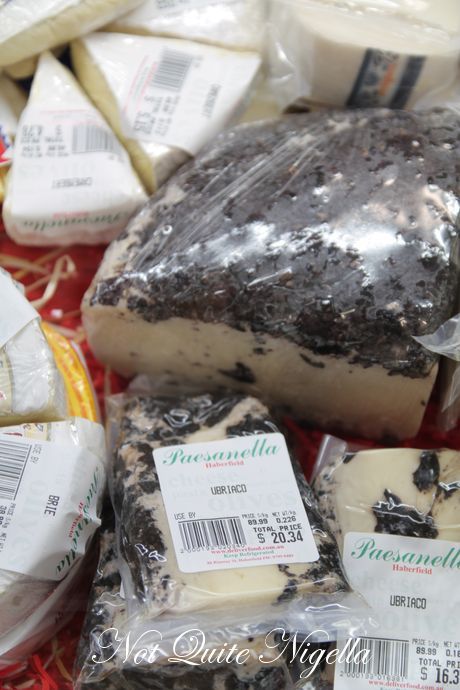 For good measure we get a slice of the baked ricotta ($17.99/kg) and the Rollatte Ripiene which is a roll of mozzarella, proscuitto, spinach and olives ($34.99/kg). For the road we get an apricot filled with mascarpone blue and a a date filled with mascarpone. Both are sweet, rich and creamy.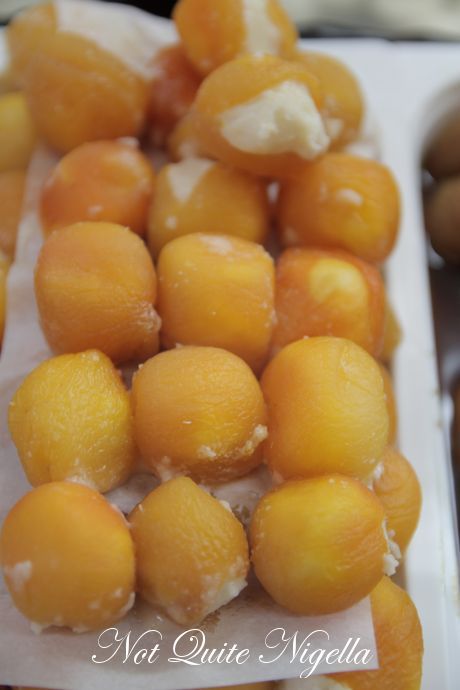 All I can say is that the Mascarpone Reale and Figaro (both $34.99/kg) are the kind of thing you might want to put on your death row meal request. They are both divine, I think I slightly favour the Figaro as I think a sweet touch goes well with gorgonzola. If you are going to try anything from here, make it one of these. The baked ricotta is excellent as is the Rollatte Ripiene and Dot was kind enough to slip in some sun dried balsamic tomatoes.
David Gojak Butchers
A relative new comer to the area, it hasn't taken long for Slovenian butcher David Gojak (who himself is the son of a Slovenian butcher) to win over hearts. His is a family business with his wife, dad and son working here. There's the familiar plastic strip curtain but when you look closer you'll see that this butcher has some tricks up his sleeve. For a start all of his pork and pork products like bacon are all free range and female pigs. And the prices for things like pork belly are $15.99 a kilo which is a good price for free range pork.
David and his wife Mateja
And then there's the chevapi skinless fat beef sausages which are divine and packed full of flavour. At one end he has a heated section where he doles out already roasted pork (with a lustfully good looking crackling) and gives tasting of sausages like his chorizo, chicken & rocket or continental (a gorgeous garlicky number). Above the counter are the smoked goods which are smoked using Oregon woodchips and include chabai, cacciatore, loins and belly and mini prosciutto.
David and his father
He has only been here for one and a half years but already has a big following - he was formerly at Burwood for 18 years and some customers moved with him. They also can do whole baby lambs or whole suckling pigs and roast them for you. We take some some of their famous chevapi sausages which are wonderfully juicy and flavoursome.
Peppe's pasta
Pasta is of course an Italian staple and the Cassaniti family have a firm stakehold in the area with Mrs Cassaniti running Cassiniti Bakery next door, one of her sons Joe running Peppe's pasta and another son running a restaurant across the road. The pasta is said to be silky smooth but Joe himself is a diabetic and cannot eat his own pasta which is a cruel irony. Popular flavours range from the spinach and ricotta ravioli ($9.50 for 500g) to the duck, prosciutto and caramelised onion ravioli ($18.50 for 500g) which they suggest serving with a simple napoletana sauce which are sold alongside a range of sauces in the fridge.
Awards line the walls and they only use durum wheat and fresh eggs in their pasta. The crab with mascarpone with smoked garlic sounds intriguing but the duck, prosciutto and caramelised onion has won our hearts. We take it home and eat it for dinner one night. Oh my, it is amazing stuff. I'm reduced to silence and that doesn't happen often.
Duck, prosciutto and caramelised onion ravioli $18.50
Cassiniti Bakery
It appears that a queue is a permanent fixture outside Haberfield Bakery. Italians love their bread and here they queue up for wood fired bread and rosetta rolls. The wood fired bread is gorgeous and a steal at $2 for a large loaf. We also try a foccacia smothered with tomato ($3) that we intend to top with some of the goodies that we've bought today.
Mrs Cassaniti clearly adores her sons. She talks to me about her bakery and at several times points out her son's restaurant across the road and asks me to dine there. Miss Haberfield tells me that every child that comes into the bakery gets a small roll.
Mrs Cassiniti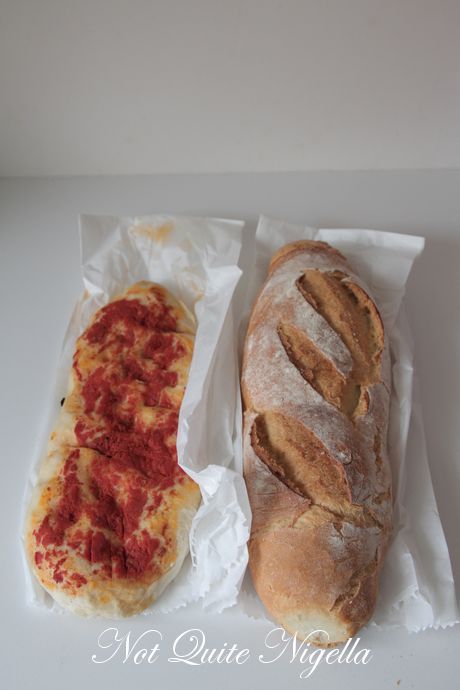 Tomato foccacia $3 and wood fired bread $2
Zanetti's 5 Star
Arancini
Zanetti's 5 star is a deli where enormous hunks of grana padano grace the counter tops. Angelo Zanetti tends to the front register while people line up in front of the deli to get their goodies including fresh arancini domes, quince paste, olives, cheeses and meat.
Salt cod display with Italian only instructions
There's also a display of salt cod where the only sign reads in Italian (loving this!) as well as delicate slices of specialty prosciutto made of emu, kangaroo and lamb. There is also a huge aisle just of dried pasta and we spotted some syrups in peach and various berries as well as an almond cordial syrup which sounds fascinating. Angelo himself is terrifically friendly but a bit camera shy ;)
Peach syrup
Lamonica IGA
Squid Ink spaghetti
The IGA supermarket here in Haberfield is unlike any other IGA you may encounter. The deli counter is legendary and people have been known to stand there for an hour waiting and shopping while biding their time until their number is called.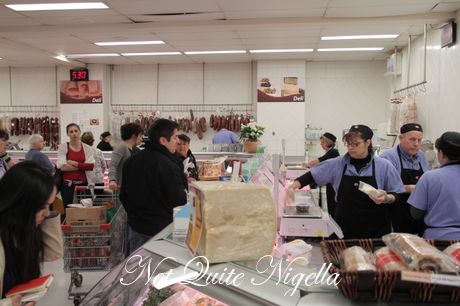 Calamari shaped pasta
Parmigiano Reggiano at a steal for $24.99 a kilo at the deli-no wonder they queue! It is the only IGA supermarket where on Saturday mornings a barista gives out free espressos sampling different coffee brands.
The deli counter is definitely where the action is with what appears to be a permanent queue. Miss Haberfield tells us that you could pick up a number that says 320 and they could be on number 8. People continue their shopping around the rest of the supermarket placing their baskets near a centre display and deposit the goods back there while listening to the update on numbers. Miss Haberfield also tells us that "any given day you might find tripe, rabbit, goat or spatchcocks" in the deli display.
Shopping baskets waiting for deposits from shoppers
Pasticceria Papa
Haberfield lovers no doubt already know about Pasticceria Papa, the home to the famous ricotta cheesecake. Anyone curious can check out my previous story on them. As they were furiously busy serving people all sorts of goodies from their sweets cabinet, we only managed to snag a photograph of the queue. All we saw every time we walked past was the queue out the door!
Frank's Fruit Market
Our next stop is Frank's Fruit market. On the day we visit this unassuming fruit and vegetable shop happens to have an incredible 16 varieties of tomatoes including some divine heirloom breeds and my favourite Johnny Love Bite tomatoes. These are not a breed of tomato but a grower of sweet, succulent mostly local tomatoes. Frank is well known around here and often speaks at Maeve's food safari tours.
Frank
Frank offers me a taste of the Johnny Love Bite truss tomatoes. "These are not like other truss tomatoes which are just for show" he tells me and I have to agree that I have found most supermarket truss tomatoes lacking in flavour too. These trusses are sweet and sing with a true tomato flavour. These are the kinds of tomatoes that you can eat as apples they are so packed full of flavour and are worth every cent.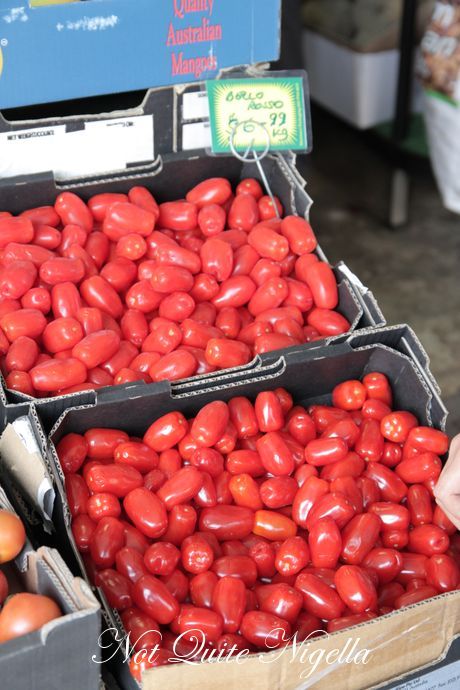 I ask about the vivid and deep red Bello Rosso tomatoes and he explains that they are good for sauce as they are picked mature and are sold at an advanced ripeness. We buy some Johnny Love Bite vine ripened tomatoes and clutch these precious babies on the way home.
Colefax
Colefax chocolates have been making some of my very favourite chocolates for years and I recall coming in years ago and meeting Reg, the father of the chocolatier Peter and visiting their coffee lounge and ogling at their Easter selection. They've got some new flavours new including the Africa (coffee ganache in milk chocolate), Bella (a white chocolate praline), the "brown sugar", almond truffle and Gare du Nord.
"Brown sugar" chocolates
The brown sugar chocolates in the display are completely sold out which is a good indication of them being popular so we have to try one of them (you know the Law of Limited Editions? ;) ). Inside is a thick caramel which reminds me of a filling in an alfajore and on top there is a thin layer of crunchy demerara sugar. Somehow, despite this, is never verges into too sweet. I also love the butterfly which has a lavender ganache in milk chocolate which is heady in lavender but never soapy.
There is a chocolate named after Reg called "Sir Reg" with shiraz and there are chocolates named after the owner's children Alannah and Mackay and his mum Pamela. We can't resist trying a chilli bomb which is shaped in an actual bomb mold and it is filled with a chilli ganache. I pop this into my mouth fearing the worst but it isn't actually too fiery with a mild bite. And keep reading for your chance to win 1 of 4 Colefax ballotine chocolate boxes!
A&P Sulfaro
"It comes in waves" Stefania says laughing speaking of the queue at A&P Sulfaro who have been churning out cannoli, cakes and biscuits in Haberfield for the last 40 years. They hand fill cannoli to order should you want a bite of a crispy, crunchy cannoli shell filled with either ricotta, vanilla custard (my favourite) or chocolate custard. Under the glass counter top there's an array of biscuits including a very almondy heart with a thin layer of icing on the top and bottom or a pistachio biscuit greener than The Hulk. The original owner's son Guiseppe and his wife Stefania have now taken over A&P Sulfaro.
I watch as a  little boy insists on a smartie topped bear shaped biscuit and won't let up until his mum buys him one. Prize in hand, he jumps up and down happily with his own little victory dance having secured the treat of his dreams. He drops one of the smarties and looks down on the floor and thinking for merely a second picks it up, blows on it and pops it in his mouth.
As for us, we try some more adult fare including the hand filled cannoli. The ricotta is good but the vanilla custard is my favourite and I think it tends to keep its crunchiness a little better than the ricotta if you have far to travel or are waiting before you eat the cannoli. Because a soggy cannoli is a culinary crime you see and you should always end every tour or day with dessert.
Thanks to Haberfield local Miss Haberfield for her help compiling this list of shops and restaurants!
And I did mention the chocolates from Colefax didn't I? Well four lucky Not Quite Nigella readers will win a medium sized ballotine box of Colefax truffles thanks to the lovely people at Colefax! *For a chance to win one of these boxes, all you have to do is tell me if someone were to name a chocolate after you, what flavour would it be! Simply add your answer as a comment to the story. The competition ends at Midnight AEST 30th November, 2010 so get in quick as you only have a week! You can enter this once daily. This competition is open to Australian readers only.*
Best of luck!
Love,
Lorraine
xxx
Espresso Galleria
84 Ramsay Haberfield 2045. Phone 9798 2112
Paesanella
88 Ramsay St Haberfield NSW 2045 Tel. 02 9799 8483
David Gojak Butchers
177 Ramsay St Haberfield NSW 2045 (02) 8065 5658
Peppe's pasta
151 Ramsay StreetHaberfield, NSW, Phone: 02 9648 3235
Haberfield Bakery
153 Ramsay St, Haberfield NSW 2045 (02) 9797 7715
Zanetti's 5 Star
108 Ramsay St, Haberfield NSW 2045 (02) 9798 4076
Lamonica IGA
155 Ramsay St, Haberfield New South Wales 2045 (02) 9798 4105
Pasticceria Papa
145 Ramsay Street, Haberfield, NSW
Tel: +61 (02) 9798 6894
Frank's
94A Ramsay St, Haberfield NSW 2045 (02) 9798 6388
Colefax Chocolates
Colefax Chocolates has closed down
78 Ramsay St, Haberfield NSW 2045 (02) 9798 2022
A&P Sulfaro
119 Ramsay St, Haberfield, NSW 2045 ) 9797 0001