Dear Reader, I know that it has been a terribly long time since I did a Meet My Suburb. In truth, these stories take so long to research and write and I simply ran out of the slippery stuff, that is time.  But when I received an email from a super organised reader Wee Lynn Teo offering to take me on a tour of her own suburb Burwood and show me all the goodies contained within the mileage of post code 2134 I jumped at the chance.
I had an inkling that her tour would be run with calm efficiency. The emails before indicated that she was a very organised person that even told me that I should arrive at Burwood station by 9:50am and that I should make use of the facilities there-she even told me where they were in the station. I arrive early and she is already there wearing a microphone headset and a cup of hot chocolate for everyone along with a deliciously soft and fragrant milk bun.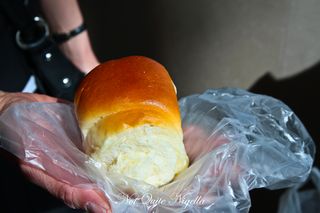 She furnishes us with liquid and food sustenance as well as a schedule including names, addresses and times at our 10 stops that day and a recipe for her own Kimchihini chicken (an intriguing cross cultural dish made with chicken, tahini and kim chi). Lastly, we're handed name badges with our names that have been decorated by her daughter.
A former corporate banking lawyer, Wee Lynn used to run tours for the Benevolent Society and now specialises in private "Feasting in the Know" tours (four people minimum, prices vary but this tour is $77 a person). She is starting with Burwood as that has been her neighbourhood for 15 years but also covers Flemington, Campsie, Strathfield, North Strathfield and Homebush. She lets us know that she is independent - that is, she doesn't receive any compensation from the stores for taking us there or any money for any purchases we may make.
Her tour encompasses ten stops with two light meals, five samples and two beverages with some surprises thrown in between. Wearing comfortable clothes  (and a waistband that expands ;) ) and shoes and bringing cash and a carry or chiller bag is a must as we rapidly learn. "You've been warned, pace your stomach" Wee Lynn says smiling.
Leung Tim Choppers Company
An institution along Burwood Road, Leung Tim Choppers Company stocks anything and everything you could ever want in an Asian homewares. Do you have fantasies of hosting your own yum cha or playing Chinese restaurant at home? They have it all. Walls of cleavers, scoops and steamers furnish this deceptively long store which is supplied by their factory in Hong Kong. Wee Lynn shows us an enormous wok, a steal for $30. Unlike non stick woks which you can't heat to super high, you can heat this high enough to get the much sought after "breath of the wok."
Piping tips, piping bags, baking tins are also stocked at very low prices with tips at $2.80 each. And if you've ever sat at yum cha and watched them spoon sweet tofu from a round wooden barrel and wondered where to buy one, they have these too along with an enormous Peking Duck roaster that can hold several ducks. Wooden moon cake molds sit behind glass along with myriad items. The owners can't resist but show us a little contraption-a shallot and calamari blade to get those paper thin shallot strips for steamed fish, a steal for $4.50.
Burwood Mega Mart
****
"I have a test for you" self confessed Koreaphile Wee Lynn says as we walk into Burwood Mega Mart, a mecca for Korean groceries on George Street. She takes out a container with two bags of cooked rice and two small lidded cups of sesame oil. She gets us to sniff both-one is a Chinese sesame oil and one a Korean sesame oil. She has flavoured each type of rice with one of the oils and we are to tell her which one we like and which rice matches with the oil. The lighter coloured oil is rich and aromatic and smells like pure roasted sesame seeds whilst the darker one has a slightly adulterated taste, almost with a whiff of rice wine vinegar. Everyone prefers the lighter one which is the Ottogi Korean sesame oil. It's so popular that everyone grabs a bottle to buy.
Wee Lynn then shows us Gim or Korean seaweed which unlike Japanese seaweed, is seasoned and then deep fried to make it super flaky and crunchy. She places a spoonful of plain boiled jasmine rice on it and wraps it up. It's delicious as a perfect snack with the flavoursome seaweed and soft, plain rice. And did you know that seaweed is so moreish because it contains glutamines which is what MSG is made up of?
Walnut and peanut soy drink
Sac sac drink
I'm tempted by some liquid refreshment and buy two popular Korean drinks. There is a Sac Sac drink which is a mandarin flavoured drink so called because it has little individual sacs of mandarin pulp. It's not carbonated and it's sweet but the little beads of mandarin pulp add an interesting texture and I'm sure it's better for you then a Fanta. Apparently if you are ever convalescing in hospital, people will drop off a carton of these - not for the patient but to serve any guests that might drop by! Another drink is a soya bean drink which comes in a variety of flavours including a walnut peanut flavour. Somewhere in between the thinner Chinese soya bean milk and the thicker Western version it has a medium thickness but with a distinct taste of...potatoes!
The kimchi fridge
She shows us bean sprouts with larger heads - she tells us that the larger heads are good as that is where a lot of the nutrients are stored. And randomly, Wee Lynn gives tips like Korean washing up gloves are better than any kind that you may find. Apparently they are longer and thicker so they don't break or puncture as easily and a long opera length pair of gloves will set you back just $2.75! Just don't go to the opera in these... ;)
Fresh parilla leaves
It seems like everyone is a bit crazy over ssamjang at the moment-this along with gochujang are sold in colour coded tubs. Ssamjang is in green tubs and it is a paste that you use if you are eating things in leaves and means "wrapping sauce." Gochujang comes in the red tubs and bean paste in the brown and ssamjang is a mixture of both gochujang and bean paste.
Before we leave, the lovely owner of the store brings over some delicious mochi rice flour sweets. They're rice balls filled with sesame filling. Biting into one yields a soft, liquid filling and they're lovely and chewy.
Wow Cow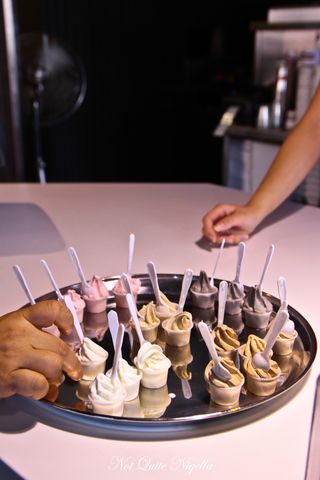 Wee Lynn admits that a place like Wow Cow isn't her usual type of stop as she usually includes family run businesses but she is such a fan of Wow Cow so she included it on her tour. We try samples of of their frozen yogurts -I try the original and black sesame and they're both creamy and delicious. Toppings like mango balls are like giant caviar balls that release liquid mango (although the mango liquid is a bit faux mango for me) but the small mochi balls are nice and chewy too.
Momiji
****
My feet were a bit weary at this stage so I was glad to hear that we were stopping for lunch and even happier when I heard that the lunch stop was at Momiji, open for just four months. Here, the lovely Mitsu runs the front of house while her chef husband Koji Shimooka tends to the kitchen. They both hail from Hiroshima and specialise in ramen and hand rolls.
Their ramen stock is cooked for 10 hours with not only pork bones but also fish heads to give it a layered complexity. We get a half size bowl (usually $9.80 for double the size) so that we won't end up completely rolling down Burwood's main street. They only start cooking this once we arrive as they want us to try this while it is as fresh as possible.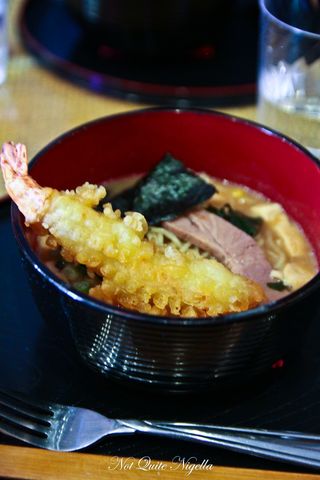 The ramen comes out and it is topped with corn, seaweed, slices of pork and a whole crunchy deep fried prawn. The broth is delectable, rich but not overly so and the ramen itself is springy and fresh and tofu so silky smooth that is feels like creamy marrow going down. All I can think is that I must take Mr NQN here because he will love it (look out for an upcoming post ;)).
Melt Chocolate Bar
We quickly pop into Melt which is where Wee Lynn got our hot chocolates from. She divulges that the hot chocolates were actually made with skim milk which was a surprise as they didn't taste low fat. They make them using melted Callebaut chocolate simply added to milk. Melt also courts the post dinner crowd and are open 7 days a week from 8am-11pm.
Top Choice BBQ Restaurant
****
If you crave the crunch of Chinese fatty pork then a stop at Top Choice BBQ restaurant is a must. For a good fatty pork, the crackling should be crunchy and the lean pork at the bottom still moist and not dry with a touch of Chinese five spice added to it. Admittedly, I am not a huge eater of this but everyone else in my family is and this version could convert me quite easily as each bite of the striated pork is an exercise in textures. The pork is $26 a kilo and a serve this size would set you back around $5.20.
A later visit back in Burwood with Mr NQN shows us that the roast duck and char siu are also delicious. What is a nice surprise is how friendly and generous they are bringing bowls of delicious broth to every customer.
Charcoal King BBQ Restaurant
****
Aha, my downfall. Leave me with a kitchen full of chocolate and I will be fine but leave me with a kitchen of char siu and it will be gluttonous scene of carnage. True story ;). Brother and sister team Jack and Wing run Charcoal King where every order of char siu is cooked to order. They eschew the distinct red food colouring that usually marks char siu and all of their meats are either grilled or braised and not stir fried.
Wee Lynn tells us that Wing's husband owns ten restaurants in Hong Kong and that she works at the airport from 5am-10am and then works here until 10pm. Despite this, she is still bright and friendly. The char siu takes some time as it is all cooked to order. It starts off being grilled and finishes it time on charcoals. It is tender, juicy and full of flavour and served with rice and a surprising perfect match, a fried runny yolked egg-.
Their specialty, apart from the the char siu is eel. Wing proudly tells us that they are the only restaurant to stock wild, live eels which they keep live in their kitchen. The eel is grilled in a thick sauce, slightly different from the Japanese eel sauce although still sweet and salty. The eel is so different from other eel that we've tried which is often frozen. The eel has an amazingly bouncy texture to it and fellow tour participant Kim remarks that it has a texture between fish and calamari.
Eel
Sydney Dumpling King
Our next stop is one for a little Shanghai action-you've probably guessed by now that Burwood is replete with a range of ethnicities, particularly Asian. We walk into Sydney Dumpling King which is busy with customers. There are turquoise booths on one side and tables on the other. Here, we start with a crispy spring onion pancake that is superbly thin and crispy without being oily.
We also try some of the pork and coriander boiled dumplings which they are busy making in the area behind the register. We watch their rhythmic filling, pleating and folding and before long an oval plate of steaming dumplings arrives. We douse a dumpling with some vinegar and chilli oil and tuck in. The flavour of the coriander hits you at first and then you get the flavour of the pork mince.
Lung Cheung Chinese Grocery Store
Next door to Sydney Dumpling King is Lung Cheung Grocery Store which has stood on this site for 27 years. Wee Lynn tells us that they stock super fresh Chinese greens including loose leaf baby pak choy whose leaves are sweeter than the tied up bunches. The shelves stock an array of fascinating items and a freezer holds packets of frozen dumplings, ready to be steamed or boiled.
Here Wee Lynn buys some soft flour cake as a little snack for us which is chewy and sweet-the closest thing I can compare it to are those marshmallow cereal bars that taste almost deep fried. She also shows us a bottle of the chilli sauce that they serve at yum cha (don't laugh, Mr NQN craves that stuff if we have dumplings at home, and if you're after it, look for Koon Yick Wah Kee chilli sauce).
Taipei Dainty Bakery
Our last stop is a fittingly, a dessert stop. Not that we need any more food at this point but the smell of sweet butter envelops us and suddenly we  are hungry again. Wee Lynn excitedly tells us that owner Jessie is fussy with the ingredients. For the shop's range of taro cakes, she only uses taro from Thailand as fragrance and taste is important. This means that only the white taro with the spidery purple veins is used here instead of the lesser tasting other taro (and definitely not taro powder).
They go through 5 kilos of taro every day or two and these are made into their yuan bao taro rolls which are feather light taro filled rolls with a light sponge outer which she heats up before serving them. They disappear within two or three bites and they are so light that you could almost crush them when picking them up as you would mistake them for something sturdier.
She also serves dense taro biscuits which go wonderfully with the lavender tea made from dried lavender. A range of Chinese baked goods sit in the window and you help yourself to these and cakes and other sweets can be found in the front display.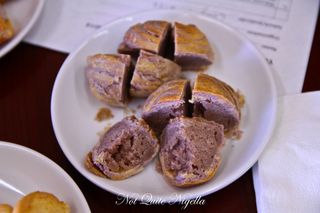 Wee Lynn shares one last surprise and that's a thermos full of chilled pandan and ginger tea in a keepsake thermos from our fun afternoon strolling Burwood. I came, I ate, I met some amazing shop owners and lovely tour participants and got a glimpse into the hidden secret treasures of Burwood from one of its most lively and knowledgeable residents. I should really do this more often...
So tell me Dear Reader, what tasty treasures does your suburb hold? And do you think suburb tours like this are a fun activity?
NQN was a guest of Feasting in the Know
Feasting In The Know Food Tours
https://feastingintheknow.wordpress.com
feastingintheknow@gmail.com
Tel: +61 439 472 985
Leung Tim Choppers Company
200 Burwood Rd,Burwood,9744 1288
Burwood Mega Mart(Korean grocery shop)
1/43 George St, Burwood, 9745 5477
Wowcow
51 Burwood Rd, Burwood, 9745 1950
Momiji Japanese Restaurant
96A Burwood Rd, Burwood,9744 2977
Melt Chocolate Bar
124 Burwood Rd,Burwood, 9747 6358
Top Choice BBQ Restaurant
224 Burwood Rd, Burwood,9715 2233
Charcoal King BBQ Restaurant
220 Burwood Rd, Burwood, 9715 3539
Sydney Dumpling King
183 Burwood Rd, Burwood, 9701 0055
Lung Cheung Chinese Grocery Store
185 Burwood Rd, Burwood,9747 6358
Taipei Dainty Bakery
183B Burwood Rd,Burwood, 8960 0334