Cheeses at Formaggi Ocello
Ultra long spaghetti at Formaggi Ocello
10 stops, 9 stomachs and the will to eat. That's what sustains a gaggle of food bloggers one afternoon. After my Kingsford and Kensington tour Reem decided to take us all on a tour of her stomping ground, Surry Hills. I didn't intend to blog it - I had a sore neck and was tired but a few stops in and my hand rested on my camera and then what do you know, the camera just came out and things just had to be blogged.
Stop 1: Thomas Dux
We met at the corner of Oxford and Crown Street and a camera toting excited bunch we were and in much bigger numbers than before. The first stop was Thomas Dux, a high end grocery chain owned by Woolworths which stocks all the stuff that we bloggers love to buy. Designer honeys not at your regular supermarket? No problem here. Droste Dutch Cocoa? Not a problem. And sampling is good here too with the counter staff calling us over to sample the platters. The stuffed peppers are particularly good. Alas I didn't take photos here as I didn't intend to blog it. But never fear, my state of petrification ended soon after.
Terry from Simply The Best Butchers
Stop 2: Simply The Best Butcher
Our next stop was Reem's butcher Terry from Simply the Best Butchers. She tells us of how much she adores him and how he sharpens her knives for her and gives her great advice and is very reasonably priced but with high quality produce. He brings out a tray of freshly cooked sausages for us to try and our eyes light up. They're deliciously meaty and true to flavour and we can guess what they are supposed to be just from the taste.
The lovely sausage sample pack from Simply The Best
The one that has us particularly excited is the idea of the Peking Duck sausage and being the lovely butcher that he is, he brings out sample trays for all of us to take home which include each of his award winning varieties: Lamb Merguez; Peking Duck; Spicy Italian; Irish Pork; Honey, Mint & Rosemary and Beef, Merlot and Cracked pepper. I can see why Reem loves him and I also buy a Free Range chicken for dinner (which is absolutely beautiful and tender and I vow to get all of my chicken from here from now on).
Formaggi Ocello
Stop 3: Formaggi Ocello
We walk a few doors down and go to Formaggi Ocello, a cheese shop with an abundance of all of that lovely creamy stuff. We had seen their stand at the Italian Festival so I was interested to see what their shop was like (and psst they stock some Zumbo tarts). They are very generous at samples without a keen pressure to sell which is nice and we try a few different cheeses there including an aged versus a new cheddar and some ash goat's cheese. There's even an adorable goat's cheese that I spot towards the back of the fridge called La Petite Princesse as well as other Italian goodies like longer than long spaghetti.
Stop 4: Hudson's Meats
Christopher's Cake shop was going to be a visit but alas they were closed that day - no matter I've visited their other location before in Mascot. Our next stop ends up being Hudson's Meats, a popular but expensive butcher that Reem takes us to but she tells us that she buys more often from Simply The Best due to the cost and service. It's all very nice inside and it looks more like a cafe or homewares shop.
There is a display of cookbooks at the front and all sorts of lovely jars of items and reasonably priced vanilla beans although things are a bit hushed inside. "They don't seem as friendly" someone says but then a voice booms "Hi how are you?". There is a nice range of grass fed and Wagyu beef and they're the same cuts as you would find at a restaurant so if you were looking to have a gorgeous restaurant quality steak, this is a good place to get it. We sample some chocolate and then go onto our next stop, Sparkle Cupcakery.
Stop 5: Sparkle Cupcakes
Sparkle has been around for some time and from all reports things are beautifuly merchandised. There were some comments amongst friends that said that the cupcakes were a bit on the dry side and some didn't like that only the icing was flavoured but I tried one at the World Chef Showcase and it was lovely and moist inside and very pistachio-ey so I think things have improved and I was eager to give them a try.
We stare at the coloured dots (which are a doppelganger to the Sprinkles Cupcake chain in the U.S.) and as a bunch of girls, we make the only decision we can possibly make given the choices "We'll take one of everything!" we say "and can we have some knives?" but before you guffaw at our gluttony, it was to share amongst us giving us 1/8 of each cucpake per person. The flavours we sampled were Morning Glory (a cinnamon cake with a very slight hint of apple dusted with cinnamon sugar); Lemon Squeeze (a delicious citrusy cupcake); Green tea and Bubbles (matcha cake filled with tapioca and lime frosting-sadly I couldn't really discern any tapioca bubbles here); Pistachio and Cardamon (lovely and aromatic); Lavender and Honey (lavender cake with creamy honey frosting, which is pleasingly strong in flavour).
We also bought the Oriental Flower (a lychee and rose cake with sweet rose petal topping which I didn't get to try); Espresso (with arabica beans, one that I felt was dry); Banana Toffee (banana cake filled with toffee and caramel frosting which was gorgeous); Milk Chocolate (belgian milk chocolate cake and frosting which again I felt was too dry especially after I inhaled some chocolate flakes); Pure Sparkle (vanilla cake made with what they say is the "world's best vanilla bean and extract which wasn't bad but wasn't as exciting as others and probably my favourite apart from the Pistachio and Cardamon: the Coconut Ice which Trina and I discussed before eating. We both either love or hate coconut and so we approached this with light trepidation but it ended up being gorgeously moist and rich with coconut cream (not drying dessicated or shredded coconut). The owner Kathryn comes over and says hello mistaking us for some sort of tour group (which we are really).
Drinks $4.50 each
Our drinks are lovely cold pressed juices by Preshafruit who cold press their fruit and there are three flavours: Apple & Pear, Pink Lady Apple and Apple & Pomegranate. The pick is definitely the Apple & Pear which is strong in pear whilst the Apple and Pomegranate reminds me of Apple & Blackcurrant.
Bourke Street Bakery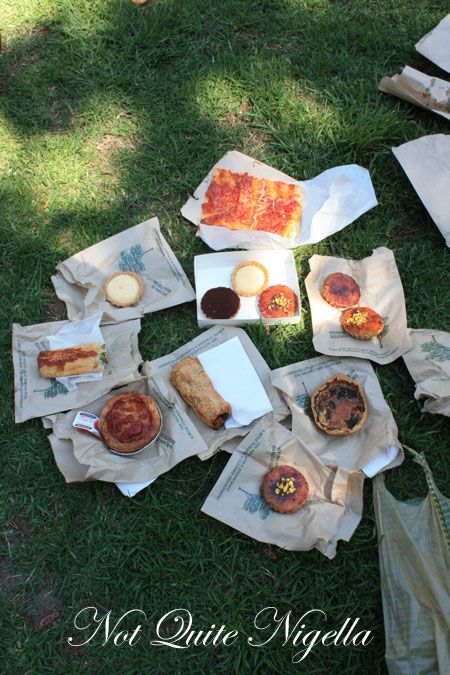 Stop 6: Bourke Street Bakery
Sweet tooth sated our bodies are yearning for some savouries so we swing by Bourke Street Bakery and join their perennially winding queue outside. We make our purcahses - for me, a veal, olive & beef sausage roll; a goat's cheese and mushroom quiche and a ginger brulee tart for Mr NQN later. We sit in the park opposite and try our goodies. My sausage roll is rather nice and unusual with the olive inside it although I still prefer the lamb sausage roll and I don't have any sauce with mine (and I can't have a pie without sauce). The tart isn't as exciting as I woud have hoped and the goat's cheese isn't very strong but the ginger brulee tart is gorgeous with a crunchy top and dark baked crust.
Pomegranate Seed Powder $2.95
**Stop 7 & 8: The Book Kitchen & New Shalimar Movies & Spices
There's a little stop at The Book Kitchen where we go in to check out their book selection. I've dined here before so I didn't take any photos. We make a little stop at an Indian grocery store on Crown Street and take a peek at everything in there. The spices smell gorgeous and group purchase lovely aromatics at a fraction of the price from other ships and Trina buys a Pomegranate seed powder which we are both curious about as we were hoping that it would be something like Pom Wonderful but in powder form. She later tells me that in the packet it resembled a chilli powder but it tasted like a plum or prune juice with a hint of stale oil perhaps from the oil from the crushed seeds and it was also full of seed grit.
Lamb Pide $13
Sucuklu Pide $13
Stop 9: Erciyes
Despite distended tummies, we walk into Erciyes Turkish restaurant and take a seat. We decide to split two pides as our stomachs doth protest if we order more. "Could we have each cut into 8 pieces?" and the waitress eyes us a little warily "Okaaay so you just want two?" she asks doubtfully. We choose the lamb with tomato, onion, parsley, capsicum and spices and the Sucuklu which is the table's favourite after of course the essential squeeze of lemon on top. The Sucuklu is a gorgeously spicy Turkish sausage with egg, cheese and spices. My apple tea has a hair in it which I send back. Both are $13 each and it is after eating my piece that my white flag of surrender goes up.
Stop 10: Maya Indian Sweets
We make one last stop at Maya Indian Sweets but as I've tried pretty much every sweet from here and I know my body will stage a coup on me I give it a miss. I do try a small pinch off the end of Leona's hundreds and thousands Burfi which is soft and crumbly which puts my stomach's already precarious footing over the ledge. Although I can say that it's a rather pleasant way to go.
Thanks to Reem for the tour of her suburb! The other happy stomachs that came along were: Betty, Karen, Leona, Lis, Lisa, Steph and Trina.
Stop 1 - Thomas Dux Grocer
Shop 1, 285A Crown St, Surry Hills NSW
Tel: +61 (02) 8354 0388
Stop 2 - Simply The Best Butcher
415 Bourke St, Surry Hills NSW
Tel: +61 (02) 8021 0159
Stop 3 - Formaggi Ocello
425 Bourke Street, Surry Hills
Tel: +61 (02) 9357 7878
Stop 4 - Hudson Meats
410 Crown Street, Surry Hills NSW
Tel +61 (02) 9332 4454
Stop 5 - Sparkle Cupcakery
132 Foveaux St, Surry Hills NSW
Tel: +61 (02) 9361 0690
Stop 6 - Bourke Street Bakery
633 Bourke St, Surry Hills NSW
Tel: +61 (02) 9699 1011
Stop 7 The Book Kitchen
255 Devonshire Street, Surry Hills
Tel: +61 (02) 9310 1003
Stop 8 - New Shalimar Movies and Spices
642 Crown St, Surry Hills
Tel: 0410 457 749
Stop 9 - Erciyes Turkish Restaurant
409 Cleveland St, Surry Hills NSW
Tel: +61 (02) 9319 1309
Stop 10 - Maya Sweets
468-472 Cleveland St, Surry Hills
Tel: +61 (02) 9699 8663