A funny thing happened to me this year around my birthday. Well the book happened really and I scarcely had time to do anything. And as the case may be, the birthday planning fell to the wayside. I had wanted to visit Berowra Waters Inn for the longest time ever since my advertising days. The Thursday or Friday lunch was legendary-mainly because it was quite a distance and you weren't expected back and if you timed it right, you ended up with an almost three day weekend. Sadly this never eventuated and this year, by the time I got myself together for my birthday it was a week before my birthday. I knew that there wouldn't have a single spot, even on the pier itself, even if I begged. So I set it aside for next year.
Luckily, next year's birthday came early in the form of a remarkable weekend away and Mr NQN and I were driving away from Brooklyn after our relaxing night at Dangar Island on our way to Berowra Waters Inn. We drive past what I unaffectionately term the "Hill O'death" aka the windy Berowra Water Road high above the road below and with as many twists and turns as a formula one raceway. We park the car (a tip, book for an early lunch as the carpark gets crowded on weekends and you don't want to be schlepping your good self up the hill in heels) and we make our way down to the private ferry wharf where a ferry driver shuttles back and forth across the water picking up guests and depositing them on the wharf in front of the restaurant. It's a short five minute ride and we alight and climb the wooden walkway (caution, leave your spindly spike heels behind) and up the sandstone stairs to the restaurant.
With floor to ceiling windows, inside is chic, very North Shore and all view and service is friendly, deferential and helpful. We're dithering over what to get so they suggest alternating with the dessert assiette for two and possibly a cheese course if we have room which will give us a taste of everything on the menu. You can have five courses including tea, coffee and petit fours for $150 or $210 including wines or six courses with each additional course $25 each of $35 with matched wines.
We start with a glass of Billecart Salmon champagne to soothe the nerves (not that the nerves were jangled in any way). We're given an amuse bouche, salmon and eggplant caviar on a crisp. The crisp is warm and very buttery and the salmon and eggplant caviar lovely.
"Oooh look at this butter!" I exclaim to Mr NQN. because I am easily besotted by butter. It's is a salted French butter in a foil wrapped baton shape. The bread is warm but I'm not particularly taken by it, it's very wheaty for my taste (it sounds odd I know).
Chilled Vichyssoise, Oscietra & Salmon Caviars, Beignets Of Hawkesbury Oysters served with Hewitson 'Gun Metal' Riesling 2009, Eden Valley, South Australia
Said to be their signature dish, the kitchen sends out two of these so that the courses can come out in pairs as there are nine savoury courses). Lucky thing too as I might have fought Mr NQN for the moussey Vichyssoise which is light and airy as a mousse. Inside it halfway down are the two caviars, a larger red salmon caviar and a small black Osciestra caviar and on top are tiny, tiny breadcrumbs. The beignets of local oysters are crispy and hot and sit on top of a bed of creamy leeks. Heaven. I pick up the vichyssoise cup and try to lick up extra bits from the side of the cup before realising that I may be embarrassing Mr NQN when I see his expression of horror.
White Asparagus, Green Asparagus, Slow Poached Organic Egg, Fresh Black Winter Truffle From Manjimup served with Krinklewood (Biodynamic) Chardonnay 2008, Hunter Valley, New South Wales
No matter how I have truffles, I always think that they're always best served with eggs. This slow poached egg yolk looks runny at first but it's got a viscosity thick enough that it can hold its shape. It comes with white and green asparagus, the poached egg yolk, a mushroom emulsion and a freshly shaved Winter truffle. It's creamy and aromatic.
Grilled Sea Scallops, cauliflower, pickled salsify, salted walnuts, green apple served with a Rusden "Christian" Chenin Blanc 2009, Barossa Valley, South Australia
This was a fairly simple dish but well balanced with grilled scallops, cauliflower puree, salted walnuts. The scallops were juicy and the thinly sliced pickled salsify gives it a nice balance as does the salted walnuts.
By now the whole restaurant is full. The buffalo mozzarella, usually such a mild cheese is given a bit of spice with the Espelette Pepper which is a pepper cultivated in Espelette by the Basque people. The stretchy mozzarella goes well with the small pillows of gnocchi, wild mushrooms like Chanterelles and sage butter and to finish it off is a tempura sage leaf crisp.
Poached Western Australian Marron, Fermented Garlic, Sweet Green Peas, Alsace bacon served with Joseph Drouhin Chablis 2009. Burgundy, France
The poached Western Australian Marron is a stunning dish. It's a marron tail with some fermented garlic puree, a sweet green pea dumplings and a tiny rasher of Alsace bacon. The marron tail is perfectly cooked, the fermented garlic gives it a burst of musky flavour and the delicately skinned dumpling has a sweetness from the peas.
The Murray Cod is deliciously moist inside but with a lacquered skin and is accompanied with a celeriac puree. The croustillant of black peppered oxtail has two thin pastry layers, a layer of spinach inside and the soft, braised shredded oxtail.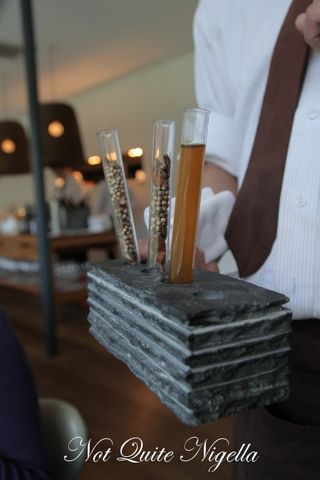 Ballotine Of Local Quail & Duck, Foie Gras, Oriental Consomme served with Te Kairanga Estate pinot Noir 2009, Martinborough, New Zealand
This dish comes with its own test tubes! In fact two test tubes with the consommé ingredients including Chinese peppercorns and star anise and a test tube with the warm consommé which is to be poured over the quail, duck and foie gras which is wrapped up in a roll and sliced. It comes with a lightly cooked Asian vegetables which are still a little crunchy and the flavour is rich, slightly gamey but aromatic with the star anise.
Before we have our last savoury course we get a little teacup of soup. It's a roast pumpkin soup with crushed amaretti biscuits. The amaretto biscuits are sweet and sweet toothed Mr NQN likes this more than me.
The bone marrow dumpling was nothing like I expected. Here it is a lamb shank, slowly cooked and rimmed with spinach and a bone marrow dumpling so that it is almost like a suet pudding that encircles the lamb shank. It's comfort food in a tidy portion. Inside the lamb shank is some sweet confit onions and there is also a whole eschallot and eschallot jus which is quite heavy on the eschallot.
Grilled Wagyu Sirloin, braised cheek, Jeruselum Artichoke, Deep fried aioli served with Andrew Thomas 'Two of a kind' Shiraz 2008, Hunter Valley / McLaren Vale, NSW/SA
Yep you read right. Deep. Fried. Aioli. As in the deep fried garlic mayonnaise. After you taste it, you may be deep frying your own aioli too! ;) It has a thick, crunchy golden crust and the creaminess and garlic flavour of the aioli pairs very well with the pink cheeked Wagyu sirloin. The braised cheek is thick and gelatinous and sits on top of some sauteed spinach. There is also some golden Jerusalem artichoke and I adore this main.
If only I could make a dessert as good as this pre dessert. It's a sauternes custard with caramel mousse, chocolate pop rocks and buttery almond tuile. Sliding a spoon down the side of the shot glass I get a bit of everything and it's a wonderful combination of flavours and textures-and even the pop rocks, so used nowadays work to give the creaminess and crunchiness an added ...well pop. I know I have no hope of becoming a pastry chef (not that I ever harboured any dreams of that) but I know it to be the case when I have this. And this is only the pre dessert!
Do we have room for dessert? Absofreakinglutely! The dessert variation on a theme is excellent value for pairs as you get to try all four desserts and this counts as two courses. And if getting this dish brought to your table doesn't induce stares of envy and lust, I don't know what else would. A supermodel would probably shrink back in her chair if she saw this, totally outshone.
We start with the dark chocolate dessert as we reason it's perhaps the least sweet which it is. It is served with a Pedro Ximenez Sherry which is sticky and syrupy. It comes with lightly soaked, sweet strawberries and is topped with a tangy yogurt cream - not ice cream, cream that tastes like whipped yogurt. Under the sublime strawberry sorbet is crushed sugared almonds.
I am on a pineapple kick at the moment and this braised pineapple redolent in sweetness is paired with an airy coconut mousse which is encased with a very thin white chocolate shell. To match this we have a vanilla speckled warm pineapple soup which I pour over the white chocolate dome and it melts. The coconut mousse is divine and strong in coconut. I can feel a Meg Ryan When Harry Met Sally moment coming on!
OK well this was going to have to be my favourite as I love pastry. This is lovely and caramelised dark although it is steeped in a syrup so it's not as crunchy as I usually like it. However it comes with a divine nut brittle which delivers a satisfying crunch and a William pear ice cream. Let it be known that Mr NQN, ever the chivalrous husband said "You have all the pastry". See why I married him?
I don't normally order souffles. They never really do it for me. I've discussed it with friends and some concur that they're a bit too "one note". I'm willing to change my mind for this one though. With a generous blanket of icing sugar (and that's my first complaint, often souffles are only sweet around the edge where they meet the buttered, sugared ramekin), this has personality in spades. It's paired with a raspberry and mascarpone ribboned sorbet and cream. I eat my half of this happily and eagerly.
"You can have as many as you would like" our waitress says. There is a selection of four that comes with our tea or coffee and they are a dark chocolate, pineapple and pistachio chocolate cube, a blood peach jelly, a hazelnut financier and a chocolate and cherry truffle. The blood peach jelly in my favourite, and yes it's not a misprint and not meant to read blood orange. The blood peach jelly is made from an imported blood peach puree from France. We take a bite and Mr NQN says "it reminds me of something" and then it hits me. It's like Chinese haw flakes and peach. Crazy but true!
Seaplanes come and pick up some passengers (a wise idea for those that have been drinking). We're stuffed and we can't comprehend the cheese plate no matter how tempting the raw milk cheese from Switzerland sounds (I know we'll regret it later). Our little weekend journey to the Central Coast and Berowra Waters has drawn to a close and we are reluctantly heading back to reality. We take a look at the time and see that it is now 4:30pm. Hmm yes perfect for a corporate lunch wouldn't you say? I'm just thinking of you darlings! ;)
And did any of you see the new Cornetto Endless Summer ad on TV with yours truly in it? There I was working on my laptop last night when I heard the ever familiar tune and freaked out a little-there I was, on my own television. How very surreal!
So tell me Dear Reader, have you ever wanted to be a chef or a pastry chef?
Berowra Waters Inn
Accessible only by boat or sea plane.
S33'35'43.4 E151'07.18.5, Berowra Waters
Tel: +61 (02) 9456 1027