Dearest Reader, what would you say are the most significant dishes of your life? The ones that if given to a stranger, would provide them with a glimpse into who you are, where you've come from and what you've done in life in the absence of photographs and video. Your food biography if you will.
I came across this wonderful idea to catalogue my life according to food from Johanna's great blog Green Gourmet Giraffe. She originally found it in Jill Dupleix's July 2010 column who titled the story "Food Memories". I thought that the new year was as good a time as any to talk about the 10 most significant food experiences and memories.
As Jill says: "Your list will be different to mine, and different to your nearest and dearest. A stranger could look at them and know so much about you and your life; where you came from, who you became, and everything in between. The places you have lived will be in there, the people you have loved and who have loved you. Every dish tells a story, good or bad."
1. Bamboo leaf wrapped dumplings or Zongzi
Photo by Flickr user avlxyz via CNN
When I was growing up I'd hurry home from school, after a quick stop at the library where I'd check on the resident albino axylotl (I considered him "my axylotl") and drop my school bag in my room and enjoy the pleasant half an hour before I had to get started on my homework. After school there would always be a snack waiting for my sister and I and it was usually a bamboo leaf wrapped rice dumpling. My grandmother would snip a triangular dumpling off the line of them and hand it to me and I became expert at peeling the lotus leaves off from them while leaving the rice intact.
Some days, if I had been naughty and hadn't finished my breakfast I might find the egg stuffed inside the dumpling-my grandmother having gone through the war as a widow with six children was not a fan of wastage and I learned quickly to avoid the awful surprise of a boiled egg and tomato sauce filled dumpling. But mostly they were filled with pork and shiitake mushrooms and were the perfect kid sized snack to eat after school. Sadly my mother never learned the skill of rolling and tying these and after my grandmother passed there was no line of dumplings waiting for us.
2. Chocolate mousse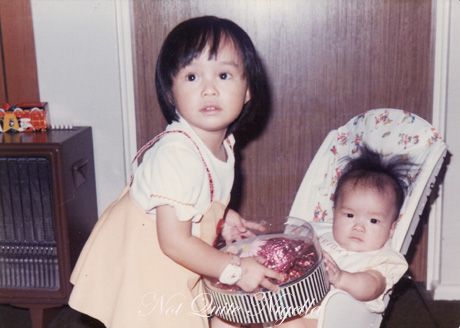 Clearly I was a foolish child giving away chocolate...
I have what may be considered a sin to confess. I hated chocolate when I was young. There is even photographic evidence of me trying to pass on a chocolate Easter egg to my little sister. Every time I would eat it I would (and sorry for bringing this up) throw it up. But I forced myself to grow to like it as I knew that somewhere within me lay a chocolate lover. And there certainly was...
One of the very first dishes I made was a chocolate mousse. I don't even remember which recipe I followed but I am certain of two things: I overcooked the chocolate and it separated into little globules and I under beat the egg whites as we only had a hand held rotary beater and I would have gotten tired and thought that that was enough. So the little globules of chocolate has a slimy coating of egg white around them. It's a wonder I ever cooked again after that.
P.S. My sister is not the estranged daughter of Don King or a pineapple despite her hair ;)
A more kid friendly and not at all slimy version of the chocolate mousse - instant chocolate mousse
3. Strawberry Charlotte cake
We had a small strawberry patch when we were little. It yielded a few strawberries and they were unimpressive at best. For starters, we picked them when they were underripe in our enthusiasm. They were mostly white but I had a desire to unite them with my strawberry shortcake doll which smelled like how I felt strawberries should taste but never did. And yes I bit Strawberry Shortcake just to see what she tasted like...
My mother wasn't and still isn't a huge baker. She is a savoury cook that makes Asian dishes (although she does make a carrot cake and Portuguese custard tarts on request). So cakes were reserved for birthday and celebrations. I remember trying a slice of strawberry cake made by someone who I considered as lofty as Pierre Herme if I even knew who he was at the time. It was a simple sponge cake filled with strawberry mousse and fresh strawberries topped with a strawberry jelly and surrounded by sponge finger biscuits. The strawberries in this cake were not bitter as the ones in our garden and it was exactly how I imagined strawberries to be. To this day I haven't made a strawberry charlotte cake. But I will this year and I hope that it will taste as good as it did to my eight year old taste buds.
4. Sausage rolls
From Bourke Street Bakery
At school I was allowed one tuck shop order a week. My tuckshop order always consisted of a sausage roll. I would look forward to lunch time these days with great anticipation. Usually my lunch went uneaten as it was a ham sandwich on white bread with a frozen popper which defrosted against it rendering the white bread soggy pap. Fridays however were a special day and when the lunch monitor would hand out the white paper bags with a patch of grease on them and I would take mine which was very hot to the touch I could barely wait to sink my teeth into it.
There was a process of course. Firstly holding the sausage roll vertically I would eat the pastry from around the outside leaving a dubious looking brown tube of sausage meat flopping around. Then still holding the floppy sausage vertically I would squeeze the sauce on the top and it would slowly drip down the sausage. Looking back on it it does sound rather unappealing and dodgy and I now know why my teachers would look at me doing this with some measure of alarm. I still adore sausage rolls but I have learned to eat them in a more appropriate manner (hey I was nine years old, what did I know? );)
5. Roast chicken
All I wanted was a roast chicken when I was growing up. I wanted a beautifully bronzed bird with a shiny, glossy skin that we would carry to the table. Hearing our plaintive yelps my mother bought a contraption that was supposed to hold a chicken up in the oven and drain it of all of its fat. She had no experience of cooking roast chicken so we were literally the blind leading the blind.
We took the chicken straight out of the fridge and roasted it but the inside was still pink. Over the years we tried roasting chicken about half a dozen times and it always had to be finished off by being cut down the centre and cut up and placed back in the oven. Unfortunately we never got our bronzed bird carried to the table with a flourish.
I have since come across what has to be the most divine way to roast a chicken and when I get asked what I will make for anyone famous that may come to dinner, this is what I say I will cook. The Zuni Cafe roast chicken with bread salad which came from one of my readers spacegirl.
P.S. I later learned not to roast the chicken straight from the fridge and that some oven temperatures aren't accurate!
6. Vol au vents
I am a child of the 80s. So Vol au vents were very much the kind of thing that featured on the menu but not at home though you do understand. When we were teens, my friends and I, with our first taste of actual earned money, would go shopping in the city and afterwards we would go to the same restaurant in the city which no longer exists and I would always order a chicken and mushroom vol au vent. Looking back on it it wasn't a particularly spectacular example of a vol au vent, I highly doubt that they made their own but it was so different to what I was served at home and it represented a freedom from that food and times where I could buy anything that I wanted with my own money that I would order it time and time again.
My how times have changed! Of course now I rarely go to the same place twice and I certainly never order the same dish twice if I do. I have since made them from scratch and they still taste like delicious freedom to me but even better possibly.
7.  Japanese food
Our last trip to Japan: Yakitori Alley, Tokyo
This is not a specific dish but a cuisine. After I completed university I went to live in Japan for two years as a second bid for freedom. Living in Japan and seeing how women (and it is a traditional society so it usually is women) shopped every single day for the very best and freshest produce really struck me as a wonderful way to eat. Also I am not the type to consider supermarket shopping a chore, especially in a country where mysterious labels might behold something stinky as natto or something as luxuriously decadent as eel.
I loved trolling the food halls in the department stores and seeing how fresh the produce was. My favourite section was the cake section and I was thrilled seeing the wagashi cakes lined up and presented as though they were jewels in a store. I would of course marvel at the $150 rockmelon (looking quite unlike any rockmelon back home) and devour the sweeter than sweet fruit that emerged each season. Seasonality and provenance is a concept that is very fundamental to the Japanese and that made perfect sense to me.
8. Singapore Chilli prawns
My mother was reluctant to share recipes with me for the longest time. But she slowly started opening up her treasure trove of recipes when you, yes that's _you _my dearest readers (and I've always said that I have the best readers in the world) would comment on how good the recipe she gave looked or how you had tried it and loved it. So she gave more and more and more and now I have access to all of her recipes thanks to you!
My favourite recipe of hers is her Singapore chilli prawns. Firstly because they taste delicious and are an absolute crowd pleaser and second of all because they are just so damn easy to make! In fact when you have a few things chopped up it takes less than five minutes to cook it. I almost missed getting the progress photos as it was so swift an execution. My mother loved the comments on this dish from readers like mikey, Amanda, Tosh, Jade, Ting'er, Tony, Mona and Patrick who all tried it and loved it.
9. Wedding cake
It's no secret I love cakes (this blog is a testament to this) but you may be surprised to know that it's creating the cake that I love more than the eating of it. And the ultimate cake has got to be a wedding cake. Nothing parallels it in execution, expectation or size. I was deluded enough to think at some stage, that I could make my own wedding cake. Thankfully sense took over and I left it to the experts. But this past year saw me make a few wedding cakes. There was the croquembouche with Patisse and the two tier wedding cake with Faye Cahill which had me quietly proud and still a bit stunned that I had created them.
Then there was the the Kransekake that I made for my darling friend The Second Wife which was made not under supervision and with copious amounts of royal icing and home made marzipan. And it got to the wedding reception in one piece and the bride loved it which is everything that I could hope for and more.
10. Pastry for the upcoming book
A strawberry St Honore-proof of the existence of a pastry god
The last item is a pastry I made for my upcoming book. I don't want to spoil the surprise but suffice it to say that it was complicated and best not attempted during the Summer which is when I made it. It took about two days to produce and there were times when I truly thought that it would be a dismal failure. Somehow, by the graces of the culinary gods it worked out. Perhaps it was confidence gleaned from the wedding cakes but I am now not so afraid of challenges and the seemingly impossible.
The resulting pastry was worth every minute because with every lovely, luscious bite it reminded me of when I was on holidays in Europe. And you cannot beat the way that food can do that. Don't you just love food memories?
So tell me Dear Readers, what are your top food memories? I'd love to hear what makes you you!