I look back at bad meals with a degree of anguish. When my good friend Queen Viv took me to Wollongong she did so on a wisp of memory of a good meal seaside. Not quite remembering the name she didn't call to see whether it was still open and sadly it was no longer and so we settled on a meal at a place that replaced it. It was fine but not spectacular. But I felt reader's pain when they told me of the other places we could have eaten at. I could imagine them saying to themselves "What a wasted opportunity!" but of course they ere too polite to say so. One reader Jen recommend Fireworks Cafe in nearby Austinmer and another reader Lulu recommended the homemade gelato at Austi beach cafe so one afternoon during the Christmas break Mr NQN and I took the drive there.
Fireworks Cafe is on a side street away from the main street and the minute you walk into the converted butcher shop the first word that you think of is quirky. The menu is written on the walls and there are mismatched, colourful lampshades that hang from the ceiling as well as woollen knitted pink balls that look like furry lanterns that trail the front window.
Orange, watermelon and ginger juice $6
We start with some refreshments after the  drive. I start off with an Earl Grey tea and Mr NQN starts with a juice with orange, watermelon and ginger which is refreshing and warm with ginger.
Earl Grey tea $4
I didn't want to stare too long at the menu-there was a table of people right next to it that perhaps thought that I was busy staring at them so I honed in on the words "pork belly" and "ocean trout"  and ordered these at the table.
Pork belly salad $16.50
The pork belly salad arrives and it is a jumble of green rocket, pink jeweled pomegranate seeds, white labneh (yogurt cheese) and cubes of incredibly good pork belly. I know how hard it is to get it right. Sometimes the crackling isn't quite right and it isn't crunchy enough and sometimes the meat is too dry but these little cubes of spice rubbed pork belly are perfectly cooked and despite our initial thought that there might be too much salad for the pork belly we find some pieces hiding underneath. Ratio concern abated.
Ocean trout salad $16
The ocean trout salad with chopped boiled eggs, rocket and is also a tidy serving. It's not a huge surfer sized serve and neither is the pork belly so if you're ferociously hungry you might need to rethink the salads and choose something more substantial but it's just what we want considering that I've been eyeing off the fresh fig crostata like a cougar eyes off her prey in a bar.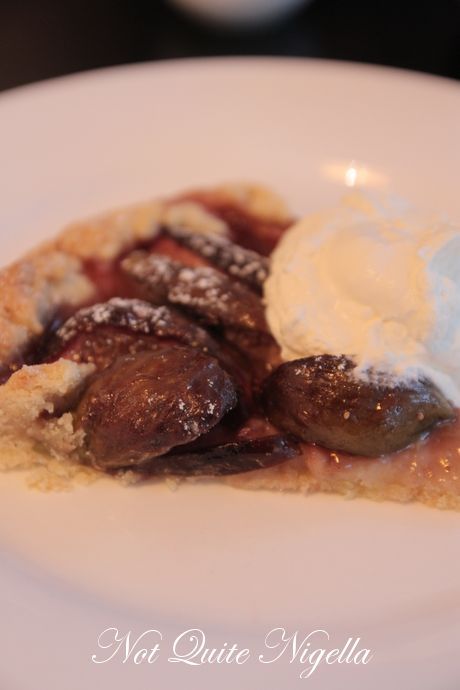 Fresh fig crostata $8.50
The fresh fig crostata is gorgeously simple. A buttery, crumbly crostata crust is topped with cinnamon spiced fresh fig segments and it is served with whipped cream. The pastry in particularly good and I love the crumbly butteriness of it. After polishing off the last crumb I do a little shopping at the shops next door. Kashmiri sells Balinese, Turkish and other goodies and I buy some tea plates for friends.
We take the brief trip down to the main drag for some gelato at Austi Beach cafe. The atmosphere here is very different from the Fireworks Cafe. This is large yet still friendly and busy with families and kids a plenty. We take a seat after doing some reconnaissance work with the gelato up front.
Donatella and panna cotta gelato
The donatella (and the first thing I thug of was the blonde tanned fashion designer Donatella Versace) is a mix of hazelnut and chocolate and is a lovely balanced mixture of both. The panna cotta is also good but I only have eyes for Donatella (the gelato I mean).
Blood Orange and berry gelato
The blood orange gelato is very odd, tasting more like orange and it is more sherbetty Fanta than blood orange. The berry gelato is good although I am happy to pass this back to Mr NQN in favour of the other gelato cup.
So tell me Dear Reader, do you look back on bad meals with anguish?
Fireworks Cafe
40 Moore Street, Austinmer
Tel: +61 (02) 4268 1139
Open Wed 9:30am-3:30pm; Thu-Sun 9:30am-3:30pm, 7pm-9:30pm
Austi Beach Cafe
104 Lawrence Hargrave Drive, Austinmer
Tel: +61 (02) 4268 5680