In a rather startling turn of events I was called a MILF for the first time in my life the other day. My first reaction was to turn behind me and look for the MILF in question. Surely they were talking about someone else. After all they know me and I am missing the most important accessory for MILFdom, that is, a child. But then I realised that it was in some bizarre way a way of backhanded complimenting me while letting me know that I had progressed past the ingenue stage.
I found the comment a little disturbing as I grew up in the pre MILF days where mums were just...well mums. I'm not a teenage boy so I never had a crush on anyone's mum and quite frankly everyone's father was a little bit creepy. Watching one of my favourite shows "The Inbetweeners" has given me a slightly frightening but hilarious glimpse into their minds but it's funny how this new acronym has become a marketer's dream and where previously women who might have been ignored or disparaged are now the suddenly a desirable commodity. I felt sorry for the previous generation who had just gone forward without a snazzy marketing acronym.
Another item that has suddenly become a bit fashionable again is fat. For years pork belly and pork fat were shunned as they were ...well too fatty but now they're enjoying a revival. I even experienced the sensory pleasure of pork fat butter (and yes it was as good as you would imagine it to be). I first tried this pork fat fougasse at the restaurant Alain Ducasse. You know the part where you're not supposed to eat a lot of bread but it's just so good that you do? Well that was me. Fougasse is a French version of foccacia bread in a diamond shaped bread that can sometimes be slashed in the centre to resemble a leaf or an ear of wheat.
So one afternoon for a picnic I decided to make a pork fat fougasse to try and recreate the one at the restaurant. Instead of trimming the white fat from the bacon I used it fat and all which felt a little less wasteful if somewhat more artery hardening. The bread has lovely bursts of salty bacon and that unstoppably tasty bacon fat that melts when you eat it warmed. Alain Ducasse is not crazy, there is some wonderful flavour with using the bacon fat (and in Ducasse's version there is only the white fat used). I'm not saying that you would make this recipe every week but it's good to make on occasion or perhaps once or twice, which is hopefully how many times I'll get called that name! Oh and if you're my parents, please don't look up what MILF means I beg of you...
So tell me Dear Reader, do you or would you like or dislike being called a MILF (or the male equivalent, whatever that is)? And why?
Bacon Fougasse
Adapted from French Kitchen by Serge Dansereau
Makes 2 Fougasse breads
350g or 2 1/3 cups plain flour
1 teaspoon bread improver (optional)
2 tablespoons olive oil plus extra for greasing
1/2 cup of lukewarm water
2 long rashers of bacon, the rind trimmed but the fat kept on, diced
Buyer's tip: Bread improver can be found in the baking and flour section of the supermarket
Step 1 - In the bowl of an electric mixer place the yeast, flour, bread improver and sugar and stir to combine. In a jug whisk the oil and water. Attach a dough hook to the mixer and on the slowest setting gradually add the water and oil mixture to the flour mixture and knead for 5 minutes until elastic and sticky and forms a ball. Add the bacon pieces in at the last minute.
Pre rise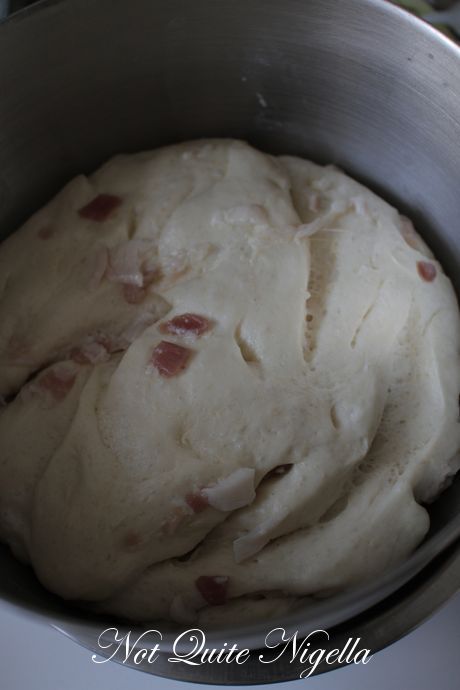 Post rise
Step 2 - Grease the bowl lightly and place the ball of dough in it and turn it around so that the dough is covered on all sides with the oil. Place in a warm, draught free area and allow to rise for an hour until doubled in size (I have no patience and I place the bowl in another bowl of warm water to rise).
Step 3 - Line a large baking tray or two single trays with greaseproof paper and brush oil on the paper. When the dough has risen, punch it down and divide it into two and spread it out into an oval shape. With a sharp paring knife, slice the dough down the centre and then do some slashes inside, like leaf veins. Make sure to cut right through the dough and then spread the holes open even further. Allow to rise for 30 minutes and spread the holes even more if they have closed up after the second rise.
Step 4 - Preheat the oven to 200C/400F. Brush the breads with extra olive oil and sprinkle with salt. Bake for approximately 30 minutes. Eat on the day that it is baked. Yep it's diet food, honest! ;)