A couple of weeks ago Mr NQN and I were both going to see the doctor. Not for anything serious but because I had purchased a deal from one of those discount websites. It was for a deal to visit a back doctor to get an Xray and then a massage. Of course I just bought it because I am a massage monster-I love them to bits. After waiting 6 weeks for an appointment we turned up and they did some Xrays and we had our massage. A few weeks later we returned to get our results.
Now this is where the difference between Mr NQN and I lies. He's a sportsman and I am anything but. His natural instinct is to compete on everything. Mine isn't although I become a fierce competitor if you get me on a topic that I care about and then Franck Eggelhoffer emerges and I must make something faaabulous (or I get very agitated if I don't guess the answers on "Letters and Numbers"). Most other things I don't give a hoot about and I don't care who "wins".
The doctor told him his back results and they were good. He was triumphant and grinning like a monkey. The doctor then turned to me and told me that my back was a mass of problems. I knew it would be, I've been wearing heels long before I should have and I've had a bad slip that had me on my back for two weeks. Mr NQN being the natural competitor looked happy at getting better test results until he heard her tell me that I had one leg that was slightly shorter than the other by less than 1cm!
That wiped that competitive grin off his face. Although apparently it is quite a common occurrence and you can't tell if you see me as my back had somehow compensated for it by building extra bone, it actually helped to explain the pain in my back and he started feeling sorry for me. And now I have an official excuse to ask for massages and be a general pain in the bottom! I've used the short leg excuse at least a dozen times asking him cheekily to do some housework "because of course you know I have one leg slightly shorter than the other honey..." ;)
I may be joking but someone that hasn't been seriously well has been my lovely literary agent Miss S. I called the agency the other day and they told me that she had been intensive care and had been there for a couple of weeks and was about to be discharged to go home. I rang her mother whom she was staying with while recuperating, to see whether she was ok and asked what she could eat-my first instinct is to bake but some patients are on restrictive diets. She wasn't on a particular diet but her mother suggested sending a card and said that that would mean a lot to her.
But of course I was determined to do a bit more than that and wanted to bake. So I thought about it and wondered how I could combine a card with something baked and able to be sent. I discarded ideas of cakes-I mean have you ever tried to send a cake by post? I looked at the dining room table which was scattered with scrabble tiles. I thought how about Scrabble cookies? She was obviously a wordsmith given her job and I knew that she read voraciously. Also I figured that even if she couldn't eat them she could play Scrabble with them (inserting a rule that you can eat a Scrabble tile if you feel it useless) or use them to communicate like above.
The recipe below is my usual sugar cookie recipe-it's actually very simple to do and one of the easiest cookies I have made although the dipping and writing requires some time to set. The quantity of dough makes enough for an entire Scrabble set's worth (100 tiles). I stuck the letters to send a Get Well message onto the front of the card with more royal icing and popped it in a box along with the rest of the "tiles" and sent it express post to the recovering patient. I received the loveliest thank you note from her and they were quite a hit with her mother too!
So tell me Dear Reader, are you or your partner a competitive person? And what topic makes you very competitive?
Scrabble Cookies
An original recipe by Not Quite Nigella
For cookies
85 g/3ozs butter, softened
140g/5ozs/3/4 cup white caster superfine sugar
180g/6ozs/1 1/4 cup all-purpose flour plus extra for rolling
Royal icing mixture (see below)
Kopykake edible writing pens (from Little Betsy Baker)
For Royal Icing
1 egg white (30grams/1 oz)
1-2 teaspoons lemon juice
150grams sifted icing sugar
DIRECTIONS
Step 1 - Make cookies. In a large bowl, cream together butter and sugar until smooth. Beat in egg and vanilla. Stir in the flour. Cover, and chill dough for at least one hour (or overnight).
Step 2 - Preheat oven to 200 degrees C/400 degrees F. Roll out dough on floured surface 1/4 to 1/2 inch thick. Cut into small rectangles with a ruler and knife-they spread a little so make them small-a scrabble tile is 18mm wide by 20mm tall. Place cookies 1 cm apart on parchment paper.  Bake for 5 to 6 minutes in preheated oven. Cool completely.
Step 3 - Make Royal Icing by beating egg white with lemon juice until foamy on low speed increasing to medium speed and add sifted icing sugar. OR I make this in a little food processor which skips the step of sifting the icing sugar. I whizz the icing sugar to get rid of lumps and then add the egg white and lemon juice until I get a dippable consistency. It make a few air holes so I usually make it a few hours ahead of time and let it rest. Always cover your Royal Icing with cling wrap as it dries out easily. Dip the cookies in making sure to allow the drips to fall off completely-you have to be patient. Place aside to set for several hours (or overnight) until completely set. I always find it easier to run a knife or a clean finger along the side of the cookies to catch any inevitable errant drips while it is setting.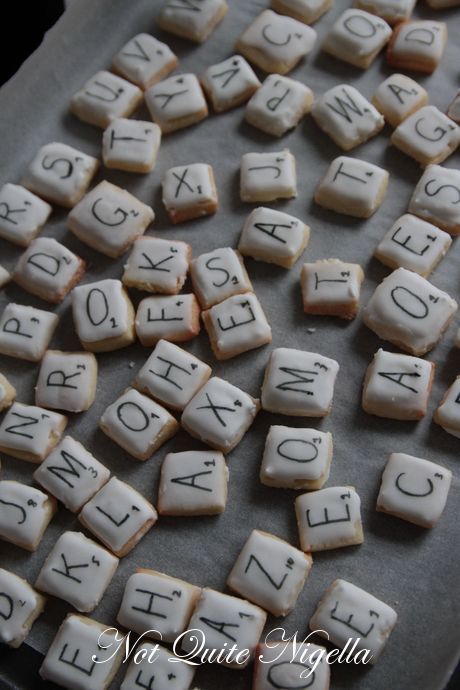 Step 4 -  Once the icing is set completely hard, using the edible ink pens draw on the letters. Wikipedia has a list of the actual tile values and the number of tiles in each set if you want to be accurate (you know I had to be right? ;) ).