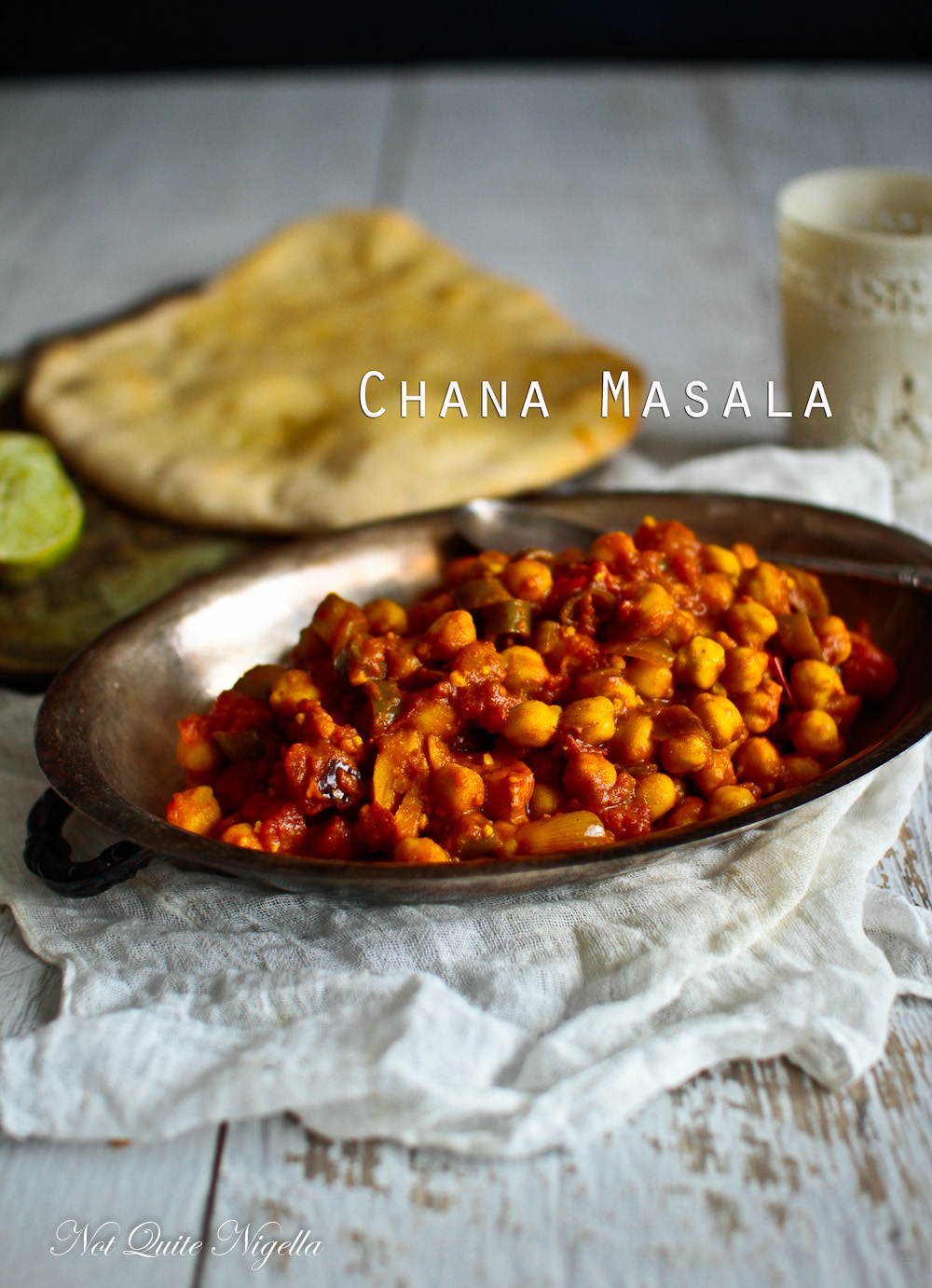 On a recent trip to Harris Park recently, I ate this incredible Chickpea curry with two enormous rounds of fried bread. Before I finished the dish I knew I'd be trying to make a version at home. A Chana Masala is a chickpea curry, divine in its creaminess despite being vegan and with an unmistakable tang. If you have issues finding some ingredients this one is a fairly easy one to shop for. But I just have one warning: maybe double or triple the quantity because I can't account for how popular it will be ;)
I should clarify that chana is the Indian word for a smaller chickpea than what we find mostly in the supermarket in Australia. The larger ones that we commonly find are called Chole so this is more correctly called Chole Masala. The fried bread called chole bhature and is a wonderful accompaniment but I rarely deep fry so I made do with regular naan bread.
The Harris Park visit was an adventure with my sometime vegetarian friend Laura. She now eats chicken but suggested that we try a vegetarian restaurant in Harris Park.
I did rush back home after dinner as I have somewhat unexpectedly become addicted to a reality tv horror show called Married at First Sight. A few weeks ago it was on in the background as I was decorating a cake and while I usually steer clear of these sorts of shows, it drew me in. I've learnt to try and resist the snare of reality tv as it sucks you in and you become so invested in these people as if they were a lunatic member of your family. If you are not familiar with it, it's a show about people that get married to complete strangers that they've been matched with by experts who don't actually seem that expert. They call it a "social experiment" to give it a bit more credibility (but hey I called my visit to Hooters on Valentines Day the same thing so glass houses...).
For most of these people it becomes quite apparent why they are single (too picky, too unrealistic, chauvinistic, just plain annoying) but out of the whole lot there are say 4 or 5 normal people.
Then there are the batsh&t crazy ones (Deb, a woman that just couldn't understand why her husband was not Polynesian), the bullies (the twins) and the villains (controlling cartoon chauvinist Anthony and the despicable Jonesy). Last week we watched an episode (I got Mr NQN hooked too) where the group of men had a boy's night in and spoke so degradingly of one woman (whose crime is as far as I can see is to be young, gorgeous and the recipient of some enhancement) that I wanted to fling my television off our balcony.
There were two men Sean and Simon that stood up for her and they restored my faith in humans because the others did not. I know a lot of reality tv is about editing but really, are they using that an excuse for terrible behaviour? You can't edit words into someone's mouth. And then I got all worked up again and that wasn't good for me. Anyway this is probably enough reality tv for me. It's just too infuriating and exhausting! Plus I would regret throwing my tv off the balcony at some stage.
So tell me Dear Reader, have you been watching this show and what do you think? Are you addicted to any reality tv shows? Do you rush home to watch anything? And have you ever tried this chickpea curry?
DID YOU MAKE THIS RECIPE? Share your creations by tagging @notquitenigella on Instagram with the hashtag #notquitenigella
Chana Masala
An Original Recipe by Lorraine Elliott
Preparation time: 10 minutes
Cooking time: 40 minutes
1 tablespoon ground cumin
3 teaspoons turmeric
2 teaspoons garam masala
1/2 teaspoon ground coriander
1/2 cup cashew meal (ground up cashews)
Ghee or oil for frying (ghee isn't vegan but I'm sure vegans know that)
1 onion, peeled and chopped
5 cloves garlic, peeled and finely chopped
1 inch piece ginger, peeled and thinly sliced
3 green chillies, sliced
850g/30oz. tinned chickpeas, drained
420g/15oz. tin tomatoes
1 cup water (or milk)
1 tablespoon rice flour (optional)
Salt and sugar to taste (about 1 teaspoon each)
Juice of 1/2 a lime
Step 1 - Heat a large pot on medium heat without any oil and add the cumin, turmeric, garam masala, ground coriander and cashew nuts and dry fry until fragrant (it will take a few minutes). Add ghee and add onion, garlic, ginger and chillies and cook for 2-3 minutes or so until onion is cooked through.
Step 2 - Add the drained chickpeas, tomatoes and water. Bring to a boil and then simmer with the lid off for 30 minutes or so. If you need the sauce to be thicker then add the rice flour.
Step 3 - Season with salt and sugar and then squeeze lime juice over the curry and mix. This is even better on the third or fourth day if you can wait that long.