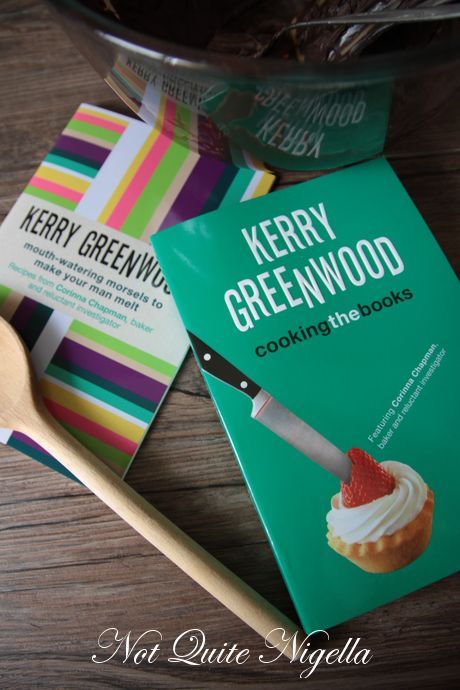 I know that I give a lot of cookbooks away but I know that you're about as food obsessed as I and that food can permeate not just cookbooks but fiction books too! Today I am giving away 5 copies of Kerry Greenwood's new book Cooking The Books which is a detective story based around food. The main character Corinna Chapman is a baker and owner of Earthly Delights bakery and bakes all manner of delicious breads and pastries. Corinna also has a hot young boyfriend Daniel whom she regularly cooks for in the book. I'm about a quarter of the way through the book stealing time to read it when I can.
This copy of Cooking The Books has a special recipe booklet attached with recipes for beef goulash, risotto Corinna, tournedos Parisienne as well as basic bread, pasta douro, Barm Brack (a good bread for Halloween!) as well as some basic sweets. The recipes are very simple and with a short ingredient list so they look quite doable indeed!
Thanks to Allen & Unwin, five lucky Not Quite Nigella readers will each win a copy of Cooking the Books by Kerry Greenwood with the bonus recipe booklet! For a chance to win all you have to do is tell me who your favourite mystery writer is and why! Simply add your answer as a comment to the story. The competition ends at midnight AEST on the 12th of November, 2011. You can enter this  competition once daily and it is open to anyone within Australia.
*The winners are:
Margaret J. of NSW**
Kristy D. of NSW
Samantha S. of Victoria
*Pamela W. of NSW *
Taya P. of NSW
Best of luck!
Lots of love,
Lorraine
xxx