I was interviewed the other day on the phone and the journalist asked me if I had any tips for any potential bloggers. One of the best pieces of advice I can give is to make use of the medium as much as possible. The advantage for blogs unlike print mediums is that we can lavish photo after photo on our pages. And because of that food photography is really important and honing your skills with photography is really important. I won't ever claim to be a great photographer, I think I merely do a passable job and most of my experience is learnt through trial and error. And because of that I can always learn more.
Dario Milano
When Mr NQN and I were offered places at Dario Milano's food photography class we both jumped at it. Neither of us have taken a class in photography but we are both very keen to hone our skills in the area and we wanted to learn from a working photographer with a great portfolio. And food photography is such a specific genre of photography. After all you have to convey the subject and make it look attractive but you have to make it look edible above all else.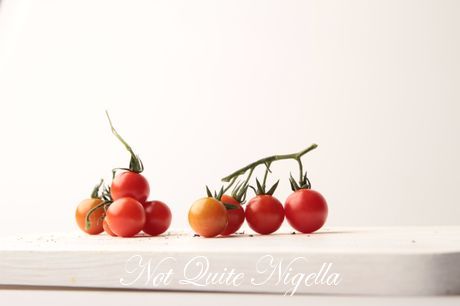 At his studio in Waterloo, Dario showed us all sorts of things-he has a slew of interesting props including these wooden boards that simulate tables which he had made up for him and he also told us some great places to rent props from. Most importantly he showed us how to make the most of the manual settings of the camera and photograph things with a softbox and external flash (something Mr NQN has been trying to show me what to do).
It was a four hour class with the second half of the class concentrating on food styling and he showed us interesting tips like how to make a glass of white wine using a tiny drop of yellow liquid food colouring (and here I was opening up an actual bottle of wine!). If you are interested, have a look at his site FoodPixels for the next workshop class.
The photographed, uncropped and untouched photo that I took at the class
The class inspired me to keep taking photos and experiment with things. After all I have four stunning lenses from my fantastic sponsors at Sigma that I am completely in love with and I need to utilise them to their full capability. Dario in particular loved the Sigma macro lens and says that it is one of the best and best value lenses on the market.
This omelette was the first thing I photographed after the class. I knew it was the perfect item to do-well not because it was an omelette and Dario showed us how to photograph one, but rather because it was served on a black plate which is what I often have trouble with-chocolate cakes are another item I find hard to photograph. I know that I need to keep playing with it and that is just half the fun!
Photo taken on automatic setting-the black plate throws the camera off and makes the omelette too light a shade
Photo taken on too dark a manual setting
Could use improvement but a better manual setting
Oh and the omelette? Well it's so easy and I think the longest you'll wait is for your pan to heat up. The enoki mushrooms give the omelette a meaty but not tough texture and the green onions and oyster sauce and sesame round out the flavour. It is for those nights where you want a nutritious, healthy meal but don't have the time nor inclination to order takeaway or slave over the stove.
So tell me Dear Reader, what sort of photography interests you? Food? Fashion? Nature?
5 Minute Enoki Mushroom & Onion Omelette
Serves 2
1 tablepoon oil for frying
200g packet of enoki mushrooms
1/3 cup chopped scallions/green spring onion/shallots
A little chilli (optional)
Oyster sauce and sesame oil to drizzle over at end
Step 1 - Heat your pan on a medium heat. Whisk eggs in a bowl and cut the bottoms off the enoki mushrooms and then cut the rest of the enoki mushrooms into inch long pieces.  Heat some oil in the pan and add the eggs and then sprinkle over the enoki mushrooms distributing them evenly. Then scatter over some of the sliced green onions on top, add lid on top and cook until cooked-you can flip this over carefully to cook the other side too.
Step 2 - Scatter some finely sliced chilli (large red ones are less hot), drizzle with some oyster sauce and sesame oil as well as extra green onions. I added some coriander just because I had some.