Looking for a warming, tasty vegetarian dish? This mushroom strudel is filled to the edges with saffron milk cap mushrooms with garlic, cheese and thyme. It's simple but serves many and it also makes for a wonderful lunchbox meal!
I make no claims about superfoods or super healthiness for this strudel. It contains butter, cheese and all the good stuff. It does happen to be vegetarian but this is coincidence-feel free to add some roast chicken breast to this if you like (and then it will probably remind you of a retro chicken and mushroom vol au vent).
The other night we went out with Tuulikki, Mr NQN's mum for Mother's Day dinner. She seems to subsist on superfoods-her gift to me as a turmeric latte powder and all sorts of health foods so she is trying to convert me into the lifestyle too. If it doesn't have a dozen claims for health then she probably won't eat it.
The topic always turns to veganism whenever we get together. I don't know about you but that is one of my least favourite topics because it turns preachy about the wondrous benefits of veganism. It's like being out to dinner with an vegangelist (vegan evangelist).
But she had another thing to get excited about. She had a new anti radiation tool. She removed the cover of her phone to excitedly show it to us. I wasn't sure what I was expecting but it definitely wasn't what she showed me.
It was a sticker.
Yep, an inch sized square sticker was supposed to ward off radiation if you put it on the back of your phone.
"How much did you pay for that?" asked Mr NQN. Because in the past she has paid $100 for a mouth piece that she was meant to bite down on and it was said to help you lose weight, reverse Down's syndrome and cancer.
"It was $25," she said. We both stared at her in silence. "This harmonises everything," she explained, not managing to convince either of us that she wasn't conned out of $25 of her pension money. And then she lost it 2 minutes later - actually Mr NQN nicked it just to tease her!
So tell me Dear Reader, what super healthy measures do you take? Have you or would you ever buy one of those stickers?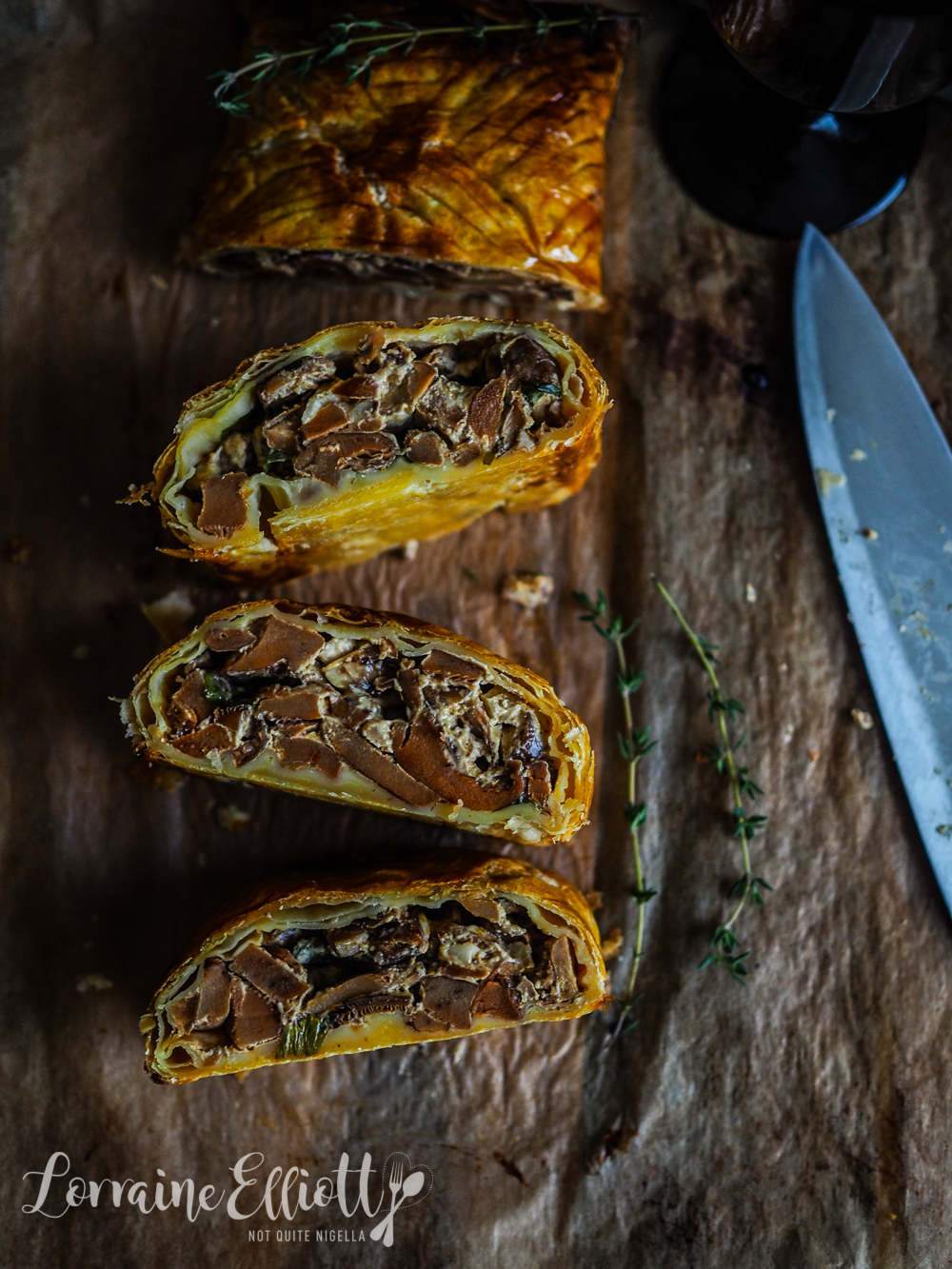 DID YOU MAKE THIS RECIPE? Share your creations by tagging @notquitenigella on Instagram with the hashtag #notquitenigella
Mushroom Strudel
Rated 4.5 out of 5 by 2 readers
An Original Recipe by Lorraine Elliott
Preparation time: 30 minutes
Cooking time: 45 minutes
Extra virgin olive oil for frying
4 cloves garlic, peeled and chopped
400g/14ozs. mushrooms (I used saffron milk caps), sliced
1/3 cup white wine
125g/4ozs. cream cheese
3 tablespoons sour cream
2 sage leaves
2 sprigs thyme (plus extra to decorate)
Salt and pepper
1 sheet butter puff pastry
1 egg yolk and 1 teaspoon water
Step 1 - Fry the garlic in oil on medium heat for a minute and then add the mushrooms. Continue frying adding more oil when needed and cook for another 5 minutes. Add the white wine, cream cheese, sour cream, sage and thyme and cook stirring until it becomes a creamy mixture and the mushrooms are cooked through. Season with salt and pepper to taste and cool completely. You can also do this step the day ahead (which is what I did).
Step 2 - Preheat oven to 220C/440F. Take the puff pastry and fill in the centre with the mushroom filling. Seal with the egg yolk and press down on each end with a fork. I also made patterns with a butter knife. Bake for 30 minutes or until golden.