We were watching Hugh Hefner on television one night and I turned to Mr NQN.
"Would you like two or three girlfriends or wives?"
He looked at me, slightly horrified I might add.
"No thanks, you're a lot of trouble as it is" he said.
I on the other hand could do with a few husbands I think. I could have a husband for doing handy work around the house (something that Mr NQN only undertakes with threat of bodily harm) as well as one to eat cakes (as Mr NQN is not a cake lover). Not that Mr NQN isn't the most delightful spouse to have but sometimes you need double or triple of what you have.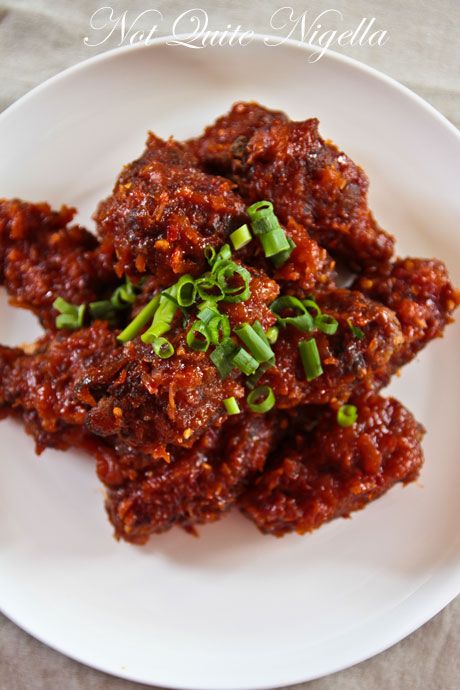 And when it comes to deep frying, doubling or tripling is like sprinkling something in fairy dust, twice - think twice fried chips. Doubling the frying process is just what makes Korean Fried Chicken such a delicious dish. The chicken is fried twice to give it that uber crunchiness even though it is then drenched in a delectable spicy sauce. And with friend Gina and Hot Dog finishing work on their house and pool we thought what better time to test out the recipe than with a weekend day at their house with other friends Teena, Philippe and Annabel. I drooled when I saw the recipe on Ellie's blog Kitchen Wench many moons ago and had always intended to make them but alas a fear of deep frying delayed that.
Hot Dog attends to the deep fryer
Gina and Hot Dog are chicken wing lovers from way back-in fact the last time she bought wings she bought 12 kilos of them! They have two deep fat fryers and he chops and separates them while she seasons them and he then jostles the handle like a pro. Most of our group loves a bit of spice so we upped the spice on the outer while leaving little Annabel with just the plain breaded pieces (which incidentally taste just like lightly spiced Kentucky Fried Chicken).
Although Ellie does caution to only put a small amount of sauce on these we couldn't resist and really dunked them in as we loved the spicy sauce and I ended up making three times the amount of sauce. So perhaps I should add that these are the extremely saucy wings and more of an adaption of Korean Fried Chicken. Her original recipe calls for one third of the quantities so adjust it down if you want it to be the more authentic version. However I will say that it's the kind of thing that even though you may be wearing a nice outfit (silly me wearing dry clean only), you don't really care as your teeth sink into the crunchy coating dunked in a spicy, sweet sauce. I'm convinced that even the Queen would roll up her sleeves in dig in and then look up six wings later with a ring of sauce around her mouth smiling.
So tell me Dear Reader, do you mind eating food with your hands or messy food? Or do you prefer knife and fork style food only?
Oh to eat like a kid again! Or a member of KISS...
Korean Spicy Saucy Fried Chicken
Adapted from Ellie at Kitchen Wench
Chicken Marinade Ingredients
2kgs/4 pounds chicken wings
1 cup milk (can substitute with soy milk if lactose intolerant)
2 tablespoons white sugar
1/2 teaspoon ground ginger
5 cloves garlic, finely chopped
1/2 onion, finely chopped
Chicken Coating Ingredients
3 tbsp Korean curry powder (Ottogi Korean curry powder if you can find it, I couldn't and used a Baba's meat curry powder)
1/2 cup potato starch (use cornflour or cornstarch if you can't find this)
1 1/2 cups tempura flour (or if you can't find this, use 1 cup plain all purpose flour and 1/2 cup cornflour or cornstarch)
Sweet & Spicy Sauce Ingredients
1 cup tomato sauce (Western-style, not the Asian ones which taste completely different)
3 tablespoons Worcestershire/Worcester Sauce
dried chilli flakes to taste (I used about 6 teaspoons so they were spicy!)
Sliced green onions to serve (optional)
Step 1 - Prepare the chicken wings. Using a large knife or cleaver, separate the wing from the drumette and the tips. Cut three slashes into the into each side of the drumette and mid-wing section – this will allow the pre-frying marinade to get right into the meat to keep it moist and impart a little flavour.You don't need the tips for this recipe and we ended up giving them to Gina and Hot Dog's puppy dog Indy. Isn't he cute?
Step 2 - Place the marinade ingredients in a large bowl and soak the chicken pieces in it for an hour. After the hour is up, drain the pieces and discard the milk.
The thickened sauce
Step 3 - Meanwhile, and this was because the menfolk were starving, I prepped the sauce and the chicken coating ingredients. For the sweet and spicy sauce heat a large frying pan on medium heat and add the oil and saute the onions lightly until soft and fragrant. Then add the tomato sauce, sweet chilli sauce, Worcestershire sauce, water and chilli flakes. It will look pale and uninteresting for a few minutes and then will turn into a glistening deep ruby red sauce. Try not to eat it as it is because you need it for the chicken.
Step 4 - For the chicken coating, I put the three ingredients into a bowl and stirred them and then put them in a large ziplock bag. Then I realised that I could have skipped the bowl step all together and put them directly into the large ziplock bag. When the chicken is drained add half of the chicken wings and toss around until coated and place on a large tray. Toss the other half and place on tray too.
Jiggle jiggle...
The first fry
After the second fry
Step 6 - Heat your deep fryer to 160C/320F and have two large trays ready. Fry the chicken in batches-not too many as putting too many will cause the temperature to drop too much. We did these in about 4 batches. Fry for about 3 minutes and then remove from the fryer and set aside to rest for 10 minutes resting on a single layer. After they have rested turn the heat up to 180C/350F and fry them again for another three minutes. Ellie's instructions were to cook them for longer but Hot Dog and Gina know the exact time their fryer takes to cook chicken wings as they make them a lot  and it was six minutes and they were perfectly done. And I think a deep fryer takes less time too.
Step 7 - Transfer them to the pan and coat them in the sauce and then sprinkle with green onions. And then have bibs, napkins and hand towelettes messy because it is going to get messy but you just aren't going to care ;)