Bored with roast chicken? Here's a take on the classic roast chicken. his version is flavoured with spicy Korean kim chi. It is served with kimcheese roast potatoes and will spice up any sort of dull dinner routine.
After a decade avoiding the stuff, I have now become a big kim chi fan. You see I ate too much kim chi one night when I lived in Japan and had the strangest, bloodiest nightmares. If you aren't as big a kim chi fan as me, don't worry it isn't strong at all, in fact you can't really taste it among the rest of the ingredients but it does add a really nice dimension to the marinade and potatoes. It's also not hot really at all so if you do want something a bit spicier add some chilli to the marinade. This is a real crowd pleasing dish and you can make it with chicken pieces to make it quicker to serve and eat!
I have one of those obsessive personalities. This blog is a testament to an obsession with food and my obsessiveness also emerges in areas like television shows where I submerge myself into their world watching hours of the show when I know that I should be asleep.
All my normal favourite shows are in hiatus so my latest television show is a classic: Law and Order SVU because I secretly want to be like detective Olivia Benson. But I've had to put my viewing of this show on hold for a while because I've started to think that everyone might be a perp or a perv as a result of watching hours of it at a time.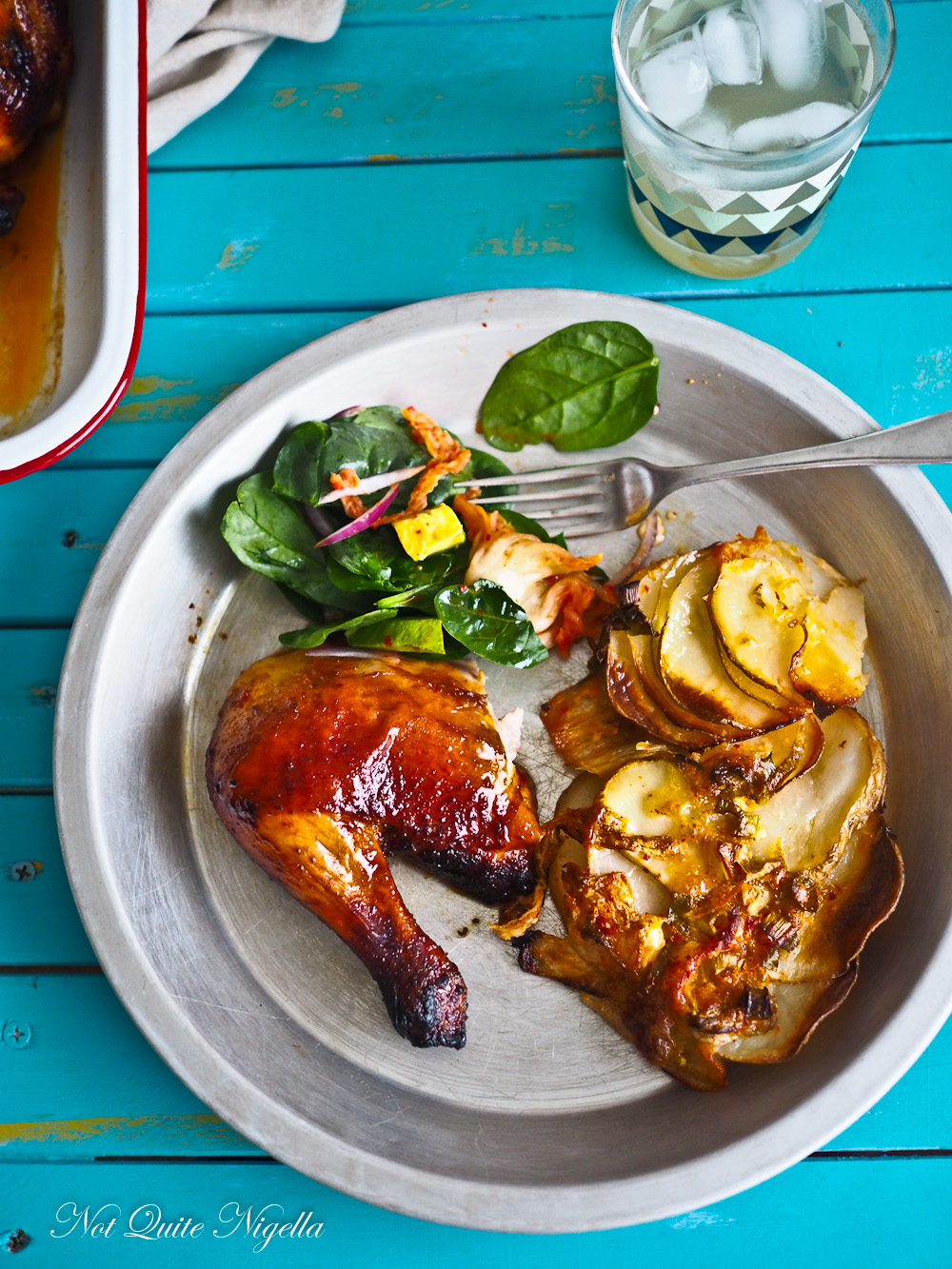 The other day a neighbour, albeit a creepy one in his 70's kept staring at me. I texted Mr NQN straight away. "If I am raped or murdered, it's our creepy neighbour who parks on the nature strip!". Of course this tactic may not be foolproof if I am perhaps murdered by another creepy neighbour or person but Mr NQN had to concede that this man was indeed very unsettling and recounted how he had seen him lead a few young women into his apartment one day. "Aha!! Did you ever see them leave? They might be buried in his wall!" I exclaimed. I started talking about perps and BOLOs and APB's because I think I am Olivia Benson I decided to watch him more closely after that.
Something that you don't need to watch very closely is a roast. And because I've also got something of an obsession with kimchi at the moment I tend to have 1 or 2 tubs of it in my fridge at any one time. And did you know that this could lure anyone out of hiding it is that tasty? If you want to give your roast chicken another flavour dimension give this roast chook (Australian slang for chicken) a try.
So tell me Dear Reader, do you ever find some people just creepy?
DID YOU MAKE THIS RECIPE? Share your creations by tagging @notquitenigella on Instagram with the hashtag #notquitenigella
Kim Chi Roast Chicken and Kimcheese Potatoes!
An Original Recipe by Lorraine Elliott/Not Quite Nigella
Serves 4
Preparation time: 5 minutes plus 1-2 hours marinating time
Cooking time: 45 minutes
1 whole chicken (about 1.3kgs/2.8lbs or same weight in pieces)
2 clove garlic, peeled and chopped
6 tablespoons kim chi juice
4 tablespoons soy sauce
2-3 tablespoons gochujang (red pepper paste)
1 tablespoon honey
1 teaspoon sesame oil
For kimcheese potatoes
500g/1lb potatoes, scrubbed clean
1 cup cream
1/2 cup kim chi
1/2 cup mozzarella cheese
1/2 cup sliced spring onion
1 clove garlic, grated
Salt to taste
Gochujang
Step 1 - Mix the garlic, kim chi juice, soy sauce, gochujang, honey and sesame oil together. Spoon over the chicken and marinate for 1-2 hours. Once marinated remove chicken from fridge and place on a baking dish (drain off and reserve the extra marinade).
Step 2 - Preheat the oven to 200C/400F. Slice the potatoes thinly and fan out onto an oven proof plate. Mix the cream, kim chi, cheese, spring onion and garlic and the extra marinade and pour over the potatoes. Place in the oven and bake for 1 hour (or until potatoes are tender) alongside the chicken. Season with salt (I find potatoes need a fairly generous sprinkle of salt).
Step 3 - Spray oil onto a sheet of foil and cover the chicken and roast breast side down for 30 minutes. Turn over the chicken to breast side up and cook for another 30 minutes. Then remove the foil and roast for 15 minutes to brown the chicken. If you are using pieces roast for 30 minutes covered, then 10 minutes uncovered. Serve with a green salad.