*Do you enjoy chicken wings but find eating them on the bone a bit fiddly? Try this way of serving them where the meat slides off the bone easily. This recipe also produces crispy and saucy chicken wings using the simplest ingredients. They'll have you licking your fingers and lips in anticipation! *
One thing I inherited from my parents is their love of chicken wings. They're my favourite cut of chicken and just don't get my family started on their hierarchy list of chicken pieces. It starts with wings and ends with chicken breast that is often kicked off to the side like a stray football or shoved into the freezer for a Vietnamese chicken salad. To me, the ratio of skin to meat is perfect with a wing and they're on the bone so that they stay juicy and full of flavour. I don't think I've ever met a chicken wing that I didn't at the very least enjoy but I love them when they are crispy but with a spicy sauce to them with a hint of sweetness.
The only thing is that to get them crispy you often need to deep fry them and well I'm a bit deep frying phobic. So I set about testing wings to see if we could get them crispy, spicy and saucy. We went through a couple of kilos of wings in this endeavour but I have an obsessive personality and once I want something, I simply cannot get it out of my mind. You'd really hope I'd become obsessed with a more noble cause but chicken wings it was. And these are a beauty. Coated in flour and then baked until crispy they're simply dunked into a sauce made up of three ingredients: tomato sauce (ketchup), sweet chilli sauce and ginger. These are perfect party food for an Australia Day lunch or a game watching afternoon. When cut like this, the meat easily slides off the bone making for maximum mouth satisfaction :)
Longtime readers will know that my parents are pretty funny people. I don't mean to suggest that they're comedians but they do things that are very funny and quirky. And every time I see them they come up with something kooky. The other day we were eating dinner and talking about how they never carry their mobile phones with them. My dad piped up that he had everything that he needed: his car keys, his wallet, a bus pass and a $5 note. With those things, he was armed and possibly dangerous or at least he could make his own way home.
"Why $5 though?" I asked him.
My parents gave each other a significant look before answering. My mother answered, "Over 30 years ago, your father left to go buy something at Grace Bros (department store) and he dropped the $5 he was carrying to buy it," explained my mother. And even though it is decades later, he will only allow himself to carry $5 in case he loses it!
I'm actually not that different from him. I rarely carry cash because I never get to the ATM. I just ask Mr NQN for some of his cash or tap or use the credit card. Although for me, for some reason when I carry cash I feel the need to spend it rather than my dad who holds onto the same folded over $5 note. Some genes are strong, whereas others are not!
So tell me Dear Reader, what is your chicken cut hierarchy? Do you prefer white or dark meat? And do you carry cash or do you card it? And Happy Australia Day to all of you in Australia!
DID YOU MAKE THIS RECIPE? Share your creations by tagging @notquitenigella on Instagram with the hashtag #notquitenigella
Baked Crispy, Saucy Chicken Wing Ribs!
An Original Recipe by Lorraine Elliott/Not Quite Nigella
12 chicken wings (not the drumettes)
1 cup tapioca flour/potato flour or fine cornflour (or cornstarch)
Oil
1 cup ketchup/tomato sauce
1 cup Thai sweet chilli sauce
1 teaspoon finely grated ginger
1/2 clove garlic, finely sliced
Sesame seeds and green onions to serve
Step 1 - Preheat oven to 230C/446F. Line 2 baking trays. Cut the chicken wings in half to separate the wing bones. You will need a pair of sharp scissors for this.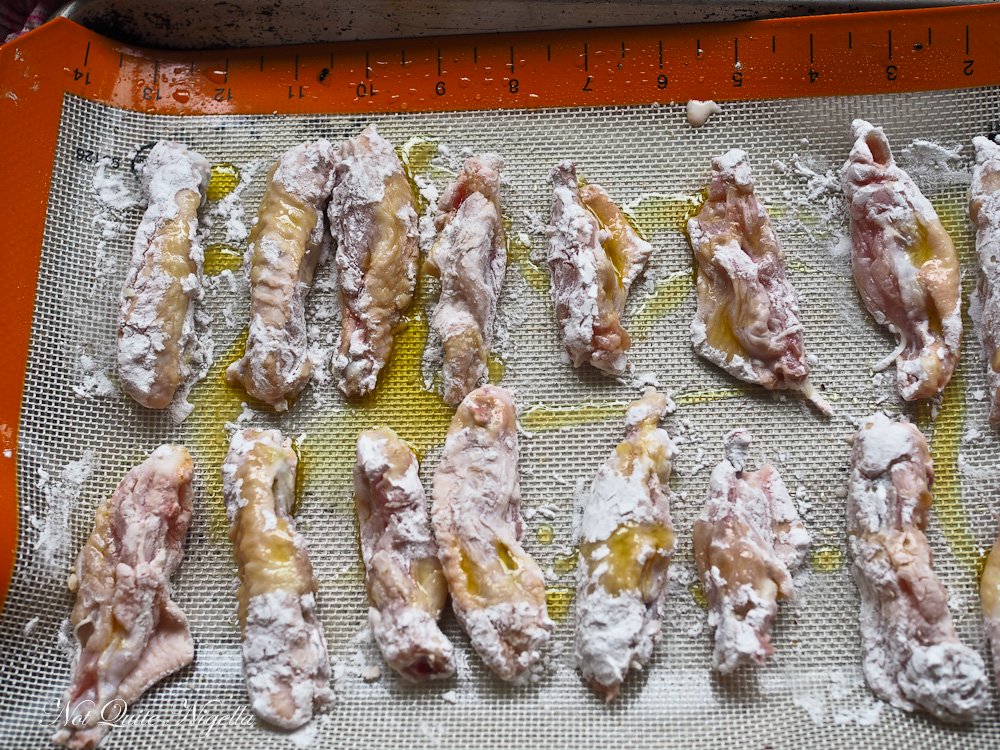 I'm sorry. This looks terrible.
Step 2 - Wash the wings and pat dry between paper towels. Roll the wing ribs in the flour and then drizzle with oil. Bake for 12-15 minutes. These will not go golden brown because the flour never turns very dark (unlike regular flour).
Step 3 - While it is cooking, place the tomato sauce, chilli sauce, ginger and garlic in a small saucepan and simmer and thicken for 5-7 minutes. It should be reduced and become a sticky but not solid sauce. When the wing ribs are done, roll them in this sauce and serve.