A guns and ammo shop sits by a home-wares store that would be at home in the Eastern Suburbs of Sydney. We had sadly bid Mudgee goodbye and are on our way home. We have arrived in the cute little town of Rylstone, forty five minutes outside of Mudgee, population less than 1,000. And following the rule that all Australian country towns must have a Chinese restaurant, this little town has a  rather different one. One that offers hand made yum cha dumplings and six types of tea to have with your yum cha.
The owner of this restaurant called "29 Nine 99" is artist, Na Lan from Xian in central China's Shaanxi province. In China, she met her Australian husband Reg and they were married on the 29th of the ninth month 1999 hence the name of the restaurant which sits to the right of the Bridge View Inn. Apart from yum cha, the unfolding space that encompasses indoor and outdoor seating, is also a shop and when you walk in you're struck with a kaleidoscope of colour and the waft of incense.
Chinese music plays in the background and it ranges from Chinese rap music and Chinese country music (neither of which I've never heard before- the country comes with a loud "Yee-haa!") to something a bit slower and easy going. Her artist's eye means that the space is a visual feast and there is a good selection of quality hand picked goodies. We walk past the tiny kitchen where a large multiple stacked steamer is busy steaming away like a locomotive.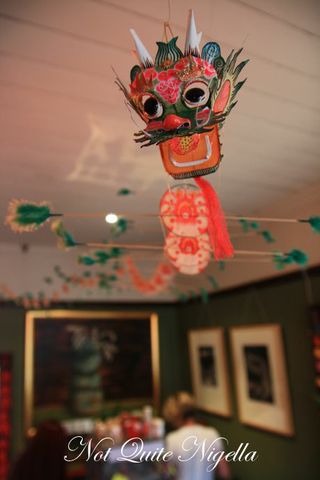 Na Lan previously lived in Byron Bay but moved to Rylstone after tiring of the omnipresent green colours of Byron Bay. She moved to Rylstone and cried when she first arrived so her husband brought her to Sydney where she realised that city life also wasn't for her. "I had enough city in Beijing" she says and she started to miss Rylstone and returned there shortly after. In 2008 she decided to start making food as she would invite friends over for dinner and they encouraged her to do so.
On her first day she made thirty hand-made dumplings and they sold out within five minutes. Now she hand makes three hundred dumplings every night and she also has help with gluten free and vegetarian dumplings from the chef at Sydney's Green Gourmet. The restaurant is open seven days a week and every Saturday night a Thai chef cooks for their Thai banquet. Diners are a mix of locals and tourists from overseas and within Australia and for some locals, it is their first taste of yum cha and of chilli sauce. The menu lists the dumplings priced per piece and they range from $1.40 for the small dim sims to $3 each for the large steamed baos. Diners have a choice of six teas to have with their yum cha priced at $5 per pot.
Na Lan checks whether we have any allergies and then prepares us a tasting plate of the steamed seafood dumplings (my favourite yum cha staples!) and some pan fried dumplings. There are two types of dumplings that resemble har gows, one is a har gow with a delicious pep from white pepper. There is as scallop and coriander dumpling and a spinach and prawn which is a favourite of mine. The last one is a crab and snow pea dumpling which is also divine.  The translucent skin is good, the dumplings plump and none of the dumplings skins have split. And we pick up a clever tip for steaming these so that they don't stick to the plate or the steamer - steam them on a disc of carrot which you can eat! There are three sauces offered with them: a sweet chilli, a sweet sauce and a soy and honey sauce. She also gives a small bowl of steamed vegetables - a nice thought for those wanting some vegetables with their yum cha.
The pan fried dumplings range from a pork, spinach & egg, lamb & shallots, chicken carrot & mushroom and beef, carrot & leek. The ones with the greens are a favorite and the skin is nice and translucent with a lovely crispy bottom. They come with a spicy chilli sauce with peanuts that packs a punch. Na Lan tells us that some of these are made using her mother's recipe.
"There's a little bit of dessert" Na Lan says and brings out a hand made steamed custard bun with a scoop of vanilla ice cream and a fresh cherry. The steamed bun is lovely, I'm not a huge steamed bun eater as I always feel that there is too much bun for the filling but this has a generous amount of thick custard inside.
Before we leave I do a bit of shopping and pick up these two adorable duck chopsticks rests for $2 each. Not everything is for sale, some are for decoration including this clock. Na Lan picks it up and polishes it and says that she goes back to China once a year and she picks up things for the store. "I used to not like these things because I grew up with it and I was like ...brainwashed but now I can see this it's quite funky," she says smiling at it. We buy a Chinese New Year hanging which comes from her home town.
A couple, regulars from Mudgee we gather from the conversation, come in and say "I'll have the usual Na Lan, and surprise me" and then adds to her dining companion "you know, a girlfriend from Sydney tried some and said that this is the best yum cha she's ever had." Dumpling maniac Mr NQN whispers to me "They might just be my favourite too."
So tell me Dear Reader, where are the best dumplings you've ever had? And is there a country town that has charmed you?
_NQN and Mr NQN travelled and explored the Mudgee region as guests of www.visitnsw.com and www.visitmudgeeregion.com.au _
29 Nine 99
88 Louee Street Rylstone NSW 2849
Tel: +61 (02) 6379 1984
Open 7 days a week
Booking recommended for weekends