Another day in Mudgee where we explore the fine dining scene here at Pipeclay Pumphouse as well as a more casual meal at Mudgee Brewing Company. We also visit two of Mudgee's wineries - Short Sheep micro winery where the grapes are hand picked by Sue and Tony who run the winery and their adorable babydoll "Short Sheep" act as animal lawnmowers. The other the internationally popular Logan Wines.
See Part 1 of A Weekend in Mudgee
The thing about being the person that doesn't drink that much is that you're inevitably the designated driver. It doesn't bother me a jot, I've accepted the fact that I get totally buzzed off half a cocktail. And it's only a few hours after our splendid meal at Zin House that we find ourselves driving out to Pipeclay Pumphouse on Pipeclay Lane, about 20 minutes outside of the centre of Mudgee.
We pass by cows grazing in paddocks and a mob of kangaroos stands stock still when they see us driving past. A small joey is stuck on one side of the fence while his mother is on the other side. We look back to see if he is ok but the two remain separated.
Part of the Robert Stein Winery & Vineyard, Pipeclay Pumphouse is set in the original pumphouse for the vineyard. It is Mudgee's fine dining restaurant although it still retains elements of country charm and the service and atmosphere aren't in the least bit stiff or formal. Service is lovely and personable from the moment we step in and while we are settling in they offer us wine on the deck and the opportunity to feed the silver perch in the small lake outside.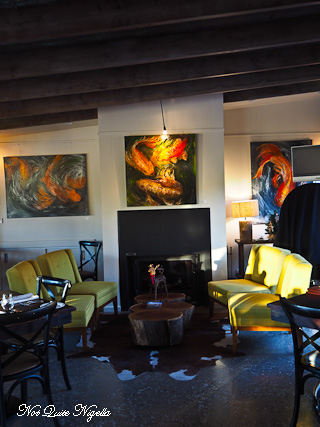 Pipeclay Pumphouse's chef Andy Crestani is originally from Sydney but was seeking quieter pastures. After stints working at MG Garage, Otto and living in London and Scotland, he and his wife Lara moved back to her hometown of Mudgee. There was an extra incentive as his father in law owns the winery.
The restaurant has been open since September 2013 and apart from the vegetable garden that supplies up to 40% of the restaurant's vegetables, they also run free range pigs and Angus cattle although the latter isn't on the menu. There is a choice of a la carte and a 7 or 10 course degustation. The restaurant is also open for breakfast and lunch and Andy is most known for his bacon and egg gnocchi breakfast.
Tonight, we are trying the 7 course degustation menu with matching wine. At $85 for the food and $120 with the wine it is very good value. We start with a seasonal amuse bouche - a tomato consomme that has crisp, green and herbaceous flavours. It is finished with a local extra virgin olive oil.
Our next course is the tuna carpaccio, a thin layer of raw tuna with olive cheeks, tomato and a tomato, lemon and caper beurre noisette dressing laced with garlic. It's a perfectly harmonious blend of flavours with each complementing each other nicely. The garlic is soft enough but still present.
The risotto is actually a rice-less risotto with finely chopped pieces of tender squid and corn. It's beautifully rich but in a judicious portion it is just right. The sweetness of the corn offsets the saltiness of the salmon roe.
This is perhaps my favourite course. The pan roasted duck breast is crispy on the outside but tender on the inside. It is paired with a skinless duck and hazelnut sausage, all dark meaty intensity and served with pickled beetroot squares and heirloom radishes. It is finished off with a creamy beetroot, radish and thyme emulsion that ties all of the elements together perfectly. Belinda murmurs "so good" over and over again.
Seared beef fillet with braised beef and Mudgee Leemore mushroom mille feuille and parsnip served with Robert Stein 2011 Cabernet Sauvignon
If I thought that I was just going to have a bite of this then I was sorely mistaken. Because I should perhaps remind you that we had already eaten a 7 course lunch and breakfast as well as had numerous tastings before we even sat down here. But there we were cleaning our plates as if the meals were a far distant memory. There is a tender piece of seared beef eye fillet on one side as well as a soft braised beef mille feuille topped with a mushroom duxelle on top with a parsnip puree. At the bottom of the board is a selection of Mittagong mushrooms that are so perfectly cooked that not only do I finish all of mine but then I go begging for some of Mr NQN's and Belinda's (only she gives me some of hers!).
We are surprised with a little bonus course of cheese and this is from High Valley cheese. It's the brie served with a honey sweet marinated fig, quince paste and slices of pear. Our waiter Jay tells us that it is made French style with an unstable culture that allows it to ripen.
By now our stomachs are full and we have dessert left. But we had asked if it were possible to have different desserts as our last course instead of the same one (you know, we figure we get to try more). This is not a problem and our three desserts are preceded with a refreshing lemon sorbet.
I start with the deconstructed orange and meringue pie. It is an Italian meringue with shortcrust pastry finger and house made lemon sherbet and creamy, sweet meringue.
The strawberry tarte tatin is interesting although it isn't anything like what we expected. The pastry is very thin and soft and topped with crushed strawberries. We were hoping for more of a traditional tarte tatin. It comes with Mudgee honey toasted marshmallows and a delicious macadamia ice cream.
Last is the dessert that comes with the degustation. It is a dark chocolate and hazelnut delice with quenelle of caramel mascarpone and plenty of salted caramel. There are also toffee coated hazelnuts for crunch and out of the three, although we are full and it is a rich dessert, we all love this the best.
As the designated driver we make our way to the car. Driving slowly, we spot the joey all alone. He is hopping along the side of the road, slightly erratically always threatening to hop onto the road. We drive home slowly looking out for kangaroos, stopping once to gaze up at the sky. "Turn off the lights! I dare you" Belinda urges. I do it and it is so pitch dark with only the stars to illuminate that I immediately start the car again.
Belinda says, "I'm so full. I've got a tip for you, once upon a time, I wanted to eat dessert so I went to the bathroom and took off my underpants. So that's a tip for you all!"
We have a good sleep in the next day and are given breakfast provisions from the Perry Street Hotel. We open up the cardboard box containing four slices of bread, tubs of butter, mini Hank's jams, Italian nectars and muesli. On our last day in Mudgee we stop at the popular Short Sheep winery, a micro winery run by super friendly Brits Sue and Tony. They invite all customers to go on a little tour of their unique winery and have a tasting of their wine.
Their processing is minimal and they rely on best quality hand picked grapes that they pick themselves. This ensures that only the best fruit gets pressed without any twigs or branches. After gently crushing the grapes which helps to avoid harsh tannins and fermenting them in 1,500 litre tanks, Tony gets into the tanks and shovels the fermented grape juice himself. Sue dubs it "old fashioned wine making with modern equipment" - some of the equipment Tony has built himself. They use a combination of American, Hungarian and French oak barrels and the winery's yield is about 1,500 cases or 25 tonnes.
Customers can choose to try all or some of their wines depending on preference. We particularly liked the three varieties of Shiraz: a classic Mudgee Shiraz, a French style Syrah using a Rhone yeast and my favourite a preservative free Shiraz.
The Syrah is the most popular wine of them all outselling the closest 3:1. They also combine the winery with food events like camp fires, afternoon teas and Tony also makes a Tomme Marc cheese using the grape skins. This appears roughly three months after vintage.
But one of the draws, particularly for kids (or the young at heart) are the short sheep in the nearby paddock. The "baby doll" sheep from South Downs have much shorter legs by about a foot. Their faces are adorable, they're like teddy bears and when they know that Tony is carrying food, their bleating gets more insistent.
They're actually meat sheep but here on the farm their only job is as "lawnmowers" where they will live out their lives without ending up on the dinner table.
By now it is lunch time so we head back into town. The Mudgee Brewing company is situated on Church Street. It's usually said to be a busy place but we're told that it is quiet because there are two large local weddings this weekend and this has effectively cleared out many of the locals.
Mr NQN tries a beer flight with half serves of all of the beers. There is a seasonal beer called the Razz or raspberry although the raspberry taste is muted. His favourite of the seven is the wheat beer.
The garlic and cheese pullapart bread looks as if it were baked in a terracotta pot. It's a gnarled bread with bits of cheese and garlic ribboned throughout it and it comes with a chive butter.
The serving of fries is generous and they're very good fries-crispy and served with a garlic aioli.
Brewery Tasting Plate featuring High Valley Feta, Olives, Pulled Pork, Pickeled Beetroot, Tempura Prawns & Toasted Panini Small $25
It takes a little while for the mains to come out. The brewery tasting plate is colourful and has a bit of everything. This is the small size although this could certainly feed two people. There is creamy High Valley feta, black pitted olives, pistachios, roast beef, spiced labne dip, tempura prawns, pickled beetroot slices and a sweet and sticky almost Asian flavoured pulled pork as well as avocado fanned prettily on the plate. A bowl of lightly toasted pesto spread bread comes with it and we try a little bit of everything. I particularly like the feta, prawns and pork.
I had been craving chilli for a while now so we asked for some extra chilli on the side of the inferno pizza. It's a prawn and cherry tomato pizza with finely sliced green jalapenos. Mr NQN finds it quite spicy enough while Belinda and I add some more fresh chilli.
By now we are getting full but we split the burger. It's a juicy Namina Salt bush lamb mince patty on toasted Turkish bread. It's a very satisfying burger with rocket, bacon, feta and beetroot relish. What really completes it are the kumara or sweet potato wedges that are so crispy on the outside but soft and sweet on the inside. They're cut just to the right ratio so that they're not too thick or thin. We dip these in the aioli that comes with the fries.
There's no room for dessert at all which is a shame as they do sound good. But checking the time we realise that we need to head back to Sydney but have one small stop to go. We drive along the main road towards Logan wines, one of the most well known wineries in Mudgee.
Originally started by Peter Logan the son wine maker and the Malcolm the father and grape grower, it is an incredibly successful winery. They originally started with vineyards in Orange. Although Orange is relatively close the terrain and terroir are very different to Mudgee and this allowed them to make a wide variety of wines. Orange is 300 metres higher in altitude than Mudgee which makes it significantly colder than Mudgee. All wines are made in Mudgee from grapes grown in either Orange or Mudgee.
There are four ranges: Apple Tree Flat which is the every day drinking wine, Weemala that uses European varieties. There is also the Logan range which is the family label. The distinctive Brazilian tapestry label is named after each family member.
The fourth is the Ridge of Tears label that features the same variety of Shiraz grape given the same treatment. However one is grown in Mudgee and the other Orange producing very different wines. The picture on the front is actually an artist's blue biro rendering of an aged Peter Logan. Ridge of Tears is the Logan family's ancestral war cry from their ancestors in Scotland. It seems almost a crying shame that we have to leave after far too short a stay in Mudgee.
So tell me Dear Reader, have you ever taken off or loosened a belt (or taken off your underwear!) when you've eaten a lot? And does the appearance of a wine label influence you in purchasing wine?
Perry Street Hotel
40 Perry Street, Mudgee NSW 2850
Phone:(02) 6372 7650
http://www.perrystreethotel.com.au/
Pipeclay Pumphouse
Pipe Clay Lane, Mudgee NSW 2850
Phone:(02) 6373 3991
http://pipeclaypumphouse.com.au/
Breakfast Saturday and Sunday from 8:30am
Lunch Thursday to Sunday from 12 noon
Dinner Thursday to Saturday from 6pm
Short Sheep Winery
47 Buckaroo Lane, Buckaroo NSW 2850
Phone:0420 299 999
http://www.shortsheep.com.au/
Open 7 Days 11am-5pm
Mudgee Brewing Company
4 Church Street, Mudgee NSW 2850 Phone:(02) 6372 6726
http://www.mudgeebrewing.com.au/
Monday - Tuesday: 8:00am - 5:30pm
Wednesday - Sunday: 8:00am - Late (kitchen closes at 9pm)
Logan Wines
1320 Castlereagh Highway, Apple Tree Flat NSW 2850
Phone:(02) 6373 1333
http://www.loganwines.com.au/
Seven days a week, 10am to 5pm