The region of Mudgee is just under four hour's drive from Sydney and offers tranquility in comparison to Sydney's hectic buzz. There are also plenty of eating and drinking opportunities as well as luxurious places to stay.
A funny thing happens when you drive in regional areas of Australia. I'm not sure if it happens in other countries but when there are police nearby or an accident, the oncoming cars flash their lights at you in warning. This good samaritan gesture was one of things that I found fascinating when I first started driving.
During our drive to Mudgee, which seemed almost destined to never be reached as numerous hurdles were placed in front of us, yet another road block was put up. An accident. But we were determined and nobody was injured so we continued on our four hour drive. Mr NQN was driving, I was in the passenger seat and Belinda was in the back. "Flash your lights at them!" we said at oncoming cars until the accident was a distant memory.
We reach Mudgee after three and a half hour's drive and just one quick pitstop. Our first port of call is the Perry Street Hotel. Part of the Fox & Co series of hotels, it is a boutique hotel consisting of 13 rooms in a renovated two storey building (formerly the 1862 Mechanics Institute). There are touches of modern and rustic in one which makes for an appealing and eyecatching facade and interior. The last time we stayed in Mudgee we stayed at a converted farm house a little outside of town so we thought that we'd try a boutique hotel in town this time.
The welcome at the front desk is distracted, there's merely a brisk intro and we take stock of our room #105. It's a suite in that there is a partition separating the bedroom and living room. There is a kitchenette and a complimentary welcoming basket of quality snacks which is a nice touch. A coffee machine, tea and a box of breakfast provisions sits on the kitchenette counter.
The queen bed is comfortable and we have very sound sleeps on both nights. Next to the bed there's a design book and two Japanese cups on a wooden board and two yukata robes lie flat on the bed.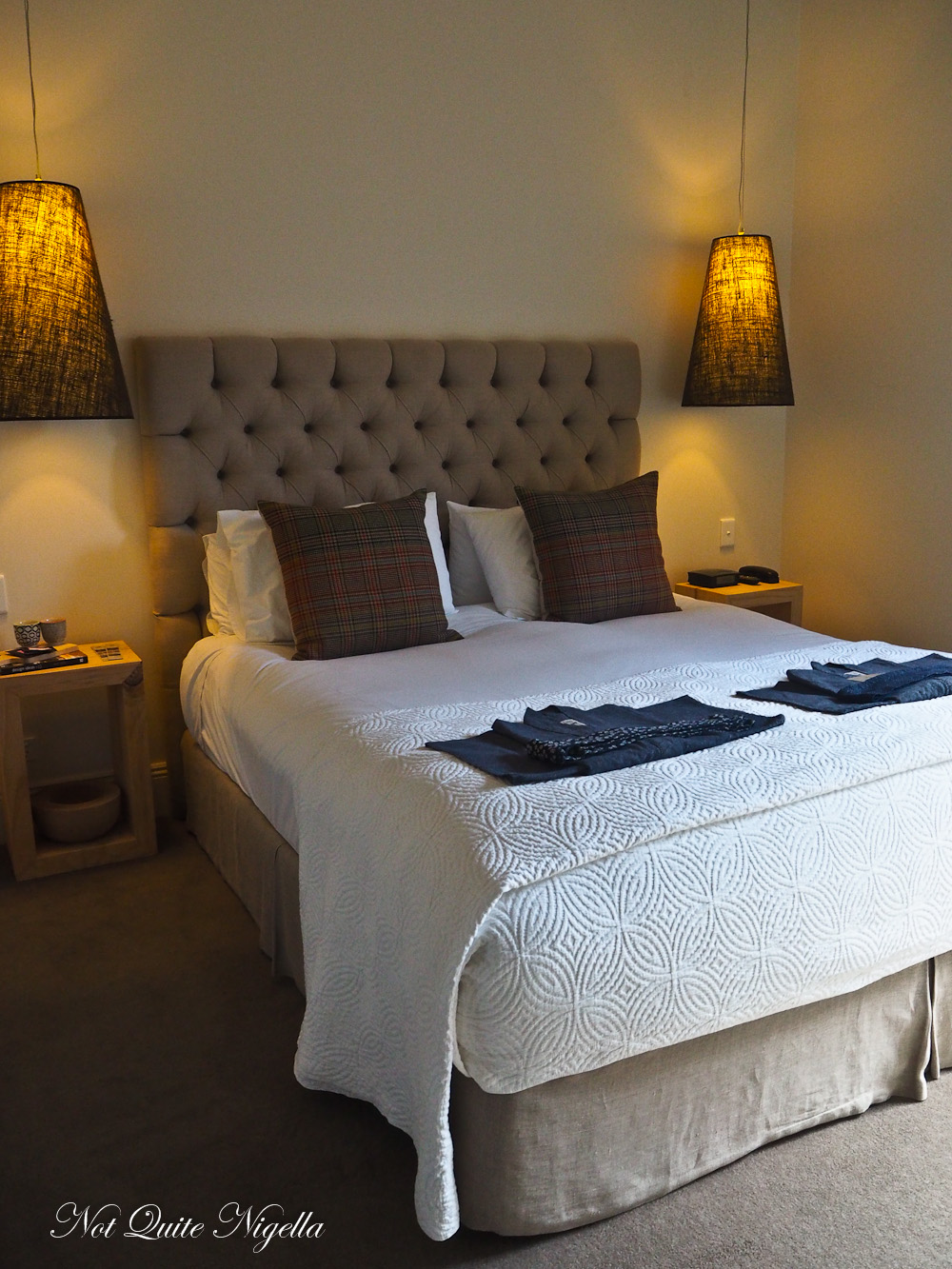 The bathroom is L shaped with a bath shower combo. There are Malin & Goetz amenities of shampoo, condition, lotion and soap although if you need anything else including a shower cap these need to be brought with you or requested.
Now that we've unpacked, showered and settled in, it's time to do some exploring. A little further outside town is Moothi Winery-the word Moothi being the indigenous word for Mudgee meaning "nest in the hills". And nowhere is the meaning more apparent than on the sunny deck, where customers can relax on a sunny day and take in the view from the gently sloping vineyard. If there is somewhere where you can feel the beauty and essence of Mudgee it is here.
Jess's parents first bought the land when she was 12 years old as pastoral land but now she and her Canadian husband Jason have taken over the sales at the vineyard. Its location away from the cluster of wineries affords it an almost secret and undiscovered quality.
Customers are welcome to try their wines and order a cheese platter to have on the deck. They have created a delicious dip selection for us this evening. We also try some of their wines - their Pinot Grigio is the most popular and completely sells out. Since then they've created a Viognier that has almost overtaken the Pinot Griogio's popularity. All of their wines are made using estate grapes grown in clay soil. They share their winemaker Lisa Bray with other vineyards. It is with a great deal of reluctance that we leave.
Many of Mudgee's shop fronts and restaurants are restored historic buildings. We stop by Sajo's where there are many enjoying a pre dinner drink. The former chemist was built in 1859 and many of the original features still remain from the delicate pink and green stained glass windows, to the immaculate tiled floor and entrance and there is even the original apothecary drawers with labels pointing to its mysterious contents.
We order some local cider and French martinis and sit in the bay windows and relax. It's quiet this weekend and we can't help compare it to the bustle of the city that we've left behind.
The next morning after a fantastic night's sleep we find ourselves enchanted by the courtyard garden at Alby and Esther's cafe slightly hidden away down an arcade on Market Street. Started by Lara Brett it is named after her paternal grandparents.
We order coffees as well as a locally made "Crave natural" apple and cinnamon kefir that comes out with plenty of ice and is a refreshing pick me up. There is also a delightful range of cordials by local caterer Rebecca Sutton from Olive.A.Twist called "Hello Lovelies".
The famous breakfast jaffle $10
I must admit that I have a weakness for jaffles-I lived on them during university much to the detriment of my weight. This one is filled with dunedoo egg, locall sourced ham and Swiss cheese with a spicy, tangy tomato relish. It needs the relish as it can be a touch dry without it.
Capertree saffron granola $12
Mr NQN loves cereal and yogurt for breakfast so this is his choice. It's a local brand of Capertee saffron toasted granola mixed with chia seeds, flax seeds and organic quinoa. It is topped with natural yogurt, poached rhubarb and milk on the side. It is creamy, crunchy and slightly tart and is a favourite with Mr NQN.
Home made Baked beans $15
But it's the home made baked beans that delights all three of us. The home made baked beans are a mix of beans cooked slowly with a ham hock, garden rosemary, a tiny hit of chilli and topped with a poached eggs. The soft, velvety texture of the pork goes so well with the beans and once the golden yolk is burst then it's a comforting breakfast full of creamy textures.
Joey, who delivers coffees around town
We are even lucky enough to meet Joey, Lara's brother who works part time for the cafe delivering coffees. 36 year old Joey's main job is at the recycling program but his parents urged him to work for his sister's cafes as he enjoys socialising. In his role he gets to meet and talk to many local residents and shopkeepers on his Wednesday coffee run and it is something that he enjoys immensely.
I love walking around the shops in Mudgee and often find myself buying presents and souveniers. A new store is "The Shop" on Church Street and they are a combination of wine tasting room for Botobolar wines and a store selling local foods and homewares. Here you can find the Spencer Cocoa chocolate.
Mudgee local Luke Spencer visits Malekula, Vanuatu twice a year to visit a small group of cocoa bean farmers. He brings the Vanuatan cocoa beans back to Australia to create the chocolate. It's a little pricey $9.50 but it's worth trying, the hand crafted milk chocolate tasting distinctly of licorice.
Brigit Karsten
Brigit Karsten is the daughter of the Kevin Karsten the wine maker for Botobolar wines and it is a family run business. Father Kevin has wines named after him like "The King" and "Kk's choice" but Brigit has her own called "The Brigit", a rose because it is first wine that she liked. They are the oldest organic vineyard in Australia.
After shopping around we take a drive out to visit Baker Williams distillery started in 2010. When Nathan William's wife Helen (Baker) told him three weeks before they had to open that they needed to make butterscotch schnapps, he did what any husband who didn't want to do it said. "I can't make it." His wife persevered and created it herself and now sales of this dark, chocolately shaded utterly delicious schnapps outstrips any other product by a country mile.
That doesn't mean that the rest of the range isn't worth trying. His small barrels of whiskey which retail for $350 are popular with whisky makers and aficionados. They sell out quickly and there is a waiting list for the next batch. There is also a wheat vodka that separates itself from other vodkas as it has flavour.
The range of liqueurs also holds some nice surprises. My favourite is a Rouge Vert Jus, a complex and intriguing liqueur made with Rouge Vert Jus that is unlike any other spirit in terms of flavour. The cumquat liqueur is made with local cumquats picked by Nathan and the owner and family of the cumquat tree and the coffee is made with local cafe Butcher Shop Cafe's cold extracted coffee.
Next door at Mudgee Gourmet we pick up some award winning local olive oil and some chilli wine jelly. All items can be sampled which is a fantastic way to get to know the artisan produce before purchasing it. Mudgee Gourmet was started by Vanessa Cox who along with her husband Clem grow fantastic hazelnuts that you see on many menus around town.
After all of this tasting, it's time for lunch. Five minute's drive away is Zin House, part of Lowe Wines winery. The idea of a long lunch is such a lovely idea that is really only possible in regional areas where turnover isn't as frantic and people are generally so relaxed that lunches bleed into dinner and people don't feel the need to rush off and do 10,000 other things.
Chef Kim Currie
Formerly David's house it has now been converted into a gorgeous restaurant with separate dining areas. He provides the wines while his partner Kim Currie is the chef. The kitchen is an open kitchen with a large island where Kim creates a seven course lunch for diners. They are encouraged to stay a while and relax and enjoy themselves - the atmosphere and the fact that it still looks like a home allows people to relax.
Service is very friendly, knowledgeable and deferential. The lunch is very reasonably priced at $75 per person with a matching wine flight with 6 wines an additional $35. The right hand side of the menu details the local suppliers and the produce that comes out of the 6 month old garden They also have their own Tinja beef and lamb.
Potato, rosemary and onion bread, Pepe Saya butter, Marinated Alto olives, Paul's quail eggs and Mudgee Hazelnut Dukkah served with 2013 Tinja Riesling
The first course comes out quickly and it is served on a wooden board. There is a freshly baked potato, rosemary and onion bread that is soft with a thin crust. This is served with a Pepe Saya herbed butter with eight different herbs including sorrel, chives and oregano. On the plate is a local hazelnut and pistachio dukkah, tiny quail eggs and marinated Alto olives. It's a lovely start to the meal with simple rustic flavours.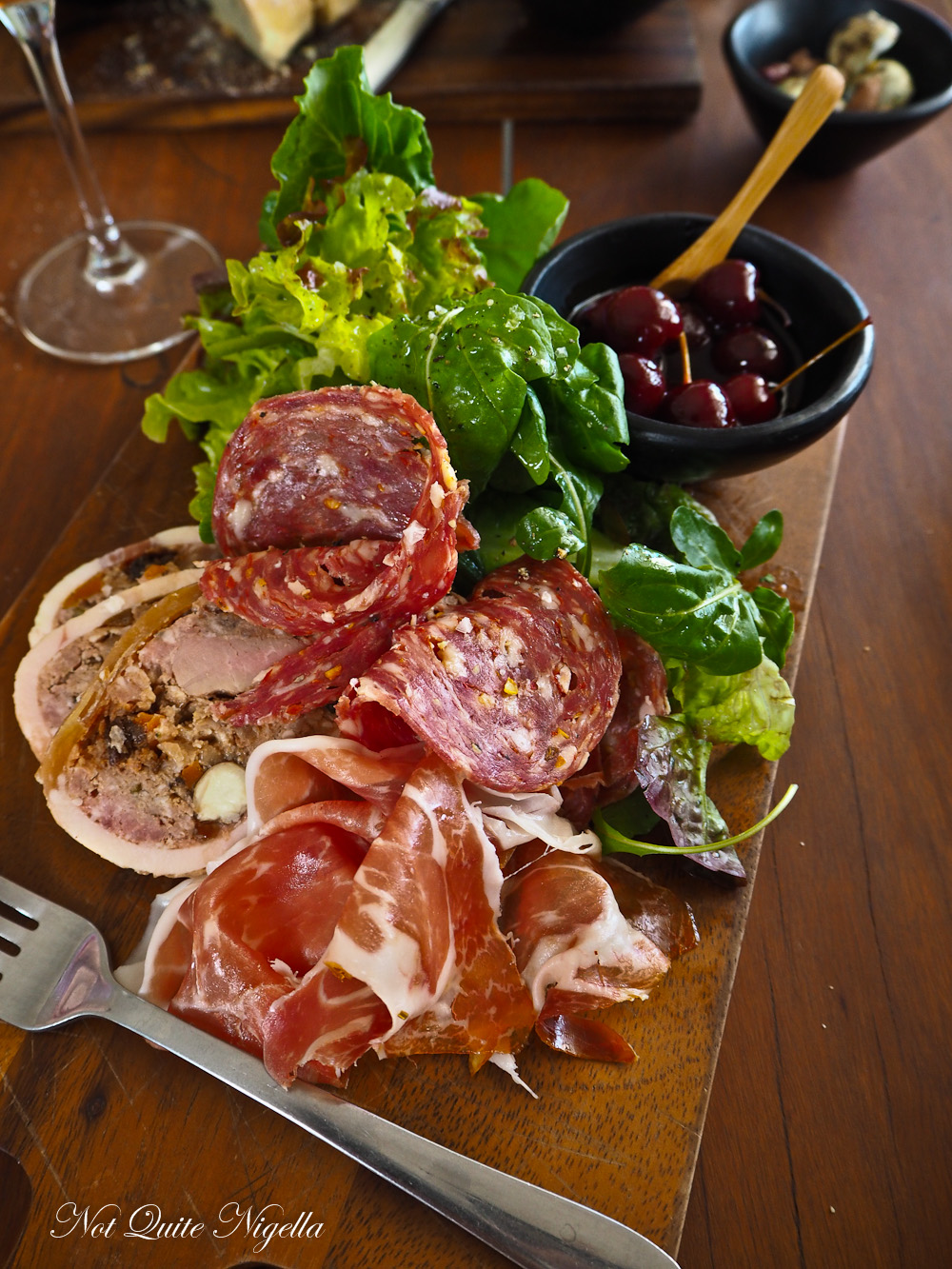 Charcuterie Plate with salad and pickled cherries served with 2013 Organic Headstone Rose
The next course is a charcuterie platter with AC Butchery sopressa and prosciutto, a lemon and olive oil dressed garden leaf and peppery rocket salad. My two favourite bits are the pork terrine made at free range Putta Bucca pork which are local old breed pigs and the spiced cherries made with Guy Roth's cherries simmered in red wine.
Mudgee mushroom omelette served with 2012 Well Mannered Wine Co Chardonnay
I must admit that we were midly curious about the mushroom omelette but not quite prepared for how good this omelette was. After all who hasn't had a mushroom omelette in their time? This one is superb and becomes our favourite course thus far. It is made using their own fresh eggs, Mudgee local mushrooms and High Valley feta, a delightfully creamy feta with a chiffonade of citrusy sorrel on top. I could eat this every day for breakfast if I could.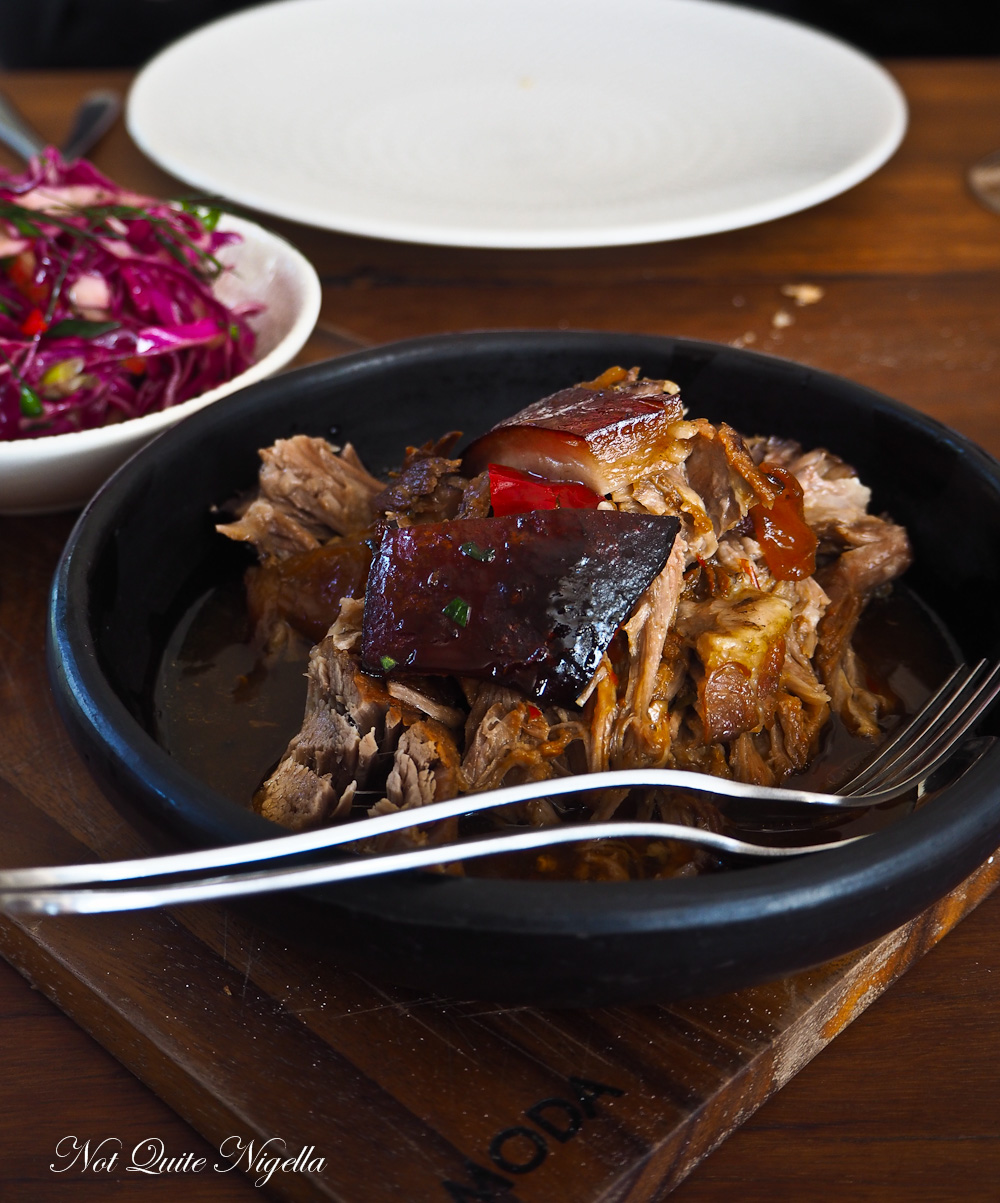 Spiced Putta Bucca pork shoulder, salad of Belinda's red cabbage served with 2012 Montrose Omaggio Barbera
The main meal comes out and the free range pork has gorgeous ginger and chilli aromas. Cooked until meltingly soft, the pork has an appealing sweetness and fantastic aroma. It is paired well with the crunchy fresh apple and red cabbage salad dressed with a divine balsamic blood orange vinegar.
Admittedly we do need a bit of a pause after the main. We didn't expect to eat that much of it as we did. Mr NQN goes for a stroll outside and we lounge about on the cushions as we have the whole room to ourselves.
High Valley cheese selection, fig and pear paste, oat and sesame lavosh served with 2012 Mydgee Blue Cabernet Shiraz
It's then time for our cheese course and that makes us very excited indeed. They set down the cheese platter - there is a high valley blue, a washed rind cheese and a Jannei goat's cheese. It is serve with a fig paste and honey, oat and sesame lavosh.
Tart of Jacqui's rhubarb and raspberries, real cream served with 2013 Nullo Mountain Late Harvest Riesling
Our second last course just before coffee is the tart of Jacqui's raspberries and rhubarb. This is made using home made puff pastry and a tart and delicious mix of raspberries and rhubarb. To offset this is a naturally sweet and fabulous pure cream by a dairy farm in Dubbo called Little Big Dairy Co. who also supply High Valley with their own milk to make their cheese. Underneath this all is a hazelnut frangipane. It is crispy, buttery, creamy and tart with just the right amount of sweetness to it.
Espresso, Spencer chocolate and zin cake
The very last course is an espresso using coffee roasted by Kim's son Sam served with local milk and panera sugar. It is served with three Spencer Cocoa chocolate truffles with Mudgee Gourmet hazelnuts. It's more like a chocolate truffle than a cake but it's a richly chocolatey end to our meal.
We're all in a state of relaxation when we look at the time-it's almost 5 o'clock, redefining the long lunch concept quite nicely!
So tell me Dear Reader, what is the longest lunch that you've ever had? And do you do the flashing headlights thing to other cars?
NQN and Mr NQN visited Mudgee as a guest of Mudgee Tourism
Perry Street Hotel
40 Perry Street, Mudgee NSW 2850
Phone:(02) 6372 7650
http://www.perrystreethotel.com.au/
Moothi Estate
85 Rocky Waterhole Rd, Mudgee NSW
Tel: +61 (02) 6372 2925
http://www.moothiestate.com.au/ Cellar door open Friday to Monday 10am-5pm
Sajo's
22 Church Street, Mudgee NSW 2850
Tel: +61 (02) 6372 2722
http://www.sajos.com.au/
Alby & Esther's
Unit 4-7, 61 Market Street, Mudgee NSW 2850
Phone:(02) 6372 1555
Monday 8:00 am - 4:00 pm Tuesday 8:00 am - 4:00 pm Wednesday 8:00 am - 4:00 pm Thursday 8:00 am - 4:00 pm Friday 8:00 am - 4:00 pm, 5:00-10:00 pm Saturday 8:00 am - 4:00 pm, 5:00-10:00 pm Closed Sundays
Baker Williams Distillery
194 Henry Lawson Drive, Mudgee NSW 2850
Phone:(02) 6372 9332
Sunday, Tuesday to Friday 11:00 am - 4:00 pm
Monday Closed
Saturday 10:00 am - 5:00 pm
http://www.bakerwilliams.com.au/
The Zin House
Tinja Lane, Eurunderee NSW 2850
Phone:(02) 6372 1660
Open Saturday and Sunday for lunch
http://zinhouse.com.au/