While out at lunch or dinner, have you ever thought about the history of a building that you've sat in? Perhaps what might have happened in it or who might have built it? When in The Rocks area of Sydney, chances are sometimes there is a deeper story than you might think. At Scarlett restaurant in the historic Harbour Rocks Hotel, a hotel I'm ashamed to say that I had no idea existed until today, you might be surprised to learn a few things. For starters, it is a convict constructed building.
The sandstone bricks were placed by the convicts and if you look carefully at each one, you can see that each sandstone brick carries different markings. That is because the convicts were paid for each brick that they laid and each brick carries each convict's signature marking. This made it easier for their bricks to be identified and importantly, easier for them to get paid.
I am here for a reunion lunch with the journalists that I travelled around the world with a couple of months ago. The menu shows a photograph of the original building way back. Service is deferential and friendly although it does take a while for each course to come out which may be a consideration for business lunches when you have to get back to the office by a certain time. Starting at 12:30pm we ended finishing around 3:30pm.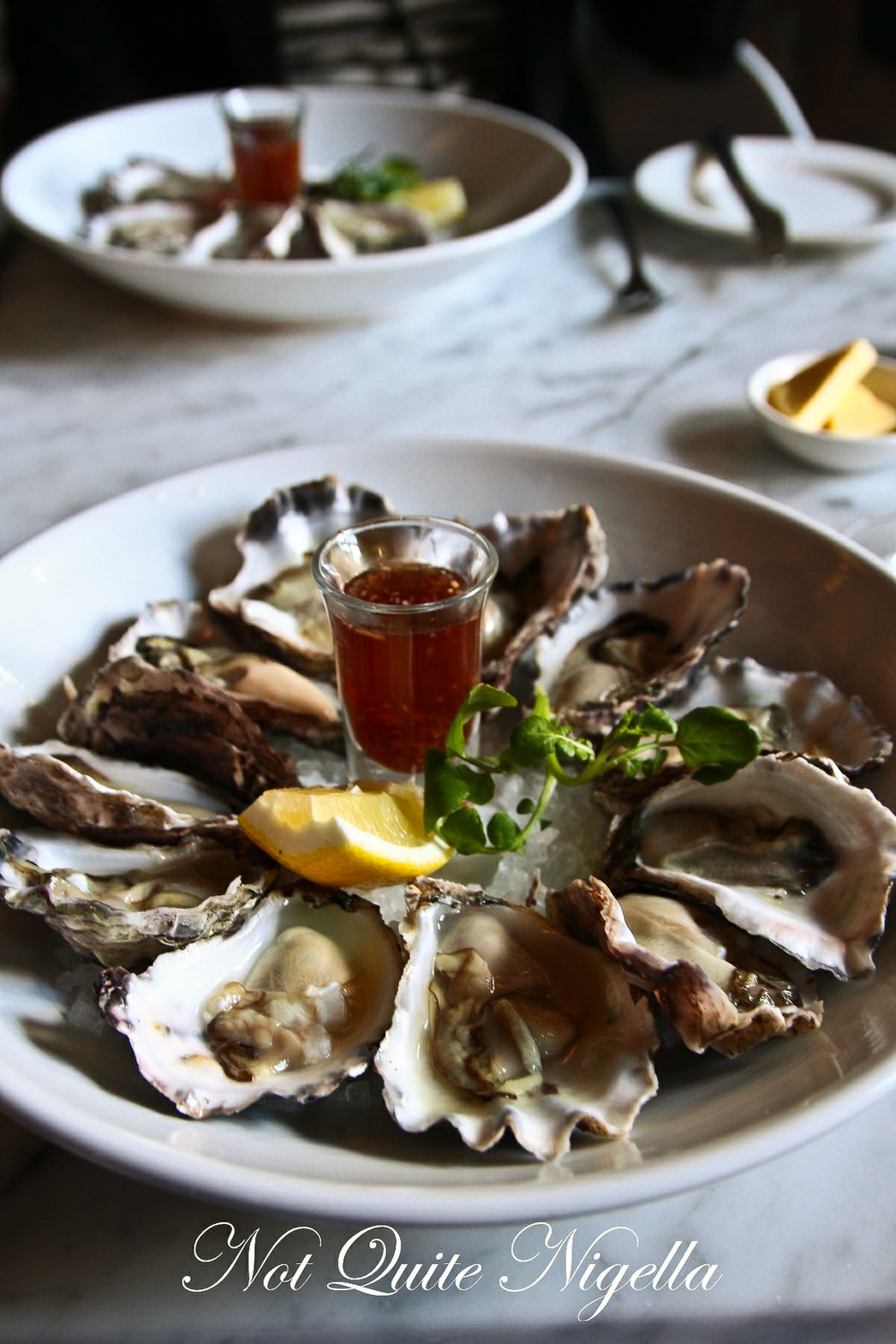 Sydney rock oysters from Pambula with cabernet sauvignon vinegar and shallots $30. Shot with a Sigma 17-50mm F2.8 EX DC OS lens, ISO 400, focal length 25mm, 1/25 shutter.
I'm a sucker for oysters and these are from Pambula near Merrimbula. Usually I love them plain with a squeeze of fresh lemon juice but the cabernet sauvignon vinegar and shallot is a sweet and tangy addition and brings each briney oyster to life.
Mediterranean fish consomme, mussels, prawns, pernod, fennel, saffron $19
I decided to eat lightly as I had a big dinner that evening so I went with a fish consomme entree as my "main." There are cubes of red and white fish, oyster, mussel and a single prawn and the soup was good although very strong in aniseed flavour from both the Pernod and the fennel.
Roast barramundi, corn puree, yellow oyster and shiitake mushrooms, tarragon $34
I tried some of Gaynor's roast barrramundi and it was delicious with the sweet corn puree. There was also a savoury element from the mushroom medley. If I were to have ordered a main it would have been this.
200g fillet steak, cafe de Paris butter, hand cut chips, watercress salad $36
Rice pudding, coconut, pandana leaf, roast pinepaple, kaffir lime leaf sorbet $14
We were told that this dish was a creation of the Thai chef in the kitchen and indeed the rice pudding with the distinct flavour of pandanus leaf and kaffir lime leaf sorbet were both tropical and tangy. I found the rice pudding a little watery preferring a creamier pudding but the sweet roast pineapple, in two half moons was delectable. A knife would have been good for this dessert to help cut up the pineapple.
Warm red wine and chocolate cake, poached pear, vanilla ice cream, ganache $14
The chocolate cake was a little unexpected and wasn't as chocolatey as we all were hoping it to be. Although it looked beautifully glossy it was more nutty than chocolatey and the inside reveals a pale, almost hazelnut looking cake rather than the deep, dark chocolate beauty we were hoping for.
Four cheeses $24
The four cheese were a Maffra cheddar, a camembert, ash rolled goats cheese and a creamy blue. They came with an assortment of accompaniments including small cubes of quince paste, sliced pear, poppyseed lavosh and a toasted fruit bread. The ash rolled goat's cheese was a favourite of the four although there was the temptation to linger and eat cheese for the rest of the afternoon!
So tell me Dear Reader, what is your favourite type of cheese? And do you order cheese platters or sweets for dessert?
NQN and the rest of the table dined as guests of Accor Hotels
Scarlett
Harbour Rocks Hotel, Ground Level, 34-52 Harrington St, The Rocks NSW 2000
Tel: +61 (02) (02) 8220 9999
Breakfast
Mon to Fri 6:30am - 10am
Sat to Sun 7am - 10:30am
Lunch
Mon to Sun Noon - 3pm
Dinner
Mon to Sun 5:30pm - 10pm