A typical week for me is always different but there's one common thing: Monday is like my weekend rolled into one day as the weekend is such a flurry of activity and blogging that I need one day in which to catch up on rest. I usually settle in for something quiet on Monday and the night ends with easy meal in buoyed by the fresh food from the weekend's shop. But it was a text from Florizal in the morning that asked if I was interested in going out that evening that had me putting a stop to my usual routine. I cocked my head and thought about it. It was raining but it felt like a good idea to mix up what was starting to feel like a staid winter routine. But Monday nights and restaurants are not usually friends as Monday is a chef's weekend day but I remembered La Lupita's Mariachi Mondays. Suddenly, my Monday was looking much more exciting.
Several months ago I had visited pop up eatery La Lupita at Canterbury and fell hard and fast for their tacos, raspados and welcoming atmosphere. Cut to six months later and the Canterbury location is no more and La Lupita has now moved to The Basement in Circular Quay. I was curious to see how things had changed so on a rainy night, Florizal and I relived High School memories of visiting The Basement and walked down the stairs to the room where a live band is playing. The first thing that we see on the left is the taco and food assembly area.
The decor is different from the Canterbury-there are more bright colours and the La Lupita brand is everywhere whereas Canterbury conveyed a more subtle message. Gone is the charcoal grill, a creation by Lupita's Attila Yilmaz, the policeman turned chef who has a fascinating back story. I remember my eye being drawn to the warm copper hood over the roasting meats and pineapple that seemed to draw people in like moths to a flame. The grill is now housed in the kitchen area away from the eyes of patrons. Atilla who was such a warm, welcoming presence behind the grill no longer dons an apron although he does pop in and happens to be here this evening. There are touches from Canterbury with the black and white image of Day of the Virgin of Guadalupe festival but this is tucked away near an entrance.
We take a seat at a table and there are about ten tables with people on this early Monday evening. It's a large space and the music is not really made for conversation but listening. Someone comes over and hands us the menu and explains the specials there. Florizal gets to work "unlocking" the locked taco which means that you tweet, facebook or instagram a picture of either the food or the venue and tag La Lupita and you have "unlocked" the taco which is a vegetarian taco or a "sancho" taco.
Ordering is a bit confusing: the system is different here and I am told to go to the bar and order and pay (which is confusing because if you turn over the yellow flyer it tells you a different way to order). At Canterbury diners used to order and then pay as they were leaving which was Attila's conscious idea to follow the method in Mexico where a taqueria owner would simply ask patrons what they had eaten and charge them accordingly.
Prices and the food offerings are the same as at Canterbury with the exception of the watermelon which is out of season. I am instructed to make my way to the taco assembly area to collect my tacos and they will bring the rest to the table. I hand them my menu and stand in line. Everything arrives a few minutes later, not just the tacos as they had said and I collect them all making a few trips to the table before realising that I need to stop by the sauce and salad stand to the left and top up my tacos so it's a trip back there to add onto my tacos.
It's also hard to know what to add to the tacos as the taco chefs are busy and you can't really ask them unlike at Canterbury so I do my best to guess what would be good with what and finally bring the tacos to the table. I'm told that when there isn't live music, La Lupita is confined to one area away from the stage in the "green room" area and it is table service where patrons tick off what they want on the yellow flyer and hold it up and staff collect and bring them their food which I think I'd prefer.
Frijoles Charros $10
Ahh the cowboy beans! Like nachos but better with a more sustained crunch. They're spiced pinto beans, tortilla chips, salsa roja, crema mexicana, chiltepil (a spicy, crunchy mixture of sesame seeds, pepitas, and three types of chilli), queso de Oaxaca cheese, that fascinating, lightly salty stringy cheese.
Spit Roast Hot Wings $10
The spit roasted hot wings had a good char on them but unfortunately they were served lukewarm. When asked about our food we mentioned this and they replaced them quickly with some piping hot wings that have a great aroma and slip off the bone easily. They're drizzled with a spiced chipotle, lime and garlic crema.
Troelotes $10
Both Florizal and I have spoken at length about our love of corn (does that make us sound obsessed? Yes okay we are :) ) and this is a bowl of corn chips layered with juicy, spiced corn kernels, a thick and cream version of crema Mexicana which is like a creamy labne, chiltepil, lime salt, fresh salsa and grated coteja cheese on top. The spices and the crunchiness goes well with the juicy corn kernels and we couldn't finish this generous serve. I think I would pick either these or the frijoles but perhaps not both next time.
Al Pastor Taco, Carne Asada Taco and Pollo Asado Taco $6 each
The three regular tacos were served on the same plate and I must admit that I just added what I thought might taste good as well as a range of sauces that I don't really recall as I was a bit overwhelmed by choice. The meats have a wonderful smokey char to them and I particularly like the pork and pineapple and the chicken tacos although the wagyu salted beef was no afterthought.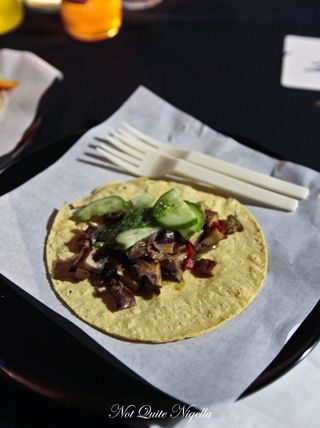 Unlock Special Taco $6
I have to admit that I didn't do such a good job pairing this with the cucumber and the mushroom based vegetarian taco is fine but lacks the burst of flavours that the other ones have.
Unlock Special Taco "Sancho" $6
I adore a good spicy chilli and the sancho taco is a bacon wrapped cheese stuffed jalapeno chilli and I recall having this and Canterbury with just guacamole. Wrapping anything in bacon and stuffing it with cheese is bound to be good and I like the heat from the chilli too. The last time I tried the sancho taco it was using jalapeno's from Attila's chilli plant at home and these are markedly milder in comparison but chillis are seasonal and their heat depends on the amount of time that they spend on the branch.
Partway during the night, Victor Valdez makes his way onto the stage resplendent in his mariachi outfit. The harp playing musician is charismatic and he and his band and gets some couples dancing.
Dulce $6
Dessert changes daily and today it is habanero spiced pineapple caramel with vanilla ice cream. The habanero is actually very light and the sweet caramel and juicy pieces of pineapple go so well with the vanilla ice cream.
So tell me Dear Reader, do you prefer table or bar service? And do you enjoy chilli in your sweets?
La Lupita At The Basement
7 Macquarie Place, Circular Quay, NSW
Tel: +61 (02) 9251 2797