No matter what age you are, I think the average person wants to avoid looking like an idiot. So when I arrive at Momofuku Seiobo at The Star, I look around warily. I can see the open kitchen and the diners clustered around the bar through the black slats but I have no idea how to get in as it looks like the black slats go on as far as the eye can see. Is there a magic button to press? It all becomes clear when I reach the other end and there's a silver peach logo but even then I say to my friend Gina "Do you think that's the door?" as we edge towards it. Thankfully a check shirted man opens the door with a smile and we are led past the dark tables towards the bar area which is where I was hoping that we would be seated. The atmosphere is transporting, you could be anywhere else apart from right near a food court in a casino which is a good thing.
In the open kitchen are about seven or eight chefs all wearing green caps with gold peaches on them. The first thing I think of is the Australian cricket team (oops what do I know about cricket?).  Service is very friendly and approachable and we prop ourselves up on the high bar stools and there's a hook underneath each spot for a bag while they stow the others for us. I promptly lose one shoe because well my feet don't reach the ground and barely reach the metal rung and I go back a few times to get it only after the third time leaving it there.
This is not your average 3 hatted restaurant and Momofuku Seiobo from New York's David Chang doesn't do things in the same way that others do. And I think this is what for the most part inspires the reviews on various restaurant sites where people either love it with abundance or deride the music or lack of white tablecloths. Also reservations are taken just ten days in advance on their website. It's a fairly straightforward process, you have to create an account and then at 10am ten days before, you log in and reserve a table. Our initial request for three people yielded nothing on that evening but putting in even numbers of two and four did. It did seem odd because most people sit at the bar so odd numbers wouldn't seem a problem. You need to cancel any spots 24 hours in advance or you are charged the $175 per person. I'm dining with Belinda, wife of David Tsirekas of Xanthi and Gina and Teena for my birthday.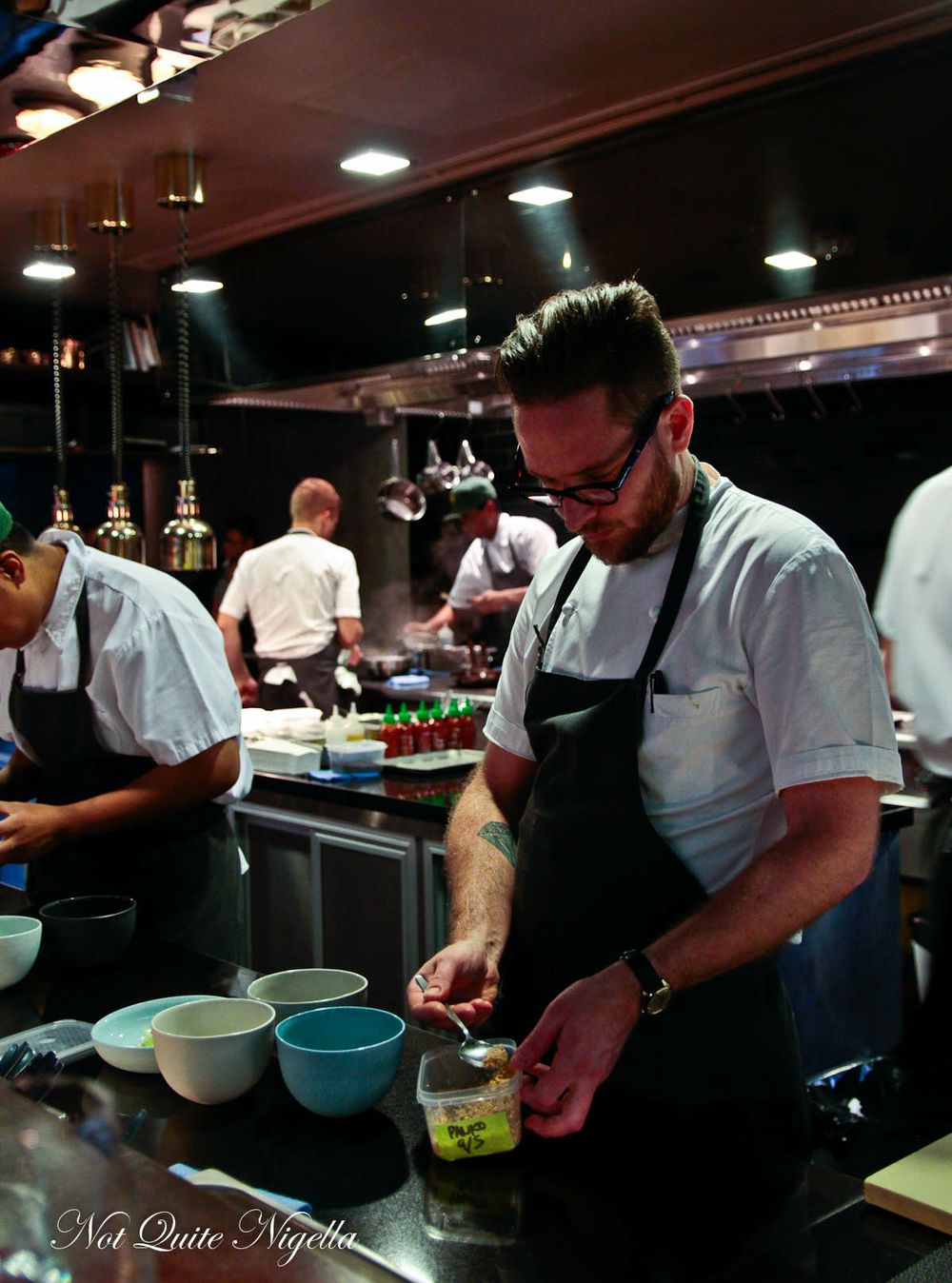 They check on dietaries which we had pre warned them about (Gina can't eat shellfish) and Teena doesn't like lamb and this doesn't prove to be a problem. They present us with a drinks menu where you can have a wine match for $120 or a partial wine match where you get a glass of wine with every second course for $60. Interestingly, there's also a juice match which I must admit I like the sound of for $55.
If it seems random to mention the music again, it's because the playlist is apparently something that diners either love or hate. It's a playlist of rock, power ballads and ballads from the last few decades featuring REO Speedwagon, Bruce Springsteen, U2, Def Leppard and The Beatles and it's like listening to someone's iPod-slightly random and nostalgic. The only art works are two black and white posters of Angus Young which prompts a conversation with one of the staff and whether he is still alive (he is, although hasn't dined here).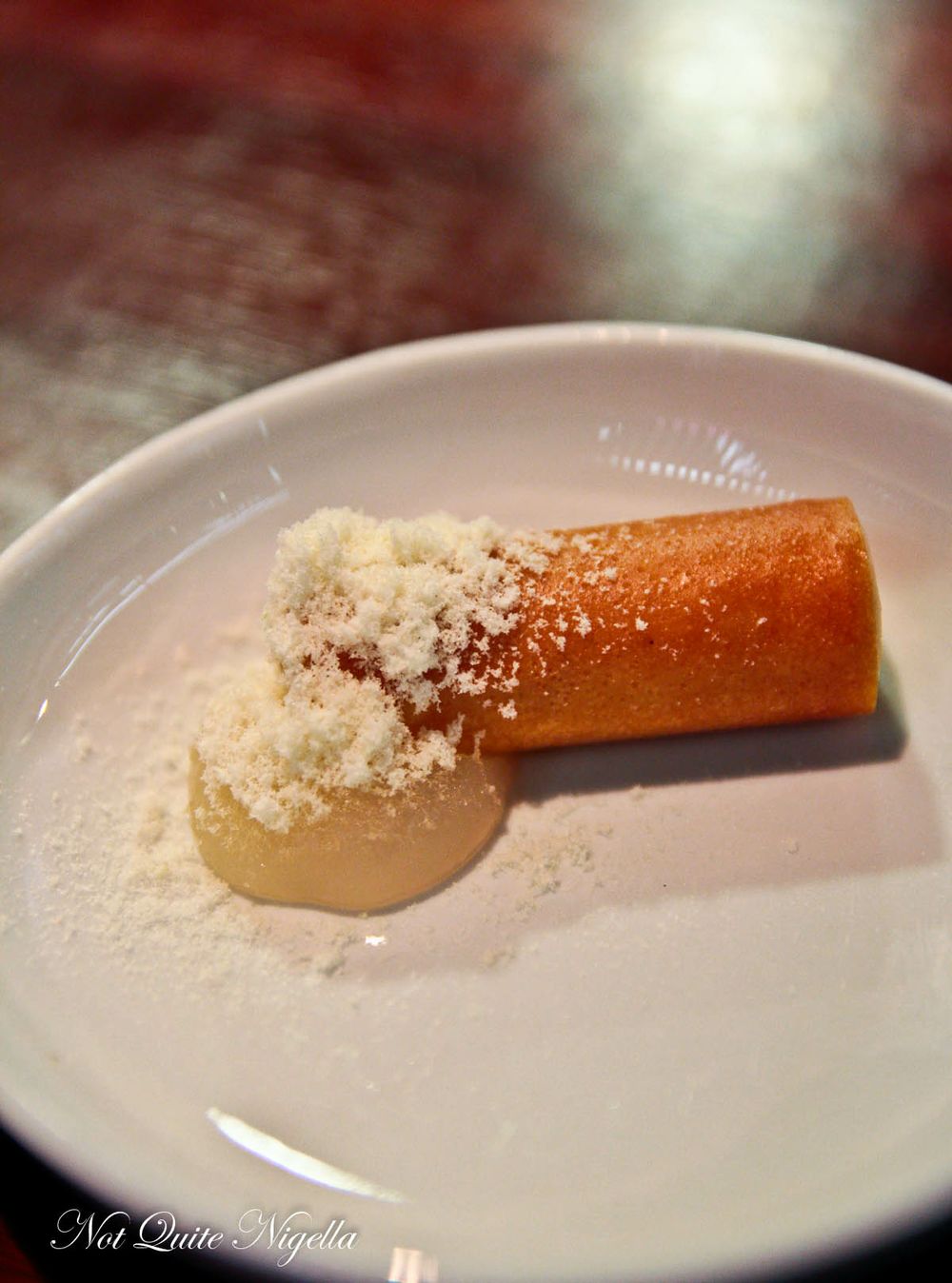 Smoked eel and apple
Our first mouthful is handed over to us across the counter. It is a crispy tuile biscuit filled with a smoked cod brandade and dehydrated apple and gel. The apple lends the salty, smoky cod a sweetness while the outside an appealing crunch.
Steamed bun, pork belly
I'm given my first juice and it's a cucumber and raspberry the cucumber being a fresh contrast to the Momofuku pork bun filled with a slice of soft pork belly. They serve it with a small bottle of Sriracha and one bite into its soft texture, spicy sauce and unctuous pork belly and we can see why one item started or revived such a trend.
Potato, buttermilk, Parson's nose
This was one of the group's favourite dishes. A medley of potato textures  including small golden balls cooked in duck fat which Teena quite rightly points out are reminiscent of pommes noissettes, (remember those?). Some of these are coated in ocean trout roe and there is thinly sliced snow white mushroom, chives and the two parson's noses which are crunchy and deep fried. This launches us into a discussion of where they get all of these parson's noses (the fleshy bit at the tail end of the chicken). We never ate the parson's noses the entire time growing up because my mother would always take them before the chicken hit the table so now I love them!
Crab, mullet roe, leek
This was a very rich dish with a generous amount of mud crab, mullet roe and crunchy quinoa. There was some leek but I think that it needed more because it was a little too rich (and did I just say that something was too rich?). With this came my next juice, a watermelon juice.
Beef, radish, fermented black bean
Perhaps the prettiest dish of the night, each finely sliced radish disc was individually placed on the layer of lightly smoky wagyu beef and the tiny crumbs on top were fermented black bean. This was a strong, savoury dish and as much as we liked the look, we did prefer other courses.
Sweetbreads, watercress, hazelnut
The roasted lamb sweetbreads were soft and delicate and served with salt roasted onions and pickled watercress puree and hazelnuts. The strong flavour of the grassy olive oil dominated this dish.
Cauliflower, mushroom, smoked yolk
The next juice was a carrot juice that came out with the cauliflower course. Gina is a friend that doesn't usually love vegetables and yet this was one of her favourite dishes. The cauliflower came as roasted upturned florets in a creamy fermented mushroom emulsion with tiny flecks of cured and smoked yolk. It was earthy and delicious.
Marron, seaweed, salsify
As soon as I heard the word seaweed butter my ears perked up (okay they were also on high alert when I heard marron) as I love the perfect umaminess of seaweed butter. I adore marron as it's much more delicate tender than lobster and here it is served with a creamy seaweed butter sauce and tender roasted salsify. The butter soft marron is divine against the aromatic seaweed butter and this is another favourite course with Belinda, Teena and I (Gina can't eat shellfish). The juice that accompanied this was am orange and blackberry juice.
Some of the juice lineup
Now this was an interesting course. Teena had excused herself to go to the ladies but what we didn't realise is that there is just one bathroom for the whole restaurant. You walk through the washing up area (and for those interested in what the unisex bathroom looks like, there are four lit white pillar candles and a poster in the bathroom detailing the Heimlich maneuver in Spanish issued by the NYC health department). But there was already a gentleman before her already in the stall who was taking an unusually long time. From our seats, we noticed the rhythm in the kitchen change. The chefs weren't busying themselves with prepping the dishes and were looking around. Suddenly, words were spoken between the team and our course was binned having waited too long to be served as they cannot serve the dishes until everyone is at the table.
Shortrib, daikon, turnip
After she arrived back, they commenced prepping a new one and soon we had our next course. And it was a goody. Now I'm all for marrow and unctuous meats while Belinda isn't so much a fan of marbled meat which this certainly is. It came with a daikon puree which is strong and reminds me of Vegemite and three tiny turnips with greens. The deep fried short rib is meltingly tender and the turnips a nice accompaniment although others didn't like the turnips so much and weren't sure whether to eat the greens (I did). And what juice goes with the red meat course? Why beetroot and pineapple! This is perhaps one of the most interesting combos-the beetroot's earthiness is almost overpowering when you smell the juice (I think instinct with a wine glass takes over and you automatically sniff it) but the taste is mostly of pineapple rather than beetroot.
Curd, blackcurrant, mint
Made with Woodside goat's curd, this little cheese course came with crunchy sourdough crumbs with a blackcurrant juice and mint oil. Not all of us finished it and by now I was getting quite full so I just had a taste.
Mandarin, coconut, egg
The soundtrack had changed and we saw tables leave in fifteen minute increments and by now we are one of the few remaining tables. The music has Gina and Teena singing along and dessert was served. It was a tangy mandarin ice cream, with coconut shavings, meringue and candied egg yolk which tastes just like you'd imagine-a sweet set egg yolk. It was refreshing and a real pick me up after the richness of the short rib and goat's curd. And the apple and fennel juice that it came with was my favourite of the night.
Pear, Jerusalem artichoke, sunflower
When I wandered back from the bathroom I had noticed the sunflowers in the kitchen area which I did think was slightly odd as a decorative touch given that the restaurant is decorated in sleek blacks and has a New York vibe to it. It turns out that the sunflower petals are used in our final dessert. It's an intriguing one that works well. There's Jerusalem artichoke puree and on top of this is burnt pear cubes, thinly sliced jerusalem artichoke, baked sunflower seeds and sunflower petals.
Pork shoulder
Belinda whispered to me earlier in the night and pointed at the glistening roasted shoulder of pork sitting under the furthest heat lamp. This was the final course after the last dessert and we watch as the couple next to us gets theirs. When they tell them that they eat it with their hands, her nose wrinkles and she isn't fond of the idea (another couple refused to eat with their hands and asked for a fork) while the man delighted in the experience snapping photos and then diving in excitedly with his hands. I must admit that I was looking forward to this as I do love pork shoulder and the shredded meat was meltingly tender and the skin on top glistening, sweet and sticky and I delighted in eating it with my hands. And yes it is possible to ask for another serve of this depending on how much is leftover. And as much as I wanted that second serve, well something arrived to shut me up quite effectively.
As it was my birthday, Gina and Teena had mentioned this and they brought out a chocolate mousse cake edged with cacao nibs and candied violets. It's divinely rich and we all take our spoons and dig into the rich chocolate mousse filling and crunchy accents.
And another trend in some American restaurants in presenting diners with a little gift to take away to eat at a later time. Here, it is kim chi in small vacuum sealed packets, each adorned with the familiar lucky peach.
We look at our watch and it was late and we're the last in the restaurant. We were warned that a meal typically takes two and a half hours but it was four hours later. But nobody was complaining..
So tell me Dear Reader, would it bother you if you had to sit at a bar without tablecloths or are you not bothered at all by it? And what do you think of the reduced wine pairing and juice match? And would you eat the pork with your hands?
Momofuku Sei?bo
The Star/80 Pyrmont St, Pyrmont NSW 2009
Tel: +61 (02) 9777 9000