I'm a complete optimist. Sometimes Mr NQN calls it deluded at times but I prefer optimism as a term. And the definition of optimism in Sydney? The urban cynic would say driving to lunch and trying to find a park in Surry Hills for over one hour. I had a tonne of errands to run before and after my lunch with friends so I needed my car. As a result, I drove around and around in circles taking a look at the clock cursing at all the "1P" signs. I was having lunch with Celia and Charlie and wanted to avoid jumping up every hour to move the car. Then suddenly I rounded the corner and I did a double take. It was the Surry Hills miracle: an unlimited parking spot just near the densely populated area of Buckingham Street and Devonshire Streets.
"I've got some exciting news!" I told Celia and Charlie as we sat down. "I have an unlimited park!" They looked at me oddly, as if I had drool on the side of my face or something and smiled comfortingly. We were at Cook & Archies in Surry Hills on the corner of Buckingham street and Rutland Street. It's quite hidden away - I've lived in Sydney my whole life and never seen it before but apparently lots of people have and it's completely thriving this lunch hour and there's not a single table free (tip: get there before the lunch rush at 1pm or after 2pm). We're told that Cook & Archies has been around for about eight years under the current ownership and the names Cook and Archies were from the previous owners.
Service is friendly and it's hard to choose from the extensive two page menu and there's also blackboard specials. I spy a sandwich being brought to the table next to me and it looks really good. "Do you think I could ask her what she thinks of the sandwich?" I asked Celia. "No because she'll think that you're odd" she replied. Not being bothered about that I leaned over to her, excused myself for interrupting and asked about the sandwich. She returns my question with a big smile and thumbs up so I order that along with a chai latte.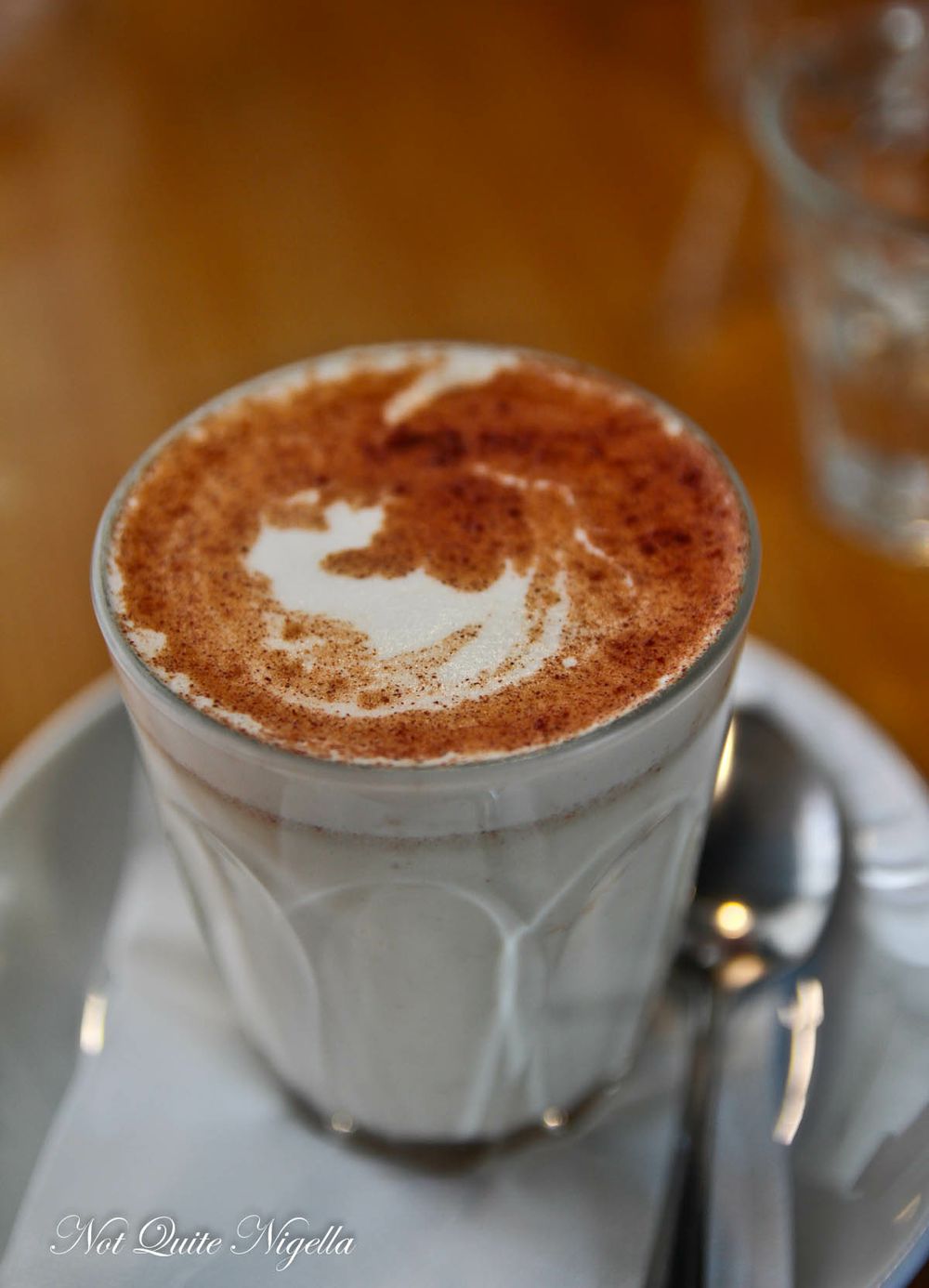 Chai latte $4
The chai latte is excellent and comes already sweetened with an aromatic blend of spices.
Grain fed scotch fillet steak sandwich $19
The food comes out remarkably quickly, particularly given how busy the cafe is and my steak sandwich is actually an open sandwich served on thinly sliced fresh bread with an appealing chewy crust. There's salad leaves, tomato, beetroot and a tender steak and on top of this is a fantastic sweet onion jam and a seeded mustard mayonnaise. The whole thing has just the right balance of moisture and texture and I end up finishing pretty much all of it. I'm happy to see that it has fries because a steak sandwich isn't complete without them.
Cured ocean trout caesar salad $22
I try some of Celia cured ocean trout caesar salad and it's also fabulous. There's a generous amount of soft, delicate cured ocean trout as well as paper thin slices of crispy pancetta. The salad leaves are not overly dressed or not overly coated in mayonnaise (not a concern for mayo-freak like me but noted by Celia) and the ocean trout and pancetta flavours the cos leaves well.
Chicken club sandwich $17
Charlie cuts off some of her chicken club sandwich for us and it is filled with tender, herbed grilled chicken breast, avocado, roast tomato, bacon and basil mayonnaise also with a side of fries. It's also enormous and the meals are so big that we find it difficult to leave room for dessert. The friendly owner tells us "We're Greek, it's like My Big, Fat Greek Wedding!" when we comment on the portion sizes.
Sticky date pudding $9.50
I couldn't resist. There's a display of mostly house made small cakes and muffins but the sticky date pudding was recommended by two staff members. It comes out as an individual portion with a scoop of vanilla ice cream swimming in a butterscotch sauce. The pudding itself is incredibly light and fluffy and there's a salted flavour to it, perhaps from the bicarb which is a salty contrast to the sweet caramel.
Alas I wish we could stick around and make the most of that park but errands beckon and stories need to be written...but as I leave I almost take a photo of my park!
So tell me Dear Reader, do you look at other people's dishes when you eat out and do you ever ask them about what they think of them?
Cook & Archies
4 Buckingham St, Surry Hills NSW 2010
Phone:(02) 9310 3933