I walk through the doors at Bishop Sessa restaurant and turn to the woman who greets me. "I'm sorry I'm about 15 minutes early for my 6:30 booking" I say to her. She asks my name and looks it up on the computer. Not being able to find anything she calls over another staff member and they puzzle over the bookings. It turns out that I was not only 15 minutes early, but I was a day and 15 minutes early. In my haze of illness, I had made a booking for the day afterwards.
Thankfully they can fit us in and I take a seat. I look for my friend Ute at the window for the next 15 minutes wondering if I had made the correct date with her. She appears and I'm relieved. I had expected to go home and repeat this whole scenario tomorrow night. Bishop Sessa is named after "Sessa" the inventor of the game of Chaturanga, an early ancestor of chess the latter which chef Paul Cooper is a fan of. They tell us that when they opened, their menu featured a fictional explanation of the exploits of a man, the Bishop of Sessa and while it was taken as a joke by most, some took it seriously and questioned the Bishop's existence.
Bishop Sessa employs the nose to tail philosophy and ages and butchers their own pork, lamb and beef on the premises and use as much of it as they can. They also make as much in house as possible from the fine crusted, crispy dense loaf to the jellies, ice creams and consommes. "I'm going to spank you" Ute says to the maitre'd in her playfully direct manner. The reason being is because the item that drew both of our eyes as if led by cord, was the duck lasagna that only features on the degustation menu. He explains that it is made in such small quantities that it can only be served as a degustation course. I don't think Ute was convinced nevertheless. We would have ordered the degustation but both of us were unwell and not eating much at the time (I know, man up right? ;) ).
Scallop ceviche, cucumber, avocado, lemon & ginger beer sorbet $18
We decide on three entrees and a main and they come out quickly. The scallops sit thinly sliced at the bottom with a beautifully creamy texture. These are topped with dabs of creamy avocado puree, thin strips of cucumber and carrot and a scoop of lemon and ginger beer sorbet. It's wonderfully balanced with delicate flavours and textures. On top is a crispy thin wafer made with rice that shatters in the mouth.
Carpaccio of Glacier 51 Patagonian Toothfish, smoked clam, miso, apple, black olive $18
They explained to us that the Patagonian Toothfish is sustainably fished from Glacier 51 in the sub Antarctic three months out of the year (not in W.A. as the menu suggests but 4,250 kms south of Perth). The prized fish is on the endangered list and is not often seen for sale although it was retailing at $120 a kilo recently. Edited to add: Chef Paul Cooper says "Here at Bishop Sessa, we take sustainability very seriously, and take a lot of care in sourcing seafood and other products that are both sustainable, friendly to the environment and raised and killed in ethical ways. When Patagonian Toothfish was listed as MSC certified, I had my doubts, but about 8 months ago after several conversations with various people in the know, I had my opinion swayed."
"The Glacier 51 Toothfish comes from Heard Island, and the methods employed by this fishery allow the Toothfish in the area sufficient opportunity between trips to allow the fish time to replenish their stock levels. It is highly regulated, and each boat is required to monitor stock levels to avoid over fishing."
"It is true that this species was once endangered, and some pirate fishing does still occur, but in Australia, all toothfish sold must be documented, so you can be pretty safe ordering it in reputable restaurants."
Here underneath another crispy miso potato and rice wafer, the toothfish it is served with it's silky white flesh, smoked clam, miso, tiny cubes of apple and dehydrated black olive pieces. Even though the fish itself is delicate, the strong flavours of the black olive, smoked clam and miso never overpower it and it has a luxuriously silky texture and flavour.
Pig's trotter and prawn terrine $16
The third entree was a special. It was a pig's trotter and king prawn terrine had that wonderfully gelatinous texture to it and a pronounced sweetness. This was served with sesame and baby capers heirloom carrots which added to the sweetness.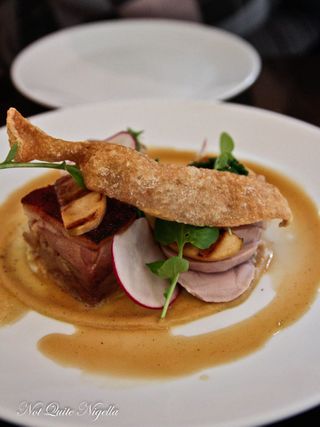 Roast Melanda Park pork, choucroute, caramelised apple puree, cider sauce $33
I had a craving for pork that evening so when it was recommended to us, I jumped at it although the venison was a close second in choice. The pork choucroute came as two parts of pork, a thicker belly portion with crispy crackling and a leaner tenderloin cut. I preferred the softer belly meat while Ute liked the tenderloin. It came with sauerkraut which German Ute felt could have been more sour and we would have loved a bit more caramelised apple puree and cider sauce. The crackling however was excellent and crispy good. The whole dish was good but not quite as wowing as the entrees which we both loved.
12 hour baked apple terrine, peanut madeleine, salted caramel ice cream, soft house made nougat $14
The reason why Ute and I became friends was because we are both similarly obsessed with food. And this dessert launches a big discussion on the merits of nougat. Average nougat is easy to find but when nougat is excellent, it is the best thing ever. This house made nougat falls into the latter category-it's sweet, soft and nutty and we wish we could have had more. The 12 hour baked apple terrine is soft with a multitude of layers (which I've done before and vowed never to do again) and it is paired with a peanut madeleine and a fiendishly good salted caramel ice cream. None of this plate went back to the kitchen!
Chocolate chip parfait, popcorn ice cream, milk chocolate mousse, marshmallow $15
When they brought both plates, we thought that they had given us two of the same dessert and despite the identical colour schemes, this is indeed a different dessert. The chocolate chip parfait is a rectangle of chocolate parfait with tiny choc chips inside. It is served with a fresh and crunchy popcorn, a slightly icy popcorn icecream, a thick and sweet milk chocolate mousse,a thin cardamom wafer and dabs of thick home made marshmallow. I'm not sure if you're supposed to eat them all together and they work together if you do, but eating them separately is also good.
As we leave Ute tells them that she will be back for that duck lasagna while I offer to book us in for the wrong date again!
So tell me Dear Reader, have you ever turned up on the wrong date at a restaurant? And do you tend to prefer entrees or mains?
Bishop Sessa
527 Crown St, Surry Hills NSW 2010
Tel: +61 (02) 8065 7223
Open Monday – Saturday: midday – late
http://bishopsessa.com.au/