The first time I visited the Hyatt hotel in Canberra, it was after a particularly eventful evening at another establishment with friends Queen Viv and Miss America. We had driven down to Canberra in a beat-up rented VW van. The car that Queen Viv had hired had not been returned and as it was a busy Saturday the VW van was all they could offer. It was a long, dusty, hot drive to Canberra in the van that topped at 70 kms/hour and we ended up staying at a place upon recommendation of one of Queen Viv's friends. Except Queen Viv had accidentally booked the wrong place and we were staying at a hostel with four other strangers in bunk beds. After a fitful, very light sleep I decided to take Queen Viv and Miss America to the Hyatt for breakfast where the smiles finally returned to their faces.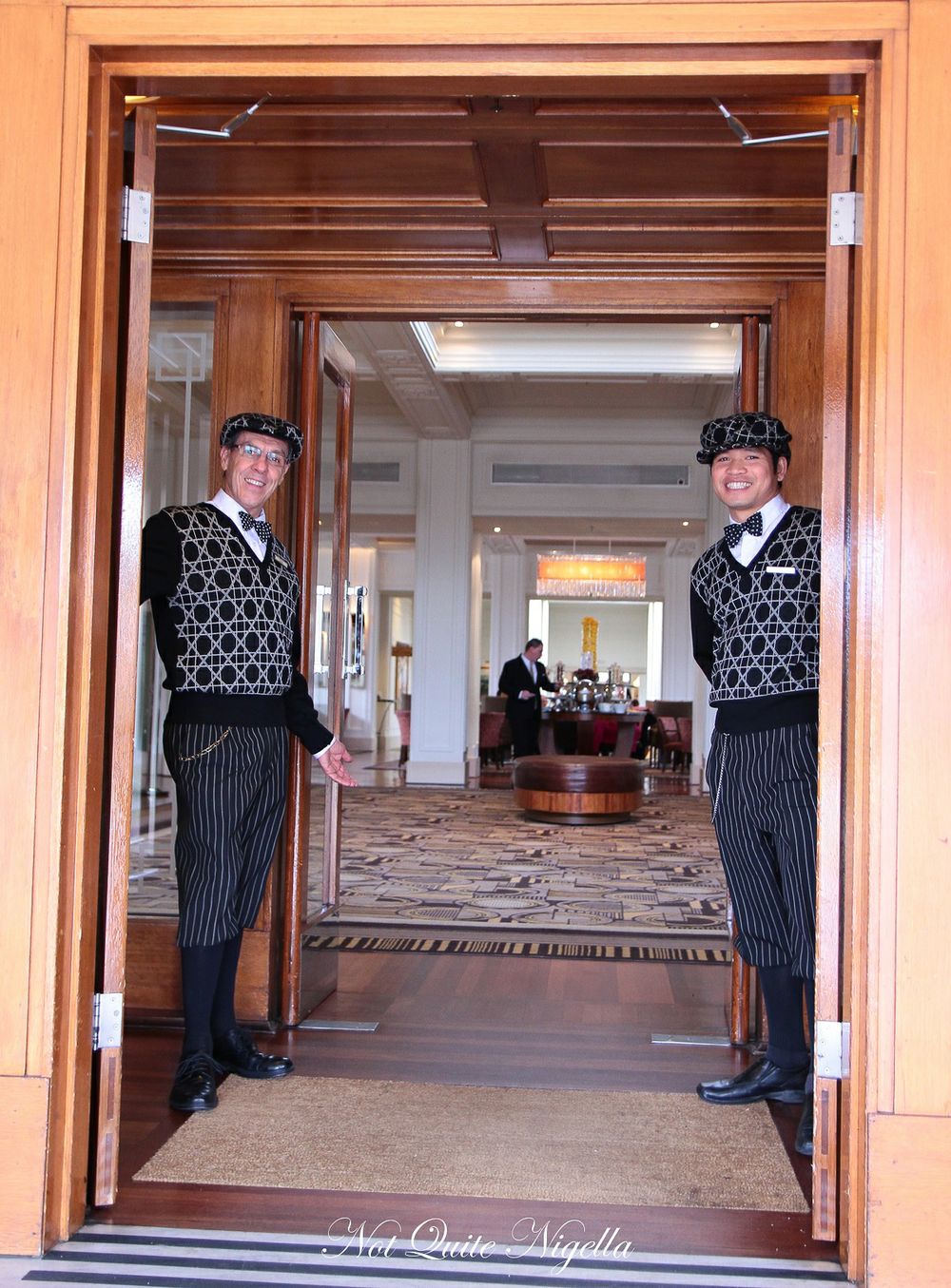 I'm returning some 15 years later to stay as a guest. Mr NQN and I arrive late one Friday evening after work at around 9:30pm. It's chilly but pulling up to the one story 1920's building the memories come back. The Hyatt Canberra is a flat low rise building with two levels. Walking through the Art Deco lobby brings back the memories and I can almost taste the breakfast that we had some 15 years earlier. Check-in is easy and a late checkout is offered.
The two doormen in their distinctive dress offer help with our bags. These outfits were based on the original 1920s outfits and they tell us the reason for the shorts was that fabric was expensive during that time so they would save money but giving them short pants (which we originally even shorter!). We park around the corner and take the short walk to the building. The original front hotel section of the Art Deco 1924 "Hostel Canberra" is heritage listed. For the new wing, they also had to make the outside a different colour from the original building.
It was originally built as Parliament decided that there should be suitable accommodation for Parliamentarians and visitors. Labor Prime Minister James Scullin moved into the hotel instead of  moving into Parliament House as a cost saving measure and he and his wife lived as regular guests (although while they dined, they were hidden by a high screen). During the Depression, he would exchange his notes for shillings and thrown them to people who were about to embark on the journey to Sydney or Melbourne. It was converted to government office space in 1974 and reopened in 1988 under Hyatt's management.
Our room 137 is right through to the back of the building. Staff members greet you deferentially as you walk past the restaurant past the many paintings (I can still remember the table at which we sat) and after a bit of a follow the sign we find our room. The room is spacious, reminding me in design of the Grand Hyatt Melbourne and the decorating style is masculine with sleek, dark wooden surfaces and sturdy chairs.
The surfaces are sleek and bare with the details inside the cupboards. Some of the furniture is a little worn and there are a couple of stains which mar surfaces. The mini bar is well stocked although I can't find any prices anywhere so I leave the mini bar alone...just in case! ;)
The bed is a king bed and there are two bottles of complimentary water next to each side. A box of lovely chocolates is on the desk filled with divine truffles. There are thick robes and slippers and satin and wooden hangers and a safe. An international adaptor sits in the power point and there are plenty of power points. Internet isn't cheap at $29 for 24 hours and we also seem to have issues connecting multiple devices (you are said to be able to connect up to four devices on the plan).
The bathroom is impressive. An enormous Italian marble bathroom with a separate bath and shower it has a comprehensive toiletries kit including shampoo, conditioner, body wash, body lotion, cotton pads, cotton tips, emery board, soap, shoe kit and two toothbrushes. By the bath is a loofah and a canister of bath salts and after settling in and taking our photographs, I run a bath which fills quickly and sit and soak away any kinks from the drive.
The next morning we wake up for breakfast. Although the layout is different due to a large group party so I don't quite sit at the table we did 15 years ago, we help ourselves to he buffet. There is a hot food station which I help myself to and it's only when I reach the end that I see the woman making fresh omelettes! Fearing greed might be my undoing and mindful of the morning tea, I forsake the omelette.
The scrambled eggs are creamy and the bacon and sausage are particularly tasty. Mr NQN opts for a continental offering of bircher muesli, thick yogurt and stewed fruits which I actually prefer to the hot breakfast.
The tea lounge which is at the front of the hotel is the last part of the heritage listed building. The new building was built later and this is where the accommodation sits (you can tell from the ceilings as the decorative ceilings were a feature of the 1920's building). We take a seat in the tea lounge and it's already busy with people enjoying tea at 10am. There's a morning tea buffet and you can order drinks and help yourself to the buffet.
I order a chai and it's delicious, mild with spice but sweet and aromatic. Helping ourselves to the display there is a range of items including three types of meringues (although even basketball players would struggle getting the yellow ones!) , scones, cakes, muffins, brownies, cinnamon buns, plain, ham & cheese and almond croissants and six types of cookies.
We take a bit of what interests us and I choose an almond croissant which is divine-crunchy and crisp on the outside with a creamy custard inside. The two hot savoury items are also very good and these are the Quiche Lorraine and the spinach and cheese pastry.  Last was a warm custardy tart.
Mr NQN's choices are a tangy berry streusel tart which is a bit tart for me, a moist orange flourless cake slice, a baked bun (which we thought was a donut but was a bun dusted in flour) and a ham and cheese croissant which I prefer to be baked and warm so I left this to him.
There's no rest for the wicked or so they say so after saying goodbye we head towards Mount Majura wines for some wine tasting and to try one of their regional platters. Mount Majura is a single vineyard that only uses estate fruit and don't buy in any fruit. Their wines are made to reflect the conditions of their soil and the weather here.
Their soil is a mix of limestone and volcanic rock and the soil with large day and night temperature variations means that the weather is similar to that of areas in Spain. The vines are on a steep 7 or 8% incline with a rise of 40 metres and are only grown on the areas where the limestone and volcanic soil are located. All of the wineries in the area specialise in different types of wines depending on the terrain and soil. Mount Majura wines are stocked at Bar H, Movida Aqui and Chin Chin among others.
We first try a selection of the white wines and my favourites are the Riesling and the Pinot Gris. The Riesling has recently been awarded 96 points by James Halliday and Fergus from the cellar door tells us that the Riesling grapes taste just like the Riesling wine and that the wines are an excellent conduit for the flavour of the grape. The Pinot Gris is their best selling wine and has the hallmarks of Pinot Gris in the pear aroma and flavour.
Their Chardonnay is fermented in the barrel which allows for a softer integration although it is more labour intensive with so many different barrels at different stages. The batonnage (stirring the settled lees) and the use of wild yeast give it an unusual cream and oatmealy quality.
Before we start on the red wines, we sample a little of the regional tasting platter, one of the choice of three platters. This platter has all local produce including some delicious semi dried olives from Homeleigh Grove Hall, kangaroo prosciutto and smoked tomatoes from Poacher's Pantry, a wonderful tomato and mango chutney from Lynwood preserves and Eastern Feta from Small Cow farm.
We try three of the best red wines including a Shiraz which is a a softer Shiraz. 2009 was a good year for local Shiraz with 8 out of 30 gold medals awarded locally. We then try the T.S.G. which is a Tempranillo (45%), Shiraz (38%) and Graciano (17%) which is one of their most popular wines with a limited supply of only 160 cases.
Grandma's Little Bakery
**
"There is no secret" Avi Cohen says spreading his arms wide. "I think we're doing something right...and something real. All the recipes, they are simple and we make everything here, even the ice cream." Avi is the owner of the successful Grandma's Little Bakery in Collector, a small town of 150. Every weekend, queues form and the large 110 person eatery serves up food from shashouka, mixed dips and pastries to people Sydney siders on the way to Canberra or Canberrans on the way to Sydney. It's also known as somewhere in between the two places where people can meet up.
The grandma from the bakery name are his grandma and grandmas of friends and family and their recipes make up the menu. Originally from Israel, Avi starts at 1am on the lamb shanks and by the time they open at 8:30am at Collector, the smells fill the air. Open for two years now and family friendly (and it has to be at this location), he tells us that there is no deep fat fryer or facility to deep fry chips or anything of the sort. "There is no cream or butter and not much fat or sugar" he tells me.
"But that's just for the hot food, the bakery, we bad" he says laughing and I breathe a sigh of almost relief. I was wondering how a bakery does without butter, cream or sugar! "There is a lot of cream, butter and sugar but that's not for every day."
He makes the bechamel for his moussaka with olive oil and milk rather than butter and milk. The chicken liver pate is made with olive oil, onion and chicken livers instead of cubes of butter. The olive oil is from the acreage that they share and to get to Grandma's Little Bakery you first drive past the olive grove. The two businesses and two families work in partnership together. I shake Avi's hands and they are large and thick. He was formerly a builder and a baker and he outfitted both this location in Collector as well as the location in Sydney's Alexandria.
Malt beer non alcoholic $4
I'm fascinated by the malt beer on the menu that is non alcoholic. It's warm inside, especially with the afternoon
sun and I'm thirsty so I give this a go. It's a malt beer from Israel and I take a sip. It has a light hops wheat flavour, certainly nothing strong and occupies the same territory as sarsparilla, a dark, sweet almost molassesy flavour. Perfect for summer.
Mixed dips $17.50
The sourdough bread is lighter and softer than other sourdoughs too and he uses organic flour for his sourdough. Indeed, trying it with their home made mixed dips, it is like a soft white bread inside, with a thin crust outside with that sourdough taste. There are a range of dips with their mixed dip platter including their best selling hummous, a sun dried tomato and macadamia, tzatziki and a pesto. The sun dried tomato and tzatiki are favourites for me. There is also olive oil, olives and za'tar which are delicious. All are sold in the shop and I watch as adult and child enter the store and each exits clutching a chocolate lolliop, soap, container of hummus, ready made sauce or packet of frozen puff pastry.
Pastries
The puff pastry is sold frozen in packets of 8 sheets for $10. It's multi layered and made with a margarine base as opposed to butter.The reason being is that while the kitchen isn't kept kosher, it is a nod to the Jewish edict that they don't mix meat with dairy. The pastry is very crunchy and so layered although it doesn't have that telltale butter flavour to it.  They're filled with Bulgarian and Danish feta and are perfect spread with the mixed dips or the Shashouk.
Shashouk $17.50
We see quite a few of these being brought to tables and they're served on wooden boards with an iron frypan, two slices of bread and coriander and chilli dip on the side. The shashouk mix is a rich and tasty mix of tomato, capsicum and onions and comes with two eggs cracked on top and baked into it. It's packed full of flavour and he tells us that this is also a favourite breakfast in Sydney. He also sells the shashouk mixture in a container so that you can make up the dish at home by adding some eggs.
The difference between the this Collector store and the one in Alexandria in Sydney is related to the clientele and Avi is an astute businessman. The Sydney location is open from 6.30am and is smaller, faster and cheaper than the Collector location where people eat at a more leisurely pace as they tend to be holidaying or weekending. The Sydney location needs 200 people to make it viable as it is situated in an industrial area and people can come back every day or multiple times a day. The collector location is a different proposition and he needs 40,000 customers to make it financially viable as the average visitor comes every 3 months or so.
I t is a tough market because it is located in a small town, there were times when he wondered what he was doing. When they started they sold one coffee a day and that was to someone that worked on the olive farm. Now the business has won the 2011 Canberra Tourism Award retail award for restaurant and catering.
We try some more goodies, the pistachio butter cookies are moreish and addictive as are the pistachio biscotti which is one of the best biscottis we have tried. Usually Mr NQN is not a biscuit eater but he wolfs these down and points out how good they are. The Avi's chocolate biscuits are ideal for tea or coffee dunking (Mr NQN's comment? "I think there's crack in them or something because they're so good") and the Turkish delight cookies have a slice of Turkish delight in the centre of the baton shaped biscuit.
Cheesecake
The ricotta and sultana cheesecake is smooth and light and studded with plump sultanas. It has just the right amount of sweetness and a gorgeous texture.
Chocolate ice cream
The ice cream, a simple recipe he tells us, tastes just like home made ice cream. No trickery, extenders or preservatives, it has that tell-tale dense, creamy texture from home made ice cream.
The soaps are also made from olive oil from the farm and there's a black aniseed soap that fills the whole apartment as well as a gorgeous, delicate honey soap. "The money it doesn't matter, I want to make good food and make people happy" Avi says simply.
So tell me Dear Reader, do you prefer modern hotels or heritage hotels? And when you do road trips, do you grab something from a fast food place or do you try and stop somewhere worthwhile to eat?
NQN and Mr NQN visited as guests of The Poacher's Way and Australian Capital Tourism.
Hyatt Canberra
Commonwealth Avenue, Yarralumla ACT
Tel: +61 (02) 6270 1234
Mount Majura
314 Majura Road Majura ACT 2609
Tel: +61 (02)6262 3070
Grandma's Little Bakery
Federal Hwy, Collector NSW
Tel: +61 (02) 4848 0240