Ahh Canberra. The nation's capital often suffers from an image problem. Whenever we think of it we think of either politicians, p*rn or fireworks. But do you know what? Every time I visit there, I always discover something new.
The latest hotel to grace Canberra's grounds is Hotel Hotel, the first hotel from the Design Hotels group. Striking from a distance and even more intriguing close up, the space is a mixture of natural woods, concrete and sleek design and colours.
Staff use wooden keyboards, guests get wooden keys and make their way past the lobby to their room on the 1st or 2nd floor. The first thing that I think of is that it's like a hotel cousin of MONA, the modern art gallery in Tasmania.
There are three room types at Hotel hotel: original, creative and meandering rooms. I'm staying in #228, a creative room which is long and rather unusually shaped, as if you were sleeping in a giant jigsaw puzzle piece.
In the main room, there's a comfortable looking brown leather lounge to recline on near the bed. Windows can open slightly (hooray!) and there are blockout as well as semi sheer linen blinds. And did I mention internet? It's fast and it's free for all guests. In fact the area of New Acton has its own free internet signal although there are patches without much signal at certain places.
The main bedroom is spacious and long and there is a king sized bed. To the side is an iPad which is the controls for the whole room. Dark green glass drop pendants scatter patterns and colours across the room.
The bed itself is a balance between soft and firm although the sheets aren't as soft and smooth as expected. I am told that they are aware of this issue and are working on it as other guests have give them the same feedback. There are two types of pillows, both quite firm and high profile and I would have liked a low profile, soft one as an option. This can be ordered through the iPad but it was late by the time that I realised this.
Staff are extremely eager to help in any way and no guest is ignored particularly in the lobby area which feels very welcoming. At times it tends to overservicing - an hour after Belinda had checked in while she was napping she was awoken when she received a phone call asking if she was happy with the room.
Speaking of the mini bar, there's an excellent selection of teas by Tea Drop, coffee by A. Baker and fresh milk in a miniature milk bottle. Prices are reasonable and the menu is located in the iPad. A 500ml of Apani sparkling water is $5.
The bathroom is equipped with full sized Aesop products - I know some love the small sized toiletries but I love full sized ones because it feels more at home. A make up roll holds the remaining amenities of a vanity set, sewing kit, shoe shine, comb, shower cap and emery board. There are large, soft towels and a monsoon and massage shower head although the water does drift out of the shower area. Later that day turndown is performed which is a simple closing of the blockout blinds.
Like many design hotels, sometimes things favour form over function and there are little things like the kettle not fitting underneath the tap properly and not being able to see where the kettle is located because of the lighting. The outside view is of the atrium and a tall block of apartments so there is little natural light and the rooms are dark. However these rooms are the quietest rooms and the brighter lake views ones are said to be a bit noisy during the day.
Hotel pop up store
They're also still working out the valet system though and there's a bit of chaos as keys and the car is located. The carpark below the hotel is unfortunately badly designed particularly when it is busy during cinema peak times.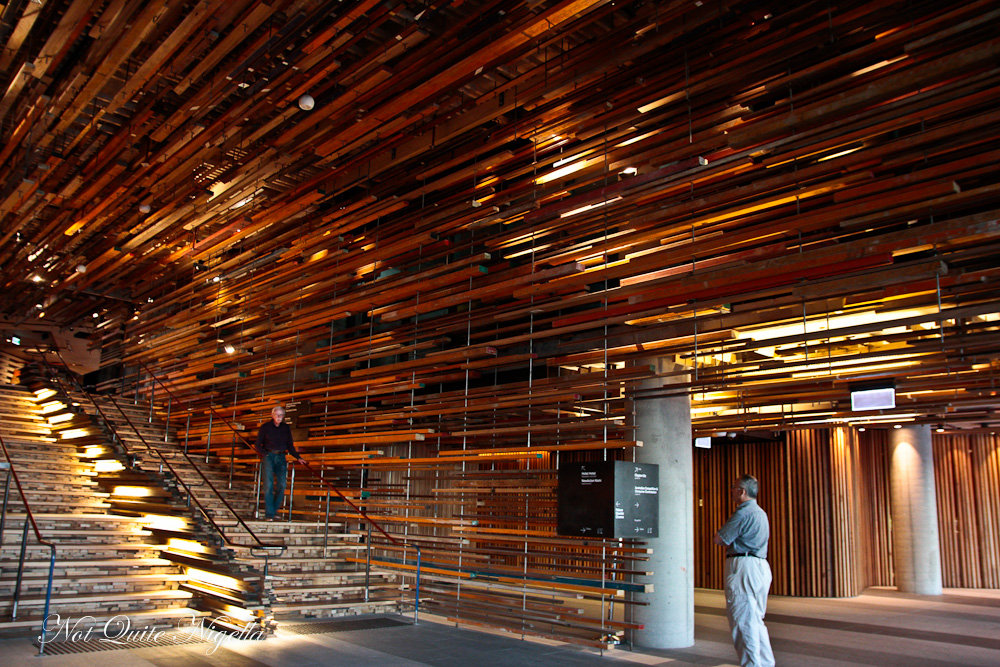 Belinda and I re-enter the lobby. The Molonglo group who are primarily property developers own the hotel as well as the whole Acton area and they're reinvigorating it to become a destination area.
Indeed the whole hotel's design aesthetic is about building where slabs of concrete and beams of wood are exposed instead of hidden. Much of the timber is from reclaimed land and the ceiling above includes beams from a former basketball court.
There are plenty of spaces in the lobby to sit and read or wait. Interestingly, they encourage students to come in and use their free wifi and the lobby is constantly busy. Staff come over and offer complimentary water in recycled glasses and bottles and the library is full of unusual small print books curated by a Melbourne art critic and Perimeter bookstore owner Dan Rule. Free Goodspeed bikes are available for use.
Design details like old suitcases adorn one wall while another features mosaic tiles by late artist Gerard Havekes. It was a two year negotiation with Havekes's family that culminated in this striking wall facing the sun outside.
Mosaic tiles
The Nishi building where the hotel is located shares a space with the Palace Electric Cinema which is a nice addition and across the path is a renovated hotel which was originally built for Parliament House. This holds a few options for dining.
A Baker is a breakfast, lunch and dinner eatery serving primarily Canberran and Spanish wines and local cheeses. It is also the home to the Russian former sociologist now baker Ruslan Salbiev who bakes the bread using organic Gunnedah flour. The Oat and Rye loaf is his speciality and he grinds the rye himself.
It's a wholesome loaf and it reminds me of Finnish and European bread. Alas we aren't as smitten with the almond croissant as it lacks the caramelisation that I love so much about double baked almond croissants. Signs of the former fire that devastated the building are apparent on the soot black charred walls.
Next door is the Parlour Wine Bar which also required a renovation. As the temperature hits 40C/104F we stop by for a cooling cider and cocktail. Service is friendly and helpful and we recline in a velvet lounge while surveying the vintage surroundings.
A few minutes' walk away is Mocan (pronounced mo-chen) and Green Grout-the Mocan meaning strong and the green grout being the initial colour of the grout between tiling work. This is a bike shop as well as a very popular cafe restaurant and is hipster heaven. The crowds outside give an indication of how sought after a table at this tiny cafe is.
There's a four seater bar where people can order coffee and drinks and the main room is the kitchen and dining room. The size of the kitchen is a surprise, it's like someone's home kitchen yet it caters for a cafe crowd.
Lattes $3.50 each
The lattes are smooth and very good and give us the requisite jolt of caffeine while we look through the breakfast menu. Service ranges from the unsmiling to the friendly and we watch as the staff make order of the menu in their small kitchen.
Tripoli baked eggs, humums, spiced radish, yogurt $15
We expected that there might be a wait but the chefs seem to have the routine down pat and before long our food arrives. The baked eggs Tripoli style are delicious and given a nutty seedy boost from the dukkah, creamy hummus and yogurt.
Watermelon, yogurt $9
The cubes of watermelon with a petite rose pannacotta, natural yogurt and pistachios is the perfect antidote to the rising heat. The watermelon is thirst quenching but it is the pairing with the creamy delicate rose pudding that delights especially. There's also the freshness of tangy Greek yogurt too on the side.
Salami Toastie, Sicilian sopressa, provolone, black horse relish $9
The salami toastie however is worth forgetting any diet for. It's fresh toasted bread, toasted juuust right and topped with melted provolone cheese and Sicilian sopressa sausage. The finishing touch is the Black Horse tomato relish (a local Canberra brand) which has a delicious sweetness to it.
The bill is $40 for three dishes and two coffees which is incredibly reasonable. We clear our table as soon as possible as we remember the crowd outside.
We take the five minute drive to Lonsdale Street in Braddon in the city centre. There are plenty of cafes and shops in this area and the only thing you need to worry about is finding a parking spot. We pop into shop after shop and I buy a gilt gypsy table its tree branch limbs sprayed in gold - it's a steal at $125 (just don't tell Mr NQN!).
And to think that only an hour before we were sitting at the same table at Mocan and Green Grout and we were both wishing for a table like it. "Quick! Wish for Ryan Gosling!!" I say to Belinda since it seems that wishing for something aloud works.
We pop into the entranceway of Lonsdale Street Traders where there are a range of small boutiques that sell unique gifts and homewares. I venture into "Elsewhere" which has a lovely range of homewares, taxidermy as well as styling prop and hire.
A few doors down is Sweet Bones, a vegan organic cafe that bake everything from their kitchen behind the counter. The vintage cafe was funded through crowdsourcing website Kickstarter and donors were paid in muffins.
Everything but the milk offered for their coffee is vegan. We try an Iced Dandy (dandelion being a coffee substitute) with maple syrup and it is delivered via the tattooed fingers and arms of the friendly barista. The Iced Dandy is refreshing and perfect for the hot weather. Belinda buys a rich and moist chocolate coconut brownie and a pumpkin muffin to take away.
Iced Dandy
A few doors down is Elk and Pea which we stop into for lunch. Belinda and I were swayed by their menu which sounds like great Mexican food. Alas, on weekend days there is only the brunch menu which runs until 3pm and no trace of the Mexican food at all. We decide on the pork and corn and quinoa has browns. Belinda sighs. "I was looking forward to the Mexican food" she says.
Pork and corn $19
The pork and corn is three fat pieces of striated pork belly on top of a slice of toasted jalapeno and corn cornbread with a soft poached egg and salsa on the side. The flavours are good and I like the fried onions that bring each element together but some corn with the salsa would have been nice to give it some moisture.
Quinoa hash brown $17
The sizes of the meals are very generous and there are three enormous hash browns which are flavoured well with addition seasoning from the crumbled feta on top. This is a little dry too and could have done with some sort of raita or sauce to go with it but the hash browns are robust and flavoursome.
One more stop in the Braddon area! It's next door at Autolyse bakery which sells fantastic breads and cakes. It is named after the process in bread making which results in orderly gluten formation, better colour and a better flavoured bread. We buy a few things for the road.
The white loaf is very popular so I buy a loaf of that along with a tempting looking fougasse and a chocolate brownie. I forego the mille feuille although I am always tempted by those.
The bread is fantastic, a thin, crusty crust and needs just butter to eat it with but it also soaks up sauces and dressings perfectly. The fougasse, a little pricey at $8.50 is worth it and the ham, cheese, tomato and basil filling is perfectly proportioned. And the chocolate brownie in all of its cocoa dusted glory is filled with macadamias and a rich, dark chocolate. The perfect item for the road trip home.
So tell me Dear Reader, do you like the idea of controlling your hotel room via an iPad? And how much of a consideration is free internet to you when staying in a hotel?
NQN stayed at Hotel Hotel as a guest of the hotel but all meals were independently paid for.
Hotel Hotel
25 Edinburgh Ave, Canberra ACT 2601
Phone:(02) 6287 6287
http://www.hotel-hotel.com.au/
Parlour Wine Bar
Newacton Pavilion/16 Kendall Ln, Canberra ACT 2601
Phone:(02) 6257 7325
A Baker
15 Edinburgh Ave, Canberra ACT 2601
Mocan & Green Grout
19 Marcus Clarke Street, Canberra 2601, Australia
Tel: +61 0468525229
Sweet Bones
8/27 Lonsdale Street, Braddon, ACT, Australia 2612
Tel: +61 0413 067 890
Elk & Pea
21 Lonsdale St, Braddon, ACT, Australia 2612
Tel: +61 02 6162 0222
Autolyse
21 Lonsdale St, Braddon, ACT 2612
Tel: +61 02 6262 8819