It's a certain thing that whenever Mr NQN and I visit his mother Tuulikki, the first thing that she will do is offer us a cup of tea. Her teas are always rooibos or herbal teas and given in knobbly large hand-thrown mugs with honey (no sugar) as a sweetener. And every cup of tea comes with a funny story, often one we've already heard, but sometimes she will throw in a new gem into the mix.
Just yesterday, she quietly told me a story about Mr NQN. It was well established through photos and tales, that Mr NQN was a fat baby. So enormous that he has rolls of fat cascading down his arms and chins as prominent as his big brown eyes. She whispered to me "do you know that someone asked me 'Is there something wrong with your baby as he is so fat?!'" she retold with horror. "Don't tell him that!" she said her eyes widening in alarm.
"Don't worry, he'll laugh" I promised her and an instant later Mr NQN heard about it all and was laughing heartily. I suspect that a lot of it has to do with the fact that he is very skinny now - perhaps it wouldn't be a matter for merriment if he were heavy.
Mr NQN is also a straight shooting, frank in manner country boy. When I make something during the day, I wait for him to come home like a cat waiting in the corner to pounce. He is usually barely in the door when I grab his arm and show him something and he will always give me an honest answer. When I made these tea bags the first question out of my mouth was "what do you think these are?" I figured that if he could answer correctly then I would be reasonably reassured. I braced myself for a "I think that looks a bit weird" or something of a similar nature.
The idea for these cookies actually came from a reader Ashly Z. who was kind enough to forward me a picture of these adorable tea bag cookies. They looked easy enough and ended up being quite straight forward without requiring any special cookie cutters and just a quick dip in a pond of melted chocolate at the end. I did some low level crafting (the only kind I really know) and made some tags and some thread doubled as the string.
To my relief, he actually guessed what they were and then proceeded to eat pretty much all of them.
It seems fat baby, infuriatingly skinny adult! ;)
So tell me Dear Reader, do you usually have something to eat with your cup of tea like a biscuit, cookie or cake? And how do you drink your tea? Weak or strong and with or without sugar and milk? And are you good at crafts?
P.S. All of the Dilmah Charitea competition winners have now been contacted so please check your emails (and those spam folders too for any pesky ones that may have slipped through ;) ). Melbourne winners, have a great time today and Sydney winners, I shall see you on the 12th of September at The Langham! x
Tea Bag Cookies
Makes about 30 cookies (depending on size)
85 g/3ozs butter, softened
140g/5ozs white caster superfine sugar
180g/6ozs  all-purpose flour
1 teaspoon_ very finely ground_ tea leaves from your favourite tea
To decorate
1 tablespoon of copha (optional, to make the chocolate more liquid and dippable)
Paper and stamps to make label
DIRECTIONS
Step 1 - In a large bowl, cream together butter and sugar until smooth. Beat in egg and vanilla. Stir in the flour and tea leaves. Cover, and chill dough for at least one hour (or overnight but take it out ahead of time to let it become more rollable).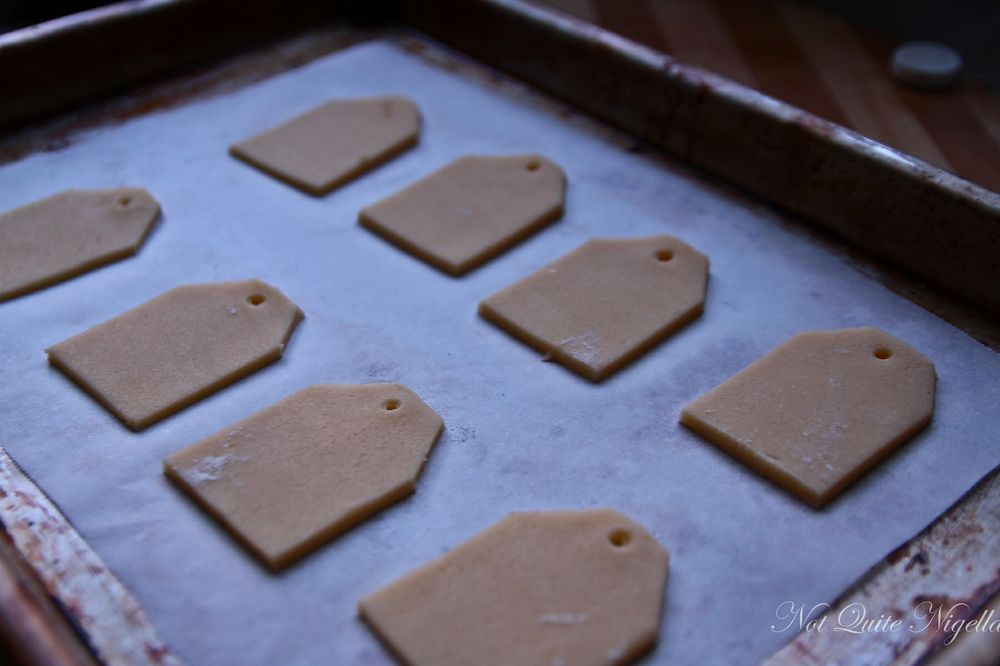 Step 2 - Preheat oven to 400 degrees F (200 degrees C). Roll out dough on floured surface 1/4 inch thick-these look better thinner. Using a knife and a ruler (and a tea bag as a guide if you want), cut out triangles and poke a hole with a chopstick to allow the thread to go through.  Cut off the corner of the rectangles just like a tea bag. Place cookies 1 inch apart on parchment paper.  Bake for 6 to 8 minutes in preheated oven. Cool completely.
Step 3 - Melt the chocolate in a double boiler or a microwave and add a little copha if using so that it is a little runnier and stir well. Dip the base of the cookie in the chocolate and allow to set on the parchment.
Step 4 - Using a stamp and ink pad, make stamps and cut out tea bag tags. Thread a small length of thread through the hole and secure this to the back of the tea bag tag with some sticky tape.