When I was in high school, one of my friends was a girl that wasn't very popular. People would do all sorts of mean things to her like tease her mercilessly and tie her pigtails to the bus poles. At times, even adults joined in this behaviour. She lived on the top of a hill and every day she would run down the hill to the bus and one day the bus driver saw her coming down the hill, running as fast as her legs could carry her and just when she got to metres from the bus, he closed the door and drove away laughing and waving. The poor thing was mortified and humiliated in front of a bus-full of jeering peers.
Her mother would try and comfort her and many mornings, she would have a slice of cheesecake for breakfast. This ended up being part of the cycle of teasing as kids with weight issues aren't often looked upon kindly at school, especially at an all girl's school and the teasing continued. What my friend had in her arsenal however was a great personality. She could talk to anyone and make them feel as if they were interesting. People loved talking to her and she was interested in people in a teenage world where being cool and disinterested was de rigueur.
She ended up being friendly with some of her then tormentors (no, I wasn't one of the mean bunch!) but even then, she never quite trusted them after the way that they had behaved. She hardly ever showed up to school reunions and the one time she did, she came up to me with a smile on her face. "Did you see Hermione?" she said. "She looks about 100 years old!" It was true, her tormentor Hermione had no aged well. In fact, it looked like the excessive high school tanning had finally turned into a wrinkled shade of walnut.
I thought of my friend as I was eating a slice of this baked ricotta for breakfast and musing aloud how much this tasted like cheesecake. Sort of like a crustless version of it easily whizzed up with a preparation time of less than 5 minutes. It's great for when you're entertaining and can be served with a nice crusty bread, crackers or even sweet biscuits. What I loved was the light, creamy, smooth texture and I won't lie, the fact that it only took 5 minutes prep time was also another reason to love it.
So tell me Dear Reader,  are you still in touch with your friends from school? And were you part of the popular crowd, middle crowd or geeky crowd?
Baked Ricotta With Honey
Adapted from the Coffs Coast "Harvest" cookbook
Degree of difficulty: very easy
Preparation time: 5 minutes
Cooking time: 30-40 minutes
3-4 tablespoons honey (I used Maya Sunny Honey)
Optional: double this recipe and use a 20cm baking tin instead.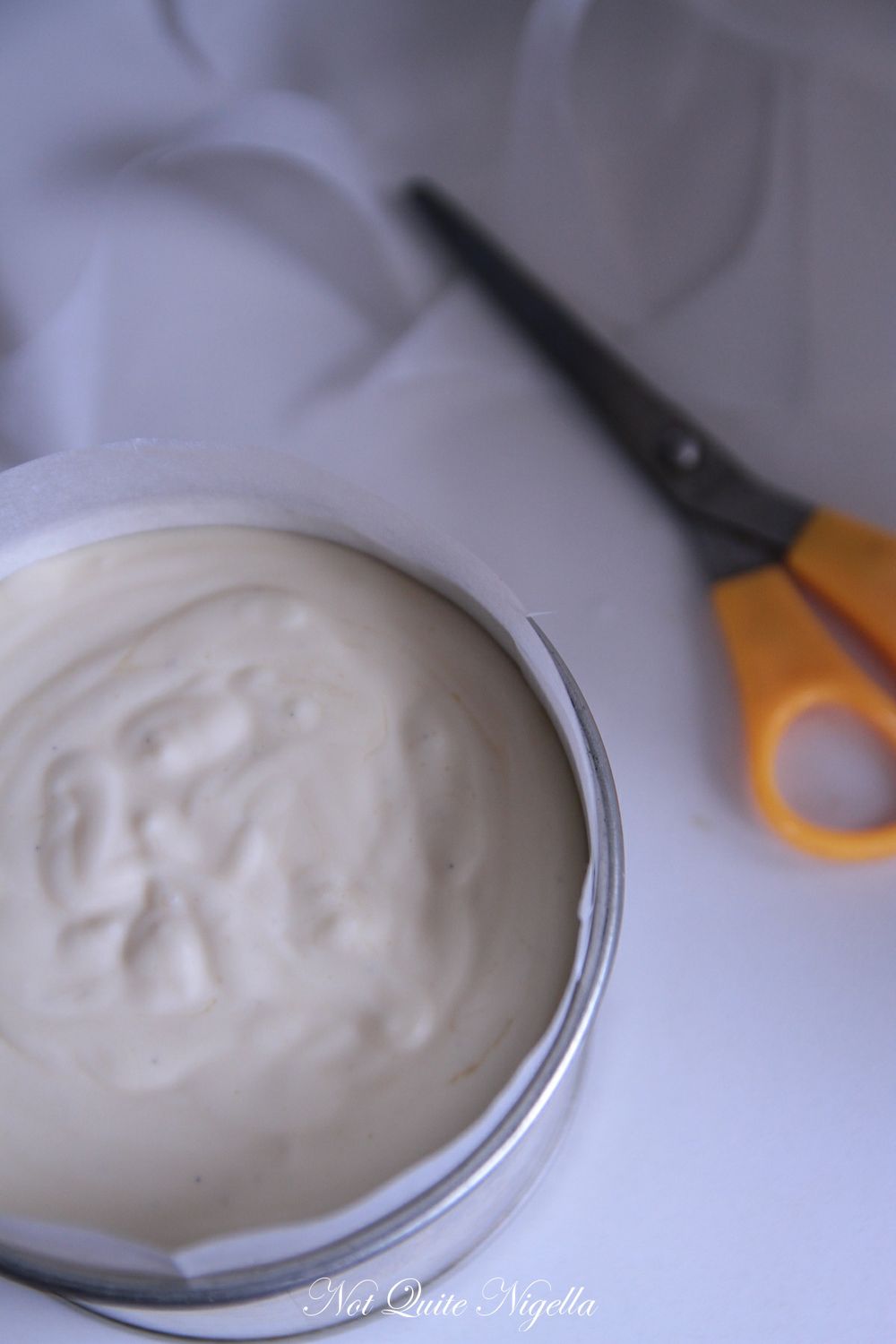 Step 1 - Preheat oven to 160C/320F. Line a 10 cms baking dish with baking parchment on the base and sides. In a food processor, add the ricotta cheese, cream, eggs, cornflour, vanillin sugar and 2 tablespoons of the honey (reserve the other two tablespoons to drizzle over at the end).
Step 2 - Bake for 30-40 minutes until the centre is no longer wobbly. Cool in tin and then carefully upturn on a serving plate and drizzle reserved honey on top. Serve with crackers, sweet plain cookies or bread.