*These crispy baked cauliflower cheese bites are every bit as delicious as they sound. In fact ever since I first made these I've made them regularly ever since because they feel like they are deep fried but they're not as they are baked. These crispy and crunchy morsels are usually enjoyed while watching television as you can absently pick them up and dip them. They also make for great finger food for parties. *
Dear Reader, please excuse me while I quietly freak out in the corner. I cannot believe how fast time is going and it felt like I was just doing February's In My Kitchen (where we show you what is new in our kitchen hosted by Celia from Figjamandlimecordial) and then I find myself writing March's!
Well it's a bit of an in-between month for In My Kitchen because I haven't been overseas in a while but by the time you will be reading this I will be in Scotland where I will no doubt return with some unusual things (although I am pretty sure I can't bring haggis back to Australia - anybody?). So while they usually have a different theme depending on where I've been, this one is mostly Australian produce or items.
The first thing I have are these prickly pears. Have you ever tried one? They are so delicious and refreshing, especially when chilled and served on a hot day. They're from a cactus fruit and well you know all about cacti right? They're spiky! For some reason the first one I just peeled and ate without any problems but then I went to photograph the rest. About 10 seconds after taking this photo, I grabbed them to put them back in the boxes and my hands got tiny prickly spikes all over them. And those little buggers hurt because unlike wood splinters you cannot see them on your hands, you can only feel them.
The trick is to soak these a few times in water and then rinse them under running water so that the tiny little hairs or spikes float away down the sink. Then take a pair of tongs to handle them and using a sharp knife cut away the outside layer carefully - t should come away in one piece. There's no use wearing gloves as they get through them. You can eat the seeds and flesh inside. They're so good though so they are worth the extra effort!
I bought these delicious little Turkish nougat sweets from Auburn. They're nougat swirls with dried apricot leather between them. I had to stop Mr NQN from eating the whole bag!
Okay so this isn't strictly Australian, in fact it's completely American but it's burger cheese. Food snobs look away but burger lovers know that nobody make burgers like Americans and they tend to use this orange cheese. I was fortunate enough to get a hold of a packet of these so I have 108 slices of this stuff. And despite the fact that I cannot stand Kraft singles, I kind of really love these as they are different (I see you judging me!). Oh and the chopping board? It was a gift from my friend Maureen when she recently visited Sydney! It's a hand made Acacia wood board-so pretty!
This gift was from Celia from the same meet up. She bought Maureen a Cazuela and asked me if I wanted one. I said "Sure!" not even thinking about where I'd store it but I'll find a place. It's a gorgeous South American cooking pot which will be great for Autumnal dishes and she also gave me some chocolate foil cups because I always seem to misplace mine. I'm pretty sure that once we move, I'll find a whole village of these little cups living a whole separate life without me.
When Mr NQN recently left me for a cycling trip in the Snowy Mountains I told him that he had to come back with a present. Being completely unused to this sort of request, he improvised and got me some props. I think he did a rather good job because he knows that I hate useless items (because we have no space) and he came home with these cute number candles!
Something else that you would find in our kitchen a lot lately are these cauliflower cheese bites. They are actually a healthier version of cauliflower cheese fritters. The florets of cauliflower are rolled in egg and then in a pecorino and panko crumb. They crisp up beautifully with just a small amount of oil and will have you making them again and again. This is my Dear Reader, a pushy recipe. If you sometimes get the urge to have something crumbed and deep fried but don't necessarily want to go down that route, this is the dish for you. I always make this when I get a craving for deep fried goodies and it satisfies very nicely indeed.
So tell me Dear Reader, how often do you get a craving for deep fried food? And have you ever tried a prickly pear?
DID YOU MAKE THIS RECIPE? Share your creations by tagging @notquitenigella on Instagram with the hashtag #notquitenigella
Crispy Baked Crumbed Cauliflower Bites
An Original Recipe by Lorraine Elliott/Not Quite Nigella
Preparation time: 15 minutes
Cooking time: 20 minutes
1 medium sized head of cauliflower, trimmed, cored and cut into florets
3 eggs
1 cup panko breadcrumbs
1 cup finely grated pecorino or parmesan cheese
1/2 teaspoon cayenne pepper (optional)
4 tablespoons oil for drizzling
Ranch sauce to serve (ranch recipe here)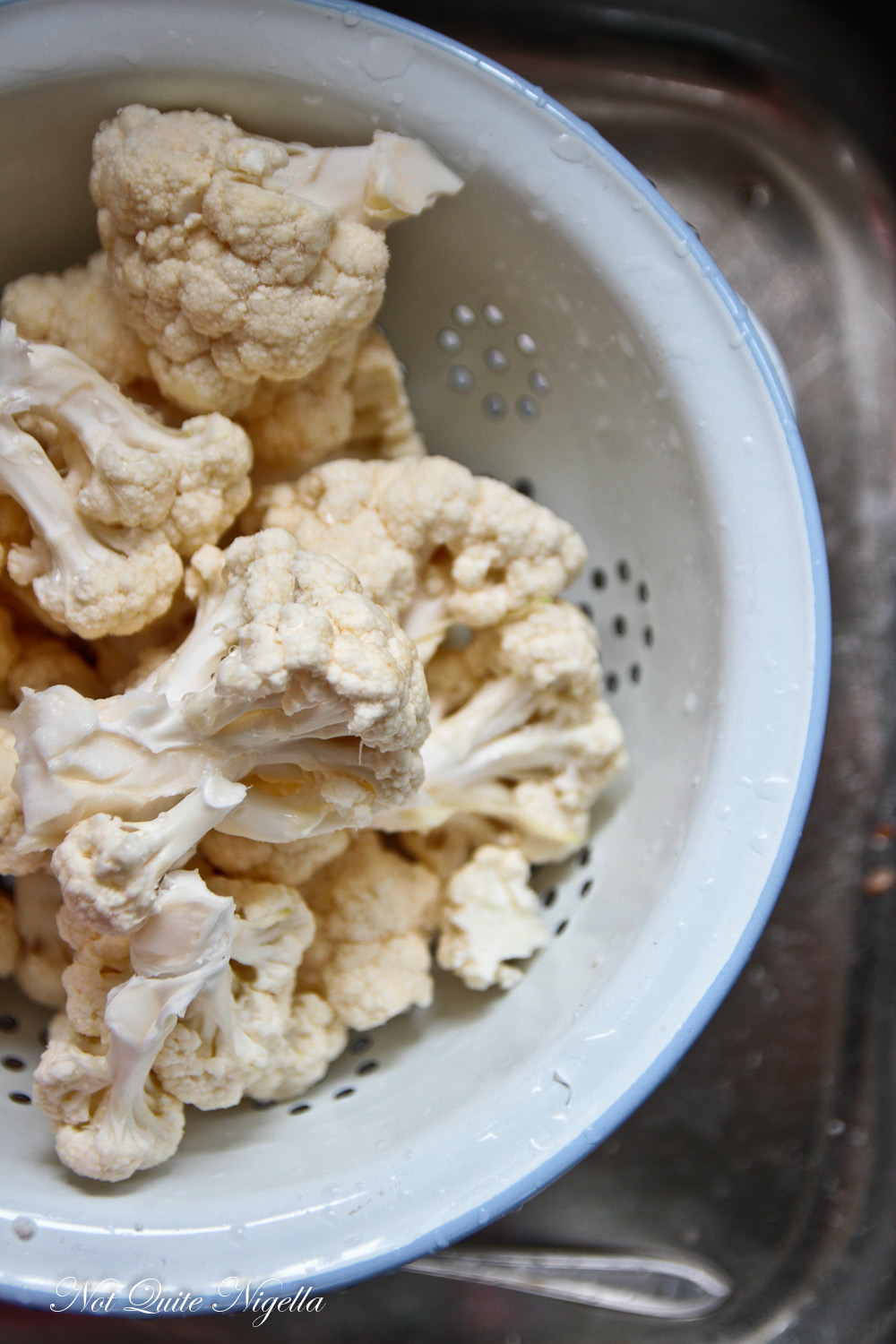 Step 1 - Preheat oven to 200C/400F and line a baking sheet with parchment. Drizzle the parchment with some oil. Place the eggs in a bowl and beat. In another bowl, mix the breadcrumbs, cheese and cayenne pepper. Dip each floret into the egg making sure to coat it (the crumbs won't stick at all otherwise). Then roll in the crumb dip and place on the prepared tray. Drizzle with some more oil.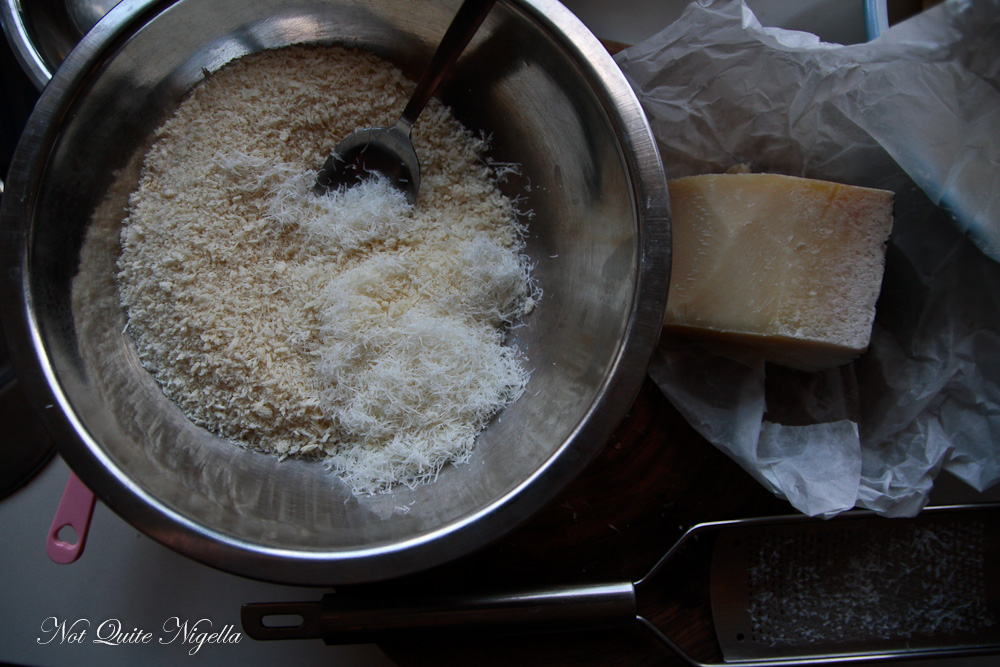 Step 2 - Bake for 20 minutes until golden. Turn over and bake, adding a little extra oil if needed. Serve with aioli.
Before baking