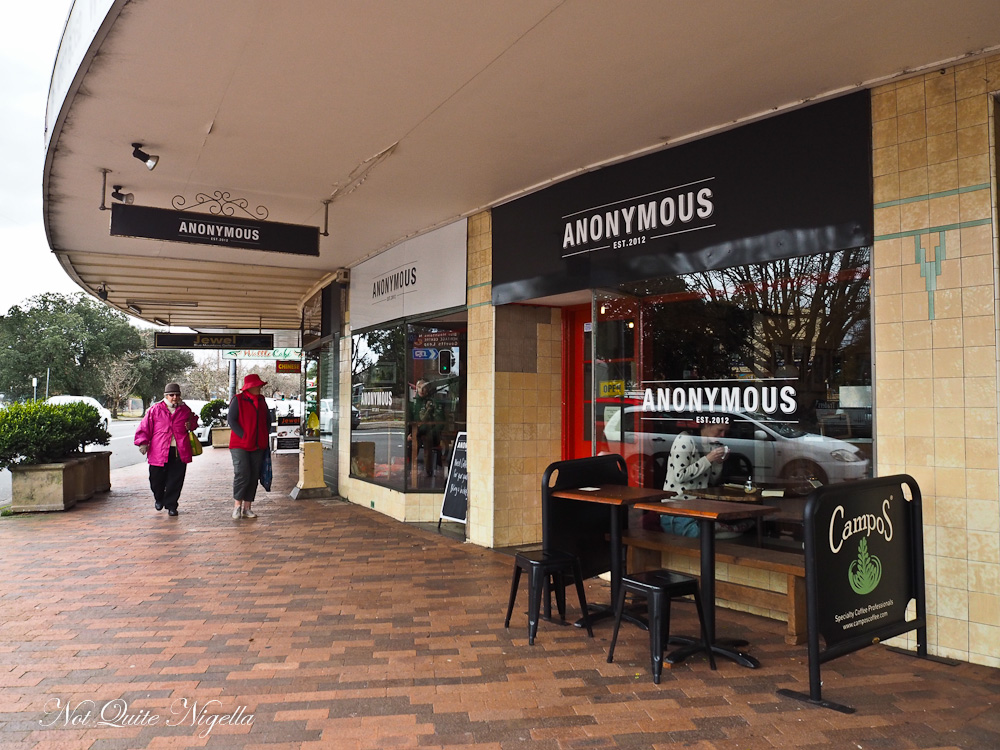 It was our last morning of our winter trip to the Blue Mountains. We had been lucky with the weather. Of course cold and frosty would be a given but we had been blessed by sunshine during the day and not even the hint of a breeze. Until we awoke on the Monday morning and saw a distinct grey edge to the day. The trees and bushes surrounding our cottage previously dormant now fought against the wind trying to stay upright while being simultaneously uprooted a the same time. It was definitely time to have a warming breakfast before heading back to Sydney.
We packed up the car and drove to the centre of Blackheath just few minutes' away. Nick had left late last evening to make it to work on Monday so it was just Belinda, Mr NQN and me. When we rounded the corner, a blast of chilly mountain air greeted us and we ran into Anonymous Cafe for shelter. It was warm and the only table for three available is the slightly odd elevated table in the window. I tuck in one leg under me flamingo-style trying to stay warm.
It seemed as good a day as any to start it with a hot chocolate while Belinda and Mr NQN go for coffees. The coffee is by Campos coffee. There is an all day breakfast available which we always like to see.
Reuben style pastrami toastie $11.50
I'm usually quite patient with all of the photo taking but I'm eager to bite into the Reuben sandwich with all of its melting cheese goodness. There's a good amount of pastrami as well as sauerkraut and a home made dressing in this crispy toasted sandwich.
Brioche French Toast $15.50
The brioche French toast is thick, buttery and spongy in texture. A single slice, it is topped with a sliced honey baked pear, buttered almonds, fig syrup and mascarpone. I would have loved a bit more spices or aromates to the pear to give the whole dish more flavour and the mascarpone appears as a custard of which we would have loved a bit more.
Breakfast burrito $12.50
Our favourite however is the burrito. With a flavoursome vegetarian filling with a range of textures and ingredients from braised beans, black rice, corn and a chickpea, tomato and coriander salsa. In amongst this is a fried egg and sour cream all wrapped up in a flour tortilla.
Turning up our collars and adjusting our scarves, we are ready for the trip back home.
So tell me Dear Reader, how do you start the day? With a coffee, tea, hot chocolate, lemon water or another sort of drink?
Anonymous Cafe
237-238 Great Western Highway, Blackheath, 2785
Tel: +61 (02) 3456 7890
Mon – Sat 7am- 4pm
Sun 7:30am – 3pm
http://www.anonymouscafe.com.au/