The Blue Mountains town of Bilpin, at just 1.5 hours drive from Sydney is a perfect spot for a day trip for Sydney siders. From the brand new High Hopes Roadhouse by chef Sean Moran to wonderful cideries and shops you can spend a leisurely day eating and shopping here.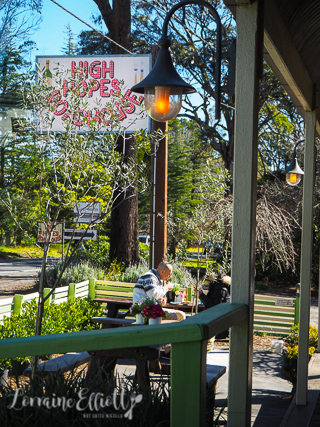 A few years ago Bilpin and the winding Bells Line of Road along the Eastern Blue Mountains had some apple orchards, a couple of shops selling apple pies and juice but much has changed in the town over the last few years. As we pull up to High Hopes Roadhouse there's a cluster of shops from a bakery, gift store and hell if you need mulch and hay there's a shop that sells that too.
High Hopes Roadhouse is new, so new that it opened during COVID-19 at the start of June 2020. It was created by partners Michael "Manoo" Robertson and chef Sean Moran of Sean's Panorama in Bondi. At 1pm we blow in with the bitterly cold wind that is tempered somewhat by the glorious winter sunshine. We sign in and anti bac our hands because it's 2020.
There is an indoor and outdoor eating area and Michael invites us to choose a table. Attached to the eatery is a sweets shop, currently a work in progress with a collection of old fashioned sweets. The couple's Bilpin Farm just one kilometre away supplies the roadhouse with plenty of produce from the eggs, vegetables, lamb, pork, chicken and beef.
Sean explains that the name High Hopes Roadhouse was borne of hope after January bushfires devastated the area and COVID-19 devastated tourism. It also represents hope for the new businesses that have opened here.
We order at the counter and take our ciders to the table. I have a non alcoholic Bilpin Cider Co apple cider and Mr NQN has a Hillbilly apple cider.
Mr NQN and I start with the roasted pumpkin soup to warm us up. It is smooth in texture and well seasoned with a warm section of baguette and a square of cold butter. In the centre of the soup is a quennelle of sour cream and fresh horseradish. It's the perfect way to warm up from the cold.
While calling this a roadhouse suggests that this is a casual place, you know that a venture from Sean Moran is going to have good food at its heart. There is one option that he has taken from his days at Sean's Panorama. "Sean's linguine" with lemon, rocket, chilli and parmesan was on the Sean's Panorama menu since opening in 1993 and from his time at The George in Waterloo. It's delicious and simple which is really when I enjoy pasta the most.
I'm absolutely taken with my main: three fat juicy beef chipolatas with onion gravy, peas and a side of rosti. The chipolatas are made using beef from their farm and are juicy and plump. I savour every bite especially with the crispy rosti on the side.
The apple pie is a quarter of a pie (it's a judicious amount, not nearly as excessive as it sounds), served warm with plenty of soft apple inside and a crispy buttery crust. On the side is a scoop of vanilla ice cream.
We are left fighting over the last of the dark chocolate mousse cake. This is unusual behaviour from both of us as neither of us are big chocolate cake eaters especially after two courses. This chocolate mousse cake is light and moreish and comes with a honeyed orange slice and double cream.
Appetites sated, we cross the road and buy some pastries and bread at The Grumpy Baker for our weekend away. It's a beef sausage roll for me and a lamb pie for Mr NQN and a loaf of Black Russian Rye bread.
Then we hop into the car for a spot of shopping to buy more supplies and gifts. Around 8 minutes drive from High Hopes Roadhouse is The Hive in the next town of Berambing.
The Hive store sells a range of local produce from tiny purple radishes, buddha's hands citrus and oranges they are also known for their raw Bilpin Bush honey. It comes either as is or with a wedge of honeycomb in the jar or with a layer of walnuts at the top. We buy a 1 kilo bucket of raw honey to take with us.
For drinks, we stop by the two cideries. Hillbilly Cider has moved around 150 metres away from their previous premises having outgrown them.
Now they're in a much larger site with tasting paddles and pizza on offer. There are also new products like the ginger and apple cider made with local apples that is sweet and fresh.
We also buy the some Sweet Julie cider, one of our favourite ciders from our last visit and a bottle of Vintage Blackberry Cider as a gift.
And a few minutes away is our next stop at Bilpin Cider Co. It's where we had enjoyed a picnic and is a dog friendly ciderie. We try two of their new varieties, an apple and blackberry cider and we also buy some of our favourites.
Bottles clinking in the backseat, the aroma of pastry and bread filling up our car, we drive off to our next destination.
So tell me Dear Reader, do you do many day trips? Where is your favourite area for a day trip?
NQN and Mr NQN visited High Hopes as a guest of Destination NSW but all other purchases were made independently.
High Hopes Roadhouse
2488 Bells Line of Rd, Bilpin NSW 2758
Monday to Wednesday, Sunday 8am–4pm
Thursday to Saturday 8:30am–4pm
Phone: 0466 158 814
The Hive
6-18 Bells Line of Rd, Berambing NSW 2758
Monday to Friday 8am–4pm
Saturday & Sunday 8:30am–5pm
Phone: (02) 4567 2590
Hillbilly Cider
2230 Bells Line of Rd, Bilpin NSW 2758
Monday to Thursday 10am–4pm
Friday to Sunday 10am–6pm
Phone: (02) 4567 0965
Bilpin Cider Co.
2369 Bells Line of Rd, Bilpin NSW 2758
Open 7 days 10am–4pm
Phone: (02) 4567 0704