Things that can happen when you are pressed for time:
-You leave the house with your dress on inside out.
-You leave the house with only one earring on - you think you put in the other but it remains on the floor of your bedroom.
-You end up rushing to a function only to find that nobody is there and you have the date completely wrong and it is in fact the following week.
-You make this delicious 5 Minute Chilled White Bean, Cucumber, Mint & Yogurt Soup.
All of which has happened to me.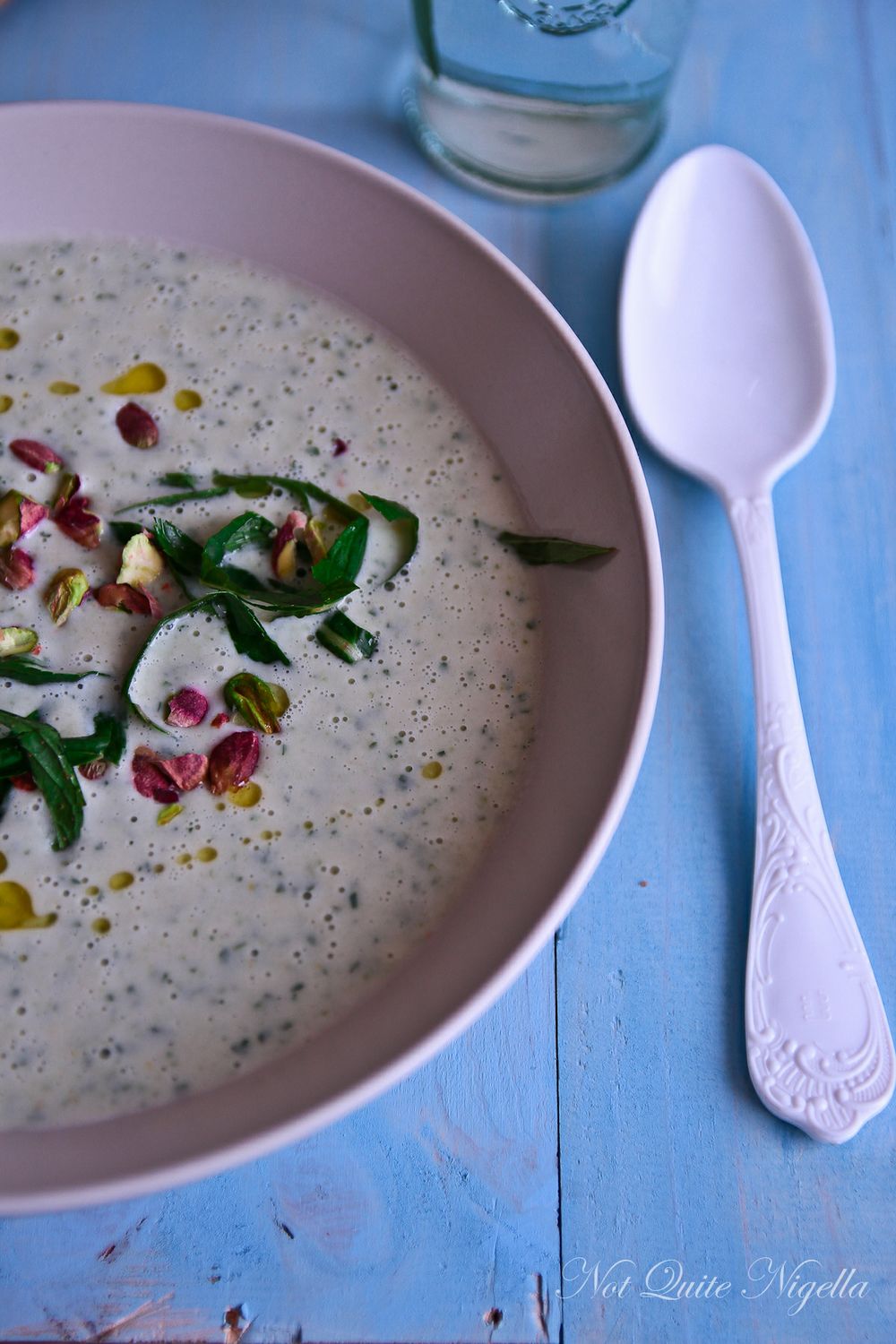 The lovely Tori Haschka from Eat Tori was kind enough to send me a copy of her ebook,One Month Carb Detox. After falling ill, she found that white carbs, which she had always been told to add to her meals became her enemy.  I'm finding that I am turning more and more to blogs these days rather than recipe books because simply bloggers seem to test recipes. I have found that while a lot of books have pretty pictures, the recipes don't seem to work or the picture looks nothing like what you have produced. And pictures are what sell a recipe to me-I usually see a picture and my mind says "me wanty!"
I had almost everything for this soup in my fridge and pantry and with literally about 10 minutes to make dinner, and knowing that we didn't want scrambled eggs again, I decided to make Tori's Chilled White Bean, Cucumber, Mint and Yogurt Soup. It was hot that day and a refreshing soup was immediately in order. The reason why there aren't any process photos was literally because it was finished before I even knew it. Within less than 5 minutes I was dipping a spoon into the smooth, flavoursome, cooling soup and thinking what a great idea it was.
So tell me Dear Reader, what is your favourite 5 minute meal? And have you ever turned up to something on the completely wrong day?
5 Minute Chilled White Bean, Cucumber, Mint & Yogurt Soup
Serves 1-2
1x 400g tin of white beans, rinsed and drained well (cannellini beans)
1 small garlic clove, peeled
Zest and juice of ½ lemon
1 handful of shelled pistachio nuts
1 tablespoon of olive oil
Handful green olives (optional) pitted and sliced
Step 1 - Drain the white beans and rinse well. Place them along with the cucumber, lemon zest, lemon juice, yoghurt, garlic and ¾ of the mint leaves. Process until smooth. Add an ice cube to chill.
Step 2 -  If you prefer a smoother, more elegant soup strain through a strainer. Season with salt, pepper and olive oil. Divide soup into bowls. Top with slivers of green olive, mint and pistachio nuts. Drizzle with olive oil.