I once attended a very chichi event where a renowned hatted chef was cooking. His food was exquisitely prepared and yet the woman sitting next to me said "This is disgusting. I hate how he uses duck fat, it just makes me nauseous". My jaw dropped. Was she really a food and travel writer? She then spent the next two hours giving the hairy eyeball to the waiters that served her food, pushing away her barely touched plate and sniffing in disgust. She then turned to me and said "I don't mean to offend you" (which is always a precursor for an offensive comment) "But how does someone like you, get to be invited to an event like_ this?_" looking me up and down as if I were a museum specimen (foodus bloggerus I suppose).
I laughed.
Let me tell you this dish isn't for her.
This dish is for people who can have fun with food. It is not for the embittered. It is not for the haughty. It is not for those on a diet. It is not for an adult version of an annoyingly fussy child that turns up their nose at everything that is served to them. It is however for the slightly crazy. Ahem, guilty as charged.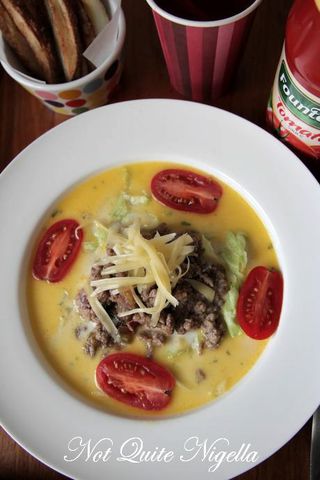 I first read about this on the gorgeous Caterina's site called Good Food Gourmet. She mentioned that this soup actually does taste like cheeseburger in a soup form and suitably intrigued I knew that I had to try it. It originally came from a diner called Grover's Bar & Grill and she first saw it on Guy Fieri's show "Diners, Drive ins and Dives" where he traverses America looking for interesting eats. Americans do burgers better than anyone and I figured that if the recipe came from there it had to be a keeper and it was simple to make with the whole thing cooked and ready to serve in less than half an hour.
I took a sip. By George, it did taste like a cheeseburger! It had the crunchy lettuce, tomato, cheese and the cheeseburger patty with pickles and onions-it was just sans the sesame seed bun. I realise that I might be verging into bacon jam territory here but if you love cheeseburgers, then this recipe is for you (try it with an open mind ;) ).
So tell me Dear Reader, where is the best burger you've ever had?
Cheeseburger Soup
Adapted from Good Food Gourmet
Serves 4 as a main
1 medium onion

1 tablespoon oil

500g/1 pound good quality minced beef

Salt and pepper

4 tablespoons hamburger relish (I used the Beerenberg one)

4 tomatoes

1 cup finely shredded iceberg lettuce
For the soup
2 tablespoons butter

2 tablespoons flour

1 cup milk, warm

1 cup cream, warm

2 cups good quality beef stock, warm or hot

3 cups cheese or cheese sauce (they use Velveeta but we don't get that here) reserving some cheese to top the soup.
Step 1 - Heat up a frypan with the oil. Saute the onion for a few minutes and then add the mince. Brown the mince and cook it through. Season with salt and pepper and add the hamburger relish. Set aside.
Step 2 - Meanwhile make the soup (and by all means start this while the onion and beef is frying as that only requires the occasional amount of stirring). Start with a roux. In a medium sized pot add the butter and melt, then add the flour and cook on a low heat for 3-4 minutes. Gradually add milk and stir constantly in between additions so that you get a smooth mixture. Add the cream and stir and then add the stock. Lastly add the cheese reserving a little to sprinkle on top.
Step 3 - Ladle the soup into a bowl and top with lettuce, then beef mixture and then tomatoes and finish with a little sprinkling of cheese. Serve with fries, just because ;)