A while back I met up with a famous icon of Australia culture. I was interviewing her and they were just setting up the cameras in the restaurant where we were to have some cakes and tea. She arrived early and when she met me she looked me up and down, surprise showing in her eyes. "Hello there...nice to meet you." she said faintly, her voice trailing off and we sat down to wait for everything to be set up.
A few minutes later she said, apropos of nothing, "I do a lot of business in China and Hong Kong, you know" she said to me pointedly.
"Oh that's great" I replied, not sure what she meant by that, but having an inkling.
She was silent for a few minutes after that before springing to life "I just realised that the outfit that I'm wearing is from Hong Kong!" She then proceeded to tell me about where she had bought it and about the 'little Asian man' who had sold it to her. He was apparently adorable because he couldn't speak much English and the way he pronounced things was "sooo amusing." The next half hour while they were setting up was filled with stories all relating to amusing or funny Chinese people she had met over the years.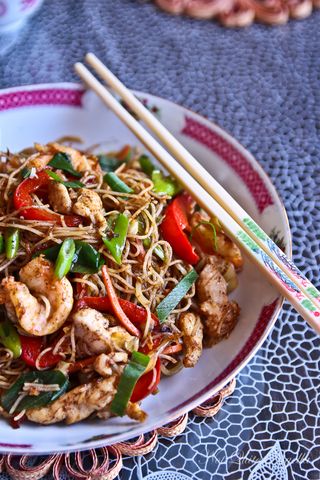 "Hurry with the camera-PLEASE!!" I whispered into my mike to the director. We started on the interview but she started eating. The director yelled 'cut!' and explained that we weren't really meant to be eating the food while filming as it was an interview. She was not impressed and when the cameras stopped rolling, she asked for the goodies to be boxed up for her to take home. It was the end of a long day
As she was leaving she turned to me and lifted up her bag of goodies and said,
"Oh look Lorraine, I'm Chinese! I'm carrying a bag of take away food!"
I waved as sarcastic a wave as I could.
Anyway, this recipe, would be perfect for a take away, except of course you don't need to order it. You can make it at home. This recipe was at the behest of a friend of mine Nic who was seeking a version of Singapore noodles. Singapore noodles are one of those things that didn't originate in Singapore itself and are found in a range of other countries outside of Singapore, Australia included. Ask any Singaporean about them and you'll likely get a slightly perturbed reply that they are not in fact Singaporean at all. However, as my mother has lived here in Australia for over 40 years, her version is based on what we find here, vermicelli noodles, vegetables, chicken and prawns with the essential ingredient: curry powder.
Even though purists and pedants may scoff at the idea of these noodles, I'm willing to bet that this version might warm their hardened, persnickety souls. The thin vermicelli noodles have a lovely amount of spice to them which you can adjust according to how spicy you like things. The key is to keep the wok hot and the ingredients light and moving. The smell as these are cooking is heavenly and once you have the mise en place (i.e. the ingredients chopped up) prepared, then it's really about 10 minutes of cooking if that.
And no need to get take away ;)
So tell me Dear Reader, how often do you eat takeaway food? And what's your favourite cuisine to have take away? And if anyone can guess who I'm writing about, 10 points to you ;)
My Mother's Singapore Noodles
150g/5 ozs dried rice vermicelli noodles

150g/5 ozs fresh prawns shelled (or 300g/10ozs unshelled prawns)

200g/7ozs chicken breast fillet, thinly sliced

1 tablespoon cornflour or cornstarch

1 teaspoon soya sauce

1 teaspoon white sugar

1 teaspoon Chinese rice wine

1/2 teaspoon salt

Oil for frying

2-4 tablespoons curry powder*

1 tablespoon ginger

1 onion, thinly sliced

1 medium sized red capsicum, thinly sliced

1 medium carrot

1 cup shredded cabbage

1 cup bean sprouts, rinsed and drained

2 sticks green shallots, sliced diagonally
Sauce
2 tablespoons water or chicken stock

1.5 teaspoons brown sugar

1 teaspoon salt

1/4 teaspoon ground white pepper
I would recommend starting with 2 tablespoons of curry powder first and then increasing it to 3-4 depending on taste. Some curry powders are very fresh so the flavour will be quite strong so it's best to start off small and then add more to taste.
Step 1 - Soak the rice vermicelli noodles in cold water for 30 minutes. They will be softer but not very soft. Mix the sauce ingredients together.
Step 2 - Place the prawns and chicken in a bowl and add in cornflour soya sauce, sugar, sugar, Chinese rice wine. Mix well and set aside.
Step 3 - Heat wok to high and add some oil. Fry the seasoned meat and prawns and set aside. Add two tablespoons of oil and fry the curry powder for about 30 seconds. Then add in ginger and onion and fry until aromatic. Then add in capsicum, carrot, cabbage and bean sprouts (capsicum may need a bit longer than the rest so add this first).
Step 4 -  Fry for a few minutes and then add the drained vermicelli and cooked chicken and prawns.  Add the green shallots and then add the sauce in and stir to mix well.