When I was a child and dreaming of cakes and chocolates (which happened quite a lot as we weren't often given dessert), I used to draw pictures of shops with displays laden with cakes. And so when I reach Burch & Purchese Sweet Studio in Melbourne's South Yarra, I am rather excited to see something close to my childhood vision of heaven in real life.
As soon as I walk in I'm offered some fresh marshmallows - today's flavour is licorice and I hesitate briefly as I am not a big licorice eater. However, the licorice flavour is present but not overpowering. Even the other customers that walk in afterwards that declare that they don't eat licorice enjoy these.
The front room is filled with a girly Willy Wonka-esque selection of goodies. Under the glass on the left are large cakes and next to those are the smaller counterparts in about eight varieties. A freezer holds ice creams in tubs and on sticks, the latter coated in chocolate and items are given elaborate and detailed descriptions and involve words like "explosive" and "exaggerated." Oh and I should add, the down lights make photographing a challenge so I apologise for the photos.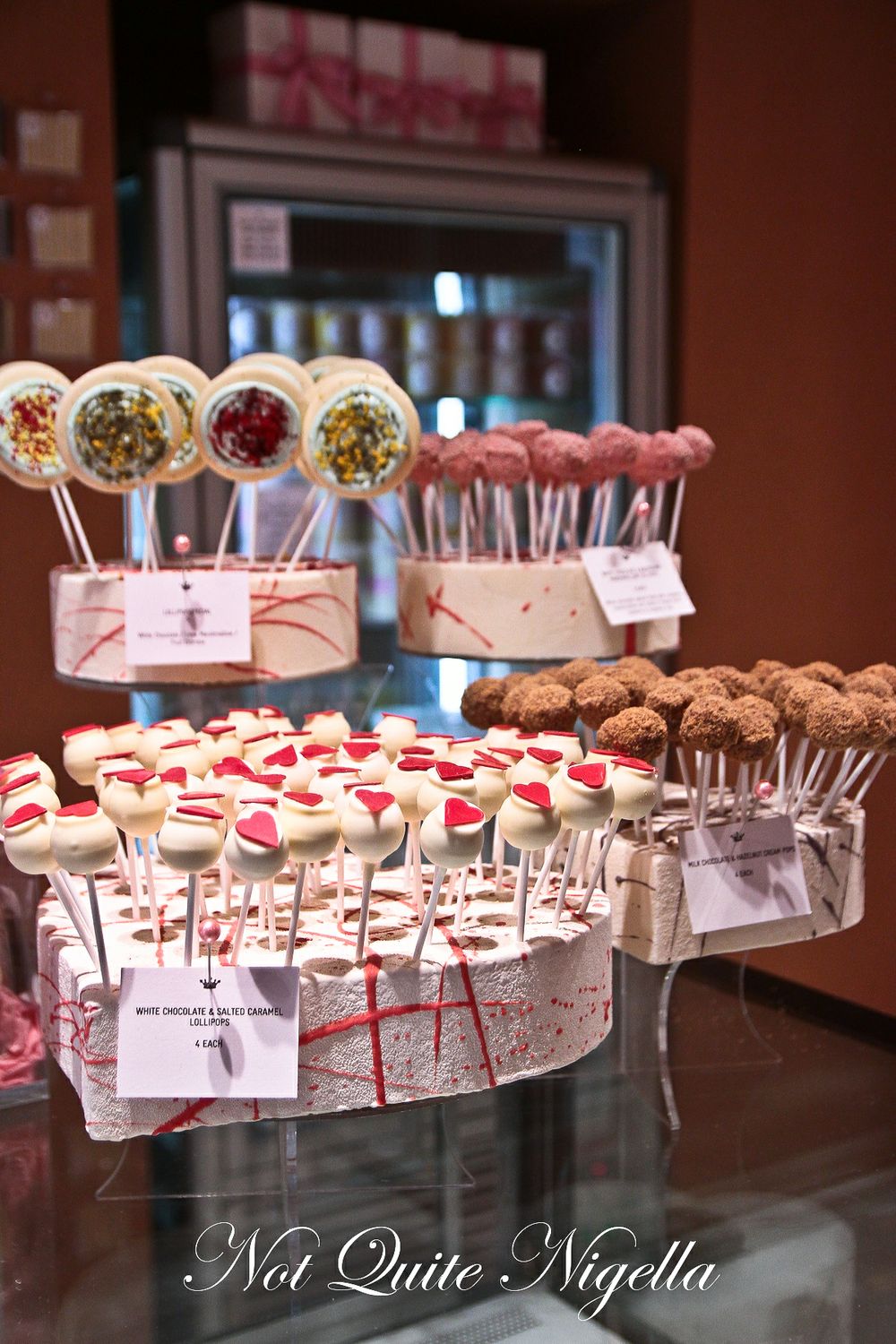 Lollipops made out of chocolate and cake pops sit in foam displays that resemble cakes.
On the right are ready to buy items like biscuits, chocolate bars and another staff member brings out some gold bullion bars, dusted with gold lustre powder and stamped Credit Suisse. The thin dark chocolate shell filled with a flowing salted caramel filling. The display marks them as "delicate" and they are although they're worth buying and just scoffing down in the store.
Freeze dried flavours dominate and the chocolate bars have intriguing flavours to them - choosing is a hard decision. I'm recommended some items and I have grand plans of taking these home to Sydney. They package the cakes well taping the items to the bottom of a box and also sticking descriptions to the lid so that you know what you are eating. The descriptions are long and elaborate that it certainly helps.
On the wall to the right are the ready bagged items which are made up of dessert ingredients for your inner pastry chef to play with. These include items like puffed quinoa and malted orange crumble; raspberry and white chocolate clay; salted oat and ginger crumble.
The chocolate counterpart is sold by the bar in the form of puffed quinoa and malted orange crumble caramelised white chocolate bar. There are also jams like spicy pineapple jam with chilli . Other items like "explosive banana crumble" look decidedly covetable and are made up of banana milk chocolate with marshmallow and popping candy and come with a sign to "approach with caution."
Decision time: what to purchase? I decide on three desserts, with an attempt to take them back to Sydney the next morning. They explain that they should arrive ok as long as they go straight from the fridge to the plane to my mouth (I added that last bit). All individual cakes and cups are $9 each.
For good measure and for gifts, I buy a puffed quinoa and malted orange caramelised white chocolate bar for $12 which is actually a dark caramel in colour - it's not cheap but it's so unusual that I had to buy it. To this I add a bag of twelve pistachio, lemon and white chocolate persuaders which are buttery biscuits which are for $12.50 for my mother.
Raspberry, white chocolate, honey lychee $9
I couldn't wait to try these and I try the first dessert. The ingredient list is long and consists of white chocolate and raspberry mousse, raspberry and lychee jelly, muesli and honey nut sponge, raspberry & hibiscus jam, raspberry compote, lychees, exaggerated raspberry cream and white chocolate velvet spray (which was sprayed on top of the white chocolate mousse dome). The challenge with these cups is getting a spoonful of a good cross section and this one wasn't so hard although sometimes you would end up with a lot of lychee jelly in large pieces or sometimes a lot of raspberry. The overall flavour with the muesli was like a raspberry and yogurt muesli and the first thing I thought of was breakfast.
Explosive milk chocolate and raspberry $9
The components list reads: milk chocolate and raspberry mousse, exaggerated raspberry cream, milk chocolate Sacher sponge, fresh raspberry compote, chocolate royal biscuit, raspberry marshmallow, chocolate coated pop rocks and mirror chocolate glaze. Whilst this was heavy in the chocolate, there were a bit too many crumbs. Trying to get a scoop out of all of these layers resulted in crumbs going everywhere and the first few mouthfuls were made of sandy chocolate crumbs making up almost a inch on top.
Once you burrowed underneath the flavour and the popping sensation was good with the predominant flavour of chocolate and raspberry. I'm not sure where the chocolate mirror glaze is, it usually is a glossy, reflective icing finish on chocolate cakes.
Smoked white chocolate, coffee, aniseed, lemon $9
This read: smoked white chocolate cream, crunchy almond meringue, coffee buttercream, coffee sponge, aniseed syrup, brownie sponge, lemon curd, dehydrated choc rock. The aniseed aroma and flavour is strong in this cake and it is like an aniseed version of an opera cake with many thin layers with buttercream, coffee and sponge. This has the added flavours of the aniseed and a layer of firm jellied lemon curd and different types of sponges, the most interesting being the bottom layer of moist sponge with ground up coffee beans. Bizarrely, I like eating this cake layer by layer better perhaps trying to avoid the strong aniseed flavour as it does tend to overwhelm. Topping it off is a layer of smoked white chocolate ganache, jelly and dehydrated chocolate rocks which have a salty coffee bite to them.
This was my little present to Mr NQN, a caramelised white chocolate bar with the puffed quinoa flakes. The caramelised white chocolate is even sweeter than white chocolate and the puffed quinoa flakes and malted orange are unusual addition. I think this is unusual and rich and best eat in small portions-either because of its sweetness, or to make it last longer, eater's choice ;)
So tell me Dear Reader, are you a desserts person or would you rather have savoury? And when you travel, do you buy gifts for people?
Burch & Purchese Sweet Studio
647 Chapel Street, South Yarra, VIC 3141
Tel: +61 (03)9827 7060
Open 10am-6:30pm. Closed Mondays