Knowing where to open up a cafe or restaurant must be a big decision for a restaurateur. As they say "location, location, location" and if you rely on the general public as patrons, do you set up shop near other restaurants and cafes or do you go where there are few of your kind around?
It's a question that chef Ingo Meissner and his partners faced when looking for a location for his first venture. The Grain Store on Flinders Street has a small easy to pass by shopfront amongst the nearby strip clubs of King Street and you could easily glide by without noticing it. The cafe is more than that with a menu offering up some restaurant quality dishes but in a casual, Scandinavian or Northern European style setting.
A table full of luscious sandwiches and home made cakes beckons for those in a hurry. We have a leisurely hour in which to eat so we take a seat on a sun dappled banquette, run our hands over the smooth wooden chairs and tables and study the menu intently. Even on a Monday lunchtime the cafe is crowded.
Mr NQN spots a cold drip coffee machine and orders one. He is a cold drip enthusiast and orders one every day from his local coffee shop for his daily caffeine allocation. He takes a sip and it has a rich chocolate flavour to it. He nods happily. They use Sensory Lab coffee for their cold drip while Axil coffee is used for their milk based coffees.
Charcuterie plate $21
The meats are all locally sourced and include a wagyu bresaola, felino and capicola sausage. The plate comes with the thinnest sliced sourdough toasts which are the perfect amount for the paper thin meats. There's also house made spiced cashews, a duck liver pâté with plum jam on top and a little cube of crumbed pig's head meat which is a delicious little morsel.
Nicola potato gnocchi and new season tomatoes, rooftop sage, brown butter, truffled mushroom broth, root chips $23
This is one of the most popular dishes and after tasting a bite, I can see why. The aromatic nutty brown butter is the first thing that hits you and then it is the sage, grown on the rooftop. The root chips give a textural chewy contrast to the petite pillows of soft potato gnocchi while the aromatic broth adds warmth and flavour.
Free range pork belly sandwich $20
We didn't get to try this but is this not the prettiest, most colourful sandwich?
Honey poached Milawa organic chicken $20
This was more of a chicken salad which is good as it is quite a light dish which we needed because surprise surprise, we over ordered. It's honey poached Milawa organic chicken with halved golden beets, a round of soft fior di latte cheese, farro and a most intriguing coconut water vinaigrette which is what made us order it. The coconut flavour is light but it is a refreshingly tangy and fresh dish particularly with the abundance of herbs.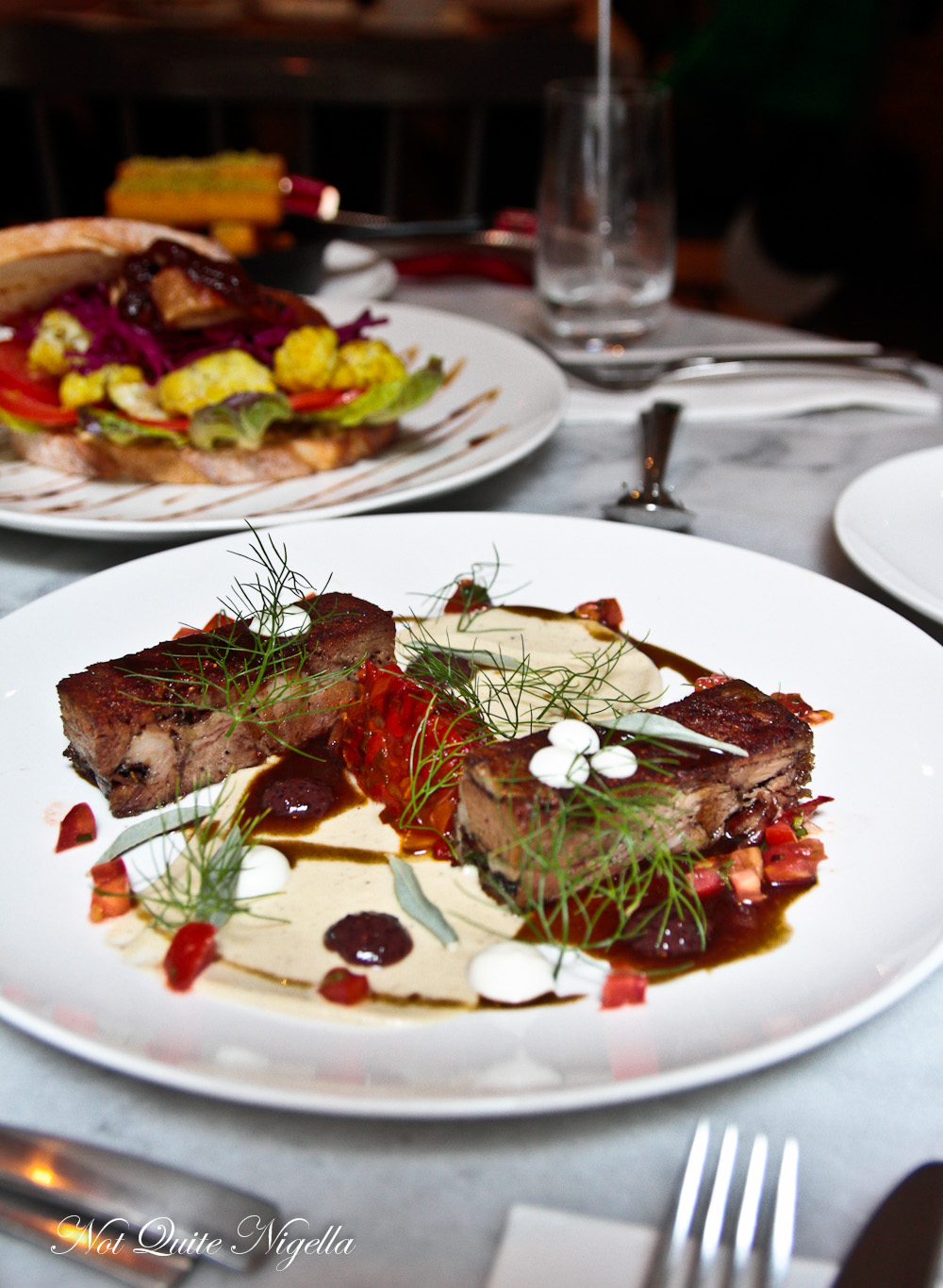 Saltbush lamb confit and sweet almond peperonata $28
My dish is the very rich saltbush lamb confit decorated with a single saltbush leaf. The lamb shoulder is confited until very soft and layered with saltbush and it comes with a quenelle of sweet almond pepperonata to lighten up the unctuous cut of lamb. There are also others sauces on the plate including a silky goat's milk yogurt, smoked eggplant, long pepper and violet mustard. It's a striking, rich and memorable dish.
Rosemary polenta chips $8
The polenta chips are said to be another specialty. Sprinkled with an intense but flavoursome rosemary salt topping try stopping at one. I dare you ;)
Chocolate chip cookies and milk $10
When we spot the freshly baked chocolate chip cookies we put in an order for them with our lunch so that they come out in time for us to have them for dessert. These take 10 minutes to arrive and are baked to order. They come out soft and yielding and packed densely with very dark chocolate chips. And a cup of milk of course.
Although our meal was quite meat heavy, The Grain Store is known for its focus on vegetables. Chef Ingo and his business partner Melanie Stolpes are two of the restaurant partners that work there day to day. Both are German and he manages the kitchen and she the front of house. Ingo's first priority with the cafe was to make it comfortable for people to visit.
The rooftop garden provides them with some tomatoes, fennel and herbs but one of their key supplier relationships is with Ceres (meaning "to grow") organic farms.
Established 30 years ago on what was originally a blue stone quarry and then a tip, it was land that the government gave to Ceres as nobody wanted it. Only about 30 minutes out of the CBD, Ceres organic gardens spans about 12 acres in total on two plots. 500,000 people visit the site each year to buy, help or learn.
The main emphasis at Ceres is on permaculture and edible plants and the nursery provides some income to the venture. it is a not for profit that aims to be totally self sufficient and not reliant on government funding. At the moment 90% of the costs are met through the retail nursery, organic shop as well as their Fair Food organic vegetable boxes.
The Grain Store is one of 60 pick up points where people can collect their weekly organic vegetable box. The boxes range from $32 to $82 for a gourmet box and these can also be delivered to your home. One of the most popular items is the local honey which flies off the shelves as soon as it arrives in store. Made from the six hives, buyers use local honey as it is said to help with allergies and hayfever with an inoculation effect. And what better time to buy than with Winter coming up!
So tell me Dear Reader, have you ever tried cold drip coffee and do you like it? And do you mind waiting for things to arrive if they come freshly baked?
NQN and Mr NQN visited The Grain Store as a guest of The Grain Store
The Grain Store
517 Flinders Ln, Melbourne VIC 3000
Phone: +61 (03) 9972 6993
http://www.grainstore.com.au/ Sunday to Tuesday 8:00 am - 4:00 pm Wednesday to Sunday 7:00 am - 4:00 pm, 6:00-9:30 pm
Ceres Organic Farm
19 Goodwin St, Preston VIC 3072
http://www.ceres.org.au/
Phone: +61 (03) 9389 0100