"Oh look at that cat!" I said to my sister one day. We were outside in our front garden and I was about seven and she was six years old and as owners of goldfish, we desperately wanted a cat or dog.
Ignoring any superstitions that black cats should never cross our paths we cajoled him towards us.
"Heeere kitty kitty..." we beckoned, our fingers curling over.
Miraculously, he moved towards us with the confidence and sway of a catwalk model. I pulled off a corner of the sandwich I was eating and placed it in my palm. He ate it off my hand. It tickled unexpectedly and for the first time I felt how sandpapery a cat's tongue was. I pulled off more and he ate more until my sandwich was gone. We played with him for a few hours until my mother called the familiar dinner time call of "Makaaaaan!"
"Mummy, a cat wants to stay for dinner!" we called to my mother. "He's hungry" we pleaded.
"Don't be silly" she said and ushered us inside for dinner. Halfway during dinner we heard a plaintive meow coming from the other side of the screen door. His eyes glowed green and he sat there meowing loudly and insistently. Still, he was not allowed inside and as soon as we finished eating, we ran outside and played with him until it was time for bed.
The next day he was back. Curious at this startlingly beautiful and well groomed itinerant, I looked at his collar. "His name is Sabu and there's a phone number for him" I told my mother and sister. He surely wove his way into our lives -being undeniably social, gracious and beautiful, he walked into our house as if it were his and purred, ate and slept inside. That day, my mother rang the number on Sabu's collar and there was no answer. She tried again every day at different times -this was before the age of answering machines- and it would always ring out. My sister and I were excited. We finally had a cat! A beautiful long necked pure black cat with glowing green eyes called Sabu. "Maybe the owners have gone away and left him behind!" we said excitedly.
He stayed with us for three and a half weeks. Until one day my mother rang that number and someone picked up the phone. It was Sabu's owner. He had been away and was immensely relieved to hear that Sabu was ok as he had been away on holidays and the person that was supposed to feed Sabu had neglected to do so on a regular basis. He came by to pick him up the next day and we stroked Sabu for the last time.
We got our first cat quite a few years later and he wasn't as sweet natured as Sabu-actually he was so curmudgeonly and angry and scratched our arms and hands to pieces every single day until we got another cat Otto who was the apple of my eye. I still occasionally think of Sabu. I recently went on a game drive in South Africa and came across one of Sabu's distant relatives, a lion. Coincidentally, Julie from Gourmet Getaways posted about a cupcake making class at Stormie D's in Albury and when I saw the lion and monkey I immediately thought of the RSPCA cupcake day (http://www.rspcacupcakeday.com.au/).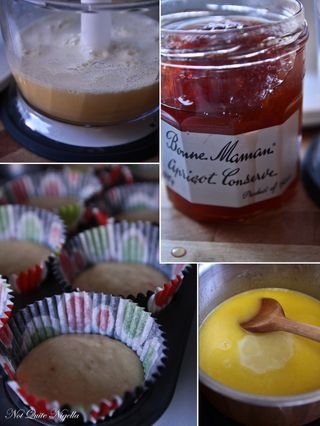 I wanted to do make these cupcakes a little different and instead of making a cake cupcake, I decided to make it a pudding cupcake. That is, a sweet, syrupy moist cupcake called malva pudding which is drenched in a baked-in buttery, sweet vanilla syrup. The recipe was adapted from the Oprah site which I have used in the past many a time. An Afrikaner dessert named after Malvasia wine which it is typically served with, it is a fantastically spongey, moist pudding served warm from the oven. If you are a fan of sticky date pudding this is the pudding for you. What makes this lovely is the syrup that you pour into the cake after you've partially cooked it in the oven and poked it all over with holes. The pudding acts as a sponge holding in the vanilla infused syrup and when you take a bite into the pudding, the sweetness spreads through every bite.
Mr NQN has a dozen of these lions and monkeys to take to work  to raise funds for the RSPCA Cupcake Day. The cupcakes will stay moist although I do challenge anyone to resist the smell and taste of one straight from the oven. In fact, I may have had to have baked a second lot because some seem to have disappeared somewhere....
So tell me Dear Reader, what was your favourite pet growing up? And what is the animal that you always wanted to have but never could? And do you prefer the monkey or the lion cupcake design? And is there something that you'd like to see me make as a cupcake?
P.S. If you're wondering where to find the best pho, baklava, laksa, fish & chips, kebab, cannoli and Peking Duck among other items, then the new Feast magazine has a liftout which features each category in each state of Australia. I helped to judge one section in Sydney and it was lots of fun (although I think it accounted for an increased dress size ;) ).
P.P.S. There is also a story on me in the latest Money magazine about blogging for a living. Although I know the column above mine on becoming the next E.L. James might have caught your eye too! ;).
Safari Cupcakes
For malva cupcakes
Makes a dozen cupcakes
1  cup caster or superfine sugar

2 large eggs, at room temperature

1.5 tablespoons apricot jam

1 1/4 cup plain all purpose flour

1 teaspoon bicarbonate of soda

1 teaspoon baking powder

1/2 cup milk

1.5 tablespoons butter, melted

1 teaspoon vinegar
For syrup
3/4 cup pure cream

115g/1 stick butter

3/4 cup white sugar

1/3 cup water

1 tablespoon vanilla extract (be generous with the vanilla, it will pay dividends ;) )
Step 1 - Line a cupcake tray with 12 liners and preheat oven to 180c/350F. In a small food processor, blend the sugar and eggs until pale lemon in colour-it doesn't take long. Then add the apricot jam and process until large lumps are removed. Place in a medium sized mixing bowl.
Step 2 - In another bowl, measure the flour, bicarbonate of soda and baking powder. In a separate jug, measure the milk, butter and vinegar. Alternating, add the flour mixture to the egg mixture following by the milk mixture until combined and there are no lumps. Pour into a jug and using a spoon to stop the batter, gently pour this into the cupcake liners and bake for 15 minutes.
Step 3 - Meanwhile, and get the syrup going so that it is ready for the next step. In a small saucepan, place the cream, butter, sugar, water and vanilla  and melt and bring to a simmer for a few minutes and then remove from the heat. Pour into a jug to make the next step easier.
Step 4 - Take a skewer and insert it into the cupcake, you don't want the batter runny and you want it to be baked. Once it is, quickly poke holes into the cake with a chopstick-something thicker than the skewer ideally or even use a fork (just make sure not to poke through the bottom of the cupcake liner). Pour the syrup into the cake into the holes-you'll be surprised how much it soaks up, especially as the cakes are warm. Then return the cupcakes to the oven and bake for 5-8 minutes. Try and resist eating one straight from the oven ;)
Making the monkeys
You will need:
1x heart cutter

2 x round cutters, one large enough to cover the top of the cupcake and then one slightly smaller

1 small round cutter for ears

Brown fondant and light tan fondant

sharp paring knife

non stick rolling pin and mat

Brown icing pen or brown fondant

White fondant for eyes
For tips on how to tint fondant, see this post
Step 1 - Roll out the brown fondant and cut out circles using the larger round cutter and place on the cupcake. With the smallest round cutter cut out a pair of ears for each monkey face. Affix these to the larger monkey face using a little water.
Step 2 - Roll out the light tan fondant and cut out a heart and a circle using the medium sized round cutter. The top of the heart is for the eyes so trim the rest of the heart so that it fits snugly against the round (as shown). Adhere these to the brown face with a little water.
Step 3 - Roll little balls of white fondant for the eyes and stick these on with a tiny bit of water. Then using brown fondant or a brown icing pen, draw the eyes, nose and mouth.
Making the lions
You will need:
Orange fondant

Apricot jam

Yellow fondant

A round cutter slightly smaller than the cupcake circumference

White fondant

Small round cutter (about an inch in diameter at the most)

A sharp paring knife

Ruler
Step 1 - Roll out the orange fondant to about 20cms/8 inches and then using the knife, cut out long strips about 1 inch in thickness. Cut out triangles from the sides to form a mane. Carefully lift it around the cupcake joining it up at both ends.
Step 2 - If the cupcake has any depressions, make a small mound using apricot jam. Then, roll out the yellow fondant and cut out circles using the round cutter and place on top of the mound sealing in the sides of the yellow to the orange mane.
Step 3 - Make two tone ears using the orange and yellow fondant by cutting triangles and adhering these to the cupcake. Roll out the white fondant and cut out round using the smallest round cutter. Place on the lion's face at the bottom of the face using a little water.
Step 4 - Roll little balls of white fondant for the eyes and stick these on with a tiny bit of water. Then using brown fondant or a brown icing pen, draw the eyes, nose and mouth. Using the tip of the paring knife, poke small holes around the mouth of the lion.