I don't mean to start a debate on the subject but I have to say that for all of the talk about brooding French men, Italian men certainly seem to give them a good run for their money. The flirting and seduction starts in Rome when there are offers for help with bags from a George Clooney lookalike no less where Paris had none, and ends when strangers in the street blow kisses at you from a distance. It's enough to make you feel 16 again.
Our train ride from Paris to Rome involves one change of train, a smooth and comfortable ride, a very dodgy sandwich. Once the borders are crossed and announcements change from French to Italian, the sun appears and shines as bright as a sunflower. We are on our way to the second last destination in our around the world trip which saw us visiting Guangzhou, Amsterdam and Paris prior.
We arrive in Rome and make our way to our hotel, the Sofitel Villa Borghese, named after the famous royal family the Borgheses who branched out into skincare and makeup among other ventures.
The hotel building in neo classical design has played host to a slew of celebrities  including Federico Fellini, Ava Gardner, Sting, Leonard Cohen and the Red Hot Chilli Peppers among others,  and is ideally positioned near the top of the Spanish Steps (piazza de Spagna) and Villa Medici. Painter Caravaggio used to find refuge in the stables which are now the breakfast room.
We go upstairs to our rooms and it's a lovely one indeed. The bed is huge, and I'm learning all of the Sofitel beds are very comfortable so I have no problems sleeping, and there is a waiting glass dome under which are two delectable macarons-the Sofitel French touch. The first is a delightful raspberry macaron sandwich which has fresh raspberries and buttercream filling the two pink orbs and the other is a dark chocolate macaron filled with dark chocolate ganache.
There are mod cons like an iPod dock although we can't seem to get it to work for my iPhone. In the bathroom there is a bath with two shower heads, a monsoon and a massage shower head and a deluxe range of Hermes d'orange toiletries including shampoo, conditioner, body lotion, shower gel and a spray eau de cologne as well as cotton tips, cotton pads, shower cap and nail files. Wifi is free for guests although it operates at a modest pace.
There's just enough time to get dressed before I'm expected upstairs at  the modern La Terrasse on the top floor which affords guests and diners spectacular panoramic views of Rome from the rooftops. At this heights, there are astoundingly pretty views showing ruins mixed in with roofs and cathedral domes and we can also see rooftop gardens surrounding us.
We make sure that we are there for sunset which is around 9pm that evening and watch the sun go down while enjoying little canapes such as caprese salad in a glass, steak tartare and foie gras which were all very welcome not so little morsels.
My favourite was the little pockets of pasta dough filled with cheese and mince and deep fried until crisp on the outside. "A second one won't hurt" I say to myself remembering Sophia Loren's famous quote of having a bowl of pasta a day as her beauty secret (although I doubt that the pasta that she was referring to was deep fried).
After the sunset, it's time for our first dinner in Rome. It came as a recommendation from Jenny, the chef at the La Cuisine Paris. Sacro e Profano is a restaurant where the walls and ceilings are painted with voluptuous Renaissance and Titian beauties. The order of the day is definitely to have pizza and pasta and the ravioli sounds particularly enticing. For good measure, we also try a couple of pizzas.
Ravioli with swordfish and shrimp with tomato €12
The ravioli comes as eight pieces of half moons filled with swordfish and topped with tiny chopped shrimp and a smooth, sweet tomato based sauce. The pasta is hand made and there is a fresh seafood flavour to the dish and it is perfectly seasoned.
Margarita pizza €7
The margarita pizza, the simplest with tomato, cheese and oregano has a good crust although the flavour is quite mild. We were hoping for more oregano flavour but alas this had none which it needed.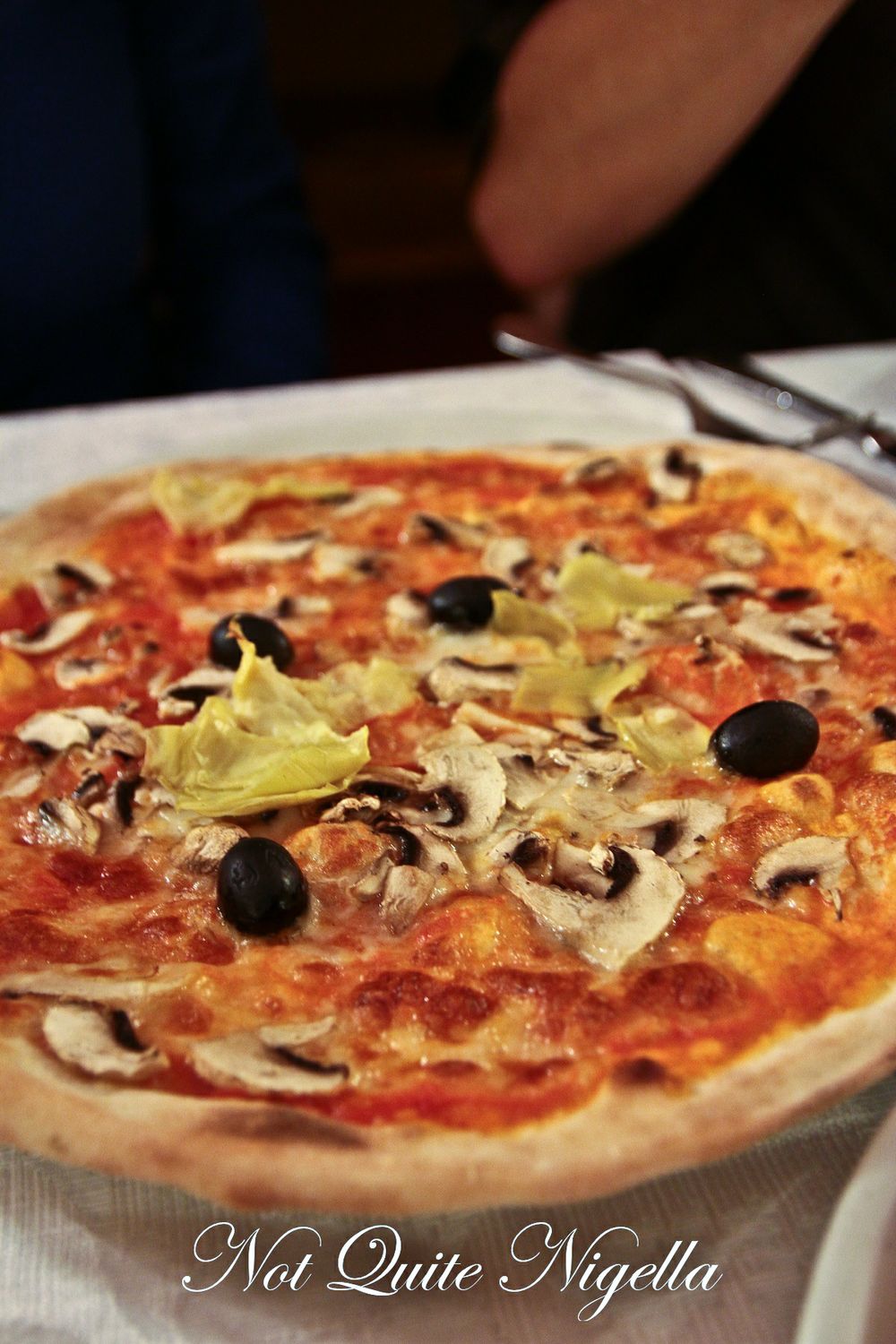 Capricciosa pizza _€8.50_
The capricciosa has a topping of tomato, mushrooms, artichoke, mozzarella and olive but needs some seasoning on this too. Both pizzas were absent of herbs and we asked for some anchovies to go with them to flavour them up.
With bellies full of pizza and pasta, we go back to the room to sleep like babies.
The next morning I miss breakfast as I was still full from the pasta and pizza (big mistake apparently according to the rest of the group) and go downstairs for a tour of Rome's most famous places. These include the Trevi Fountain. Our guide Simona recommends that we don't look at it until we are in front of it to witness its splendour and it is a beauty. A relative youngster from 1730 (youth being a relative term in a country where things from the 2nd century still stand) there is a plethora of people eager to make wishes by tossing coins into the fountain.
The custom is to throw in one coin if you want to return, two coins if you want to return and fall in love and three if you want to return, fall in love and get married! You throw each coin separately using your right hand over your left shoulder. And proof that people live in hope is that fact that they collect about €12,000 worth of coins a week from the fountain (the money apparently going to the homeless). The fountain, made out of travertine, is cleaned weekly and water is supplied from one of the many aquaducts that service the city.
Another stop is the Colosseum, the last monument of Ancient Rome. What remains after an earthquake and vandals is spectacular still and it is hard to imagine that in the second century, this was where everyone gathered to watch spectacles like gladiators and animals fight. Tickets were sold to these events and people sat in sections according to social roles although apparently all women sat together no matter what their social station was.
One of the most expensive apartment blocks in Rome
A former theatre today now stands as one of the most expensive apartment blocks. Built by Augustus I, Rome's first emperor, one apartment here featured in a list of the ten most expensive apartments in the world and a 500 square metre apartment sold for €180 million and the older the apartment, the more expensive.
Vatican city
Aventine keyhole
Other intriguing stops are the Aventine keyhole where you peer through a tiny peephole and can see Rome and the Vatican city perfectly laid out in sequence. St Peters's Cathedral in the Vatican City, a whole separate country with its own police force, is where tourists from every nation flock for tours and photo opportunities. We watch as a parade of police cars escort a group of cars in carrying passengers that have a private audience with the Pope.
Marco Roscioli
Pizza bianca
The breakfast for most Romans is a slice of pizza bianca which is a white bread, similar in look to Turkish bread but much chewier and firmer and flavoured with olive oil and salt. At Roscioli, we specify how big a piece we want by showing the measurement between our fingers or hands and they slice your portion off the large piece. You take the receipt and item to the cashier and pay for it.
Clockwise from top: Jerusalem artichokes; radishes and lettuce; globe artichokes and a friendly vendor
Our food guide Sal from Walks Inside Rome shows us around the Campo di Fiori markets which is compact but has interesting produce including enormous porcini mushrooms, aged balsamic vinegar and truffle pastes-the white is particularly delicious. There are forest strawberries and berries for cakes in petite punnets.
Clockwise from top: beautifully sweet Datterino tomatoes; fresh porcini mushrooms; spices including a "pizza erotica" spice! and a fast talking vendor.
One of the stars of the markets is the fast talking gadget salesman who packages his items with a little slip with his youtube video on it. He has the patter down pat and sells curly fry gadgets and one particularly good item that helps to extract the lemon from lemon juice easily. we're all convinced and before we know it, we're handing over €15 to buy one.
Norcineria Viola has an astounding array of small goods hanging in the doorway and inside from the ceiling. There are enormous legs of jamon with gold leaf, cured pork neck as well as a range of salamis and hams. We try a range of them including a breakfast sausage called corallina, chilli salami, ham, lardo, lonza (from the neck of the pig) and an unusual knobbly thick chilli jerky.
Established since 1890 it is currently a third generation business with father and son working behind the counter. They pour some cups of their own red wine to have with the meats. The meats are great and well worth stopping in for.
One of the most popular places to lunch at is the standing pizza place called Forno. Around lunchtime it gets furiously busy and they take €12,000 a day selling their pizza. Their pizza is made in lengths and baked until crispy.
We try two of their pizzas, a zucchini flower and cheese pizza and a potato and rosemary pizza and I particularly like the unusual flavour of the zucchini flower pizza.
Zucchini flower pizza
Inside are a myriad of intriguing looking cakes and pastries made on a biscuit base.
A building which was apparently won in a card game!
Sant' Eustachio-said to have the best coffee in Rome according to Sal
La Rosetta which he tells us, has a plate of spaghetti for €180!
We stop for lunch at Maccheroni which is said to be the kind of place where locals eat. Indeed, in the corner is a table of three men all tucking into their plate of spaghetti with gusto. One twirls the spaghetti and opens his mouth wide and then takes an enormous bite, chewing and swallowing the whole forkful.
Sal from Walks Inside Rome
Maccheroni all'Amatriciana €10
We're trying two of the most well known pastas said to be typical of Rome. The maccheroni alla Amatriciana has penne pasta with tomato sauce, guanciale (pork jowl bacon), white wine and goat's cheese and is delicious with the pasta perfectly al dente.
Maccheroni alla gricia €10
The Maccheroni alla gricia is a similar dish except that it doesn't contain the tomato sauce and is instead creamier and cheesier. It was so moreish and it was hard to say no to the guanciale and reggiano and I find myself chasing around each last piece of penne.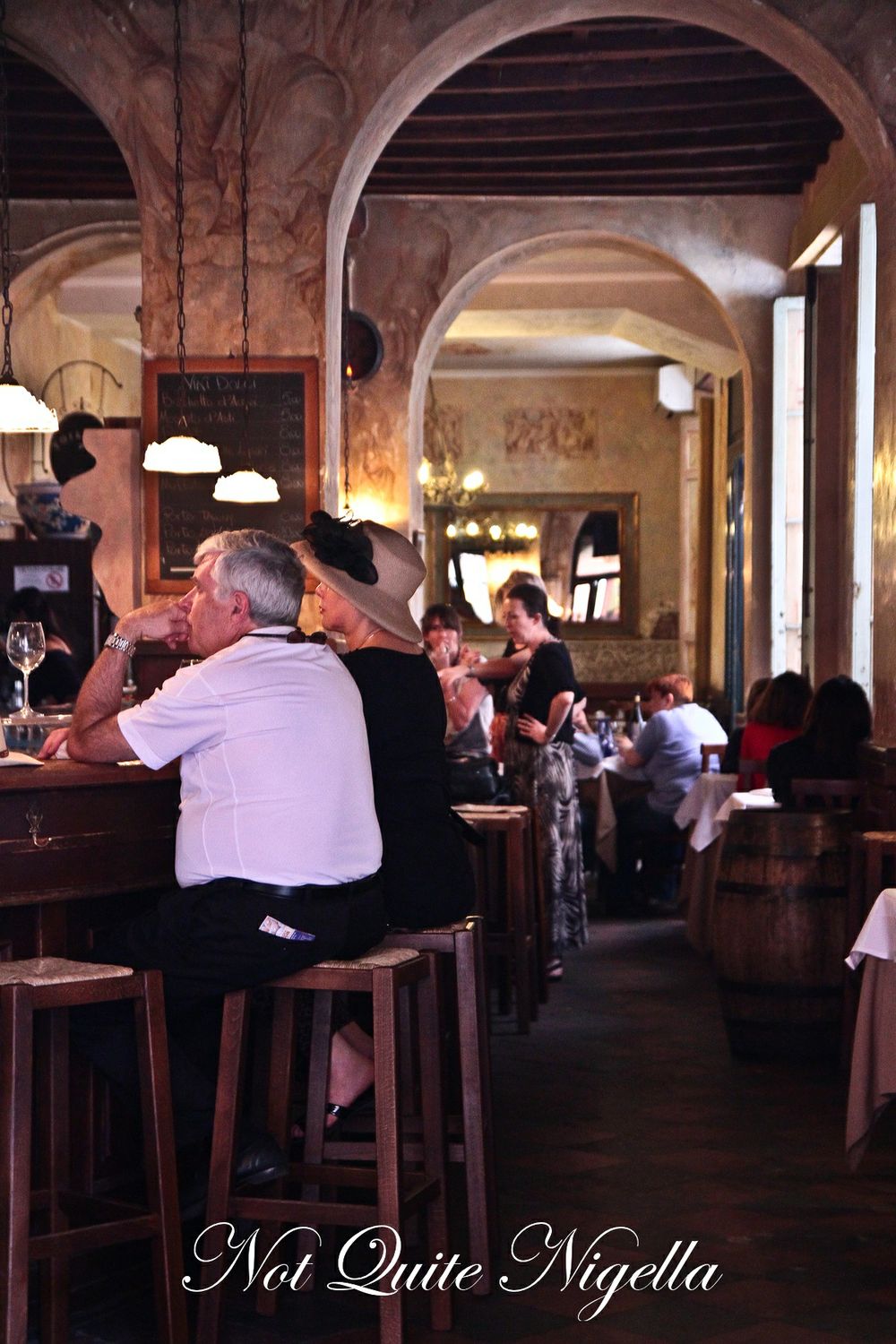 Antice Enoteca
Antice Enoteca is a lovely wine bar that serves food. Alas I am so full from the pasta and can't really manage much of the cheeses or a wine. In fact I'm just craving something sweet.
Giolitti
No trip to Rome would be complete without gelato and there are several places to buy it, the queues being a strong hint as to where. Giolitti has an enormous range of flavours which makes deciding very difficult. They're broken down into milky gelato versus fruit based gelato and we choose a caramelised fig gelato as well as a blackberry and a melon gelato.
The caramelised fig is divine with chunks of fig interspersed throughout it. The blackberry is also good but the melon which tastes of pure, sweet melon has won my heart out of the two fruit flavours.
A man drives past in a tiny orange Fiat bambini and I get excited and he waves and shouts "Ciao ciao!" before driving off down the cobblestone streets. I pause and take another spoonful of gelato, think of my coins in the Trevi Fountain and know that I will return one day.
So tell me Dear Reader, which country or city has stolen your heart from the beginning?
NQN visited France as a guest of Accor hotels, Skyteam and Rail Plus
The Spanish steps
Sofitel Villa Borghese
Via Lombardia, 47 00187 Rome, Italy
+39 06 478021
http://www.sofitel.com/gb/hotel-1312-sofitel-rome-villa-borghese/index.shtml
Skyteam
www.skyteam.com
Rail Plus
www.railplus.com.au
Sacro e Profumo
Via dei Maroniti, 29, 00187 Rome, Italy
Tel:+39 06 679 1836
Walks of Italy
www.walksofitaly.com
Walks Inside Rome
www.walksinsiderome.com
Volpetti via della Scrofa
Via della Scrofa 31-3
Tel:+39 06 688 06 335
Maccheroni
Piazza delle Coppelle 44, Rome, Italy
Tel:+39 06-6830-7895
Antica Enoteca
Via della Croce, 76/b 00142 Rome, Italy
Tel: +39 06 679 0896
Giolitti
Via degli Uffici del Vicario, 40 00186 Rome, Italy
Tel: +39 06 699 1243