The drive from Sintra or Lisbon to Porto can be as scenic as you want it to be. You can spend the three hours on a motorway or you can make the most of the intriguing little historical villages and stunning coastline and visit towns like the Medieval Obidos and the chilled surfer's paradise Nazare and stop for an incredible shot of university town Coimbra on your way to Porto!
After a brilliant night's sleep and a morning cuddle with little Yorkshire terrier Joaninha at Vila Vitorino we set off for Obidos, a beautifully preserved Medieval walled town.
Obidos is a popular day trip from Lisbon or Sintra and while small and full of tourists, it is also exceptionally beautiful. Part of the reason why it is still so beautifully preserved and full of character is because it was given to the Queen of Portugal on her wedding day. It has just over 3,000 residents and it is 1 and a quarter hours away from Sintra.
The streets behind the fortified walls are so beautiful that you feel as though you're not really in the present day. In fact the town hosts a medieval market day in July each year. The town is also known for an unusually large amount of bookstores per capita, 14 in total, one of them is actually in a church at the end of the main road.
Behind the wall is usually a beautiful blue and white tiled chapel with glazed Azujelo tiles. Unfortunately it is being restored at the time that we visited without an estimated finish date and has been being restored for 2 months already.
We walk down the main cobble stoned street. There are vendors selling souvenirs but the main item being sold is Ginja, a bitter cherry liquor that comes from Obidos. I had some in Lisbon and it comes as either a plain shot or in a chocolate cup. I don't know why anyone would refuse chocolate when offered and here you can have it in a white or dark chocolate cup for €1.50.
Having tried the dark chocolate ginja cup before, I try this shot in a white chocolate cup and it's sticky and deliciously sweet. We buy a couple of bottles and head off towards our next stop, an entirely different town just 20 minutes away where surfers rule.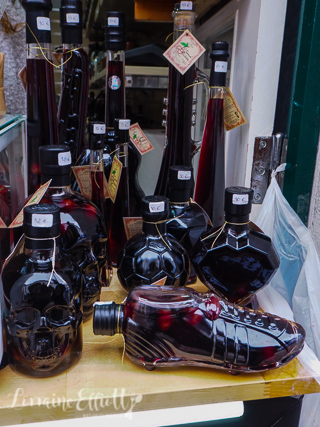 The car in front of us has a sign that reads, "Trump don't surf," which sums up the casual, laid back vibe of the town of Nazares. This is a surfing town - from the bikini shops, Irish pub and Chinese restaurant that lines the main esplanade.
The waves in Nazares are legendary and on a big swell day they can dwarf the red lighthouse making it look miniature. Keen surfer Mr NQN only had one must visit stop on our Portugal trip and it was Nazares.
Because it is a coastal town, Nazares is also home to some fantastic seafood restaurants and as luck would have it (ok it was planning) we arrive at Nazares around lunchtime.
Seafood lovers have plenty of choice here and there are so many restaurants but we end up at Taberna D'Adelia that also appears in the Michelin guide. You walk past the displays of goose barnacles and fresh fish and take a table.
Handwritten notes line the ceilings and walls-these are from customers.
Service is...well it's fine, he's got a bit of attitude and I think he thinks he's charming (spoiler: dude, you're not). He brings the couvert - the Portuguese custom of pre-dinner snacks where you just pay for any items that you eat. If you want it fine and pay for it, or if you don't, no problem. I choose the fish pâté which comes with crisp croutons and it's delicious, like a creamy tuna dip.
For our main we decided to share a cataplana for two. A cataplana is a cooking vessel that is used to cook seafood dishes that is popular in the Algarve region. It is a two part hinged clam shaped copper dish where the seafood steams inside. The dish does take some time to cook so you do need a bit of patience (and you can also help yourself to the couvert sardines but make sure they're the fresh ones in season) but it is worth the wait.
It's enormous and what they say could feed 2 could really feed 4 people. It comes with a big bowl of boiled potatoes and we also use the bread to soak it up. It's similar to a bouillabaise and full of seafood from fish, prawns, clams and mussels with plenty of tomato and onion. They give us plates but soup bowls would have been ideal for this as the soup is so tasty and good on its own. As it is, I soak some bread in the soup and add some fish pate in place of rouille. We feast on this for an hour, eating like kings with glasses of Portuguese Verdelho.
Full to the brim we head off mindful of our final destination before our final stop of Porto. There is one last stop on this scenic drive. On the way to Porto, about one and a quarter hours away is the university town of Coimbra with one of the most spectacular views in Portugal.
The look out point is located on Rua Padre António Vieira, next to the Market Lift. It's raining when we arrive but as we scurry out of the car, the rain stops and we get our shots. Not only is it a stunning view but it makes you appreciate the Portuguese love of harmonious colours. Some say Universidade de Coimbra (Coimbra University) inspired JK Rowling's Hogwarts when she lived in Porto.
Next stop: Porto!
So tell me Dear Reader, do you more often take the long way or the fast way? Are you more a surfer town person or a medieval town person?
These meals were independently paid for.
Taberna D'Adelia
R. das Traineiras 12, 2450-172 Nazaré, Portugal
Thursday to Tuesday 12–3:30pm, 7–10:30pm
Wednesday Closed
Phone: +351 262 552 134