I love a driving holiday. A flying one is of course with its perks but driving somewhere always allows you to to stop and take a look whatever your eye may have caught and of course it is much better for one thing that I particularly like-shopping. Which is why one weekend Mr NQN and I found ourselves piling Purdie the Prius high with luggage and leaving plenty of space for shopping. We headed down to the South Coast, a place that we have visited numerous times with friends and family. This time it was just us, Purdie and a lot of room for shopping ;)
It's a four hour drive including pit stops and shopping stops but we have a little treat in store for our first stop once we get there. It's always nice to unwind after a long drive and if unwinding was at a spa then all the better.  And you certainly wouldn't know that from the outside of this white and light yellow building would house a most intriguing spa. Go on, guess what the theme is...I dare you! ;)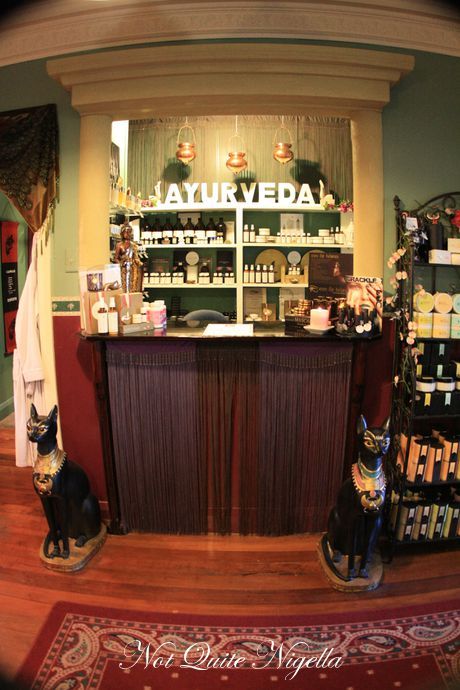 Follow me through the doors. It's an Egyptian Spa! In the midst of tranquil Burrill Lake no less. The inside is so completely, decadently decked out and there are Egyptian statues everywhere. A cat sits on one of the lounges licking its paw. It seems to think that it is part of the decor. One of the white uniformed therapists Prue greets us and welcomes us to the Isis Spa. We fill in the requisite forms and take a seat in the waiting room. Mr NQN and I are about to embark on a little trip to Egypt and experience one of their signature treatments the Abyhang treatment which is a two hour Indian massage that starts with a foot soak and scrub and face compresses and ends off with every part of your body massaged including your eyeballs!
The idea of having an Egyptian spa reportedly came to the owner in a dream and there are four therapy rooms from the Isis to my favourite the Lotus room. The products are by Subtle Energies and there are also creams and candles by Ecoya and makeup available for purchase. We sit back while our feet are tended to and then make our way to our respective rooms. I have the Lotus room which I am pleased to see.
My therapist Rochelle explains the treatment to me. It is different from many other massages and they focus on the marma which are like pressure points. It's different from reflexology but that is a close comparison. She starts off on my feet with a dry massage and then I get to choose between a revitalising or relaxation-I choose relaxation. She uses the oils and there are all sorts of interesting techniques that I've never experienced in a massage before. There is some gentle shaking and some deep breathing accompanied with pushing and pulling. And in the two hours there is nothing left untended to.
We emerge from our rooms and there is a cup of tea waiting for us, a most interesting blend it is strong in cumin and is sweet with honey and reminds us of a sweet curry.  Now _that _is the way to start a Winter weekend away!
We start driving to our accommodation for the weekend, Meadowlake Lodge. Intriguingly, the instructions sent to us read: "At the top of the seventh rise, you sometimes need to take caution – peacocks!"
It's like a fairytale map of sorts. Meadowlake Lodge is one of Milton's top spots to stay at and is 5 star country luxury with its own area for landing your own helicopter-well if you have that sort of thing. We arrive through the gates and the house is enormous. Now I admit I'm not normally a B&B person. I like privacy and sometimes you feel like you're staying at a relatives house they're so close. And relatives you hardly know too. But the house here is so enormous and divided into two wings so you do feel like you have a lot of privacy.
Di and Peter Falloon are the owners and they're friendly and welcoming. Di shows us to our room, the Milton Room which is the largest room at the lodge. It's enormous and there is a comfortable looking day bed, king sized bed and a stunning view outside.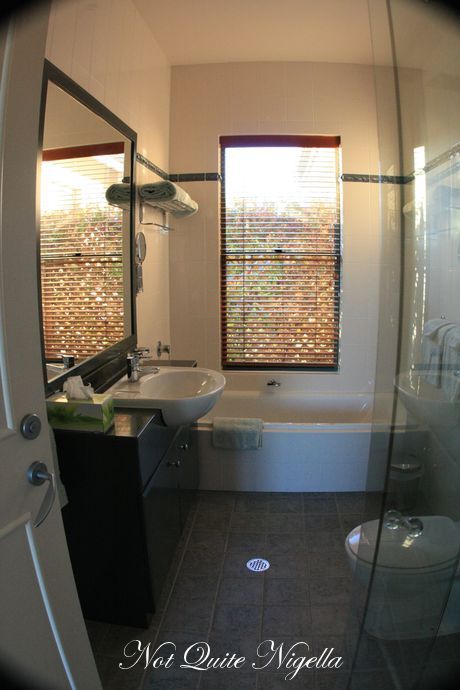 A gorgeous Raymond Peynet book on the bedside
The bathroom has a bath and a powerful hot shower which we avail ourselves of. We have a little time to check things out including their DVD library full of Di's favourite movies (I spy Devil wears Prada and the whole Harry Potter series). All of the niceties have been thought of with a good selection of Crabtree & Evelyn toiletries. The internet is fast but in the room is only available near the alcove. It sounds like a good excuse to not do too much work no? ;)
After showering and dressing we are off to dinner at Millard's Cottage Restaurant in Ulladulla. Said to be the oldest established building in the area it was formerly a general store, drapery, butcher, motor mechanic, dress shop and holiday letting and was bought for the sum of 22 pounds in 1842 to an ex-army captain.
Tonight there is a choice of 3 courses for $39.50 or you can dine a la carte although you would be mad to given that you can choose from any of the entrees, mains or desserts and mains are all $34. We are shown to our table by the window and during the night the entire restaurant fills completely. Service is enthusiastic and friendly and one waiter delivers the dishes with the white glove treatment.
Melted camembert dip with crusty bread roll and tomato and onion jam
We start with a melted camembert dip. Mr NQN is a camembert and brie fiend (he can eat huge wedges of them easily) and so I know he will go for this. It's essentially a wheel of camembert that has been baked in the oven until it is oozy and runny and he dips in the warm bread roll and creates strings of camembert. The tomato and onion jam is very sweet and provides a break in the creaminess.
Seared scallops on black pudding with caramelised apple
The seared scallops are enormous. In fact the last time I saw scallops this big was in Canada (we just don't grow them this big here!). The three scallops sit on three rounds of deliciously rich black pudding with this providing most of the flavour as the scallops are soft but mild in flavour. There is a thin slice of caramelised apple underneath these and a sweet apple sauce.
Millard's traditional beef wellington on potato with red wine jus
When we asked the waitress about any house specialties she told us that the beef Wellington was the most popular. The chef makes the pate for this in house and it comes out as an individual beef wellington. We ordered it medium rare but it came out more as well done. The flavours however are very good with the crispy puff pastry and the pate with the beef. It sits on a bed of mash surrounded by a red wine jus. Mr NQN came close to licking the plate on this. I stopped him, we don't need people thinking Sydney-siders lick plates! ;)
Ling fillet with coriander cream sauce
The ling fillet (not local, we're told that all local fish gets sent away) was a little cold by the time it got to us although it is very juicy and tender. The sauce, an unusual coriander cream one comes with four home made potato slices. The mains come with a bowl of steamed vegetables too.
Peanut butter ice cream pie
_ _I don't usually order chef's specials. Mainly because if a reader wants to visit a restaurant the chances are that the special won't be there. But when they said peanut butter ice cream pie I was smitten. It comes out as a cheesecake sized slice of ice cream pie drizzled with chocolate sauce. The peanut butter flavour is strong and there are tiny peanutty pieces dotted throughout the slice.
Sticky ginger pudding with butterscotch sauce and a scoop of vanilla ice cream
The ginger pudding was similar to a sticky date pudding except with a gingerbread flavour. It's moist and served warm with a delicious butterscotch sauce and a side of cream and ice cream. It was comfort in a bowl. Mr NQN pats his stomach and proclaims himself happily full.
As we're exhausted from the early rise we make our way back to the lodge facing howling cold winds. We rush inside closing the door quickly behind us and are greeted by Di and the warmth of the house. We go to our room and they've thoughtfully performed a turn down service. A flower from the garden and a Ferrero Rocher sits on our pillow and we fall asleep quickly to the sounds of country silence in our warm beds fitted with electric blankets.
The next morning we rise and instead of hearing the noise of traffic outside as we live on a busy Sydney street, there's delicious silence. We make our way to the main dining room where there is soft classical music playing and a range of Continental breakfast items like home made Bircher muesli, cereals, poached pears and quinces as well as home made cumquat marmalade and raspberry jam and sourdough and wholewheat bread all made by Di herself.
Ricotta pancakes with banana and blueberries
There is a choice of hot breakfasts to order and we choose the ricotta pancakes and a mushroom omelette. The ricotta pancakes are served in a stack of three with slices of banana in between and blueberries surrounding and golden syrup. They're incredibly light, the lightest ricotta pancakes we've had and disappear quickly they're so cloud like.
The mushroom omelette comes filled with button mushrooms and a side of bacon and mushroom as requested  and it is delicious, especially when paired with Di's home baked bread slathered with butter. With that we're ready to face the day... shopping!
Mr NQN was completely forewarned that this was going to be a bit of a shopping weekend. He remembered his mum's prized purchase of a lotus lamp from a Milton store and every time we used to drive to stay at a holiday house in Mollymook, no trip was complete without a lengthy stop at Milton to check out the shops with their unusual and uniquely covetable goodies.
All of the shops are on the main street or branch off the main street and we start at Merchants on Milton which is up near the Milton Theatre end of the street. Here the owner Rebecca Cameron is sitting at the front desk putting together one of her signature pieces, a wire bird with pieces of jewellery on top of it. It's an order from two customers whose mother had passed. They had a large amount of her jewellery and asked for her to make them something using the jewellery for them to remember her by.
Animals made out of recycled thongs
She also stocks a lot of free trade items including some cows and animals made out of thongs (as in flip flops) that had washed up on the beach in Kenya and there are elaborate wall sculptures made out of recycled oil drums!
Recycled oil drums
We pass by Merry Maiden's Veggies a fruit and vegetable store that stocks local produce, some grown at their farm 4 miles from Milton and also items from a Nowra biodynamic farmer. We spot pretty red Anjou French pears at $11.80 a kilo and can't resist buying a couple as well-they're pretty but don't taste that different from a regular pear.
There is local horseradish and a range of biodynamic items as well as produce from local people who have fruit trees and have extra produce to sell. There are mandarins, lemons, beetroot, grapefruit and all sorts of goodies from these home growers and whilst they are not certified organic, they know that no sprays are used.
Now I'm not a sewing person by any means, I'll leave that to the experts but I got rather excited when I passed by My Patch, a linen store and then some. I bought about $60 worth of stuff because I couldn't resist it. Like my fat quarters? I use these for styling. And I bought the screen print well just because I liked it. I'm not quite sure what I'll do with it but like with all my purchases I'm just glad that I have it.
There are things for the more sewing capable than myself (and that pretty much includes every person on this earth) including this clever fabric where you simply cut out the outline and sew together a family of owls! The fabrics range from $11 to $35 a metre (as far as I saw) and there are also cute buttons, ribbons and craft kits.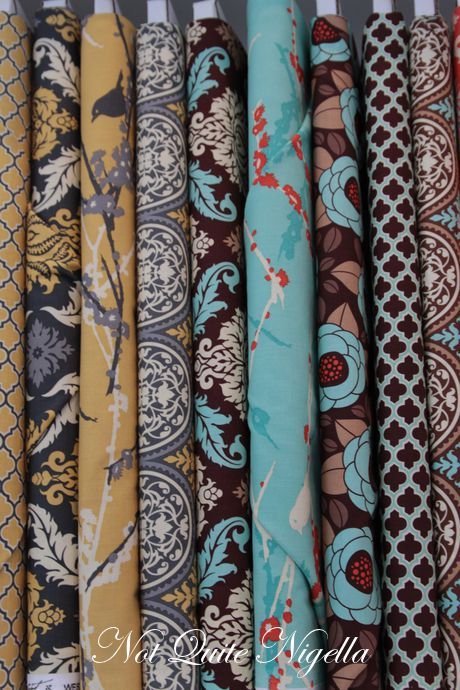 The last time we came own here with Teena, Gina, Hot dog and Philippe we got rather excited at this antique store called Revival which sprawls out into three locations within earshot of each other. I pick up the telephone assuming that it's an item for sale and to my surprise there is a ring tone! Jenny who owns Revival along with her husband Gino tells us to call her number so that we can hear the old fashioned ring. Funnily enough it is my mobile that refuses to work and it takes me 4 attempts to ring it thanks to poor reception from Vodafone but then the melodic ring of the old fashioned dial phone sounds! We laugh at the irony of it all. We found ourselves a lovely restored vintage coffee table from the 1950s/60s which we bought after Jenny gave us an excellent price (delivery to Sydney is a reasonable $50).
We pop into Rubee and Mee where I buy a cardigan from English label Darling and hope that a girl doesn't want the dress that I want (she does). And then it is off to Cupitt's Winery for lunch!
Cupitt's Winery is a winery known for its food and wine which is made in an underground cave that sits right underneath the restaurant. Outside the restaurant is an Italian motorbike and a side car. We take a seat, the fireplace is roaring and the chefs are already busy at the open kitchen.
White onion and cider soup with croutons $15
I'm in a soup kind of mood so I choose a soup to start with. The soup is piping hot and I do mean piping hot. We have to wait about 10 minutes for it to cool down and when so we get a flavoursome mouthful of onion soup with finely sliced, soft onions. It is like a lighter version of French onion soup sans the gruyere croutons, the cider is light in this-in fact we couldn't really taste it.
House cured salmon on warm kipfler potatoes with rocket and dill $15
The salmon is excellent with a good complement of flavours to the silky house cured salmon slices. It comes with slices of kipfler potato and thinly sliced roasted beetroot and a sweet, mild mustard and dill vinaigrette with the rocket.
Mr NQN tries some of the 2010 Cupitt's Viognier Tumbarumba and loves it so much that he goes next door to the cellar door to buy a bottle.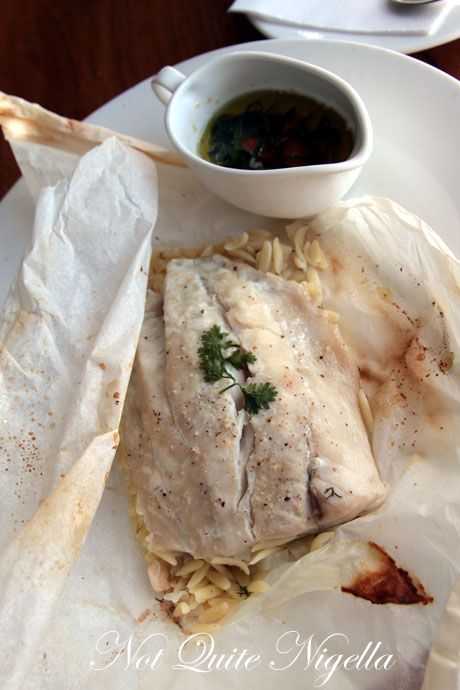 Jewfish cooked "en papillote" with orzo pasta, fennel and sauce vierge $32
_ _I do like fish cooked in paper as it always retains a moist texture as it does here. It is served with a sauce vierge which is a herby sauce made with olive oil and there is fennel and orzo as well as tomato and herbs. I did find that this could have done with some lemon or additional flavours to it although the fish itself was juicy and moist.
Rump of venison on braised red cabbage, Macaire potatoes and juniper berry sauce $32
This was a very generously portioned serve of the venison. Our waitress told us when we ordered it that it was served rare which was fine by us but it was really served medium when we got it rather than rare. Venison is really at its best when it is served rare though. The red cabbage is a nice acidic accompaniment as is the juniper berry sauce.
Local organic pear and apple crumble for two
There's always room for dessert (that lovely "dessert stomach" phenomenon of course) so we opt for a dessert that caught my eye as soon as I saw it on the blackboard: the local organic pear and apple crumble with vanilla ice cream for two. It comes out in a black cast iron pot and is filled with delicious soft baked cubes of apple and pear with a crumble crust with pecans, almonds, oats and coconut and a lovely vanilla bean ice cream. If only I could have absconded with this and eaten this in the comfort of our room late at night at Meadowlake Lodge!
After our delicious meal we go off for a bit more shopping. You can imagine why we always like going to Milton and for some reason, Mr NQN doesn't seem as grumpy as he usually does when shopping. I think the coffee table buy helped things!
We pass by Vintage Ladybird and are drawn in by the cute kid's clothes like the "Hanging with my Gnomies" tshirts. They've just had a customer from Woollahra buy $1,000 worth of goodies including some of their French dolls at around $150. Then there's a range of gorgeous Boogles dolls that help support 60 local women who work in a village crafting them in Northern Thailand - aren't they cute? I love their expressions!
Boogles dolls
It's getting late and we're going to be late for our afternoon tea back at the lodge so we make one last stop to Nikki B. a vintage store. Inside they theme the displays according to colour or collection and there's a lovely display of teacups and saucers. I spy a rabbit jelly mold which I just have to buy as it's only $10 and a $5 tube mold and a $2 scoop. None of those inflated "vintage" prices here we are glad to see.
A pram for my wolfbaby!
We arrive back and Di greets us and asks us when we would like our afternoon tea. Even though we're still full from lunch we can't resist trying her home made goodies and so she sets up a table and 15 minutes later we are enjoying some of her delicious home baked pastry shells filled with egg salad and topped with black caviar.
There are also delicious halved scones spread with jam and cream and delightful little lemon friands. We sit down and sip tea and chat to Di and then she offers to show us the enormous kitchen that they cook for guests in. The grounds are on 100 acres of land and span the wetlands down to the river. Their neighbours cattle graze on some of the land.
Before we know it it's time to go off to dinner! I know it must seem like all we do is shop and eat and if you spied us this weekend you'd probably be right. We head back into the main town area of Milton and enter Bacchus at Milton where service is friendly and welcoming.
Clyde River oysters $3 each
There are some specials of the day including a steak of the day which is a prime rib cut weighing over 500 grams but as you can imagine we're absolutely stuffed from all of the food that we've been eating so we sadly have to wave that goodbye. Instead we start with some Clyde River oysters with a divine eschallot vinaigrette with little roe balls inside it. I could just eat the vinaigrette on its own. Mr NQN notices that when it comes to swapping there isn't much left-oops!
Vongole and squid angel hair pasta with chilli butter and rocket $16.50
There was a generous amount of squid in the pasta dish and four vongole clams which were lovely but there wasn't quite enough seasoning on this. The chilli butter, an intriguing idea wasn't spicy and it really needed a bit of a chilli hit.
Beer and vodka battered flathead with triple cooked chips and a Bacchus made garlic aioli $28.50
Said to be one of the most popular dishes and the signature dish the beer and vodka local flathead was divine and came as three strips of juicy fish in a light as air batter (vodka, who knew?) sitting on top of a generus serve of triple cooked hand cut home made chips which were crunchy with their skins still on. It was served with a tartare sauce rather than an aioli.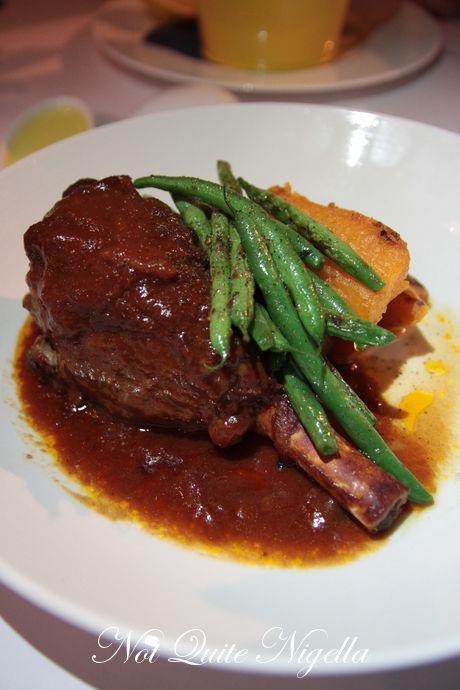 28 hour lamb shank, kumara potatoes roasted with iron bark honey, green beans and cooking reduction $32.50
This was a dinosaur leg sized serve of a lamb shank which was beautifully soft and I suppose cooking a lamb shank for 28 hours certainly lends itself to some supreme softness. I only wish I had more room for this. The sweet potatoes give the sticky, unctuous meat a sweet counterpoint and the green beans are perfectly cooked with an appealing crunch.
Chocolate goodness plate $17.50
Now I didn't know what to expect from this plate and although I am usually full by the end of a meal like this the chocolate plate was hard to resist. There were two scoops of chocolate ice cream that sat on a crunchy hazelnut praline and two scoops of a chocolate chantilly ganache which was thicker than a chantilly cream. Scattered amongst the bottom were "chocolate rocks" which you can find at some chocolate shops and actually resemble rocks (I have a packet at home, to do what with I don't know!). I did find the white chocolate coated strawberry too sweet but the rest of the plate was very moreish indeed.
South Coast cheese plate with fruit compote and lavosh $19.50
The cheese plate came with three cheeses, a brie, vintage cheddar and a blue cheese. They come with a quince compote that is sweet as a jam and some crackers rather than lavosh as well as a plump dried fig and apricot. The brie and cheddar are my favourites but the blue is also a nice and mild blue cheese that goes well with the sweet quince compote. We return to our second night at the lodge and sleep like babies.
On our way out we spot this house!
One last meal for Milton! It's brunch at Pilgrim's a vegetarian and vegan cafe that seems to be the place to go to on a Sunday morning. The clientele, and this may be because it is school holidays, is full of glamorous mums with designer sunglasses, people on laptops and alternative folk. Orders are taken at the front counter with the friendly staff and there is a laminated A4 breakfast menu as well as a blackboard lunch menu. Most of the offerings on the breakfast menu sound good but we can get them at most cafes anywhere. I'm more eager to try their vegetarian options to see what the food is like.
We choose a lentil pie and one of the bliss burgers along with a vivid vegetable and fruit juice and a date and coconut bliss ball. We take our number and a seat outside before realising that we'll catch a death of cold and make our way to the warmth of inside where a table with recycled chairs has thankfully freed up.
Bombie Juice $7
This was a mix of juices (carrot ginger, apple and beetroot) but the most predominant one was beetroot followed by the spicy heat of ginger. It was refreshing and healthy.
Bliss burger $10
A rice patty on a soft wholemeal bun this was nothing like I expected. I hadn't expected to enjoy it so much with all of the toppings and ingredients-and there was a cast of thousands really including cheese, onion tabouli, avocado and a satay sauce as well as a "special sauce". It comes wrapped and ready to eat and it is juicy and flavoursome and you just wouldn't miss having meat at all.
Lentil pie with hommous and sprouts $6
You can order the pies separately or with toppings such as hommous and sprouts. When I see the head of sprouts I think that it resembles a woman's hair that we sat behind on a train many moons ago. Mr NQN took a photo of her hair (I know, very random, I wish we could find the photo to demonstrate) . The lentil pie below is more like a lentil quiche as it is eggy and creamy and open topped but it also means that Mr NQN declares it one of his favourite pies ever. And he's not really a pie person. I like the idea of adding hommous and sprouts and consider doing it at home too.
Date and coconut ball $2.50
Not a chocolate truffle but a date and coconut ball I'm used to eating these as they're a favourite with Mr NQN and his family. They're soft, moist and tasty and sweetened with dates and rolled in coconut.
Our last morsel eaten that signalled the end of a lovely long weekend on the South Coast which we'd previously only visited during Summer. We marvel at how much we managed to find to do including lots of the shopping and eating variety. And we didn't even have time to visit the beach!
So tell me Dear Reader, does your other half like to shop? And do you go on driving holidays very often? Where is your favourite driving destination?
NQN and Mr NQN explored the South Coast as a guest of the Milton Accommodation Group (http://miltonsouthcoast.com.au/) and the businesses below. The meal at Pilgrim's was independently paid for.
Meadowlake Lodge
318 Wilfords Lane, Milton, NSW
Tel: +61 (02) 4455 7722
Egyptian Beauty Spa
1 Commonwealth Ave, Burrill Lake, NSW
Tel: +61 (02) 44544009
Millard's Cottage Restaurant
81 Princes Highway, Ulladulla, NSW
Tel: +61 (02) 4455 3287
Cupitt's Winery
58 Washburton Rd Ulladulla, NSW
Tel: 4455 7888).
Bacchus at Milton
Shop 7, the Settlement Arcade, 97 Princes Highway, Milton, NSW
Tel: +61 (02) 4455 3449
Pilgrims
Shop 8&9, Settlement Arcade, 97 Princes Highway, Milton, NSW