The Kiama Blowhole
Dear Reader, I must tell you that once upon a time I almost failed year 12 Geography because I refused to go camping. For someone with hand washing O.C.D., the idea of camping is unacceptable to my fragile being. I know it won't kill me but it would have been a miserable few days and even the threat of failing Geography didn't stop me from opting out. Mr NQN has tried many times to convince me to go camping to no avail. It was only when I given the option of "Glamping" that I finally relented. And "what is Glamping" you may ask? It's Glamour Camping!
The Pink Post Office!
We were taking a five day drive down the scenic coast thanks to the nice people at Sydney to Melbourne Touring. On the way we'd be stopping at various places to eat and finding quirky little places. Did I mention we'd be looking for seafood too? Oh yes seafood monster reporting for eating duty!
Kiama view
Our first stop is in Kiama. And yes there's a pink post Office which is so Elle Woods don't you think darlings? The blowhole isn't spouting any water today so we stop by for some lunch at the Sebel Kiama where they've kindly prepared some of the items from the 1871 restaurant dinner menu for us to have at lunch.
Lobster and scampi papardelle
Serves for mains are huge as we soon learn and the papardelle ribbons are paired with a generous serve of local lobster and scampi. The sauce is thick and creamy and very rich.
_Chicken breast with wild mushroom and chard fricasee and port jus
_
The chicken breast comes out sitting in a huge pool of creamy sauce. It's incredibly rich although good but even Mr NQN who seemingly has a bottomless stomach for food barely finishes it. The chicken is nicely tender though and the deep fried leaves are a nice contrast to the creamy sauce. After having a quick tour of the grounds and seeing the lovely heritage listed former school building turned into a conference centre, we set off again for the picturesque area of Jervis Bay.
Jervis Bay is a wonderfully scenic beachside area popular with Sydney-siders as it's about three hour's drive away.  Our car slowly drives through the gravel road through the forest to get to Paperbark Camp where I get my first taste of glamping. And the cost of one night's glamping? $480 per night including dinner, breakfast and the tent. Glamour costs money you know ;)
The swamp
Our Glamping tent
We settle into our tent and we're staying in the tent called "Possum" which is the second closest tent to the main building. I wonder if it's named possum because we may get some furry possum visitors in the night... The tent is perched high on a raised platform and they ask us to keep the clip lock closed to deter eager possums from sticking their heads inside our tent. Around us the mosquitoes are relentless so we rush into the tent to escape them all the while feeling imaginary and real pin pricks of mosquito bites on our arms and legs. There is an anti mosquito arsenal with anti mosquito cream, mosquito coils and Aerogard as well as bug spray and we quickly learn that we need all of them. There is only solar electricity in the tent with three lights in total - two by the bed and one opposite. There is fresh water in a jug provided for us and bath robes as well as shampoo, body wash and conditioner.
The bed and roll up windows
Phew! The bathroom...
Also alongside the tent is a bathroom - please excuse the photos of a toilet. I don't usually put toilet pics here but I was ever so glad to see a proper toilet. You see the thing that prevents me from camping is the lack of facilities and showers. I take a shower worrying a little about passing guests that can look in. I like the light rain effect of the shower head although Mr NQN likes firmer water projection.
Herb garden
After that, we take the laptop to do some work and use the free wireless internet in the main lounge and before long, it's time for our dinner booking at the Gunyah restaurant. I had heard good things about the food here so I was eager to try it as was Mr NQN who had worked up a country sized appetite.
Interior of the Gunyah Restaurant
Lime cured Ocean Trout with asparagus, crab and pickled cucumber dressing $24
The ocean trout is prettily presented and it's a lovely melding of ingredients from the finely diced pickled cucumber which is slightly sweet, to the paper thin radishes and micro herbs. The lime cured ocean trout is superb and the crab is an interesting addition. Mr NQN doesn't feel that it's needed but I go for any reason to eat crab and it goes together just fine for me.
Veal, rabbit, quail and pistachio terrine with peach chutney and toasted brioche $22
We ordered the terrine as it was a hot evening and we wanted something cool. The terrine was edged in prosciutto and filled with veal, rabbit, quail and pork and studded with pistachios.  The house made sweet peach chutney was absolutely gorgeously and not too acidic and I contemplate asking for the recipe. It is accompanied with home-made golden brioche squares.
Pink roasted pepper berry spiced kangaroo loin with pancetta, potato puree and baby vegetables $33
We both love kangaroo when done well but it is often not as it is often overcooked. This however is cooked to perfection with a tender pink centre, creamy home made mash and the distinct flavour of thyme and pepperberry. Mr NQN and I wrestle over this as we both adore it.
Roast fillet of Blue eyed cod with kipfler potatoes, seared scallops and barigoule sauce $34
The Blue eyed cos has a crispy skin and roughly mashed herbed kipfler mash and a lone scallop. It's good but when you've preceded it with the kangaroo, it's an awfully hard act to follow.
Selection of three cheeses with lavosh, Bara Brith and muscatels $20
Even though we're being eaten alive by the mosquitoes (we discover the coil has gone out and later count about 30 bites on each of us), the lure of desserts is too strong. We try the cheese plate which features three cheeses:  Pyengana Clothbound Cheddar which is a cow's milk cheese from Tasmania which is gorgeously crumbly, a Valden blue Mold, a cow's and goat's milk cheese from Leon, Spain which is rich, creamy and strong and lastly the one I really wanted to try ever since I saw it in formaggio Ocello,:La Petite Princess, a white mold tangy goat's camembert which is my favourite. I adore goat's cheese and this goat's camembert goes beautifully with the muscatels and the slices of Bara Brith which is a Welsh bread studded with fruit that has been soaked in tea for four hours.
Vanilla and basil panna cotta with strawberry sorbet and fresh raspberries $15
The basil panna cotta is voluptuously wobbly as it's being set down so I have high hopes but we wonder "How would the basil work?". Thankfully it's delicious - the basil is certainly there but doesn't overpower in any way against the vanilla and it is fabulously creamy.  The strawberry sorbet is welcoming on this hotter than hot evening and the little jellies and fresh raspberries are a delight.
We retire back to our tent, shower in the dark hoping that there aren't any peeping toms in the dark (Mr NQN assures me that we'd hear them crunching along the ground on approach), pop in the earplugs (they're provided as black cockatoos like to give guests a wake up call) and sleep like babies-without a single possum visit!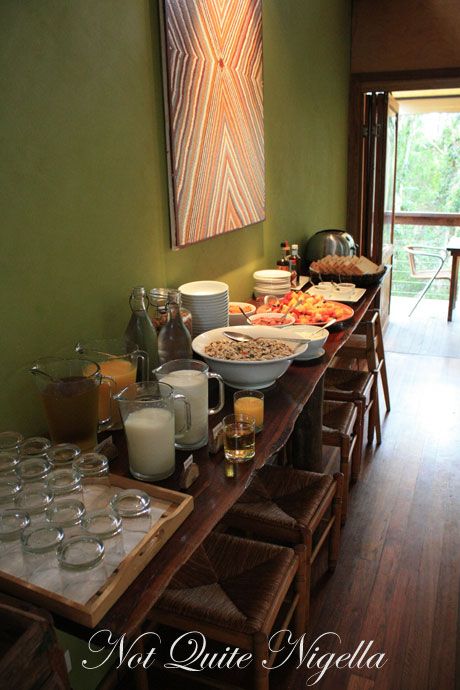 The next morning, we had risen early with the intention of going canoeing until we surveyed the swamp and its resident mozzie population. Instead breakfast was luring us. It is served between the hours of 8am-10am and there is a very civilised checkout of 11am (yay for late checkouts!). At the breakfast buffet there are two types of cereals: Nutrigrain and an untoasted muesli . There's also thick natural yogurt, a strawberry and rhubarb compote and poached peaches.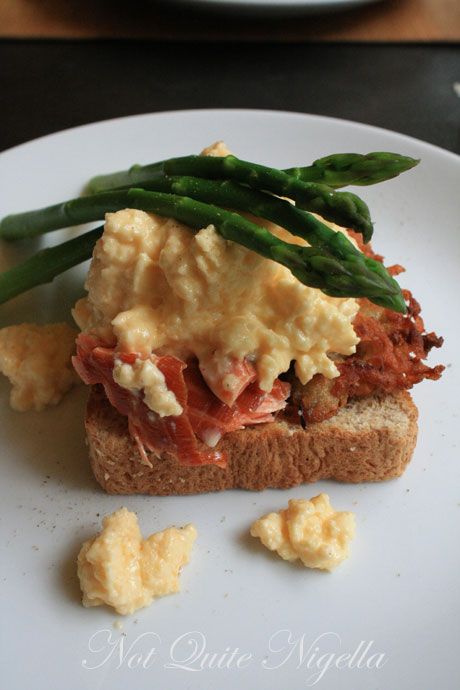 There are two choices for hot breakfast: eggs any way you like them with mushrooms, spinach, tomato and bacon on thick toast and scrambled eggs with trout that is smoked on the premises and potato roesti. We try some of each and it has to be said that they're both very good and we're just glad that we can do the plate swap as it would be hard to choose a favourite. OK I will, the mushrooms with poached eggs and bacon just pip it at the post for me. The apple juice that they serve here is also very sweet and refreshing.
Refreshed, re-hydrated and ready for travel we head off on our next stop. And where would be going next? Please stay tuned Dear Reader! :)
So tell me Dear Reader, have you ever tried glamping? Or do you prefer regular camping?
NQN and Mr NQN travelled as guests of Sydney to Melbourne Touring.
1871 at the Sebel
31 Shoalhaven Street
Kiama NSW 2533
Tel: + 61 (02) 4230 7500
Paperbark Camp
571 Woollamia Rd, Woollamia NSW
Tel: +61 (02) 4441 6006