Dear Reader, I wondered whether I should start the week off with a slightly naughty story or not but then I figured that I probably should, because Mondays are if nothing else, hard to get through. Sometimes you meet people and sometimes you find out that they have rather interesting jobs. A friend of mine Celine was telling me about the mother of one of her child's school mates. It turns out that this mum is a rather well known high class escort and Celine come across her website. She was sitting after dinner and sipping her coffee with her mother, sister and father when she brought it up.
Their eyes widened as they surveyed at the price list that detailed the services that she offered. Some of the services that this lady offered were the sort that you might have to google and poor Celine's mother puzzled over some of them before asking, entirely innocently, a question.
"Why do Greek people have to pay $500 more?" she inquired earnestly. It fell to the job of Celine's father to explain what that little menu item meant! ;)
When I think of Greek, I think of slow cooked lamb, moussaka and halloumi and buttery honey drenched pastries (alas, Celine's mum might think of other things now that she has this new piece of knowledge!). And whenever I think of The Netherlands, I think of tulips, Delft china patterns, canals and windmills. And when I was making a Dutch item called Gevulde Speculaas and was trying to think of ways to decorate it, I decided to try and make an homage to the Delft windmill pattern. And what is a Gevulde Speculaas? It is an aromatic sweet, somewhere between a biscuit and a cake. They key to this is making your own spice mixture from scratch and adding what you like to it.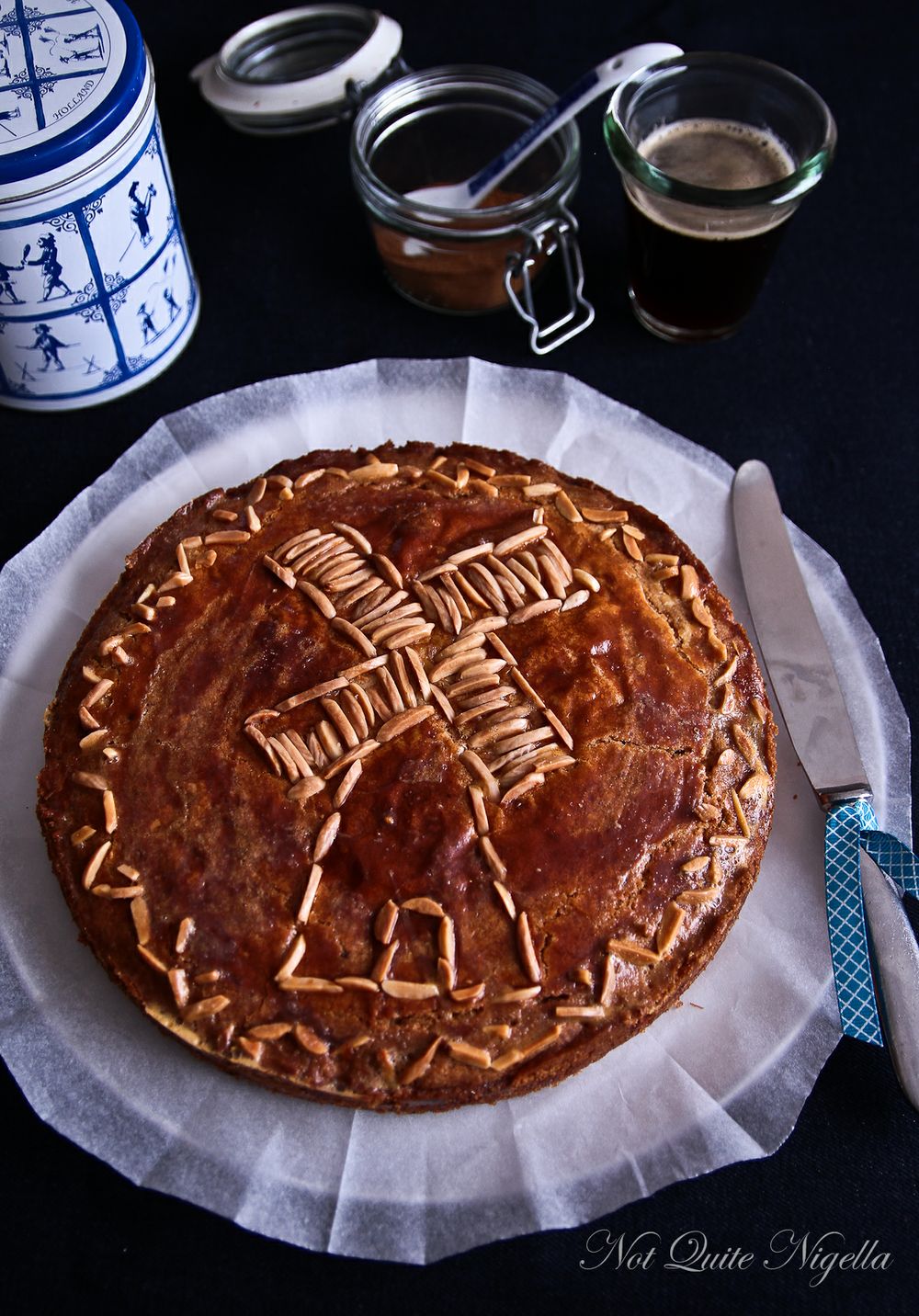 Spices, were so key to Dutch culture because of the Dutch-Indies trading route and a speculaas mixture can contain spices such as cinnamon, nutmeg, mace, ginger, white pepper, cardamom, anise and cloves. The top and bottom layer is like a soft gingerbread impregnated with the aroma of these spices and in the centre is a layer of home made almond paste scented with lemon zest.
I liked the fact that the two parts could be, and were actually best, made ahead of time so that assembly and baking could be done on the day to make it as fresh as possible. I based my windmill design on the Delft windmill plate-okay I realise that I fell quite short of it but let's not dwell on that shall we? ;) This is great served in thin slices as a biscuit to accompany a cup of coffee. Just be careful what you may chat about when you have that coffee ;)
So tell me Dear Reader, what do you think of when you think of The Netherlands? And what is your favourite spice to use? And do you prefer to grind them fresh or use pre ground?
Blog-checking lines: Francijn of Koken in de Brouwerij was our January 2013 Daring Bakers' Hostess and she challenged us to make the traditional Dutch pastry, Gevulde Speculaas from scratch! That includes making our own spice mix, almond paste and dough! Delicious!
Gevulde Speculaas
Speculaas spices
When spices had become commonly available in the 17th century, bakers' guilds began to make their secret spice mixtures. A mixture that gloriously survived the ages is "speculaaskruiden" (speculaas spices). Speculaaskruiden contain at least cinnamon, cloves, mace and ginger, and these spices to taste: pepper, cardamom, coriander, anise seeds and nutmeg.
From the golden age onward, this spice mixture was used to bake a crisp, buttery biscuit: speculaas. For centuries it remained a luxury item, baked only in the holiday season, and often given as a present. Sometimes bakers made the dough three months in advance so that the flavor would permeate the dough.
Recipe Speculaas Spices
Speculaas spices can be bought in a store. But it's more fun to make your own mixture, so that you can adjust the flavor. Here is a representative recipe from the extensive Dutch tradition.
Mandatory:
cinnamon 40 to 60 % of the total amount
ground cloves 1 or 2 parts
mace ½ or 1 part
ginger ½ or 1 part
Optional (I used half a part of all of these):
white pepper ½ or 1 part
cardamom ½ or 1 part
coriander (ground, not fresh) ½ or 1 part
anise ½ or 1 part
nutmeg 1 or 2 parts
A convenient way to mix the spices is as follows:
Take at least 1 or 2 teaspoons of ground cloves, ½ or 1 teaspoon of mace and ½ or 1 teaspoon of ginger.
Add to taste ½ or 1 teaspoon of white pepper, ½ or 1 teaspoon of cardamom, ½ or 1 teaspoon of coriander, ½ or 1 teaspoon of anise, and 1 or 2 teaspoons of nutmeg.
Measure or weigh the amount of spices you have now, and add an equal amount of cinnamon.
This method yields at least 4 and at most 18 teaspoons of spices, so if you plan to mix just a few spices, use bigger or more spoons to get a reasonable amount.
Take your time to smell the ingredients individually before you decide how much to add. And remember the proportions, that will make adjustments easier next time.
Store the spices airtight, dry and dark, they will not spoil for a long time.
Recipe Almond Paste
As we are going to make stuffed speculaas, we will need almond paste. You can buy it in a store, but homemade almond paste tastes better.
Ingredients:
7/8 cup (210 ml)(125 gm)(4½ oz) raw almonds (or 1-1/3 cups (320 ml)(125 gm) (4½ oz) ground almonds)
5/8 cup (150 ml) (125 grams) (4½ oz) granulated sugar
1 large egg
1 teaspoon (5 ml) (3 gm) lemon zest
Directions:
If the raw almonds still have their brown skins, remove them as follows. Bring water to a boil, add the almonds, cook them for one minute, drain immediately and let cool for a few minutes. Rub them between your fingers to remove the skins.
Grind the almonds for one or two minutes in a food processor, until you see nothing but very small pieces. (Or skip this step if you use ground almonds.) Add the sugar, and grind for another one or two minutes. It must be very fine after this step. Add the egg and let the food processor combine it - if it is powerful enough. Otherwise you will have to combine it with your fingers.
Store the almond paste in an airtight container in the refrigerator. Although the flavor gets better as days pass by, it is not wise to store the paste for too long, as it contains a raw egg. For the same reason you should not eat the paste unbaked.
To be safe, you could choose one of these options:
use egg powder and water to replace the egg
use 50 ml of an other liquid, like lemon juice (in that case, leave the zest out)
add the egg just before you are going to bake the pastry
The paste can also be kept in the freezer.
Recipe Speculaas Dough
Ingredients:
1¾ cups (250 gm) (9 oz) all purpose (plain) flour
1 teaspoon (5 ml) (5 gm) baking powder
¾ cup (150 grams) (5-1/3 oz) brown sugar, firmly packed
a pinch salt
2 tablespoons (30 ml) (15 gm) (½ oz) speculaas spices
3/4 cup (1½ stick) (175 gm) (6 oz) unsalted butter
Directions:
Put flour, baking powder, sugar, salt and spices in a bowl. Cut the butter in dices and add and knead until smooth. Feel free to add a little milk if the dough is too dry. Wrap in clingfoil and put in the refrigerator for two hours.
You can choose to make the dough a few days in advance, just like the almond paste, that will benefit the flavor. Freezing is no problem.
Assembling and baking the Gevulde Speculaas
Ingredients:
speculaas dough
almond paste
slivered almonds for decoration
1 large egg
shallow baking pan, 8x10 inch (20x26 cm) or, round with of diameter 8.4 inch (21 cm)
Directions:
Step 1 - Grease the pan.
Step 2 - Preheat the oven to moderate 350°F/180°C/gas 4
Step 3 - Divide the dough into two portions.
Step 4 - Roll out both portions on a lightly floured surface, until they are exactly as big as the baking pan.
Step 5 - Put one of the layers in the pan and press it lightly to fill the bottom.
Step 6 - Lightly beat the egg with a teaspoon cold water.
Step 7 - Brush 1/3 of the egg over the dough in the pan.
Step 8 - Roll out the almond paste between two sheets of clingfoil, until it is exactly as big as the pan, and put it on the dough in the pan. (If you chose to make the paste soft, you can smear the paste instead of rolling it.)
Step 9 - Press the paste lightly down to fit in the pan, and brush the next 1/3 of the egg over it.
Step 10 - Now put the second layer of dough on top of the paste, press it lightly, and make as smooth as possible.
Step 11 - Brush the last 1/3 of the egg over the dough.
Step 12 - Decorate the pastry with the almonds.
Step 13 - Bake for 40 minutes in the preheated oven.
Step 14 - Let cool completely in the pan, then cut it in portions as you like.
Step 15 - If you wrap the stuffed speculaas in clingfoil, after it has cooled completely, you can store it a few days at room temperature. Freezing is possible, but fresh speculaas tastes better.