It's the million dollar question, the one that you want to ask a business owner whose queues spill out onto the street, whose presence on an already popular eat street is signalled by the crowds gathered around.
What makes what you do different and why are you so successful?
I had known of Messina's existence for years and my first visit was prompted by my hairdresser Elly who is a regular. I popped in as I was writing an article about Sydney's hot spots for Adeyaka magazine. I brought Melbourne based Carla to it and we both fell in love with the creations, joining the ranks of thousands of Sydney siders that had been long time members of the "club." When Elly suggested that we meet back here to try some gelato, I eagerly joined her. But I wanted to know more. How did they gain such cult status?
Nick Palumbo
Nick Palumbo is one of the owners of Messina, named after the area of Sicily where his parents hailed from. In 2002, they had half a dozen stores and these were then sold off and Nick took over making gelato out of a factory under the name Gelativo. The owners of the stores went bust, owing Nick an enormous sum of money that they would not have been able to pay back. His lawyer convinced him to take two of the shops in return for debts settled. An instinct told him that it would be a mistake to sell the Darlinghurst store so he kept the small store. It was good timing as he was bored making gelato out of a factory.
"It was a hard slog" Nick says and during this time Donato Toce, the chef from A Tavola across the street came on board. Donato is the chef and Nick is the scientist. Their aim is to make "the best possible product we could" and this means doing things differently from other gelato and ice cream manufacturers. "99.9% of them use a base to which they add strawberry paste and pistachio paste" Nick explains and this helps make things easier and quicker to make flavours.
At Messina, each flavour has its own unique recipe made at the central factory. Each recipe is then taken to the store where it is churned every morning and we watch as they slide in seven litre batch after batch into the display case. "What happens between the churner and the display determines the quality of the product" Nick says. Quality is something that Nick attributes to his grandfather. He was a man who bought fish from one vendor and vegetables from another, always looking for the best quality. It was on a holiday that a ten year old Nick experienced a seminal moment: eating a divine coffee granita with whipped cream in a brioche from a patisserie established in 1912. It would help shape his dream.
Four to five years ago, they started the specials board that features weird and wonderful flavour creations. At least one or two on the specials board is a completely new flavour while the rest are made up of favourite specials (there is a stable of 500 flavours). The best seller is the salted caramel which was originally one of these specials and this is followed by chocolate and then one of the special flavours although most will not end up on the permanent collection.
What hasn't worked? Declan, the former DJ turned marketer for Messina finds that hard to define. While some flavours don't sell well, they can bring people in who ask for a taste of say avocado, salsa and corn  chips and then go on to buy a scoop of something else more regular. Nick admits that tomato sorbet wasn't a spectacular hit, although it is popular in restaurants served with something else, it was less so here. "I don't think we sold any" he laughs. Savoury flavours can work and they've done two with bacon: a prosciutto and melon and a bacon and maple syrup ice cream. But the test to see whether the chef can eat a whole 100ml scoop of it. It's easy enough to have three licks of a flavour but it has to be good to eat 100mls of it.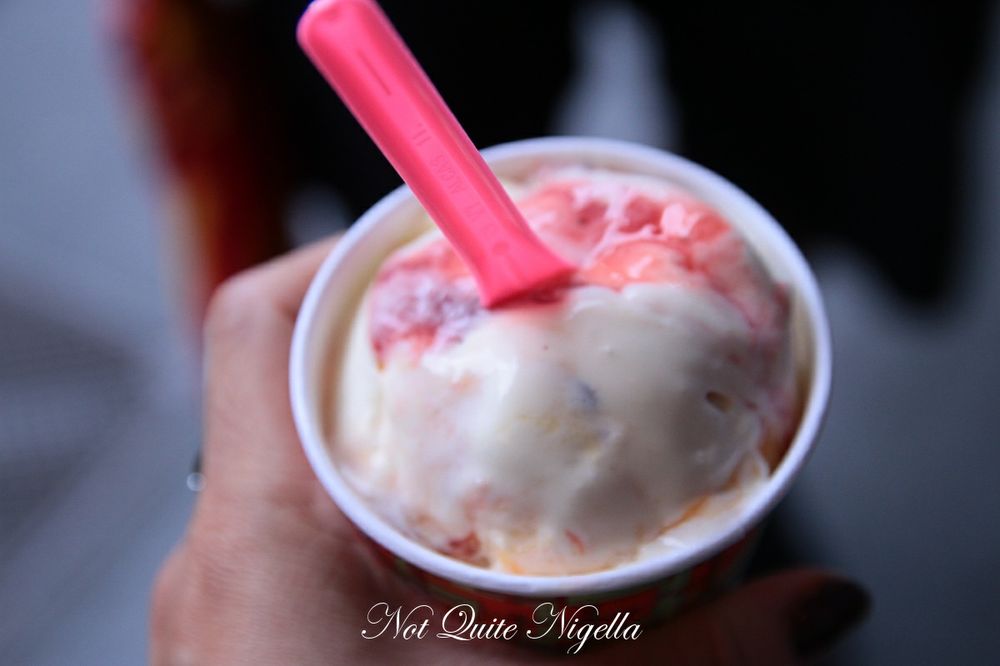 Pavlova gelato
Other flavours like pavlova are very popular but they are time intensive so they don't feature all the time. They made a Jack Daniels and smoke flavour for Anthony Bourdain when he was visiting Sydney - alas he has sworn off both and didn't get to taste it.  For Australia Day they've made V.B. beer sorbet and Anzac Cookie gelato. Customers often offer suggestions and one was "Monoffee Pie" a bannoffee pie flavour suggested by a customer called Monique who wanted them to name a flavour after her (hence the "Mon"). They even got into the spirit of her fiancee's marriage proposal by stocking the flavour and writing "Will You Marry Me?" on the display. They only got married a few weekends ago and the flavour was supplied to them for their wedding.
Nick estimates that 90% of their customers are repeat and the specials board helps contribute to this. Elly's favourite flavour is the yogurt caramel which came to them by accident. Nick had made too much of the yogurt gelato and mixed it with some caramel that he had available and it moved from the specials board to the permanent selection.
Bondi's Hall Street store opens in a couple of months and they are looking at opening in Brisbane and Melbourne. China is an upcoming market where they will open a store in Hangzhou. This isn't a business that is possible to franchise because of the high cost of product which is around 25-28% of the final cost which doesn't leave room for a franchisee to take a cut. Instead they work within joint ventures.
The lab next door is another draw card. Open in 2011, they sell ice cream cakes in large or monoporziones (single servings). They sell about 500 large and 500 small ice cream cakes a week. Here, a team of pastry chefs and chefs work to create what amounts to sculptures in ice cream. They are given a total of 30-40 hours a week in total to "do anything they want" and to dream up and experiment with creations. Some of the ideas are filed away from later use.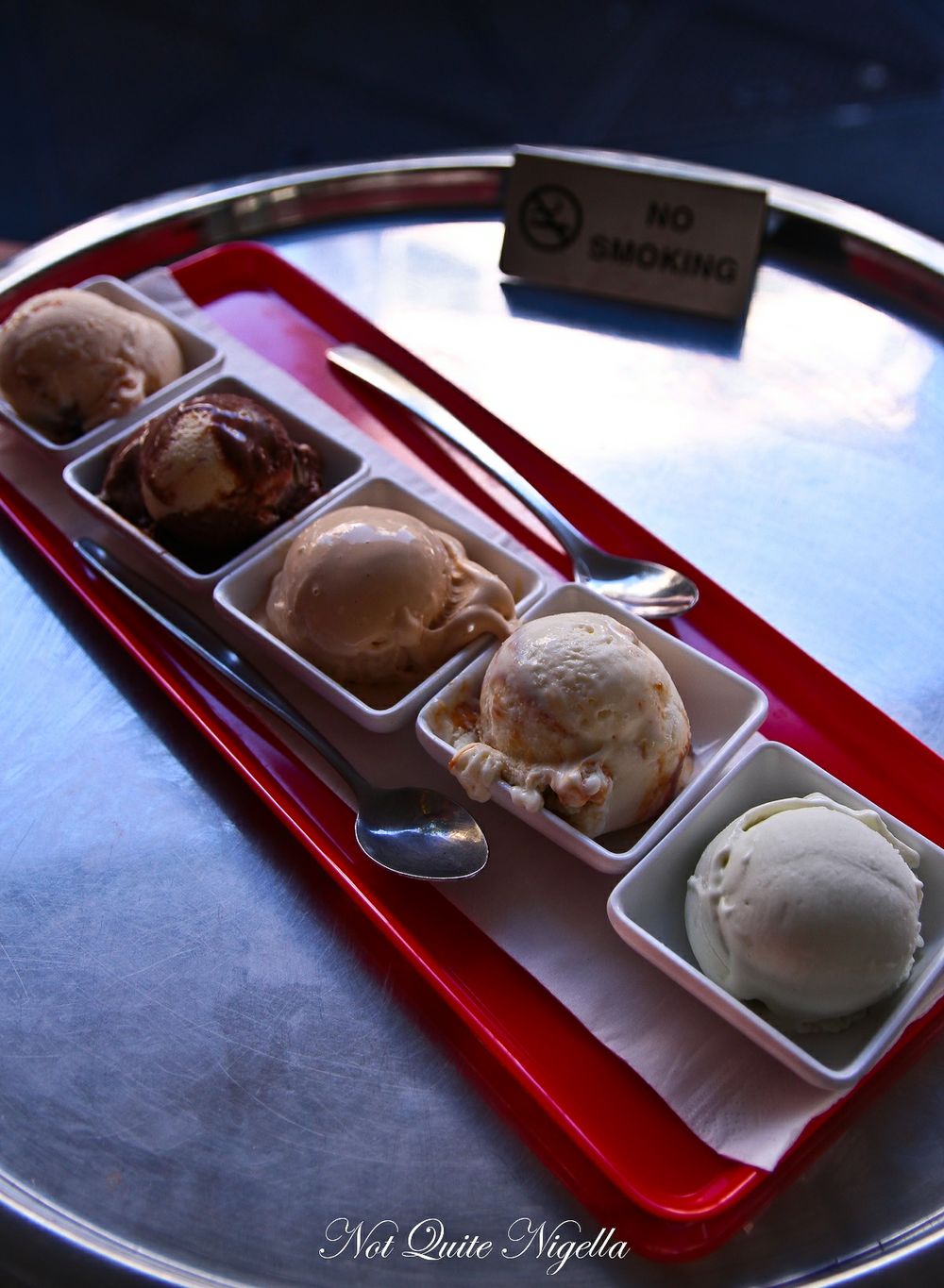 What is the ice cream like? When Elly and I first visited, we tried a tasting plate of five flavours. Derelicte was an orange mocha frappucino, Mincing Tart was a Christmas inspired brandy custard gelato with folded fruit mince tart. Pandan and coconut is a refreshing South East Asian concoction said to be a favourite with Leonardo Di Caprio and caramel yogurt was perfectly balanced with the tang of yogurt brought back to the land of sweetness with a thick ribbon of caramel. And the salted caramel? Well balanced, smooth and moreish.
Mini Me $9.90
Nick gives us a selection of the monoporziones and stresses that these are best when they've had time to soften a bit. He sees people buy them and eat them straight away and the ice cream is too cold at that stage. The top seller is the "Mini Me" which is also sold as a large cake called "Dr Evil's Magic Mushroom". It is as very dark chocolate gelato with a centre of dulce de leche on a peanut butter cookie. The stalk is made up of vanilla gelato and the whole mushroom sits on a 'grass' of popping candy & feuilletine biscuit which is a nice surprise. The dark chocolate gelato predominates and then the crunchy white chocolate grass layer has a fun surprise of popping candy.
Royale w' Cheese $11.90
Remember Pulp Fiction? Surely they would have approved of this number. This burger bun is a house made financier bun  with milk chocolate crackle gelato, a white chocolate gelato & apricot gele`e egg complete with a runny river of yolk inside, slices of compressed real cucumber, a white chocolate slice for cheese and raspberry sauce as tomato sauce. And no, the cucumber doesn't taste out of place and this is a sweet white chocolate rich number and for those that like things sweet.
Samurai $7.90
Defying gravity, the Samurai has a tangy yuzu (something like a cross between a mandarin and a grapefuit) sorbet and a salted caramel centre encased in black and red orange scented chocolate. It's tangy and refreshing although I would have loved a creamy centre.
Slivkova Pavlova $11.90
This mini pavlova is made up of a passionfruit dusted meringue top, a generously portioned freeze dried raspberry and raspberry gele centre, and a base of vanilla gelato rolled in passionfruit powder on marsala soaked sponge. It's tangy from the passionfruit and raspberry but this is balanced with the exaggerated sweetness of the crispy meringue on top.
Ugly Balls $9.90
Looking not unlike a deep fried ice cream ball, Ugly Balls is a ball of Manuka honey gelato with a sturdy lemon lime gelee centre. The ball is then rolled in tonka bean & feuilletine biscuit which still retains a slight crunchiness and reminds us of crunchy nut cornflakes. It's also the simplest looking but perhaps our favourite (slightly edged out by the Mini Me).
So tell me Dear Reader, do you go for more classic or inventive gelato flavours? And which ice cream cake appealed to you the most? And if you could suggest an ice cream flavour, what would it be?
Gelato Messina
Shop 1/241 Victoria St,
Darlinghurst NSW 2010
Opening times
Sunday to Thursday: 12pm to 11pm
Friday and Saturday: 12pm to 11.30pm
Laboratorio and Patisserie
243 Victoria St,
Darlinghurst NSW 2010
Opening times
Monday to Saturday: 12pm to 10pm
Sunday: 12pm to 7pm
Also stores at The Star, Pyrmont and at 389 Crown Street, Surry Hills