Supper hour is an hour that goes largely uncatered for in Sydney. If you have a hankering for something late at night, most restaurants will have their last orders around 9.30-10pm and aim to have you out by 11pm. So for the supper loving or those the choices usually involve a trip to Chinatown to partake of some BBQ King or Mamak. Tastevin in Darlinghurst however keeps Night Owl hours opening their bistro until midnight and their wine bar with snacks until 2am.
Tonight Mr NQN and I are dining at a more "normal" time for my birthday dinner with Teena, Gina, Philippe and HotDog. When I get there I accidentally walk into Spice I am next door before I realise I'm in the wrong place. It's tastefully decorated in a Parisian apartment chic style (oh how I love thee!) and we're seated at a banquette, which they assure us is the best table. They know it's my birthday and they're very sweet and accommodating. Lighting is of the "romantic" kind (i.e. dark - especially the bathrooms where we almost feel our way about!) so please forgive the photos.
As I've been eating all afternoon I opt for a couple of entrees so we order a good range of things from the menu.
_Bread selection $12  for 3
_
The bread selection is nice and fresh. There's a seeded bread with fennel seeds and a fresh white baguette. I prefer the white baguette although the amount of French butter so this serve is minuscule with a small 2.5cms diameter round slice (we don't get three times the amount of butter which we should have given that we've ordered three lots of bread).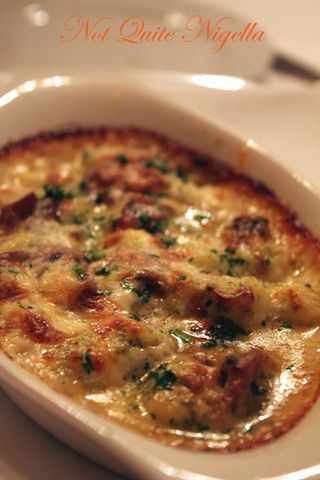 My Gnocchi a la Parisienne is delicious. Tiny potato gnocchi are interspersed with pieces of soft mushroom and this is all coated in a creamy mornay sauce with cheese with a lightly scented truffle oil. I eat every last drop of this, scraping the plate with  my spoon.
Mr NQN's endive and pear salad certainly looks impressive. I usually steer away from endive as I find it too bitter but this one isn't at all, with the sweet balsamic dressing and creamy Roquefort mousse assisting in this regard.
I love Pithiviers (little pies) and this one has escargot (snails) encased in a little igloo shaped puff pastry pie. The escargot when encased in a pie aren't particularly distinct tasting, in fact they could be mushrooms or something similar and it's mostly puff pastry rather than filling, but it is delicious, particularly with the sweet beetroot emulsion.
My husband's confit of duck is delicious and as you'd expect, it comes away from the bone with ease.
The lemon sole is moist and soft with most of the lemon flavour on top. It's a whole sole so the serve is generous and it is accompanied by peas. I usually adore peas but these are underseasoned.
The beef is deliciously tender although Teena and Gina say that they prefer a classic Bernaise to the rich Roquefort which they feel overwhelms the beef.
The apple tart is a thin layer of very buttery pastry with paper thin slices of apple accompanied with a lightly crunchy honey nougat ice cream. The tart is delicious, very freshly baked so that it is crisp and the ice cream is a delicious accompaniment and a nice alternative to vanilla. And since it's my birthday it comes with a sparkler and a song!
Sadly, the chocolate fondant is a disappointment. The flavour seems almost watered down for what should be a deliciously rich dessert.
On the other hand, the Creme Caramel which is sublime and moreish. I adore this and the custary eggy texture and scoop up every drop of the delicately wobbly custard edged with caramel.
We didn't have time or inclination to visit the bar but it looked inviting.
And because you know I love lighting fixtures...
Tastevin Bistro and Wine Bar
292-294 Victoria Street, Darlinghurst, NSW
Tel: +61 (02) 9356 3429
Open 12noon-2am
Closed Tuesdays
http://www.tastevin.com.au/