It's been ages since I walked through Chinatown. So much so that it feels like I'm somewhat of a tourist. When I'm asked about the neon figurines that appear to be superheroes in the throes of defending the universe above me, I'm genuinely perplexed by them. "When did they appear?" I ask Mr NQN who shrugs his shoulders in return.
We're here with Louise and Viggo for some ice cream. Specifically nitrogen made ice cream that is made in front of you. The crowd outside N2 gives its location away, not to mention the cloud of liquid nitrogen steam that occasionally billows out of the store. The crowds are deep and there is plenty of photo taking. The staff wear white lab coats and glasses and mix the gelato flavours housed in large corked flasks in their Kitchenaid stand mixers.
The brainchild of Min Chuan Chai, a former insolvency accountant who by his own words was doing "quite a depressing job at the time" he switched to the world of gelato as "accounting can be quite a controlled environment. Therefore I decided to pursue my passion, cooking & sweets! Gelato and ice cream is happy business and it is a fantastic outlet for creativity."
Themes and flavours appear to change often and this week it's a skeleton displaying the different gelato flavours. This week has a few regular sounding choices as well as a "Fish" flavour-and you can bet I put in my order for a cup of this although the rest of the flavours are quite conventional. Requests for flavours are taken on their website and I asked Min Chuan about the oddest flavour. He replies "the Cough Syrup Sorbet, we use the traditional Chinese cough syrup 'pei pa ko' to give the cough syrup taste, people who can associate with the flavours love it." The quirky store has been open for four months now and while this is the first store in Australia, they are looking to open in Melbourne in Autumn or Winter of 2013.
We stand in the queue and give our order and then stand back while they make batches of ice creams. The cups are $6 each and there's no half and half or two flavours. They're made fresh because the turnover is high. Nitrogen is used because it freezes liquid faster than conventional methods and produces a smooth gelato in the process.
And what is the biggest challenge? When dealing with an ingredient like nitrogen, it is safety. Min Chuan says "we have a dozen safety procedures in place and our staff have to go through a rigorous training program to understand how to deal with liquid nitrogen. We have sold more than 30,000 scoops to date and we have no incidents at all. In fact we were interviewed by ABC Lateline regarding the usage of nitrogen in food (coverage from what happened to the girl in UK)."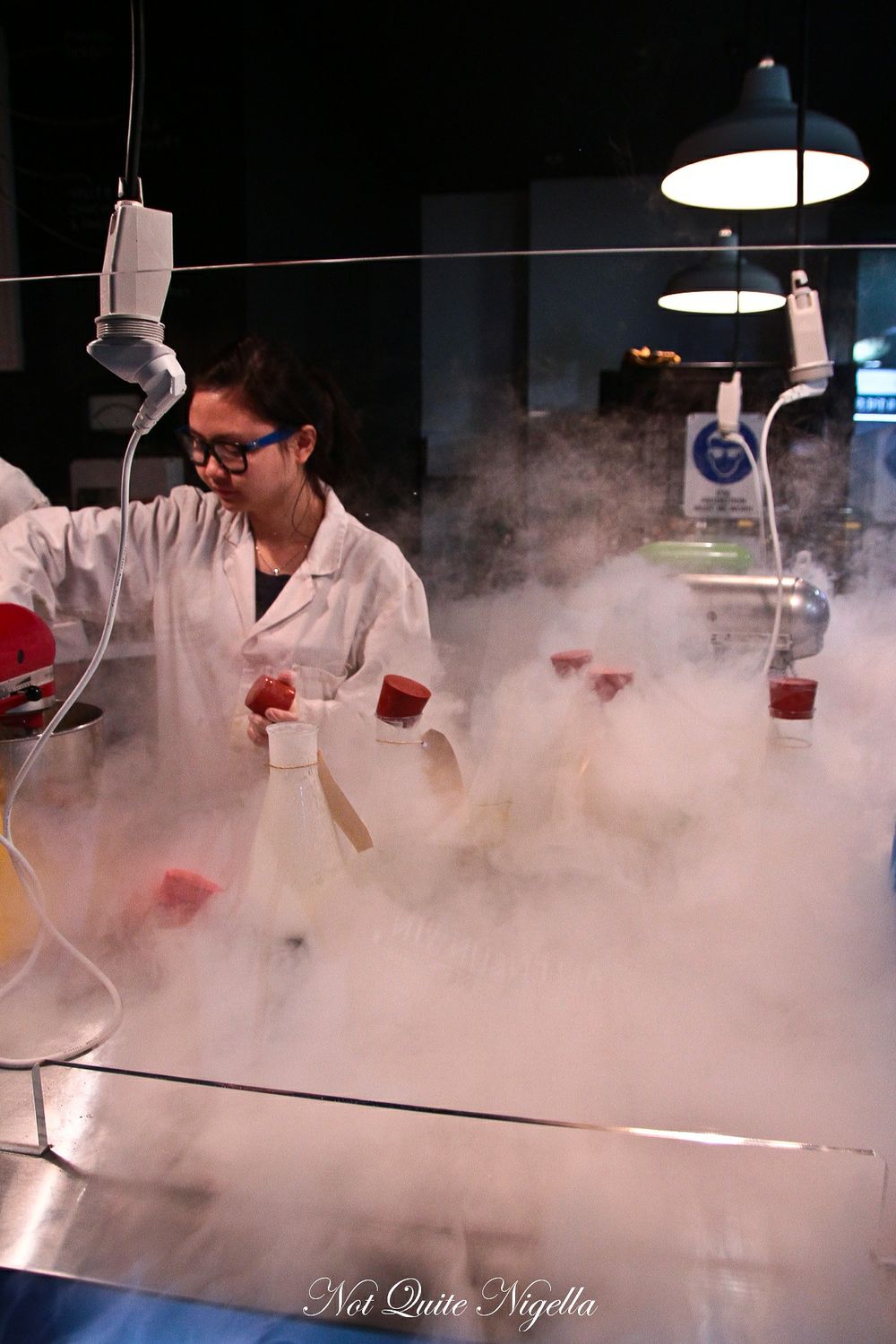 Fig & yogurt $6
Suddenly a puff of liquid nitrogen cloud engulfs us all and then they're calling out my name and handing me each gelato one by one. The tops are smoothed down for presentation and a spoon sits on top. The first one to come out is the other flavour I picked, fig and yogurt. This has a lovely tang from the yogurt and a light sweetness from the honey. It's creamy and has a great smooth texture with tiny bits of fig. It is quite a serve though as it is a large scoop-even the menu tells you that you don't need two scoops of anything.
Milk chocolate and hazelnuts $6
The chocolate hazelnut scoop is the second to come out a few minutes later and it is sweet and rich in chocolate. Viggo loves his scoop and finishes every last drop.
Maple and walnut $6
By comparison Louise's maple and walnut is sweet but not discernible for either flavour and we would have loved a bit more of the maple. The ice cream itself stays quite firm for a while and then melts quite quickly all of a sudden so it acts slightly differently from conventionally made ice cream.
Fish flavoured gelato $6
Now they did clarify that the fish flavoured gelato was safe for non seafood eaters but not safe for those allergic to peanuts. They actually achieve the fish flavour through the clever use of green tea which can often mimic the flavour of fish (I've often heard people don't like it the first time because of the fish flavour). The crumble on top is a crunchy peanut topping and I must admit that even though this does at first taste of fish, when your mind flips to green tea, it is enjoyable.
We sit outside and enjoy our gelatos on the stretch of Astroturf, decorated with a lawnmower.
So tell me Dear Reader, what is your favourite gelato flavour? And would you have tried the "fish" flavour or would you have gone for something a bit more regular sounding?
N2 Extreme Gelato
43/1 Dixon St, Sydney, NSW 2000
Open 1pm-11pm 7 days a week