Sometimes, things go wrong. You do your research and you think that you've found somewhere fantastic to dine and somehow, you end up having a below average lukewarm meal, the four of you seated at a table for two, the evening bereft of service which ends with the waitstaff carelessy sweeping the crumbs into your handbag.
We looked at each other and we were all thinking the same thing. We bypassed the dessert menu and hightailed it to nearby to RivaReno to try and salvage the night with gelato. RivaReno is the first instalment of the Italian chain's presence in Australia, and its first location outside of Italy. The store is located on Crown Street, just near Oxford Street. And when we first drove past it, I did a double take. It didn't look anything like what I pictured an Italian gelato place to look like. To me Italy is all about colours, richness and warmth. This store looks more like a lab where molecular gastronomy might take place with lots of metal and a series of changing light colours.
The gelato isn't on display here in colourful mounds, scooped from in front of customers. They're actually housed in the traditional way, in pozzetti which are covered metal containers. The staff all have Italian accents and readily proffer up samples to taste. For the undecided like us, it's helpful up to a point because we pretty much want everything that we try. To the right of the store is the lab where the gelato is made every day in small batches and we watch them mixing up more batches as the night turns busy. There are long seats on which to sit as well as bar seating facing busy Crown street.
The chain opened in 2005 in Milan and has expanded to Turin, Milano Marittima, Ferrara, Florence and Rome. It was created in Bologna by two Italian gelato-makers, a former BBC journalist, an Italian lawyer, and a former Italian car executive and RivaReno is the name of a neighbourhood in Bologna. Said to use only alpine milk and cream from the Stura Valley in Piedmont they've received numerous awards and a mention in the Louis Vuitton guide. There is a sign that also tells customers that there are no hydrogenated fats, preservatives, anti-oxidants and artificial colourings.
Kieren Tosolini (right)
Kieren Tosilini is the man behind bringing RivaReno here and owns the license for RivaReno in Australia. He first conceived of the idea of bringing a gelato brand to Sydney in 2006 and in 2010, he came across two of RivaReno's stores while visiting Italy. A long negotiation process ensued and at the end of January 2013, the first store opened here. He emphasises that the gelato here is churned in small batches to individual recipes. The ingredients in the Australian store uses a mix of imported Italian ingredients (most of the ingredients are Italian, including the alpine milk) with local ingredients (fruit, except for the lemons).
The pozzetti
The pozzetti, is part of the key to why the gelato is so smooth as it allows for a better temperature control and seals in the cold air. Changes in the temperature can result in larger ice crystals which affects the texture of the gelato. He also says that because they don't have to pump cold air to keep the displays cold, they can store it 2°C higher than other gelaterias with open displays which is better for taste as cold is an anaesthetic and can suppress the taste sensation.
Mango and pistachio gelato $6.90 for two scoops
The wall of flavours beckons. There are all of the classic gelato as well as blends of flavours, fruity gelato, drinks and granita. Miss America dives right in and choose the mango and pistachio combo. We try the mango which tastes like mango lassi. We look at the menu more closely and it is an Indian Alfonso mango with yogurt which gives it that distinct mango lassi flavour. The pistachio is strong in pistachio flavour, made with pistachios from Bronte in Sicily along with Syrian and Iranian ones.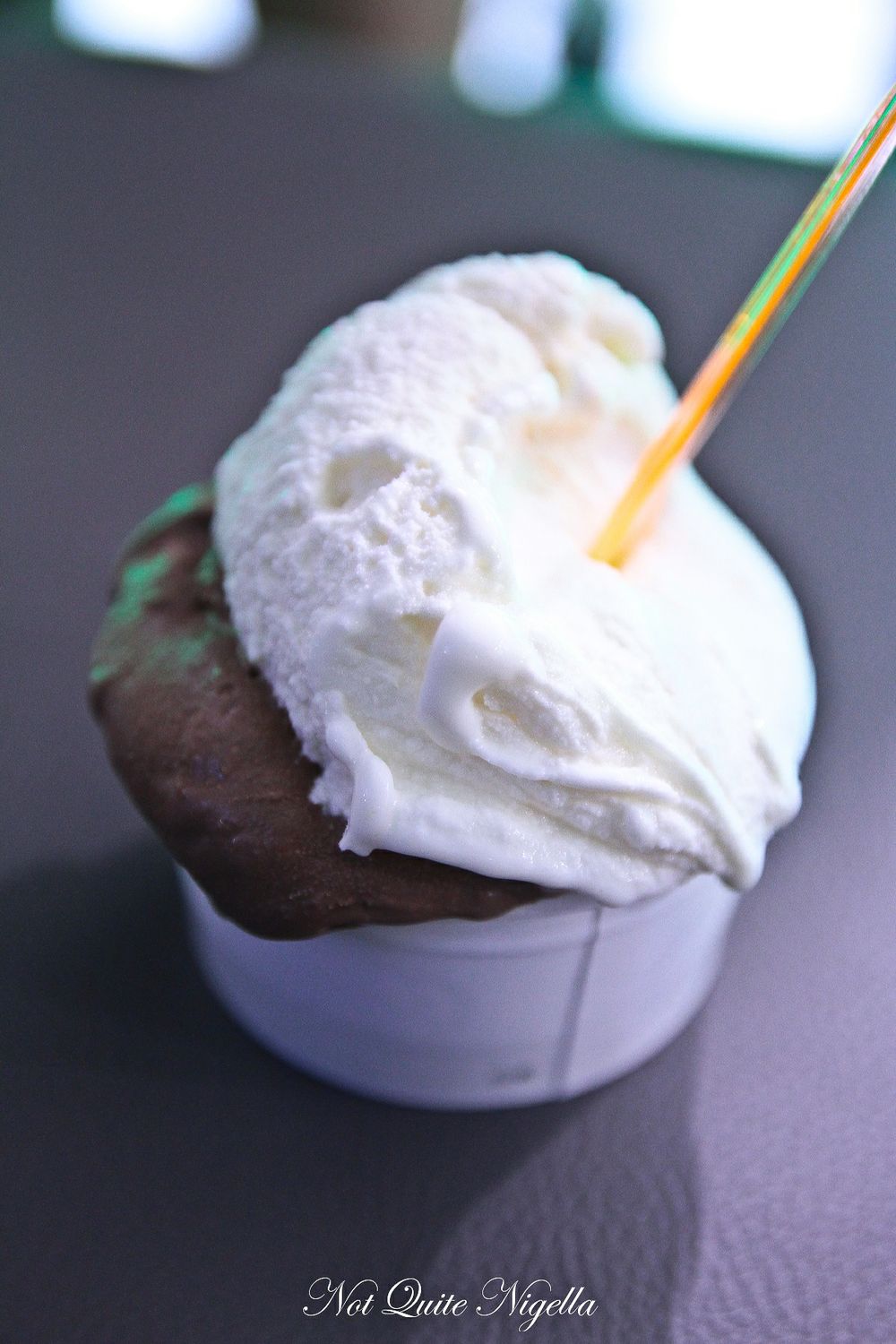 Fior di Panna and bacio $6.90
The Fior di panna is pure milk cream with bourbon vanilla and is a clean tasting, lightly sweet vanilla with a smooth consistency and a light texture. By contrast, the bacio is all dark chocolate and hazelnuts, much like a Baci chocolate.
Sweet Alabama and Contessa $6.90
Queen Viv's choices were the Sweet Alabama, a United States inspired blend of chocolate and peanut butter. It's rich and chocolatey dark but not at all palate clinging and heavy, the peanut butter taking a back seat to the chocolate and coming in the end of the mouthful. The Contessa is for almond lovers with a layered combination of Sicilian almond amaretti cookies, Piedmontese hazelnuts and caramelised almond shards.
Limone and passionfruit $6.90
Mr NQN's choice was one for his fruit loving self. I was hoping for fig since they're in season as I adore fig ice cream and gelato but the fruit selection was smaller. I did try the peach and it was a nice white peach flavour and tasted like a delicate fresh peach. It is hard to go past a classic lemon gelato and this had lemon juice from Sicily and teeny tiny bits of Calabrian lemon peel occasionally in a spoonful. The passionfruit was tangy and strong although out of the two, the lemon was my favourite. The fruit sorbets aren't overly sweet and for those who like gelato that tastes like fresh fruit.
And what are the best selling flavours? According to sales, it's the New York, New York; bacio; Alice; cocca and cioccolato extra fondante. The New York, New York is a sweet number with Organic Canadian maple syrup and caramelised pecans while the Alice has a ladle of warm, liquid gianduja (chocolate hazelnut paste) poured over the mascarpone and marsala based gelato.
My other picks were the frozen yogurt is sublimely smooth and a sweet version of the tangy frozen treat. The cioccolato extra fondante with Valrhona Manjari chocolate was intensely chocolatey while the cocco or coconut was about a smooth as silk coconut gelato with small coconut pieces. And there's a really adult flavour amongst them: black coffee lovers might go for the caffe, an intense, not particularly sweet Arabica coffee gelato with a very generous amount of soft chocolate flakes layered throughout. All of these flavours which makes choosing incredibly difficult.
So tell me Dear Reader, when you buy gelato or ice cream, do you prefer the classics or the blends?
Passionfruit gelato being churned
RivaReno
280 Crown Street,Darlinghurst (near the corner of Oxford Street).
Opening hours: Monday to Wednesday 1pm-11pm, Thursday-Sunday 1pm-midnight
Tel: +61 2 9356 2669