It is day four of our Beyond the Cellar Door tour with Ultimate Winery Experiences Australia. And our next stop is in the Strathbogie Ranges at Fowles Winery for the Stone Dwellers tour. You may have come across the brand Ladies Who Shoot Their Lunch. When I first saw the bottle years ago I had to take a photo and it was one of those names that stays in your head.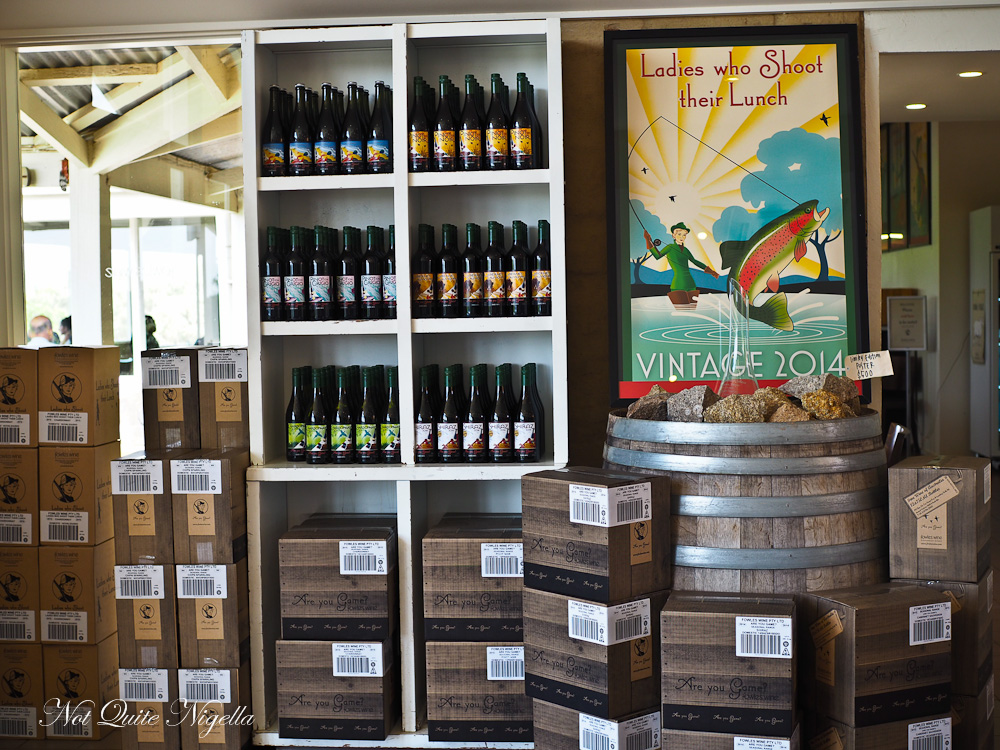 The enormous poster is the first thing I see when we walk into the cellar door of Fowles Wine. Their brands also include "Farm To Table" and "Stone Dwellers" (named after the indigenous people of the area). Winery manager Ian Firth takes us from the cellar door to the 20 minute drive winery to the separate winery that is busy mid vintage.
Ian tells us that Fowles Wine are the first to blend wine to specifically match game. The family hunt "ethically" to control introduced pest like deer and rabbits which present a problem in Strathbogie Ranges.
The drive from the cellar door to the winery itself passes through Avenel and the area is integral to the Ned Kelly legend. Ned lived in the area as a young boy and went to school in Avenel. Ian points out the Keystone bridge made of granite. It was here that an 11 year old Ned Kelly pulled school master's son Richard Shelton out of river. As a token of thanks the school master gave him green sash. Decades later during the siege of Glenrowan when he was killed that when they peeled back the armour they found that he was found wearing the green sash. The bloody sash now sits under glass in a Bernalla museum.
The area with its hot weather, high winds and granite soil proved poor for farming but excellent for growing grapes. Fowles Wine has 400 acres of wines in total and they crush 2,000 tonnes of grapes a year. A large herd of sheep are being mustered in the distance and we stop by some pigs.
Ian stops the van on our way and he points out the two sides of the road. There's often a joke that people make about "Which side of hill he grapes grow on" but he explains in some cases it makes huge difference to how grapes grow. For examples a vineyard's north facing hill gets sun all day long. The other side is shaded and down the hill. The hotter temperatures mean quicker, richer, riper flavour in the grapes.
Like a pied piper Ian leads us around the winery while we try samples from the tanks. We start with a must with fermented Shiraz grapes with skins and pips. It has a high alcohol and is intensely bitter. On the other end of the spectrum we taste a just crushed Pinot that is like an sweet grape juice. For the Ladies Who Shoot brand they aim to make a wine that suits food matching particularly game.
We go outside and try a Shiraz that is 90% fermented which is quite dry. The relationship between yeast and sugar is important. Yeast consumes the sugars. They generally pick wine at 16 degrees of beaumais sweetness which can result in 16% alcohol. If they stop halfway they get 8% alcohol 8% residual sugar. We finish off the tour with some finished Ladies Who Shoot Their Lunch 2016 Shiraz.
We take the drive back to the cellar door for lunch. This is a meal well worth stopping for. Although it looks casual and the food is served share style everything is absolutely delicious.
There is a range of locally sourced charcuterie as well as small bowls of tapas style bowls with fabulously light frittata and roasted vegetables. The beetroot relish goes perfectly with the terrine and the Warialda beef wagyu bresaola and the smoked eel with horseradish creme is superb. Although everything sounds simple it is well made and seasoned.
Smoked eel with horseradish cream
All of the produce is very much local and there's McIvor Farm old breed ham and salmari, Avenel Fresh Fields mushrooms, Victory Meats pork sausage, Seven Creeks pastrami, Nagambie free range eggs and Chapman Hill olive oil. Paired with the Ladies Who Shoot Their Lunch and Stone Dwellers wines it makes for a satisfying and memorable lunch.
So tell me Dear Reader, do you find it hard to remember wine names? Do you eat much game?
NQN was a guest of Ultimate Winery Experiences Australia but all opinions remain her own.
Fowles Wines
1175 Lambing Gully Rd, Avenel VIC 3664
Phone: (03) 5796 2150
www.ultimatewineryexperiences.com.au/wine-trail/victoria/