Exploring more of Victoria's stunning wine country one afternoon we go from Fowles Wines one of the younger wineries to Tahbilk one of the oldest and most photogenic in Victoria, located at Nagambie Lakes in the Goulburn Valley. The day ends with dinner and a night at the Euroa Butter Factory.
Tahbilk was established in 1860 and is Victoria's oldest family owned winery. The incredibly photogenic original winery is now the cellar door. It sold table wine to the British at a time where 90% of export sales from Australia were port Sherry.
Tahbilk is another family business with the current generation Alistair Purbrick being fourth generation in the business. It is a winery that has operated for over 100 years with two winemakers. Despite this it embraces technology and is also a carbon neutral winery (through purchasing carbon credits as well as replanted native forestland and solar energy).
General Manager Bruce Minchinton leads us into the red wine fermentation cellar with enormous barrels that are over 100 years old. What appears as a museum is in fact their main red wine fermentation room. "We don't like new oak," he says. What they like are the maturation effects and tannins from oak but they specifically want fine tannins that come from old oak.
Tahbilk specialises in growing Marsanne grapes from the Rhone region. They have one of the oldest and largest Marsanne vineyards in the world. The Marsanne is one of the few white wines that ages well.
We retreat to the cooling confines of the 1860 built cellar below where the walls are made from soil. It's atmospheric and gorgeous. Then we make our way back up the stairs to learn how to taste wines like a winemaker in their "The art of winemaking" course. Winemakers taste wine differently than we would for drinking. "All wines are blends," explains Bruce. Even a blend from different barrels is still a blend.
He explains that tasting for blending is different than tasting for drinking. Fruit flavours impact different parts of the mouth and are strongest in one part of the mouth. We start on some Shiraz concentrate and he has us guess where it is strongest-it is the middle of the tongue. We repeat the process with Cabernet Sauvignon which is strongest in the front. The reason why we blend is to get tongue covered.
We pair up and make our own blends. Fortunately my winemaking partner has a similar taste in wine, preferring Cabernet to Shiraz and less oaky Shiraz. Our task is to create our own wine blend in pairs using four types of Tahbilk wine. We can use an unoaked Shiraz, heavy oaked Shiraz, an unoaked Cabernet and a heavily oaked Cabernet.
We also wanted a wine that we could drink in a couple of years. We decide on our percentage blends and mix things up before we arrive at a wine that we both like the taste of. Bruce encourages us to add a bit more Shiraz for the middle palate but in the end decide to make our original wine with less Shiraz because we liked it. We give our wine a name "The Rebel" because we rebelled against his advice!
The next stop is around 30 minutes away in the small town of Euroa. It is here that our accommodation and this evening's dinner is held. Euroa Butter Factory is a gorgeous converted butter factory. There are six rooms all with very different designs. It's a welcoming space, and one of those unexpectedly gorgeous finds in a country town.
My room "B" is stunning. There's a queen bed in the beautifully furnished bedroom with sunlight streaming in. To the right is the bathroom that has a claw foot bath and a separate shower as well as Molton Brown toiletries.
I immediately draw a bath with the soak provided and make myself a cup of tea from the bar area outside and sit and soak for about 10 minutes before realising that I have to be downstairs for dinner.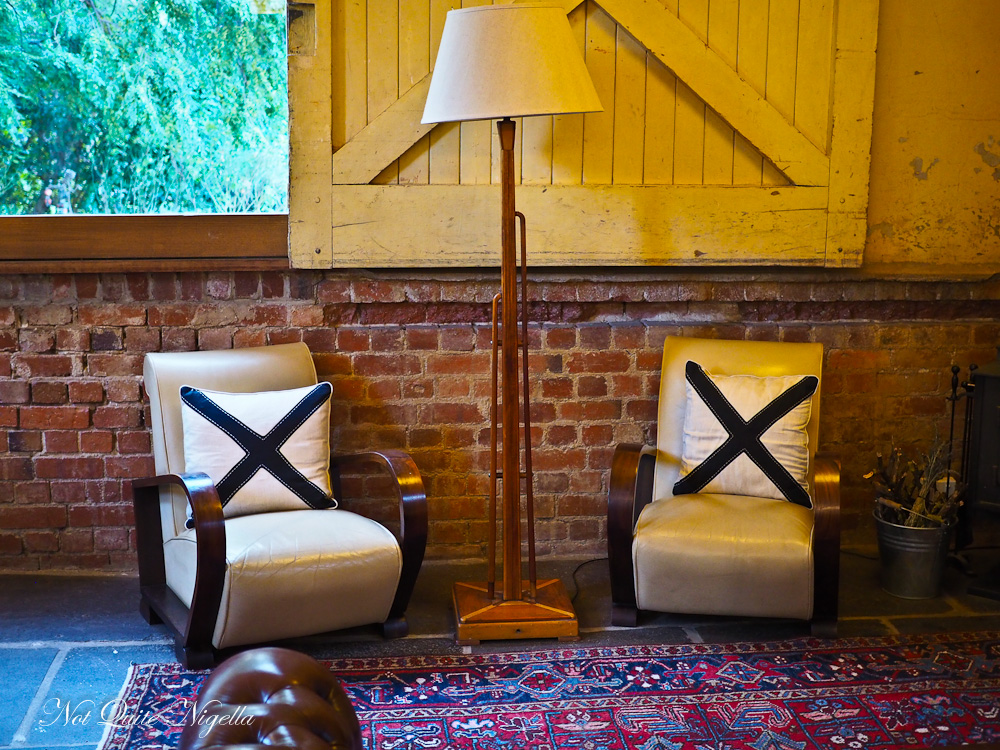 We start with a tour of the grounds with drinks and the gardens are stunning-perfect for a wedding which they do every week.
Dinner is in the restaurant downstairs and is a wine matching dinner hosted by Bruce of Tahbilk. We start with a glass of their sparkling wine, a blend of Pinot and Chardonnay.
Puffed pork with apple, cabbage and mustard, chevre "onion rings" with Coueslant NV Sparkling Pinot Noir/Chardonnay
The first bite is a crispy puffy pork rind with pieces of bacon, apple, cabbage, mustard and salt and vinegar. It's divine, all I want is a platter of these crispy bites to myself. To the side are goats chevre onion rings which have a thin crispy outer and a soft centre.
Freshwater mussel in saffron Soffrito, olive and potato fritter, crispy garden herbs with 2016 Tahbilk Marsanne
The next wine is a 2016 Marsanne paired with a finely chopped mussel with coriander seed, pepper, saffron and chilli served with two crispy potato chips wedged together with olive tapenade. It's spicy and crispy although I don't taste much mussel. Bruce explains that he paired the 2016 with its citric honey flavours and strong acid with the mussel.
Chef Luke wakefield and Bruce Minchinton from Tahbilk
Texture of kale, chicken skin with 2010 Tahbilk Marsanne
The next course is called "texture of kale" and Bruce matches this with a 2010 Tahbilk Marsanne. There is kale in various forms from puree to crisps with asparagus and crispy chicken skin. Bruce explains that when it comes to food and wine matching he goes by the weight of wine to the food first before the flavours so that the food can stand up to the wine and vice versa. And it must be said that they're all excellent matches enhancing the wine and food combination.
Dry aged strawberry fed duck, roasted with 2015 Tahbilk Grenache Shiraz Mourvedre
The next course is our main and Bruce asks us to name the primary aroma of the wine. It's red berries that he has paired with duck because it is a Great Ocean Road duck that has been fed on strawberries and berries in the summer and apples and pears in Winter. They dry age the ducks for 2 weeks before roasting it on the bone. To the side is a beetroot and blueberry puree and goats chèvre caraway cracker served with GSM 2010.
Mulberry and Milawa King River Gold "Gnocchi" served with 2006 Tahbilk ESP Cabernet Sauvignon
The next course is a cheese course which they call a "crisp gnocchi" with smoked potatoes, mulberries and Milawa King River gold cheese served with Tahbilk ESP Cabernet Sauvignon 2006. The ESP is named after Eric Stevens Purbrick from the first generation of the Purbrick family.
Sweet potato and apple with Tahbilk Liqueur Muscar
One final course of dessert is a beauty and is my favourite course along with the crispy pork. It is made with apples and sweet potato baked at low temperature. The caramel syrup from roasting the sweet potato is used as well as the crispy skin of the sweet potato. Lastly there are scoops of sous vide apple with double cream and nutmeg. The wine match for this is Tahbilk's heavier liqueur muscat.
But that's not all! Out comes trays of divine Petit fours-these are champagne and raspberry strawberry truffles with a gorgeous liquid centre. I draft upstairs to sleep. It is an old building so bring your earplugs if you are staying overnight as the building creaks throughout the night.
Breakfast at Euroa butter factory is not to be missed. There is an a la carte selection only as well as espresso coffee and tea. My order of Croque Madame is two enormous slices of their signature house baked bread filled with Avernel ham and pecorino cheese with cornichons and a side salad. I think it's about four Croque madames in one and I unhinge my jaw and dig in before we leave for our last stop on our Ultimate Winery Experiences tour.
So tell me Dear Reader, have you ever tried blending your own wine? What sort of wine do you prefer? And do you often get matching wine with your meal?
NQN was a guest of Ultimate Winery Experiences Australia but all opinions remain her own.
Tahbilk Winery
254 Oneils Rd, Tabilk VIC 3608
Phone: (03) 5794 2555
www.ultimatewineryexperiences.com.au/wine-trail/victoria/
Euroa Butter Factory
79 Boundary Rd N, Euroa VIC 3666
Phone: (03) 5795 1408
www.euroabutterfactory.com.au/