Like the weather in extremely cold or hot countries becomes the subject of talk by locals wearied by its extreme nature, we find ourselves obsessed with traffic during our time in Bangkok. It is not to be underestimated and any previous gripes I had about Sydney's traffic quickly dissipate when I realise the magnitude of it here in Bangkok.
What could or should be just over one kilometre takes about 30 minutes drive-short bursts of the taxi surging forward only to stand still. It doesn't help that we're headed towards one of the newest places in Bangkok that everyone else also seems destined for. The Asiatique Market across the Chao Phraya River with its visual landmark being the giant illuminated ferris wheel. Open from 5pm it is accessible via a free ferry that leaves from Sathorn Pier. There are two queues, one for the free ferry or another paid ferry. The free ferry is much more frequent although it does require joining a long queue but three free ferries leave over the time that it takes us to get one of the paid ferries (our only advantage was being able to sit down to wait for it).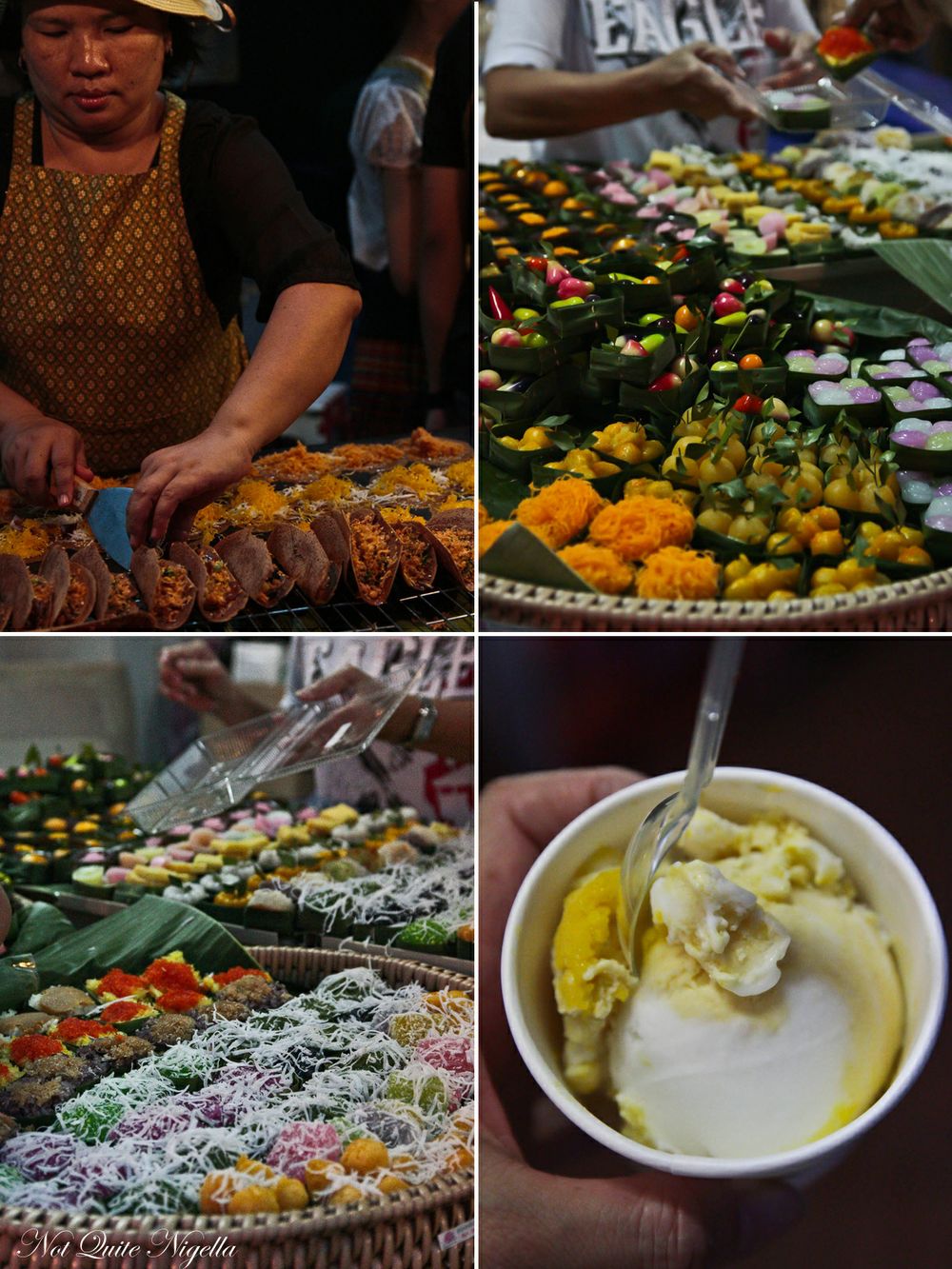 At first approach, our impression is that it looks like Disneyland in that it is clean, new and a little artificial. The food options are plentiful and there's a lot of Western fare. But for the shopping enthusiast, there are ten warehouses, each broken down into segments (fashion, homewares etc) and it's easily laid out and not too insurmountably sprawling. It's warm so I get a deliciously soothing sticky rice and mango ice cream while I walk through some of the warehouses. Any initial wariness about it soon subsides as there is plenty to buy and I only wish that we had more time. But of course we don't because we are expected elsewhere, after all there's plenty you can do at night in a city like Bangkok!
Our next stop was at a bar. We had had a false start-tipped off about a new rooftop bar so we made our way to one hotel only to find out that the tip was so fresh that the bar wasn't even open yet. Into another taxi we go to make our way to Sirocco, not exactly new and not exactly a well kept secret. Upon approach to the State Tower building our fancily decked out taxi's driver drives through the parking lot and we look at each other and he looks as confused as we are.
We arrive on the 64th floor and overhear some Australian girls talking about their upcoming surgery-Thailand is of course popular for less expensive surgery and dentistry and they guide us to Distil, a sort of lie down bar where people lounge back on wide cushion backed lounges. The vibe is Gen Y hipster with people lying back taking selfies and giving off that "too cool for school" vibe.
Gaynor remembers Sirocco and we enquire about this. It turns out that Sirocco is the more popular bar on an adjacent side of the rooftop and they lead us there. The view is stunning but any heart stopping joy is quickly quashed when they tell us that strictly no photographs are permitted at the top of the stairs (and strictly policed). The crowd is mixed-there are mostly expats and tourists mixed with a few locals and we overhear beer and breezers being ordered.
You certainly pay for the view-a glass of champagne is about $60AUD though there's no cover charge but it's a good way to orient yourself with the sprawling city below and check on easing traffic conditions. We watch as the car lights thin out and decide that it's time to go exploring.
A little closer to home is the Moon Bar on top of the Banyan Tree Hotel next door to the Metropolitan. The crowd is also mixed although there do seem to be the obligatory amount of expats but unlike Sirocco, there are plenty of places to sit down at and it feels a bit more chilled. Although if you're wearing heels, be prepared to make like a billy goat and wobble up and down plenty of sets of stairs in order to reach your destination.
By now stomachs are rumbling so it was time to go out to find some sustenance. We hit one of the best places to eat-Bangkok's Chinatown to try some of what are purportedly Bangkok's best local dishes. The added serendipitous advantage was that we got to try three food must trys in Bangkok all within a few metres of each other. Jay Fai's crab omelette is well known and regarded even though Jay Fai's prices are higher than other street stalls. We're determined to get there even though the Lebua Hotel's bellhop tries to dissuade us to try another place closer in proximity. There are three taxi drivers that refuse to take us there saying that they don't know it (of course they do but Chinatown is considered a hard place to get in and out of by car) and I felt the confidence of my fellow travellers slipping at the whole idea of pursuing a crab omelette halfway across town.
"Please please take us there" I beseech the next driver silently and to my relief, he agrees to take us. Jay Fai is in the old Chinatown area of Bangkok and we count the numbers and survey our map as all signs are in Thai script. It's number 327 on Mahachai road and there's one eatery that fits the bill.
After checking that we are at the right restaurant, we take a seat outside. Cold beer and soda water are offered and gratefully accepted and we take  a look at the two double sided picture menus which are also in English. Their famous crab omelette is marked with a "Must-try!" (sic) and Katherine, a chef from Noma also recommended their charcoal fried rice noodles to me.
Food does take a while to arrive as there is one chef working and everything is prepared to order so it's a good opportunity for people watching. In the meantime Lisa notices a picture on the wall-it's Martha Stewart who was a visitor to Jay Fai. I look around. There's a table of what looks to be a tour group here, a couple of very well dressed young Thai guys wearing sharp suits who have arrived in a Mercedes and there are also local couples and people dining alone that are sitting inside. A blind woman lead by a younger sighted woman shakes a cup and croons into a microphone. She is followed by a blind man, a flower seller and a small kid selling trinkets.
Drunken noodles with mixed seafood 360THB/$12.47AUD
The Drunken Noodles arrive first and they look fantastic although at first we wonder where the noodles are. The usual ratio of mostly noodle and seafood is reversed here with copies amounts of seafood and a small amount of noodle. The noodles are slippery, wide flat rice noodles and the seafood includes huge fresh crab flakes, prawns, squid, mushrooms and chilli. Some of it is slightly tough i.e. the prawns while some of the vegetables are a little undercooked (the eggplant) but overall it's a generously portioned good dish.
Crab omelette 800THB/$27AUD
The crab omelette comes out next and it arrives as a large golden log. We're given a large spoon to go with it which we use to cut it open and it's so full of fresh, large crab chunks that we all marvel at it. It comes with a medium hot chilli sauce but I prefer this on its own savouring that rich crab and crab roe flavour.
Outside is a deep fried golden egg omelette. And yes it is expensive when you compare it to other street food prices which are $1-$2 but there is so much crab in there that it's hard to begrudge. And I'm just relieved that everyone liked it and thought that it was worth going across town for.
It's time to explore a little more down the street and the Metropolitan Hotel had told us that Jay Fai was also right near a famous Pad Thai place in Bangkok called Thip Samai. It's literally only a few doors down and we stumble across it when we notice the crowds and the fact that they were only making one dish - their Pad Thai.
Thai orange juice 130THB/$4.49AUD
But first we buy some dessert from the street vendor outside and an orange juice made with sweet Thai oranges. There are no preservatives in this juice and it must be consumed within a day of purchase. They bring us glasses with ice and we try the juice. It's swooningly sweet with large chunks of pulp and tastes just like mandarin juice.
The walls are lined with accolades and photos of famous visitors. Ordering is easy and we order one Pad Thai to share because we were still quite full from the crab omelette and noodles. It's clearly marked on the menu as a must try and a plate of the egg omelette wrapped Pad Thai is 70THB or $2.40AUD.
Superb Pad Thai 70THB/$2.40AUD
The Pad Thai made with Chantaburi noodles comes out soon after and we watch plate after plate of bean sprouts and spring onions laid out and served to customers - people seem to order nothing else. It's a wonderful looking specimen and we are to add the bean sprouts, chill flakes, peanuts and chilli vinegar to our plates and mix it up ourselves according to our taste. We're not quite sure what to do with the spring onion as it probably needs chopping up to mix it through. It's a tasty dish although undeniably sweet and we all love the paper thin, silky egg omelette which breaks up easily with the slightest touch.
Where to for a final stop in Bangkok? I'm not a huge clubber or bar hopper but we hop in a taxi lured by a picture of Maggie Choo's, the latest bar by the people that brought Bangkok the Bed Supper Club (where we popped in for one drink, the bar was how shall we say, not to our taste...). Maggie Choo's, at the basement level of the Novotel Silom reminds me of a small, themed Sydney bar.
There's no cover charge and you are led down the steep wooden stairs where you descend into a room decorated with parasols on the ceiling. Several pairs of eyes look up and they're the patrons fishing dumplings into their mouths with chopsticks and perching on antique style wooden stools.
There is a large bird cage with a chirpy, active bird in it and an even larger cage that has a bright green iguana fast asleep (the club iguana? Is there such a thing?). While we gather our bearings, we bide our time by ordering a drink and something to nibble because we are taking up a table. I must admit that I had a hankering for Thai orange juice after the one earlier-it wasn't quite as good but it satisfied a craving and our food arrived (not that we were hungry).
Deep fried crab balls 130THB/$4.54AUD
To be honest, we didn't expect much from these although the menu looked enticing with Chinese and Thai offerings. I expected to simply nibble on one but they were fantastic with a thin golden crunchy coating on the outside and a filling full of large chunks of real crab meat.
"Are you ready?" I ask Gaynor and we make our way to the next room. Parting the curtains we enter the room where live jazz and blues is being belted out by a talented singer. Jazz and blues singer Keithen Carter is from Chicago and he is charismatic and charming. A gorgeous girl in a cheongsam sits at the end of a table and fans herself and smiles benignly seemingly unmoved by his performance-the look of those that are often stared at. We sit down and listen to the music and there's an appreciative crowd (although the front row on the Chesterfield lounges seem to be permanently glued to their phones).
There are a multitude of girls in cheongsams with short black bobbed hair. Some are perched on the various swings around the club, others are on top of the bar on a perch and they moved and change positions while fanning themselves. It's almost too much and almost too contrived but somehow the crowd which is a friendly mix of locals and foreigners and the entertainment keeps it on the right side. Gaynor and I wander around and take a peek at the small rooms where people can talk and drink. We decide that one night in Bangkok isn't nearly enough.
NQN travelled to Bangkok and a guest of Qantas and the Como Metropolitan Hotel. Purchases made in this post were independently paid for.
Metropolitan by COMO
27 South Sathorn Road, Sathorn, Bangkok, 10120, Thailand
Phone:+66 2 625 3333
Qantas
www.qantas.com.au
Asiatique Market
2194 Charoenkrung Road | Wat Phaya Krai, Bang Kho Laem, Bangkok, Thailand
Sirocco
The Dome at lebua 63rd floor, 1055/42 Silom Road, Bangrak, Bangkok 10500, Thailand
Phone:+66 2 624 9999
6pm-1am
Moon Bar
Banyan Tree Hotel, Sathon, Bangkok 10120, Thailand
Phone:+66 2 679 1200
5pm-1am
Jay Fai
327 Mahachai Rd | Samranraj, Phranakhon, Bangkok, Thailand
02223-9384
3pm-2am
Closed Saturdays
Thipsamai
313 Th Maha Chai | Banglamphu, Bangkok, Thailand
0 2221 6280
Maggie Choo's
320 Silom Road, Suriyawong, Bangrak Bangkok 10500 Thailand
02 635 6055
Open 7pm-2am